Walle is the Winner of the April 2013 JK of the Month Contest!
---
It's Time For The April 2013
JK of the Month Contest
Krazman
Mods:
(A) Suspension:
Lift: AEV 2.5" Dual Sport Lift
Axle Gussets: EVO Inner-C
Front Sway Bar Links: EVO HD Links
(B) Wheels and Tires:
Wheels (5qty): Black Rhino "Imperial" 17x9
Tires (5qty): Toyo Open Country MT 295/70-17
(C) Front Bumper:
Smittybilt XRC MOD w/ Bull Bar and Mid-Width Ends
Winch: Smittybilt X2O 8000#
(D) Rear Bumper and Tire Carrier:
Rear Bumper: Smittbilt SRC Rear Bumper
Tire Carrier: Teraflex HD Hinge and Tire Carrier
Jack Mount: Rugged Ridge Jack Mount - Modified
(E) Armor and Protection:
Siders: Ace Rock Sliders
(F) Auxiliary Lighting:
Bumper: KC Slimlight 100 Watt Fog Lamp Pack
Windshield: KC Slimlight 100 Watt Driving Lamp Pack
Lower Bumper: Cree High Power (10w) LED Light
(G) Interior and Misc:
Seat Covers: Coverking Neoprene Seat Covers
Tailgate Storage: Smittybuilt G.E.A.R Tailgate Cover
Grab handle: Master Craft Roll Bar Handle
Window Vent: AVS Ventvisor
Tuner: AEV Procal
Tow Harness: Cooltech Tow Harness Kit
Summer Gear:
Mirrors: Rugged Ridge Mirror Relocation
Soft Top: Bestop Trektop NX Frameless Top
Trail Doors: Body Armor Tube Trail Door
Story:
Here is "Sarge", my 2013 JK Rubicon in Commando Green. I am considering this my Stage 1.5 build since it decidedly more than just a budget boost lift and new wheels, but also falls short of a 4" long arm lift and 35+" tires (...someday...). For a daily driver and weekend warrior it fits my needs almost perfectly---almost, because for about 340 days a year it is perfect but the other 16 I wish I had more lift and bigger tires! After all, a Jeep is just a down payment on accessories.
This story actually started out as a 2000 TJ Sport and a 2003 Hummer H2 which, in a spontaneous impulse trade-in, became the 2013 JK Rubicon and I couldn't be happier. We actually picked up the JK "used" in December 2012 with 1900 miles as the original owner ended up bring it back to the dealer to swap for an Unlimited under pressure from his wife--- making for a great deal for me!
We immediately set our sights on attending the Easter Jeep Safari in March, thus the nearly daily visits by UPS and FedEx began and every free moment and weekend spent adding the lift, bumpers and accessories. All mods were done 100% myself. Even the night before we left for EJS, I was underneath swapping swaybar links. In the end, the trial by trail was successful and I had and absolute blast in Moab and the Jeep obsession is fully entrenched in my blood now.
Walle
2012 Jeep Wrangler Unlimited Sport
3.6 Pentastar
Mods:
Supsension and Steering
4" Currie Suspension
Upper and Lower Johnny Joint adjustable control arms
Progressively wound coil springs,
Front urethane bump stop kit
Rear bump stop spacers
rear coil spring retaining kit
Stainless braided extended brake line kit
TeraFlex tuned Fox Racing 2.0 Long Travel Shocks w/ Remote Resivoirs
JKS Front Track bar & Sector Shaft Reinforcement Kit
ANTIROCK® Front Sway Bar
ANTIROCK® Rear Sway Bar
Tires
37x12.50R17 Cooper STTs
Wheels
17x9 (3.5" BS) Unique Wheels
Perfromance
aFe CAI
aFe throttle body spacer
aFe y-pipe
aFe hi-tuck exhaust
Drivetrain
Automatic Transmission
Adams 1310 Front and Rear Driveshafts
Body Armor
Rock Hard 4x4 Parts Oil Pan, Transmission & Catalytic Converter Skid Plate
ACE sliders
ACE stubby front bumper with stinger
ACE Rear bumper w/ tire carrier
ACE Narrow fenders
RROR Evap Canister Skid
Overland Motorsports Custom Corners
Recovery
48" Hi-Lift jack mounted with Jeep Swag mount
ARB Recovery Kit
Extras
Cobra 75 WX ST CB w/ Firestick
sPOD
Spiderweb Shade
TruckLite LED Headlights
LightForce 140 Lance lights w/ KC light mounts
Poision Spyder flush mount LED tailights
Rock Hard 4x4 license plate relocation
Front Axle
Dana 44
5.13 Superior gears
RCV Shafts
TeraFlex tuned Fox Racing 2.0 steering stabilizer
Synergy Suspension Ball Joints
Synergy Suspension HD tie rod
Synergy Suspension HD flipped drag link
Synergy Suspension Track Bar Relocation Mount
E-Locker
Custom front axle truss
Balistic Fabrication Diff Cover
TeraFlex Sleeves
Gussets
TeraFlex HD Monster Track Bar
TeraFlex CA Skids
Rear Axle
Dana 44
5.13 Superior gears
Superior Shafts
E-Locker
Artec Truss
Teraflex Monster HD rear trac bar
Rock Krawler Trac Bar Relocation Bracket
Balistic Fabrication Diff Cover
Future Mods in the works
Warn Zeon 10-S
Custom front bumpers
TeraFlex HD tire carrier
Story:
This is Dirty Gerty, a '12 JKU. I never understood why Jeep owners were so 'crazy' until I bought one. Now I think I am one of the craziest. I didn't realize how capable she is, until I have pushed her to her limits. I have spent a lot of time in my Jeep. She already has 25,000 miles in jsut over a year. We have been all over the state of Colorado and will be doing more Jeeping there this summer. I have learned a lot from fellow Jeep owners here on JF and here locally. Without the support and knowledge of fellow Jeep owners, She would not be what she is today!
Sillykid
2007 Jeep Wrangler Unlimited X
3.8 Liter, V6
6 speed manual
Mopar Freedom Top
Mods:
Suspension and Steering:
Rough country upper and lower flex x control arms
Teraflex 4" lift springs
Fox Racing 2.0 Shox
Rough country trackbar
Sleeved and trussed dana 30
Stock dana 44 rear
Teraflex Front Steering Correction Kit "Drag Link Flip Kit"
JKS Quicker Sway Bar Disconnects
TeraFlex Spring Retainers
RK Coil Correction Wedges
Exterior
35x12.50R15 – federals
15x10 – mickey thompson
Runing 5x5.5 bolt pattern / spacers
Poison Spyder JK Rear bumper
Pure jeep Rocker Knockers
Poison Spyder Front comp stinger
PSC Evap Skid
Trim stock fenders
Blacked out tailights and markers
KC daylighters on windsheild
Superwinch lp8500 winch
Interior
Igee vinyl seat covers
Bullydog tuner
pretty much stock in there
Under the Hood
K&N intake
snorkel
livewire wires and plugs
full mbrp trail echaust
Tops
Mopar Freedom Top
Bestop Supertop NX w/ tinted windows
JF "Cheap Mods"
Flipped Rear View Mirror Mod
Trimmed Pinch Seam
Polyfill'd Speakers and Sub
Car Seat Cover
Extended Breather Hoses
Story
Where to start on the one i have had about over 20 Jeeps over the course of 3 years. I am 19 years old the decals on the side of the jeep are my company that i started in high school. I was never fond of the jeep JKU'S when they first came out until i test drove a 4 door and fell in love. I always had jeep CJ7'S and still do, I love them but the comfort won me over on the JK. With in 24 hours of owning my jeep i had put a budget boost and thew a set of 35s on her took her mudding. Since then i have done alot of work to her to get her to the standards that i feel are adequate. this jeep is my baby and she will go just about anywhere Enjoy !
TWISTEDII
Mods:
Rough Country 3.5" suspension lift
Rough Country 1.25" body lift
Rough Country 1.5" wheel spacers
Rubicon Express extended brake lines
JKS adjustable front track bar
JKS front quick disconnect sway bar links
Synergy Suspension HD drag link
35x12.5x16 BFGoodrich KM2 Tires
Bestop Trektop NX
MOPAR half doors
MOPAR lower dash panel with mesh
AEV Procal
Northridge 4x4 grade 8 bolt kit
Poison Spyder vented hood louver
B&M auxiliary transmission cooler
Or-fab license plate bracket and spare delete
Stock license plate delete panel
Clear front turn signal lenses
Herculined grill with mesh mod
Polyfill sound bar
Vector Offroad hood and rear UFO's
LED dome light upgrade
Stubby antenna mod
Story:
This is my 6th Jeep, and the first that I have began modding to this extent. I have had an LJ, a few TJs including a RHD, another JK that was in an accident, and this one. The jumping pic from the Cliffs is a little dated, but is one of my fav pics. It was taken with just the lift and sway bar links before any of the other mods. I will have some good wheeling pics this summer in it's current state.
Jeepin Dad
Mods:
Engine/Driveline:
Tom Woods 1310 Rear Drive Shaft
Centerforce Dual Friction Clutch
Suspension/Tires:
2" Black Diamond BB
17/58 JKU springs
Bilstien 5100 Shocks
Rock Krawler HD Tie Rod
Rancho Steering Stabilizer Relocation Kit
Set of factory rear swaybar links up front
285/75R16 Cooper Discoverer S/T
16 x 8 Procomp 8069 Extreme Alloys
Armor/Protection:
Front LoD 1st Gen Mid-Width
Teraflex Rock Sliders
Kilby EVAP Relocation Kit
Riddler Diff Covers
M.O.R.E. Oil Pan/Transmission Skid Plate
Interior/Communications:
Cobra 19III CB w/4' Wilson
Radio Shack Handheld CB
Seat covers
Recovery Gear:
Warn M8000
48" Hi-Lift
20' 30,000 lb strap
Tree Savers, Shackles, Snatch Block
Misc:
Warrior Products Safari Rack
Warrior Products Mirror Relocation Brackets
Bestop Safari Top
Story:
Bought it new in July of '07 with the "Rubi-Lite Package", X with the Rubicon locking rear Dana 44 and electric swaybar disconnect. It only has a Budget Boost and after 115+k miles on it the oil pan is dented, the skids, cross-member and any thing else that hangs low are dented and twisted and have taken numerous hits from the rocks it likes to play on, but it still heads to the off-road park fairly often and regularly wheels with rigs that have more lift and larger tires. Then it returns home and performs it duty as a daily driver without much complaint, it has also been doing tow vehicle duty hauling our popup camper across PA on numerous trips. If I ever get my Cherokee running hopefully I will be able to retire the JK from daily driver status and give it a makeover to more of a dedicated trail rig.
Had a little incident this month. I was playing in the backyard seeing if I could make it to the other side of the stream, when I tried climbing the opposite bank they were to soft to climb and the front wheels just dug into the side of the bank, bound up, then I heard the pop-pop-pop sound of the ring gear teeth shearing off. Tried to winch myself out but between the soft banks and only having 2WD I eventually had to call my buddy and have him come winch me out. Third pic this month is a few years old, that hole cost me my clutch, rear drive shaft and a rear shock.
CyberPyrot
Mods:
Rugged Ridge XHD Front Bumper.
Rugged Ridge XHD Rear Bumper.
Rugged Ridge Rock Sliders
Warn RC8000 Winch
Poison Spider Hood Louver
Sand Scorpion Hood Decal
Scorpn License Plate
Rugged Ridge Hinge Armor
Tuffy center console lock box
Mickey Thompson 17 MT28 metal series wheels (in the mail)
Bestop NX safari top
Bestop Element Tube Doors
Safari Straps Cargo Netting
IPCW LEDT-420CS Platinum Smoke LED Tail Lamp
Off-Road (13" inch) ANTENNA
Locking Gas Cover
Story:
Im working on the ultimate beach/Dune cruiser I have a dune buggy I tow to the beach with the jeep. It is all sun and play for me and my grandson.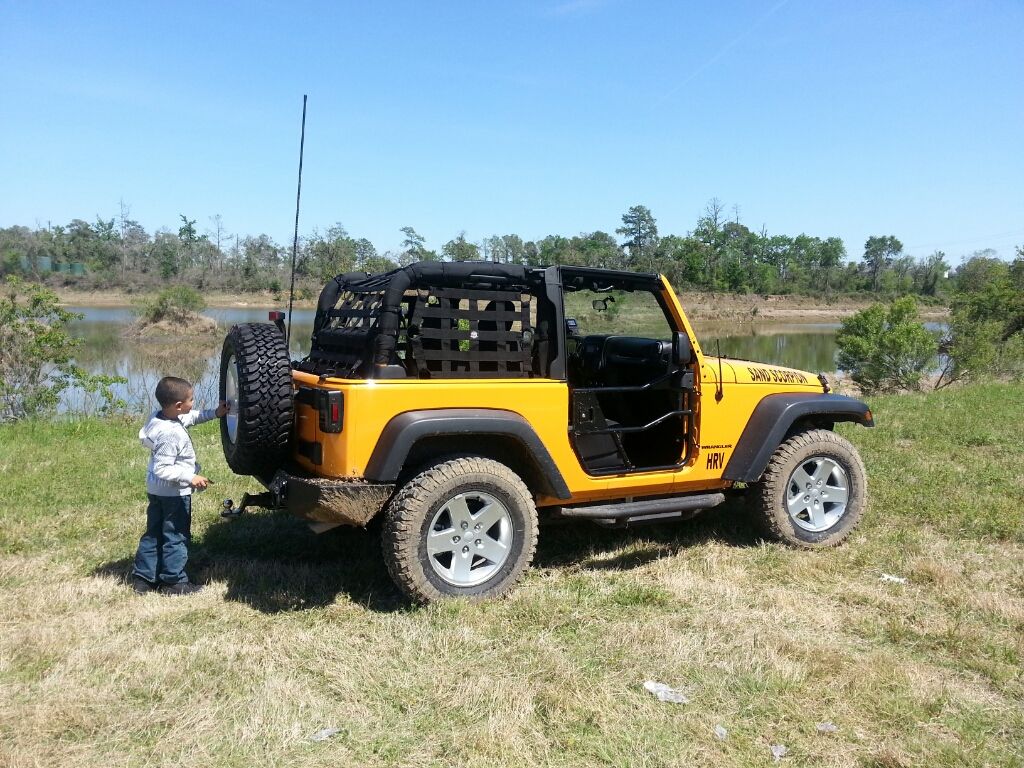 kellerexpress
Mods:
-2008 JK Unlimited Rubicon, Hard Top
-Nav, mygig w/dvd player
-3.8 mini van engine
-Airraid intake w/poweraid throttle body spacer
-Superchips flashpaq
-Auto Trans
-E-disco
-4:1 Rock Trac transfer case
-Front axle-- dana44, rubi E-locker, 5.38 gears, Artec truss, synergy c-gussets,teraflex diff cover
-Rear axle-- dana44, rubi E-locker, 5.38 gears, teraflex diff cover
-Teraflex drivelines front and rear
-Teraflex 4" LCG long arm suspension w/Teraflex shocks
-37x12.50r17 Goodyear MTR w/Kevlar
-17x9 Mickey Thompson Sidebiter wheels, black
-Expedition One rear bumper w/carrier
-JCR Off-road dagger series stubby front bumper
-Superwinch Talon 12.5SR winch w/Viking synthetic line, Factor Five Pro Link
-Ace Engineering sliders
Let The Games Begin