The August
JK of the Month Contest
Starts Now!
2012Rubicon
---Suspension/Tires---
-TF 2.5 Coil lift
-JKS dis-connects
-17" Pro-Comps
-35'' PC A/T's
---Armor/Protection---
-Rancho front stubby bumper
-Rancho rear bumper with spare tire carrier
-¼" Skid Plate Belly Pan from Engine to Rear of Transfer Case
After riding in the twins TJ on a trail ride, I was hooked. After the misplacement of my Ram(it was stole) I decided it would be the perfect opportunity to grab a jeep! I like the TJs as well, but I wanted something with a more comfortable interior, and I really hated the front flares on the TJ, so I got my baby!
voodooJK
Exterior mods and armor:
voodoofab, custom, homemade, whatever you call it front winch stubby bumper
voodoo rear bumper with tire swing, Hi Lift Jack and gas can mounts
Xenon narrow flares
Daystar Hood Wranglers
Bestop bikini
Hella 1000 lights with clear lense covers on voodoo light brackets
Hella 500 lights with lense covers
Magnaflow muffler relocated under driver seat
Drivetrain, suspension and wheels/tires:
ATX Slab bead lock rims 17x9
Goodyear Wrangler MT/R Kevlars 40x13.50R17
Daystar 1" body lift
Bilstein 5100 shocks
Rock Krawler 3.5" springs
Rock Krawler rear coil correction wedges
JKS adj. track bars
Rokmen adj. lower control arms
Teraflex extended braided brake hoses
Rancho steering satbilizer
voodoo raised steering stabilizer bracket
extended front and rear OEM swaybar links
Teraflex inner front axle sleeves
Off Road Evolution upper and lower "C" gussets
Riddler diff covers
5.38 re-gear
Interior, recovery gear:
Superwinch Epi 9.0 with synthetic line
ARB shackles, tree saver and snatch strap
48" Hi-Lift Jack
voodoo OBA
Cobra 75 with Tiger antenna
AEV ProCal
Daystar switch panel and switches
Mopar grab handles front/rear, rears are modified to bolt to bar
Mopar slush mats
I am probably forgetting misc. things and have tools, emergency items and more recovery gear stored under the seats. I am planning on doing several mods over the coming months as funds and time allow, but the family wheels and/or camps almost every weekend over the summer. Every mod and maintenance is done by me. I'm planning to do trans. cooler, axles, driveshafts, ram assist, ball joints, HD tie rod, fabricate some voodoo sliders and axle trusses, etc...
Story: In 2006 I test drove an Unlimited Sport. The dealership didn't have many in stock and wouldn't budge on sticker price. I didn't NEED it, so I decided to wait. In 2008, the '09s were on the lot, carmakers were asking for bailout money and LOTS of 08's were still on the lot. I picked a Rubi from what they had on hand with a 34k sticker, got them down to 28k with rebates and drove it home. I installed some 1" Teraflex front spring spacers and drove it over the winter. In the summer I started building my bumpers, installed a 2.5" lift, some used 37" tires and have been wheeling it while building it a little at a time since...
deerassassin22
Mods:
Engine/Driveline:
AEV Snorkel with Prefilter
Breather Valve Extension's
Torqflo Tranny Cooler
Suspension/Tires:
JKS ACOS front system
Stock Rubi
Armor/Protection:
ARB Front and Rear Diff Covers
Rockhard Transmission Skid
Rockhard Engine Skid
Smittybilt Rocksliders
Rockhard stubby bumper
Skidrow Evap Skid
Interior/Communications:
4ft Firestick Antenna
Cobra 29 CB Radio/With NOAA
Teraflex CB Antenna Bracket Spare Tire Carrier
Smittybilt Neoprene Seat covers
4WD Slush Mats front and rear
Smittybilt MOLLE GEAR Tailgate Storage
Recovery Gear:
Smittybilt 10,000lb Synthetic Winch
48" Hi-Lift (Homemade Brackets)
Tree Savers, Shackles, Snatch Block (Smittybilt Recovery Kit)
Misc:
Mastercraft Grab handles Front, Center and Rear
VIAIR Constant duty OBA system
Dominion Air Compressor Bracket
KC 100watt Slim Light Driving Lights
KC 130watt Slim Light Long Range lights
Delta Windshield Brackets
35% Front Window Tint
"Don't Be a Poser, Wheel It" Windshield Sticker
ARB tire Deflator
DIY Flatflare MOD
DIY Chrome Grill MOD
2x Fire extinguishers Rollbar Mounted
Drake Hood Pins
Genright Hood Louvers Polished
Craftsmans 200 Piece Toolkit
Story:
My buddy took me off roading and should me what a JEEP could do so I got a TJ to start and upgraded to the JK. Well, this is the Call of Duty Edition which is a Rubicon the only reason I got this one because it wall the only Ruby with 250 miles so I picked it up. I use it as my daily driver and wheel every weekend when possible. Next mods will be a 3 inch lift with adjustable Currie Control arms and full JKS front and rear adjustable trackbars, Fox Steering Stabilizer, and Fox Res Shocks. I will eventually get 35s with Yukon 5.13's.
JMW1191
Mods:
LOD Front and Rear Signature Series Shorty Bumpers
Warn Powerplant HP winch with viking synthetic line
Warn HID 7in Offroad Lights
Rigid Industries 30in Light Bar
Recon Led fog lights
ORO Litespotz rock lights
Fox 12in coilovers (Front Only)
Fox 12in Triple Bypass Shocks (Front Only)
River Raider Limb Risers
ARB Diff covers (front and rear)
Oracle 50watt HID Headlights
Fox Steering Stabilizer
Rock Krawler Drag Link and Track Bar
Rubicon Express 4.5in Long Arm Kit
Rear RE coils and monotube shocks
MBRP Black Series Offroad Exhaust
ORO Evap Canister Relocation Kit
Poison Spyder Front and Rear Crusher Flares
37x12.50R17 BF Goodrich KM2 Mud Terrains
BlackRock Intruder Black Matte Wheels
Dynatrac Pro Steer Ball Joints
Spedly
Mods:
3" poly performance lift,
poly performance adjustable control arms,
currie antirock,
synergy suspension shocks,
35" Goodyear MTR kevlars on 17" cragar soft 8's,
Tom Woods driveshafts,
River raider skid plates,
Poly performance "c" gussets,
Superior chromoly axles,
Stubby stock front bumper,
Poison spyder rear bumper with tire carrier,
Twisted stitch suspension seats and rjs harnesses .
Story:
February of this year I decided I was sick of working on my TJ and I missed wheeling. I parted out the TJ and traded the tow rig Silverado in on a new 2011 JK. I pretty much knew what it would take to get where I wanted to go at my local wheeling spot(Rausch Creek), so I started building immediately using the knowledge I had gained from building and wheeling my past Jeeps.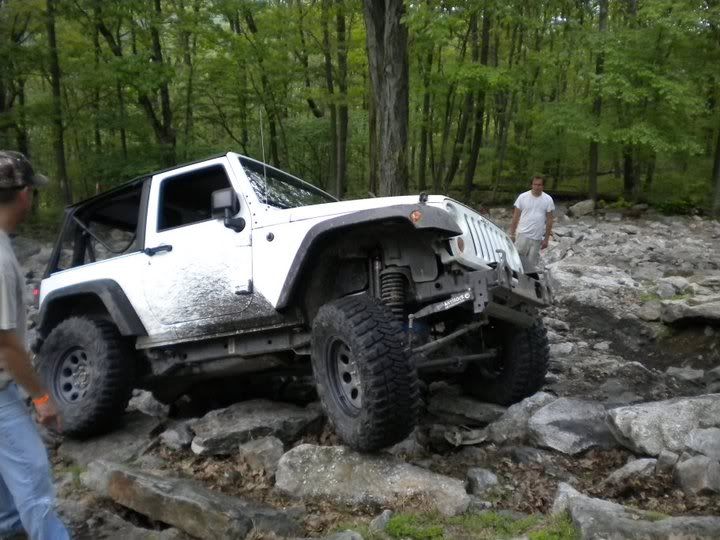 Jeepin Dad
Engine/Driveline:
Tom Woods 1310 Rear Drive Shaft
Centerforce Dual Friction Clutch
Suspension/Tires:
2" Black Diamond BB w/Shocks
Front 4dr Rubicon Front springs
Front JKS Adjustable Trackbar
Rock Krawler HD Tie Rod
Rancho Steering Stabilizer Kit
Set of factory rear swaybarlinks up front
285/75R16 Cooper Discoverer S/T
16 x 8 Procomp 8069 Extreme Alloys
Armor/Protection:
Front LoD 1st Gen Mid-Width
Teraflex Rock Sliders
Kilby EVAP Relocation Kit
Riddler Diff Covers
Interior/Communications:
Cobra 19III CB w/4" Wilson
Radio Shack Handheld CB
Neoprene Seat covers
Recovery Gear:
Warn M8000
48" Hi-Lift
20' 30,000 lb strap
Tree Savers, Shackles, Snatch Block
Misc:
Warrior Products Safari Rack
Warrior Products Mirror Relocation Brackets
Bestop Safari Top
Story:
After 4 years it is still the "little Jeep that could". It is still only has a Budget Boost and after 60+k miles on it's 33's they are more like 31's, the oil pan is dented, the skids, cross-member and any thing else that hangs low are dented and twisted and have taken numerous hits from the rocks it likes to play on, but it still heads to the off-road park fairly often and regulary wheels with rigs that have more lift and larger tires. Then it returns home and performs it duty as a daily driver without much complaint. Currently Jeep parts are all over the garage floor due to a new clutch install and a upgrade to a Heavy Duty Rock Krawler tie rod. It will get a new set of 33's later this month and by the time they wear out hopefully I will be able to retire it from daily driver status and give it a makeover to more of a dedicated trail rig.