Quote:
Originally Posted by Prot
That looks fantastic. Is it a dog with the bigger tires now? Is it a manual or automatic transmission? Have you thought about taking the mud flaps off?

How about parking the Sahara and the Rubicon next to each other and taking a picture for height comparison?
Thanks! It's not a dog at all, I can barely tell the difference from stock. Here's a pic of my new vs. stock Rubicon tires. You can tell the height difference is not as much as you'd think. The 315/70/17's are about 34.4" tall, so I only have about 2" more diameter on the tires now.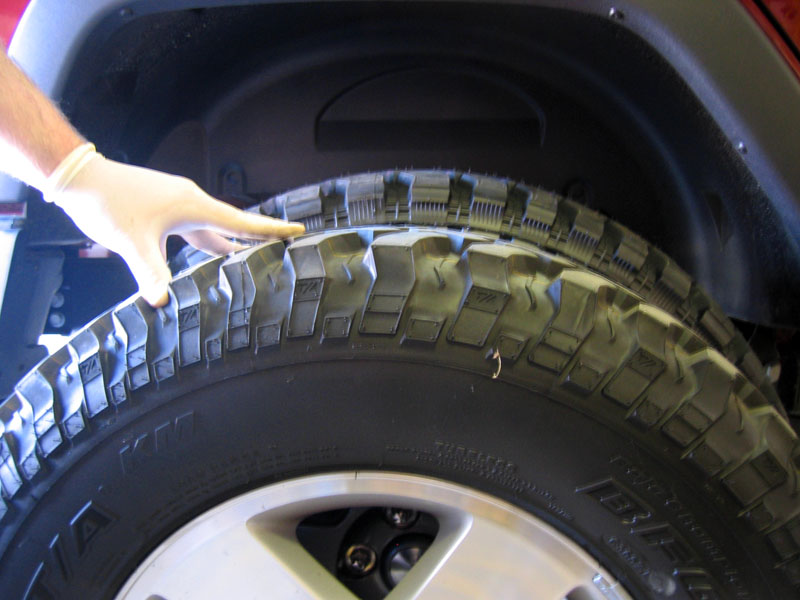 It's an auto, and it does kick down a gear a tad more on the interstate if there are hills, but it's not bad at all. The mud flaps are for street and mild trail use only, anything tough and I will remove them before hitting the trail. There is way too much road spray and debris that is kicked up not to have something protecting from road rash. Trail scars are one thing, but I'd rather keep the unnecessary dings from happening.
I was in a hurry when I took these, the sun was dropping quick. I'll get some side-by-side pics of her X and my Rubi as soon as I get a chance.