Registered User
Join Date: Jul 2009
Location: Highland
Posts: 470
Towing front bumper for JK?
---
Looking at an '11 JK and would need to tow it behind my RV. I like the setup on my CJ with a Body Armor rock bumper with shackle brackets that work with my A frame. Anyone out there add a front rock bumper to trick up the JK that also negates the need for a towing baseplate? I refuse to pay over $800 for a fancy towarm only to have to also add an ugly baseplate.
---
'84 CJ7, '07 5.3 LMG Chevy, D300, 4L60e, 33's, 4.10, rear Detroit Locker, FG Tub, HOK Tangelo Pearl
Build: http://www.jeepforum.com/forum/f22/ole-jays-cj7-5-3-chevy-swap-1287392/
Registered User
Join Date: May 2010
Location: Montréal
Posts: 280
maybe it's just me but I'd slap that baby on a trailer!!
Registered User
Join Date: Jul 2009
Location: Rochester, NY
Posts: 1,263
JKs make for awesome toads. There are a couple of members here who are using the JK as a toad. Do a quick search of the JK forum and I am sure they will come up.

A trailer is a PITA because many campgrounds charge extra for the storage, plus your fuel economy goes down the toilet if the trailer weighs anything at all. An aluminum trailer helps, but the cost is triple that of a steel trailer.

While I cant argue the logic and convenience of owning a trailer, setting up your Jeep to flat tow is worlds easier.
---
-------------------------------------
Tim C.
Rochester, NY
-------------------------------------
Registered User
Join Date: Apr 2009
Location: Sioux Falls SD
Posts: 8
I tow my 08 behind my motor home, I have a blue ox base plate with a stock front bumper. Would like to change to a after market front bumper with a winch and keep the blue ox base plate. Does anyone has any ideas.
Registered User
Join Date: Feb 2008
Location: WI & AZ
Posts: 614
I have the Rock Hard full width bumper. For $65 more, I bought their Blue Ox tow brackets that use 2 of the 4 mounting bolts on each side. My Blue Ox tow bar pins to it. It's simple and looks great. I hook the safety cables to the shackle weldments that are on the bumper. Plug in the wiring and it's ready to go.
---
2005 LJ, 112" wb, RJ60's, ARB lockers, Fox Coil overs, 40" Creepies
Registered User
Join Date: May 2010
Location: New Mexico
Posts: 149
I retained the stock bumper and built my own attachment setup. All you can see with the towbar off is a receiver hitch tube back under the bumper on each side of the frame. It's really not very noticeable. I used 2" tubes because I attach a hitch bar to the front to push my boat and trailers around. If you used the 1 1/4" tubes they would hardly show. I also have a winch mounted on the Rough Country winch mount.
Registered User
Join Date: Sep 2007
Location: Maryland
Posts: 610
Currie makes a skid plate/air dam replacement bracket with tow attachment points incorporated. They offer a complete JK towing kit as well, which includes the bracket and their tow bar.
I have on in the garage but haven't gotten around to installing it on my wife's JKU.
For my JKU I had AEV weld up a bar with a 2" reciever and Currie style bar attachment points that bolts to AEV's front bumper.
Here is a photo of the AEV bar: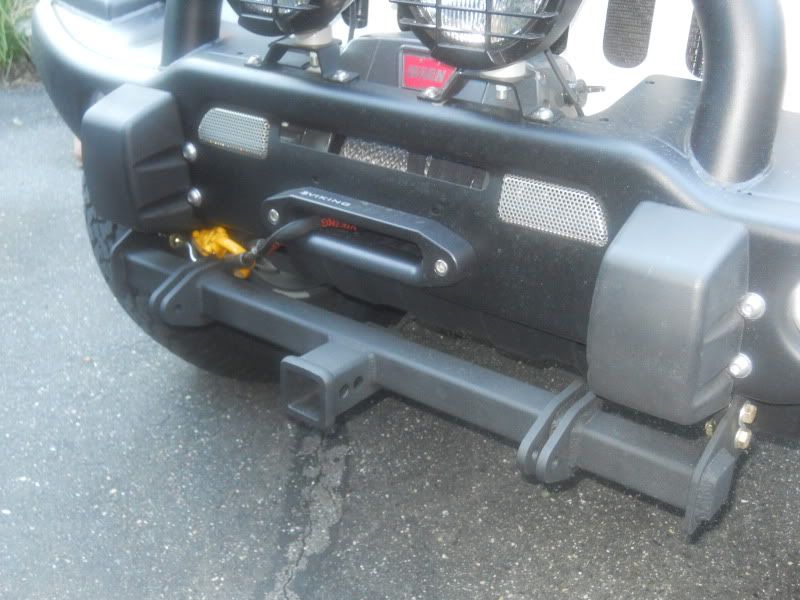 Hope this helps.
JPK
Force Wheeler
Join Date: Oct 2007
Location: Texas
Posts: 2,631
I have the new Body Armor bumper...I am going to buy the Warrior collapsable tow bar and hook it to the d-ring mounts via either the body armor d-ring adaptors or the body armor ones...one uses bolts the other cotter pins...haven't decided which I am going to buy yet...but this is the route I am headed...I used to use a roadmaster system, but it limited uses with aftermarket bumpers...
---
2007 White Jeep Wrangler X-auto, black freedom top, 15x8 Pro Comp Rock Crawlers, 33x12.5x15 BFG KM2s, Superchips Flashpaq, 2" OME Spring Lift, Bilsteins, Rusty's Adjustable front and rear trac-bar, JKS Quicker Disconnects, Rusty's adjustable lower control arms (front and rear), PolyPerformance adjustable upper control arms (front and rear), OEM Rubicon Rock Rails, Finishlinewest Stonehenge Series rear bumper, Smittybuilt winch, Body Armor Front High Clearance Bumper w/ KC Highlights mounted, Roadmaster towbar, Valley 2" receiver hitch, Skid Row Engine Transmission skid, sPod switching system, KC Highlights windshield mounted lights, Delta replacement non-quadbar xenon headlamps, and Bestop saddlebags-Member of the United Four Wheel Drive Association and Blue Ribbon Coalition, †John 3:16†
RIP Mrs. yoda13... My life is better for having had you in it and you made me a better man...I can't wait to see you again...I love you always and forever, and for all eternity
If you want to help the sport of off-roading, and protect your right to do so, please visit the
To view links or images in signatures your post count must be 10 or greater. You currently have 0 posts.

forum...

To view links or images in signatures your post count must be 10 or greater. You currently have 0 posts.

Registered User
Join Date: Mar 2016
Posts: 2
I have a SmittyBilt front bumper with d-ring mounts on my 2015 Wrangler JK. Because of the aftermarket bumper, I cannot attach a standard baseplate. Everyone says to just buy the Blue Ox adapters and tow right from the existing d-ring mounts. My question is: won't this wear through the powdercoat on my bumper and cause it to start rusting?
Accidental Obfuscator
Join Date: May 2011
Location: Corsicana, TX
Posts: 7,653
Any bumper that mounts to the frame with side plates can be adapted to tow. If the bumper only mounts with the four bolts per frame rail - I would be very hesitant to use it without fabbing some side plates. That's really all a base plate does - is mount three dimensionally not just bolt up flat (as well as connect low enough to match the receiver height of tow veh).

My Garvin has recovery eyes at the right distance - my roadmaster sterling all terrain bar could be attached (we use on the stock 12 sport - so cool even my 75yo mother can hitch and unhitch it) but I haven't wanted to tow my 11 with it because of height (3" lift and 35s), so haven't addressed sideplates. To have a level bar I would need my RV receiver 2' higher.

But with ANY bumper - using the recovery eyes ONLY if the eye is a through weld - that is the eye has a plate and comes through the bumper, welded behind - not just welded TO IT.
---
J Wm Bishop EA, ASADE
The wagon should, of course, be as light as possible, but strength should not be sacrificed to lightness, for on any but the regularly traveled roads, the wagon will get many a
To view links or images in signatures your post count must be 10 or greater. You currently have 0 posts.
...
Registered User
Join Date: Feb 2014
Location: Potomac
Posts: 89
Currently Active Users Viewing This Thread: 1

(0 members and 1 guests)
Posting Rules

You may post new threads

You may post replies

You may not post attachments

You may not edit your posts

---

HTML code is Off

---