Registered User
Join Date: Mar 2010
Location: MD
Posts: 2
Starts then shuts off
---
I have a 2010 Unlimited Rubicon. Its an automatic with about 36K miles on it. Some times (more often recently) I will turn the key and the engine starts and revs a little then shuts off. It will go through this cycle three of four times before it finally stays running. This rarely happens when the jeep has sat for a long time. More typically it is when I've run to the store or other short trip and then shut the engine down. When I come out and try to start it this cycle begins. I've read about battery issues but this is a new battery and when the jeep sits for any length of time it is on a battery tender. It also never just clicks as with the grounding issue or the Range sensor problem. Not saying they couldn't cause this problem as well, but mine starts each time then shuts off. Did I ever mention I hate computers. Old engines are so much easier to keep running.
Senior Member
Join Date: Apr 2005
Location: Albuquerque
Posts: 515
Others that have had a similar issue traced it back to the transponder recognition in the steering column. Most have been able to "reset" the computer by disconnecting the battery for around 20 or 30 minutes (?), then the problem went away. If you have the other key, try it to see if it does the same thing. If both keys do this, reset the computer. If it's just the one key, follow the instructions to "reprogram" the one key that isn't working as well...
---
-Ken
'96 XJ Sport
'14 WK2 Overland EcoDiesel
'13 JKUR 10A (sold)
To view links or images in signatures your post count must be 10 or greater. You currently have 0 posts.

'10 JKUR (sold)
To view links or images in signatures your post count must be 10 or greater. You currently have 0 posts.

'99 TJ (sold)
Web Wheeler
Join Date: Jan 2009
Location: Maine
Posts: 4,910
When there is a key recognition problem with the Wireless Control Module, (WCM), the WCM can be reset, without disconnecting the battery, by pulling up on the plastic bracket that surrounds the Ignition Off Draw (IOD) fuse, as shown in the picture below.
Pull up on the bracket to its stop, wait a minute, them push it down to re-seat it.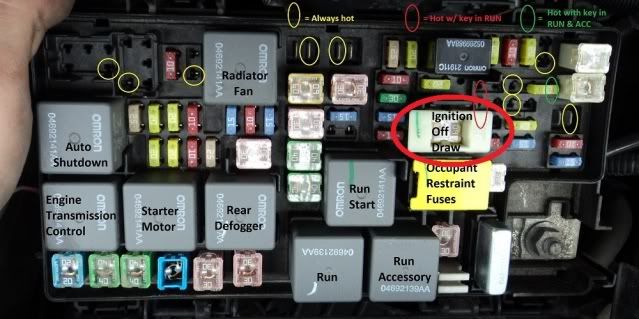 Registered User
Join Date: Jul 2011
Location: Durango
Posts: 1,502
There is a factory service action to address this issue, which affects '07 - '09 JKs. Involves a new WCM and new keys. Should be gratis. In the interim the fix ronjenx shows above works fine.
Registered User
Join Date: Mar 2010
Location: MD
Posts: 2
Thanks for the help. I'll give it a try, and I'll check with the local dealer for the service action.
Currently Active Users Viewing This Thread: 1

(0 members and 1 guests)
Posting Rules

You may post new threads

You may post replies

You may not post attachments

You may not edit your posts

---

HTML code is Off

---