Jeepin Dad
Mods:
Engine/Driveline:
Tom Woods 1310 Rear Drive Shaft
Suspension/Tires:
2" Black Diamond BB w/Shocks
Front 4dr Rubicon Front springs
Front JKS Adjustable Trackbar
Rancho Steering Stabilizer Kit
Set of factory rear swaybarlinks up front
285/75R16 Cooper Discoverer S/T
16 x 8 Procomp 8069 Extreme Alloys
Armor/Protection:
Front LoD 1st Gen Mid-Width
Teraflex Rock Sliders
Kilby EVAP Relocation Kit
Riddler Diff Covers
Interior/Communications:
Cobra 19III CB w/4" Wilson
Radio Shack Handheld CB
Neoprene Seat covers
Recovery Gear:
Warn M8000
48" Hi-Lift
20' 30,000 lb strap
Tree Savers, Shackles, Snatch Block
Misc:
Warrior Products Safari Rack
Warrior Products Mirror Relocation Brackets
Seat Glovers Neoprene Seat Covers
Bestop Safari Top
After almost 4 years it is still the "little Jeep that could". It is still only has a Budget Boost and after 57k miles on it's 33's they are more like 31's, the oil pan is dented, the skids, cross-member and any thing else that hangs low are dented and twisted and have taken numerous hits from the rocks it likes to play on, but it still heads to the off-road park fairly often and regulary wheels with rigs that have more lift and larger tires. Then it returns home and performs it duty as a daily drive without much complaint. It will get a new set of 33's sometime this summer and by the time they wear out hopefully I will be able to retire it from daily driver status and give it a makeover to more of a dedicated trail rig.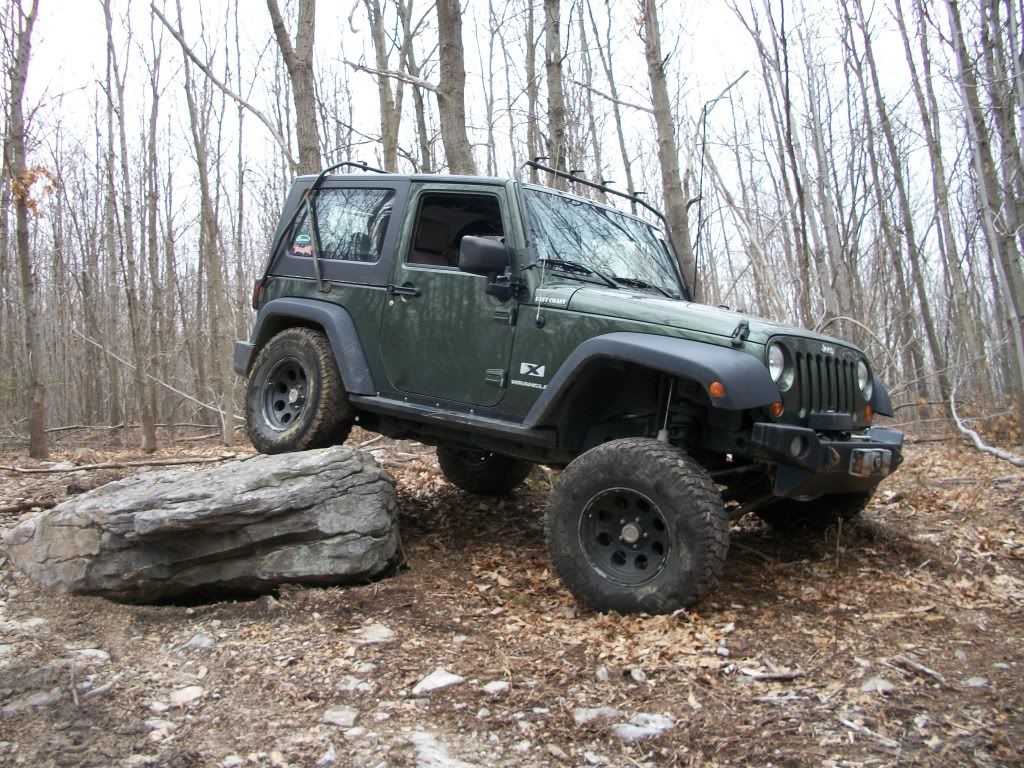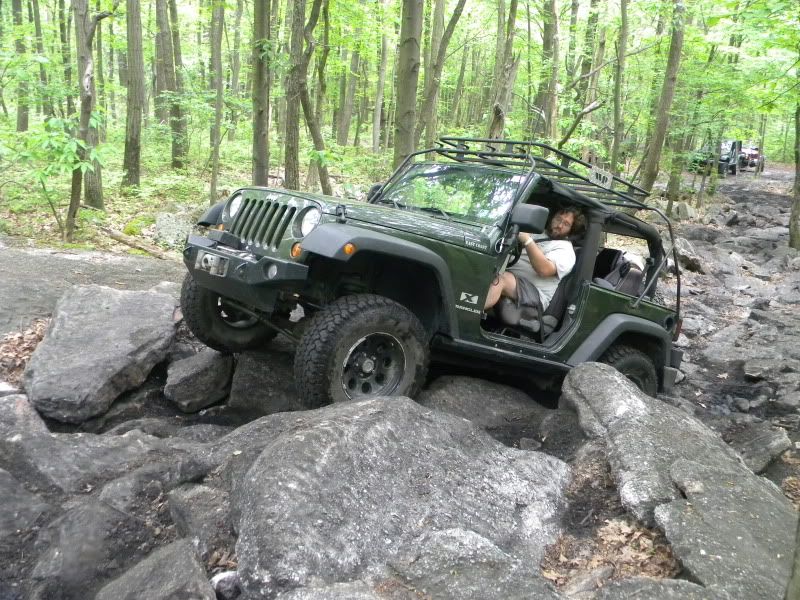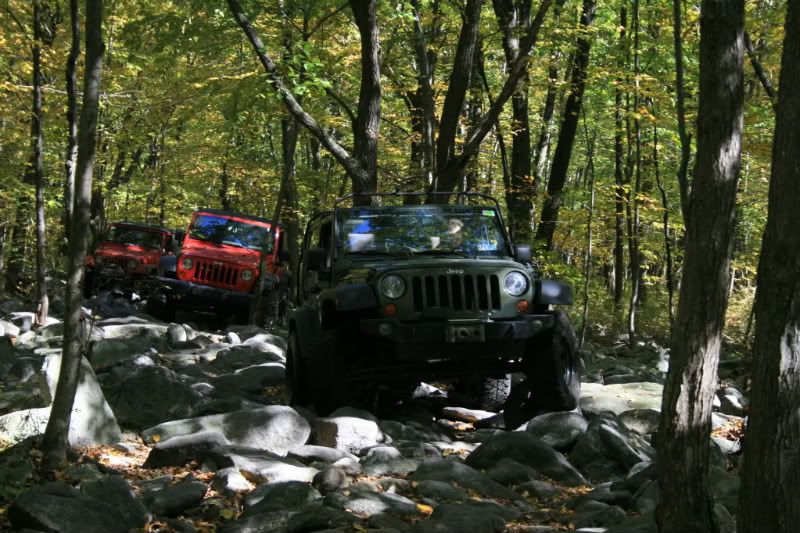 sky-king
UNDER THE HOOD:
Dodge Viper 72mm Throttle Body
Sprint Booster
Banks Ram Air Intake System
3000w Power Inverter
RUNNING GEAR:
Rubicon Express 4 1/2" long-arm suspension lift
Rubicon Express Shocks
RCV Front CV Axles
Chrome Moly Rear Axles
Tom Woods Drive Shafts with 1359 U joints
Rough Country Dual Steering Stabilizer
37x12.50 BFG KM2 TA Tires
Staun Internal Beadlocks
Yukon 5.38 Gears
PROTECTION:
Hansen Front Winch Bumper with Fairlead Mount
Hansen Bumper Skid
Expedition One Rear Bumper With Tire Swing
Kilby Muffler Skid
Poly Performance Complete Skid Package
Poly Performance Oil Pan Skid
AEV Rear Diff Slider
Bumper shackles
Red Rock Rock Rails With Aluminum Inserts
Rancho Lower Control Arm Skids
EVO Front Axle Sleeves and Gussets
Rugged Ridge Rear Turn Light Guards
Body Armor Safari Doors
RECOVERY:
Warn Power Plant winch
Amsteel synthetic winch rope
Spidertrax aluminum fairlead
EXTERIOR:
Xenon fender flares
Delta HID headlights
Delta HID Fog Lights
Delta LED Front Blinkers
Pilot Automotive LED Taillights
Rigid Industries LED Off Road Lights
Locking Fuel Door
INTERIOR:
Cobra 75WXST CB Radio, antenna, etc.
Daystar Switch Panel & Switches
Armrest pads
Center Console Armrest Pad
Insta-Trunk
Husky Floor Mats
MOPAR Neoprene Seat Covers
mYGIG Lockpick with Back-Up Camera
STORY: This is my 5th Jeep (ours is an 8 Jeep family), and my second Rubicon. Although I used to wheel a Ford F-250 decades ago, my wife got me hooked on Jeeping when she signed up our family for a Camp Jeep. We took the family ZJ (1996 Grand Cherokee Limited) to the event and were amazed what it could do stock except for the tires.
Afterwards I bought skids for the ZJ and was ready to order rock rails when my wife reminded me that it was the family car. So, she bought me a 1998 TJ for Christmas. IN 2002 when the Rubicon was announced I knew I had to have one and placed an order with my local dealer. Mine was the first Rubicon delivered to the dealership. After building it and wheeling it for a few years I sold it and bought the 2009 in March 2009.
It has been a work in progress ever since. I have wheeled it at Oak Ridge, Crozet and at Big Dogs events (all in VA), as well as at the beach. So far it has been unstoppable and I haven't broken anything! I have had a set of Raceline wheels on order for a couple of months...they tell me it will just be three more weeks.
I am a member of Middle Peninsula Jeep Association, Inc. (
www.mpjai.com
)
WVUJeeper
Story: While I was in College they came out with the JK Unlimited....I was hooked. After I graduated it took about 3 weeks for me to get a job, move from West Virginia to Wyoming, receive my first paycheck, then drive 8 hrs to Salt Lake City to pick up my base model Rescue Green JK Unlimited. I had hardly gotten out of the lot on the test drive when I told the Salesman that I was going to buy it. At 12,000 miles I could not stand the dinky 29" tires and crappy wheels any more, so I installed my RC Budget Boost and 35" KM2's.
That was 3 years ago. Now I live in Colorado and wheel the heck out of it whenever I get a chance.
Future plans include Poison Spyder BFH bumpers and T&T skid plates.
MY BIRTHDAY IS IN JUNE!!
Mods (optional):
---Engine/Driveline---
- Nada
---Suspension/Tires---
-RC 2.5" BB w/shock extensions
-315/75/16 BFG KM2's
-ProComp 7089 16x10
---Armor/Protection---
-Stock Skid's
---Interior/Communications---
-Mastercraft Grab Handles
-No Carpet
-Cobra Chrome CB
---Exterior---
KC Slimlights on KC windshield mounts
---Recovery Gear---
-Recovery straps
-Tools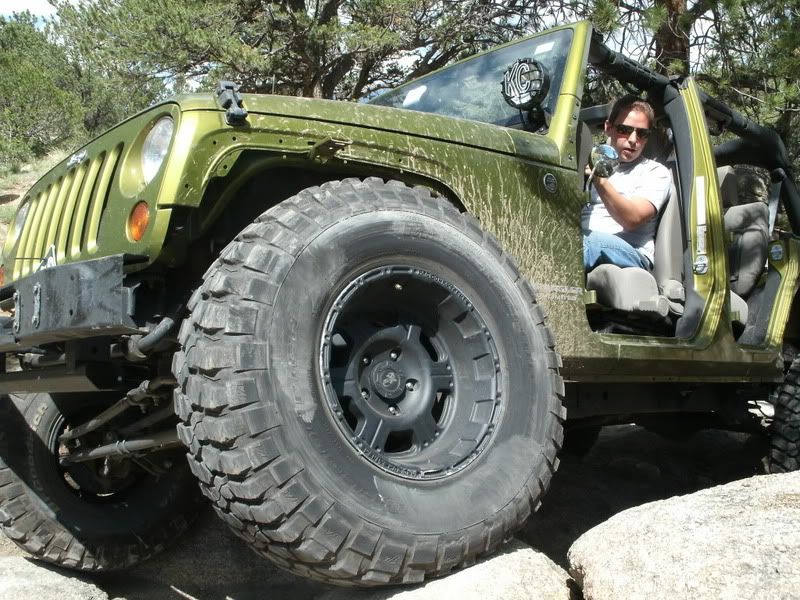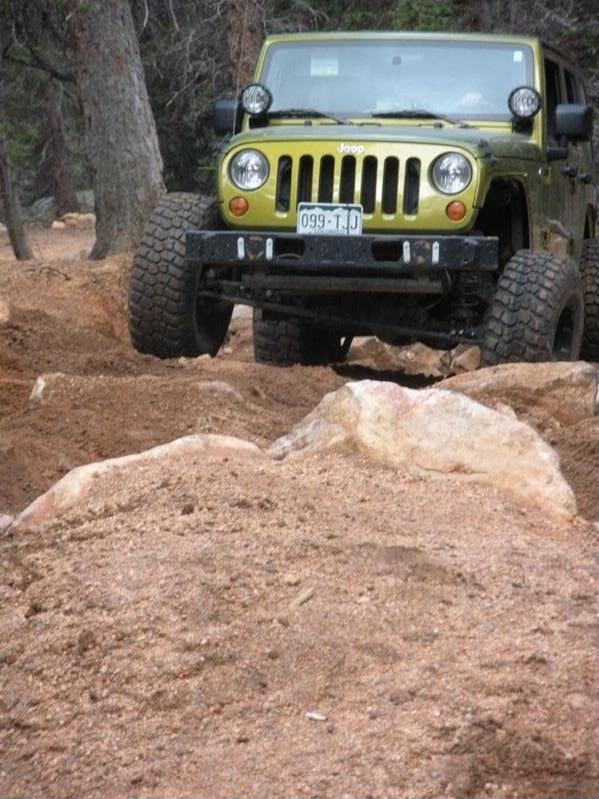 JcArnold
RC 2.5 Coil Lift
35" Goodyear MTR's w/ Kevlar
Ive had a modified YJ for a while and decided I liked the JKU so much that I
just had to buy one. Ive kept the mods list short since I use it as a DD.
Besides, its so capable with the lift and 35's now that there isn't much
more it needs.