Summer's Over
and
Class is in Session!
The September 2011
JK of the Month Contest
Starts Now!
Gills
∑ Rubicon BFG Mud Terrains on 17Ē Moab wheels
∑ Rugged Ridge front bumper light bar
∑ IPF 968 driving lights
∑ Daystar upper dash panel
∑ Cobra 75 WX ST CB
∑ Firestik 4í CB antenna
∑ Teraflex spare tire CB antenna mount
∑ Manual disconnects (unbolted & tie-wrapped (zip-tied) up Ė quick discos are on my short-list of mods!)
∑ Staun deflators
I finally realized my dream of being a Jeep owner Ė 21 years after my first test-drive when, in April 2008 I found an unsold 2007 Sahara on the lot with only 115 kilometres on the clock. After a 30 minute test-drive and two hour-and-a-half round trips to the dealer, I brought her home on May 1, 2008
Itís lightly modified (for now) but the JK Sahara is surprisingly capable straight out of the box. Iím managing to do something to mod it every year: this year before the Pennís Woods Jamboree it was the Rubi takeoffs, IPF 968s (won at the P.W. Jamboree in 2009), the light bar, CB install and the deflators.
My kids are bugging me for a lift; I may just have to surprise them for the start of the 2012 season. Iím getting used to banging the frame & skids against rocks on the trail, but another few inches (and maybe 35s!) would help me get over even bigger obstacles.
Iíve taken my girlfriend, my two older kids, and now my brother and his oldest son on various Jeep Jamborees and the Ontario Federation of 4-wheel Drive Enthusiastsí (OF4WD) Camp NL in Minden, Ontario. I sure wish there were trails closer to home here in Kitchener, Ontario!
Sliv3r
07 Jk X
4.5 R.E Long arm with 2 inch Pucks and RElocated Spring Buckets Moddified link with Ballistic Fab Joints all around
Stretched 8.5 inchs
Front: Chevy King Pin D60 With 7.17s and Full Spool
Rear: Chevy D70HD with 7.17s and Full Spool
Steering : Full Hydro with Psc Ram and orbital valve
Winch : 8274 warn
T-case: 5.0:1 Atlas II
Tires: Farmer Apple 18.4x16.1 (45x18.4r 16.1)
Xeon Flat Fenders
Jk Started out as my DD in 07 After one week i Stared mods arbs and 5.13 and 2 inch budget boost and 38.5 boggers while awating on my Back ordered 4.5 inch RE long arm wich came in about 2 months later Wheeled it for about a year and did the spyntech free wheel hubs and wheel it more. broke my tcase twice and me front ring and pinion 4 times and rear axles houseing and gear 1 time along with a broken 5 speed After the last time i drove it on one more trip and broke a front ujoint replaced it and desided it needed somthing bigger so i started taering down my Hunting Buggy as the leaf sprung 83 chevy was beating the crap outa me any ways and figured a nice ride of the coils would be the way to go and it became the Moster it is to day
deerassassin22
Engine/Driveline:
AEV Snorkel with Prefilter
Breather Valve Extensionís
Torqflo Tranny Cooler
Suspension/Tires:
JKS ACOS front system
Stock Rubi
Armor/Protection:
ARB Front and Rear Diff Covers
Rockhard Transmission Skid
Rockhard Engine Skid
Smittybilt Rocksliders
Rockhard stubby bumper
Interior/Communications:
4ft Firestick Antenna
Cobra 29 CB Radio/With NOAA
Teraflex CB Antenna Bracket Spare Tire Carrier
Smittybilt Neoprene Seat covers
4WD Slush Mats front and rear
Smittybilt MOLLE GEAR Tailgate Storage
Recovery Gear:
Smittybilt 10,000lb Synthetic Winch
48" Hi-Lift (Homemade Brackets)
Tree Savers, Shackles, Snatch Block (Smittybilt Recovery Kit)
Misc:
Mastercraft Grab handles Front, Center and Rear
VIAIR Constant duty OBA system
Dominion Air Compressor Bracket
KC 100watt Slim Light Driving Lights
KC 130watt Slim Light Long Range lights
Delta Windshield Brackets
35% Front Window Tint
ďDonít Be a Poser, Wheel ItĒ Windshield Sticker
ARB tire Deflator
DIY Flatflare MOD
DIY Chrome Grill MOD
2x Fire extinguishers Rollbar Mounted
Drake Hood Pins
Genright Hood Louvers Polished
Craftsmans 200 Piece Toolkit
My buddy took me off roading and should me what a JEEP could do so I got a TJ to start and upgraded to the JK. Well, this is the Call of Duty Edition which is a Rubicon the only reason I got this one because it wall the only Ruby with 250 miles so I picked it up. I use it as my daily driver and wheel every weekend when possible. Next mods will be a 3 inch lift with adjustable Currie Control arms and full JKS front and rear adjustable trackbars, Fox Steering Stabilizer, and Fox Res Shocks. I will eventually get 35s with Yukon 5.13ís.
WVUJeeper
While I was in College they came out with the JK Unlimited....I was hooked. After I graduated it took about 3 weeks for me to get a job, move from West Virginia to Wyoming, receive my first paycheck, then drive 8 hrs to Salt Lake City to pick up my base model Rescue Green JK Unlimited. I had hardly gotten out of the lot on the test drive when I told the Salesman that I was going to buy it. At 12,000 miles I could not stand the dinky 29" tires and crappy wheels any more, so I installed my RC Budget Boost and 35" KM2's.
That was 3 years ago. Now I live in Colorado and wheel the heck out of it whenever I get a chance.
Future plans include Poison Spyder BFH bumpers and T&T skid plates.
---Engine/Driveline---
- Nada
---Suspension/Tires---
-RC 2.5" BB w/shock extensions
-315/75/16 BFG KM2's
-ProComp 7089 16x10
---Armor/Protection---
-Stock Skid's
---Interior/Communications---
-Mastercraft Grab Handles
-No Carpet
-Cobra Chrome CB
---Exterior---
KC Slimlights on KC windshield mounts
---Recovery Gear---
-Recovery straps
-Tools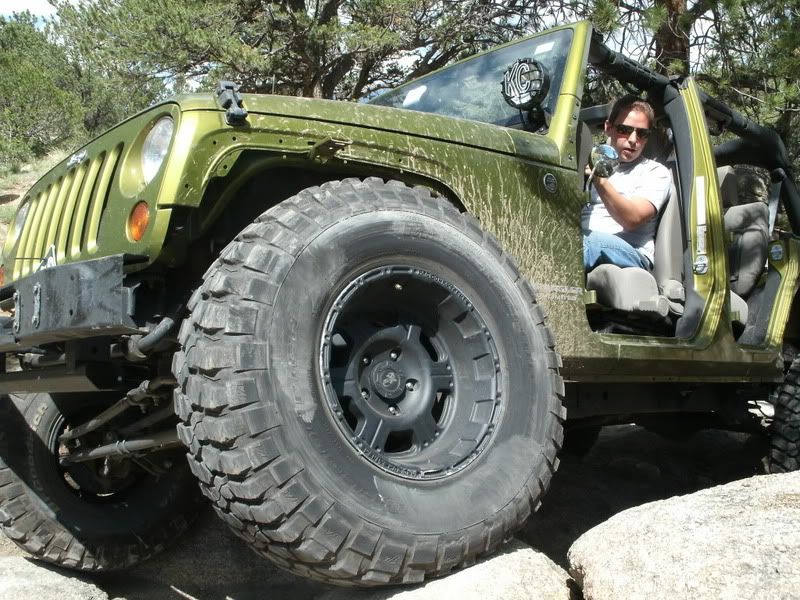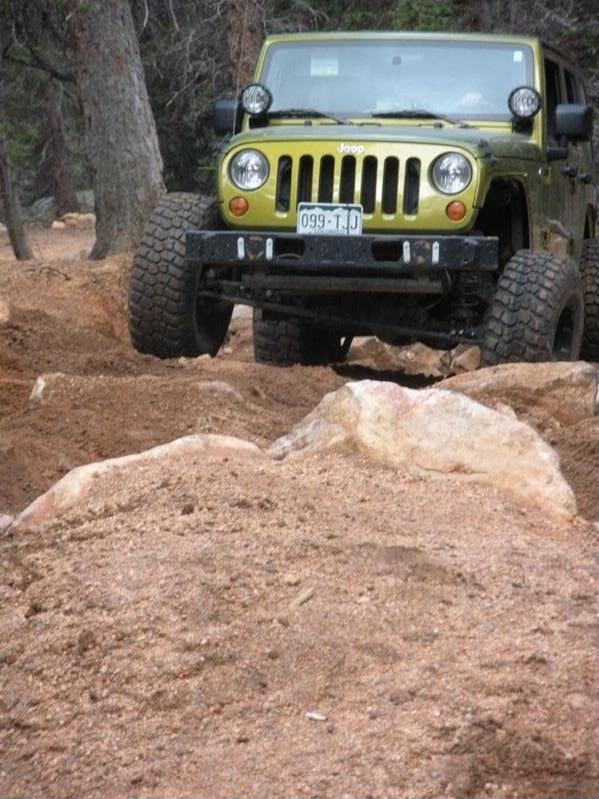 Jeepin Dad
Engine/Driveline:
Tom Woods 1310 Rear Drive Shaft
Centerforce Dual Friction Clutch
Suspension/Tires:
2" Black Diamond BB w/Shocks
Front 4dr Rubicon Front springs
Front JKS Adjustable Trackbar
Rock Krawler HD Tie Rod
Rancho Steering Stabilizer Kit
Set of factory rear swaybarlinks up front
285/75R16 Cooper Discoverer S/T
16 x 8 Procomp 8069 Extreme Alloys
Armor/Protection:
Front LoD 1st Gen Mid-Width
Teraflex Rock Sliders
Kilby EVAP Relocation Kit
Riddler Diff Covers
Interior/Communications:
Cobra 19III CB w/4" Wilson
Radio Shack Handheld CB
Neoprene Seat covers
Recovery Gear:
Warn M8000
48" Hi-Lift
20' 30,000 lb strap
Tree Savers, Shackles, Snatch Block
Misc:
Warrior Products Safari Rack
Warrior Products Mirror Relocation Brackets
Bestop Safari Top
Story:
After 4 years it is still the "little Jeep that could". It is still only has a Budget Boost and after 80+k miles on it the oil pan is dented, the skids, cross-member and any thing else that hangs low are dented and twisted and have taken numerous hits from the rocks it likes to play on, but it still heads to the off-road park fairly often and regulary wheels with rigs that have more lift and larger tires. Then it returns home and performs it duty as a daily driver without much complaint, the couple months it has also been doing tow vehicle duty hauling our popup camper across PA on numerous trips. This past month I got the new clutch installed and a upgraded to a Heavy Duty Rock Krawler tie rod with Moog rod ends. I also got new set of 33" tires put on and by the time these wear out hopefully I will be able to retire it from daily driver status and give it a makeover to more of a dedicated trail rig.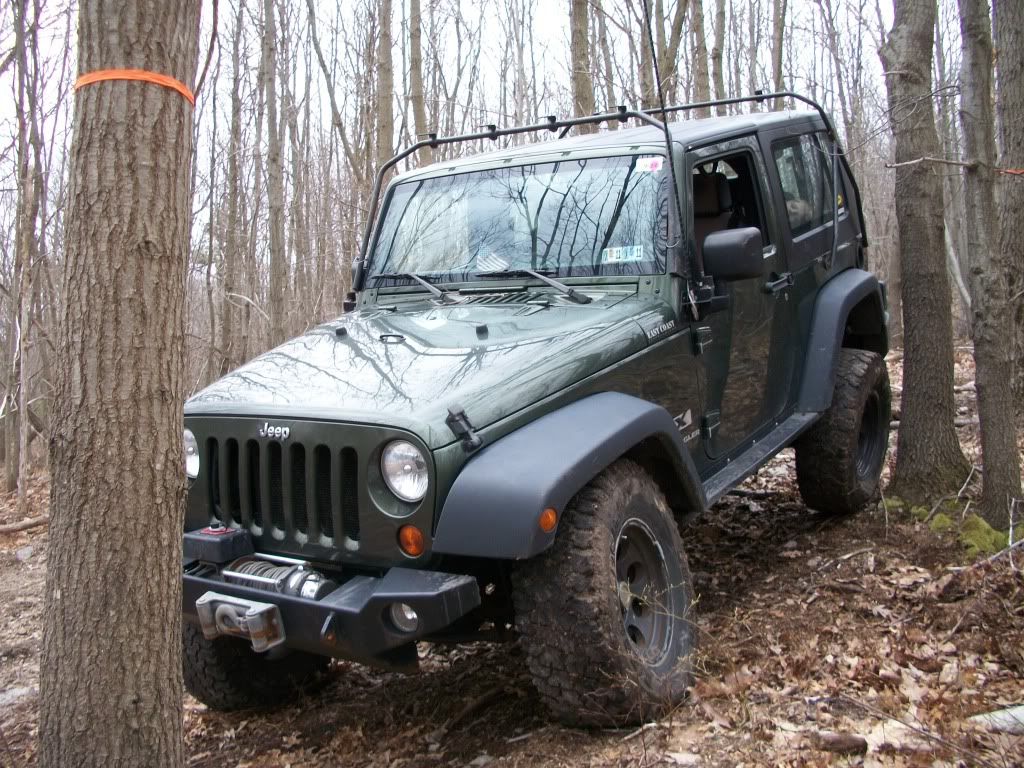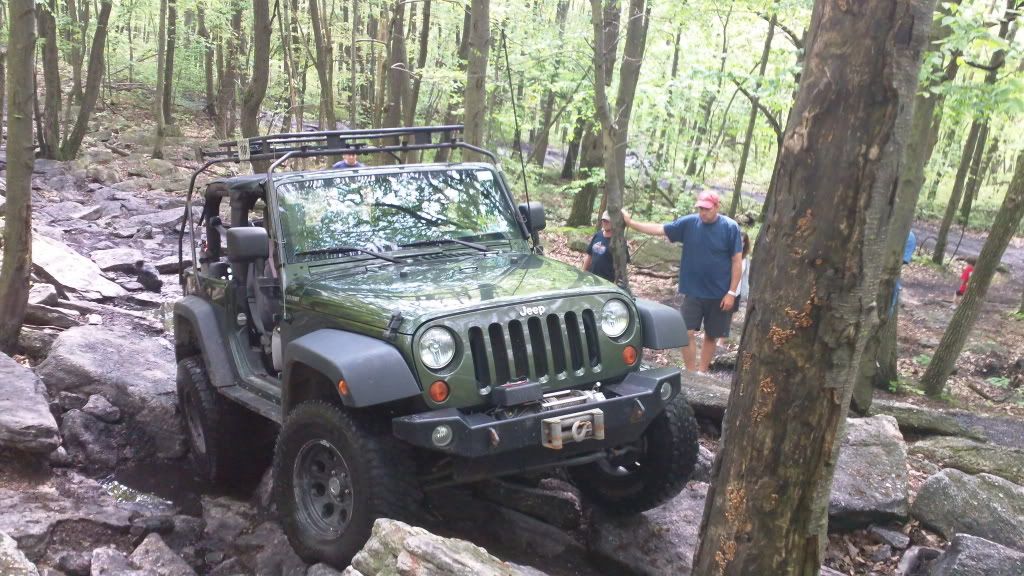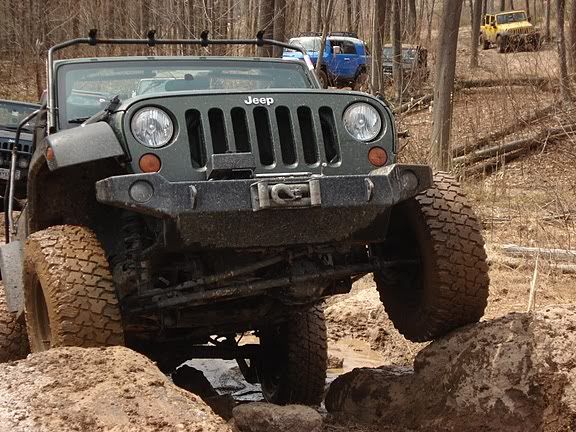 S1L3NT_WH33L3R
Exterior: Rampage Powdercoated Front Bumper, Rugged Ridge Rhinolined
Rear Bumper, KC Slim HighLites Long Range, KC Driving HighLites, Eagle
Driving Lights, Bestop Safari top, Smittybilt Tonneau Cover, Mopar
Side Steps, Bestop HighRock Basket with custom self-made slide out
brackets, Teraflex Cb Antennae mounting bracket, High-Lift Jack and
Hood mounts, Smittybilt XRC8 winch
Suspension/Perfomance/ Wheels and Tires: Custom 6 1/2inch Lift, Pro
Comp Coils, Pro Comp ES9000 shocks, Custom extended brake lines,17in
RBP 94-R wheels, BFGoodrich 35in All-Terrains, Dana 44 Rear Axle,
Aussie Locker in Rear Axle, Dana 35 Front Axle, Skyjacker Dual
Steering Stabilizer brackets with Pro Comp Shocks, 4.10 Gear Ratio,
Custom Short Ram Dual Air Intake, Magnaflow full exhaust, Safari
Snorkel
Interior: Tuffy Single Compartment Overhead Lock Box, Cobra 19DX CB
radio, Custom Bracket and Rocker Light Switches, Mastercraft Grab
Handles
I bought this JK my senior year of high school with little
intention of modifying. After high school I had end up joining an
Offroading club. We began to do trails in which more performance,
armor, and recovery gear was required. So the Jeep-Fever hit me in
which I began to indulge in the vast and endless possibilities in
upgrades. Because of that my Jeep is not even close to done.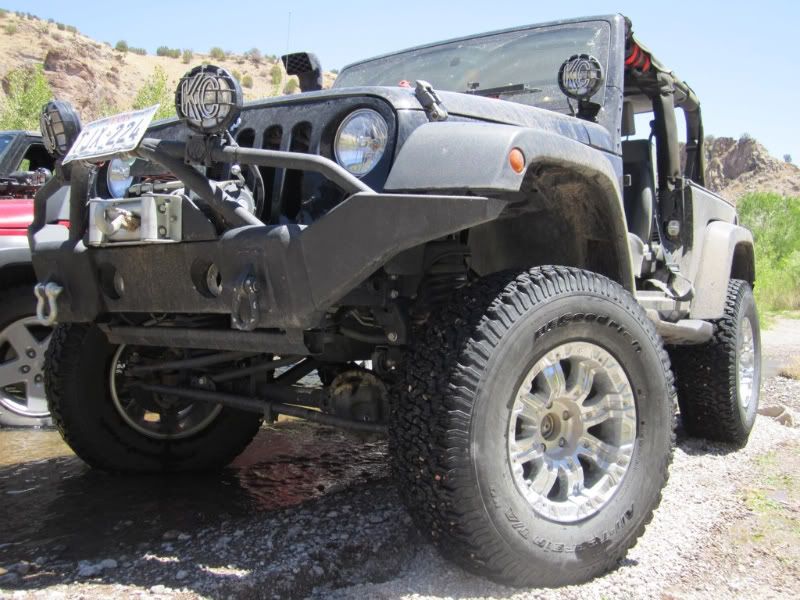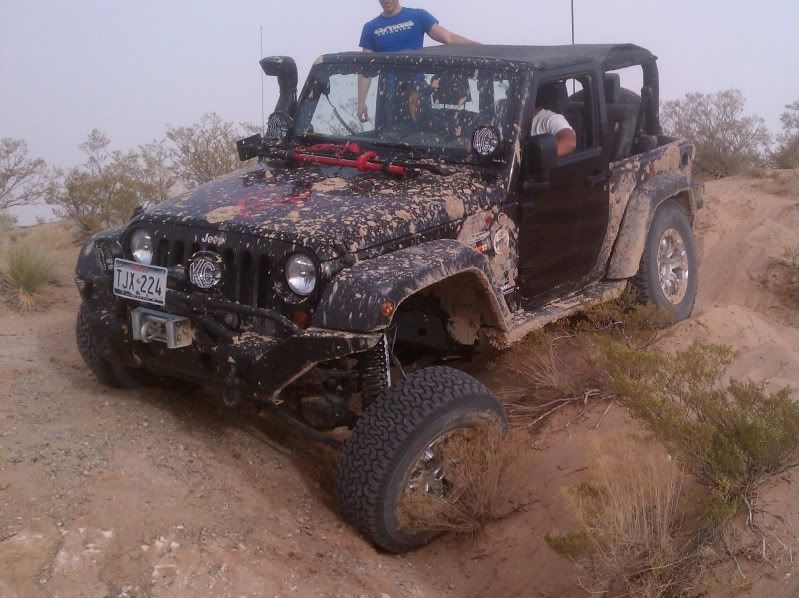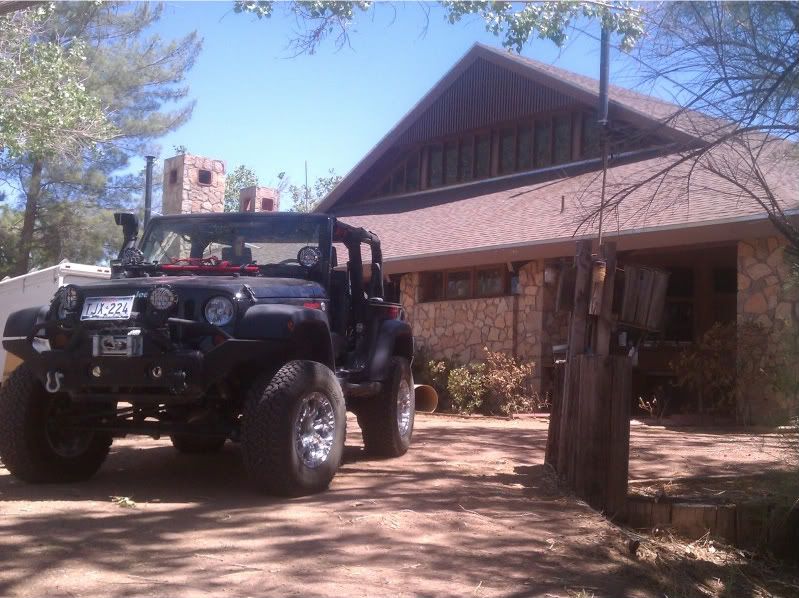 That's the Lineup!
Let The Games Begin!