We've Waited Long Enough!
Let's Get This Party Started
jehnmg
HACKSHACK
-Engine/Driveline
--- Corvette LS1 v8 2002
--- Transmission: 4L60E
--- NP205 twin stick t-case
--- electronic cutter break
--- Custom Front and Rear Driveshafts
--- custom exhaust
-Suspension/Tires
--- Rock Krawler Suspension 5.5 long arm
--- Front and Rear JKS ACOS
--- Rubi axles tons being built (ran out of cash)
--- custom cross members
-Armor/Protection
--- Reinforced Stock Dana 44 w/Knuckle Gussets, Tube Inserts,
and Custom Axle Truss
--- Custom front bumper
--- Custom rear bumper
--- 3/8" Skid Plate Belly Pan from Engine to Rear of Transfer Case
--- 3/8" fuel tank skid and fuel tank raised 1 inch
--- Custom paint
-Interior/Communications
--- Mastercraft bucket front
--- Mastercraft rear bench
--- Custom center counsel
--- Art Carr shifter
--- North West fab twinstick
---Recovery Gear---
-Warn Winch with Nylon Winch Rope
---Misc Gear---
-Bushwacker flat flares
Joevacs
2010 Rubicon
Zone 4" lift
TrailGrappler 35's
Warn Powerplant winch
Hard rock front bumper
Olymic rear bumper
cheap 12k winch.
Jeepin Dad
Story:
Had an '89 YJ that I was planning on building up but then my wife and I had our 2nd child and decided the YJ was just a little to small, luckily the JKs had just come out and the 2 doors had just enough more space not to have to make the jump up to 4 door. I have nothing against the 4 doors but personally prefer the size and more classic look of the 2 doors. I would have liked a Rubicon but it was just out of our price range so I bought an 2 door X with the freedom top, but I did spring for the "Rubi-Lite" package: 4:10 gearing, 32 spline Rear Dana 44 w/electric locker, electic swaybar disconnect. To make the 2 door a little more family friendly my first mod was to add the safari rack, not easy to start drilling holes into a 2 week old Jeep. The last mod I did was add some front springs off a 4 door Rubicon to get my lift back, after a couple of year with the extra weight of the bumper and winch my stock springs were really sagging. The Jeep is my dailly driver but the boys and I regularly take it up to Rausch Creek Off-Road Park to play on the rocks.
Mods:
Engine/Driveline:
Tom Woods 1310 Rear Drive Shaft
Suspension/Tires:
2" Black Diamond BB w/Shocks
Front 4dr Rubicon Front springs
Front JKS Adjustable Trackbar
Set of factory rear swaybarlinks up front
285/75R16 Cooper Discoverer S/T
16 x 8 Procomp 8069 Extreme Alloys
Armor/Protection:
Front LoD 1st Gen Mid-Width
Teraflex Rock Sliders
Kilby EVAP Relocation Kit
Interior/Communications:
Cobra 19III CB w/3' Firestick
Radio Shack Handheld CB
Neoprene Seat covers
Recovery Gear:
Warn M8000
48" Hi-Lift
20' 30,000 lb strap
Tree Savers, Shackles, Snatch Bl0ck
Misc:
Warrior Products Safari Rack
Warrior Products Mirror Relocation Brackets
Seat Glovers Neoprene Seat Covers
Bestop Safari Top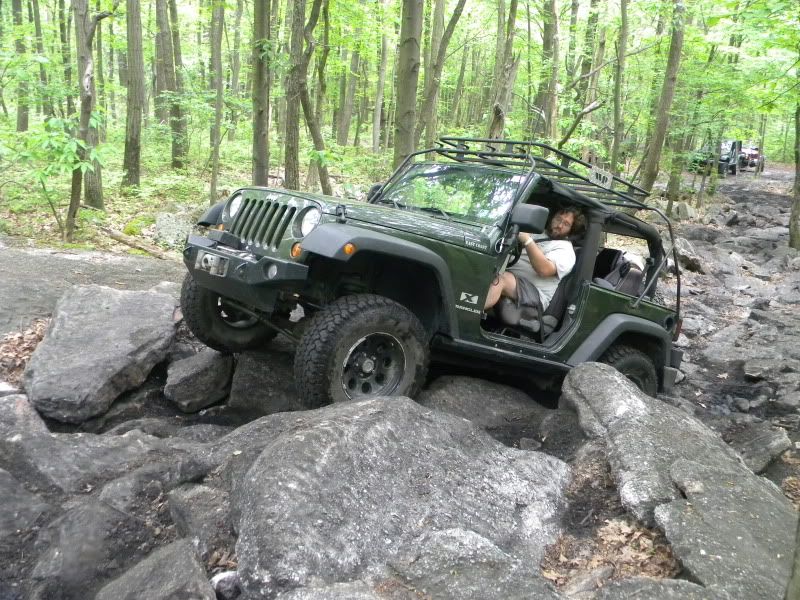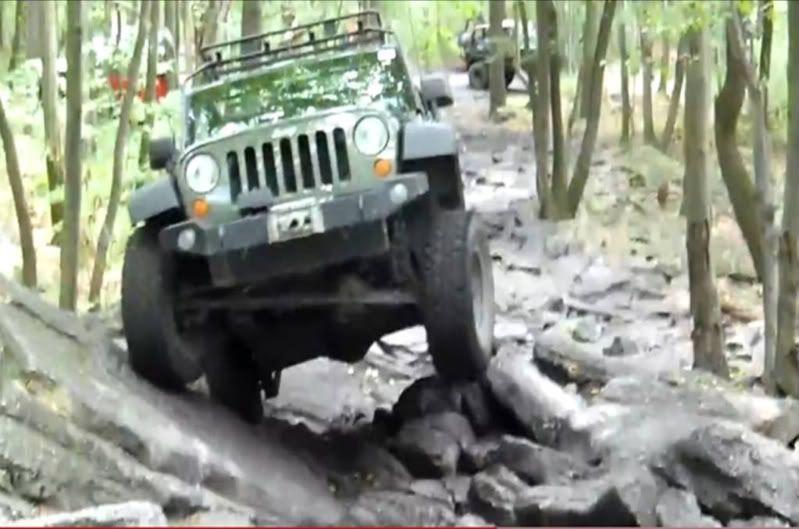 planman
Mods:
--Suspension, Tires/Wheels, Flares--
3" OME Long Travel suspension with Currie Arms and 0.75" rear stretch
Teraflex Monster HD front trackbar
Teraflex rear trackbar
Currie rear spring retainers
Rock Krawler rear coil correction wedges
JKS front adjustable bumpstops
1" M.O.R.E. body lift
Xenon narrow flares
40x13.50R17 Xterrains
17x8.5 Walker Evans beadlocks
Spidertrax 1.5" wheel spacers
Off Road Evolution rear RockStar lower control arm skids/relocation brackets
JKS rear trackbar bracket with additional gussets
Rock Krawler gusseted front trackbar bracket
Relocated rear swaybar
Relocated rear frame side trackbar bracket
--Drivetrain, Axles, and Steering--
PSC Extreme Duty hydro assist steering with cooler
Poly Performance HD tie rod
Currie HD drag link
Dynatrac ProSteer ball joints
Tom Wood rear 1310 driveshaft
Superior rear chromoly axle shafts
Alloy USA front axle shafts with large Mopar u-joints
5.13 gears installed by AEV
Off Road Evolution C2 gussets and lower control arm skids
RSE/Mt. Logan Offroad axle sleeves
Poly Performance front axle truss
--Armor, Interior, Exterior, Recovery--
River Raider weld-in cage with custom "planman" rear gusset
Rock Hard engine, transfer case, and gas tank skids
Poly Performance boat side sliders
PureJeep Bare Bonz front bumper
Warn M8000 winch
48" Hi-Lift jack
Custom built rear bumper/tire carrier by Big Sky Offroad
Woods large rear storage tub
Powertank 10 lb CO2 system
Bestop instatrunk
Bestop 2 piece soft doors
Teraflex velcro roll bar handles
Woods EVAP relocation
Daystar dash organizer
Costco floor mats
--Performance--
Cherry Bomb glasspack, relocated exhaust
Superchips Flashpaq programmer
--Other--
CB with Firestick adjustable antenna
Trimming work with a sawsallJ
Story:
Our story started with an 04 TJ purchased as a Montana winter vehicle, and over the last 6 years jeeping has morphed into a family obsession. Now we have his and her JKs, the old TJ, a 3 car wedge trailer, and a 1 ton dually to pull everything. We spend as many as 4 weeks a year wheeling as a family in Moab and other locales, plus another 9-10 weekends a year with our local 4x4 club.
I bought my JK so my son could use our 04 TJ as his high school daily driver. The purpose behind my 2 door JK build has been low center of gravity with good flex and stability because it is my daily driver. I would not hesitate to drive it 800 miles to Moab, wheel it hard for a week, and drive the 800 miles home.
Pictures: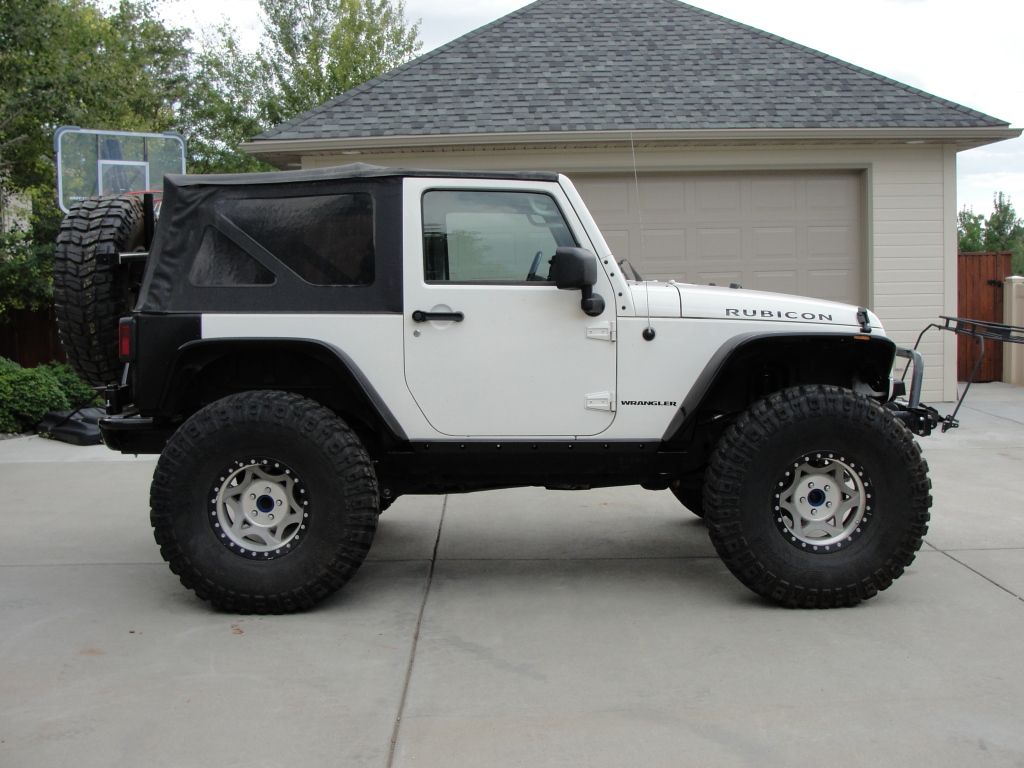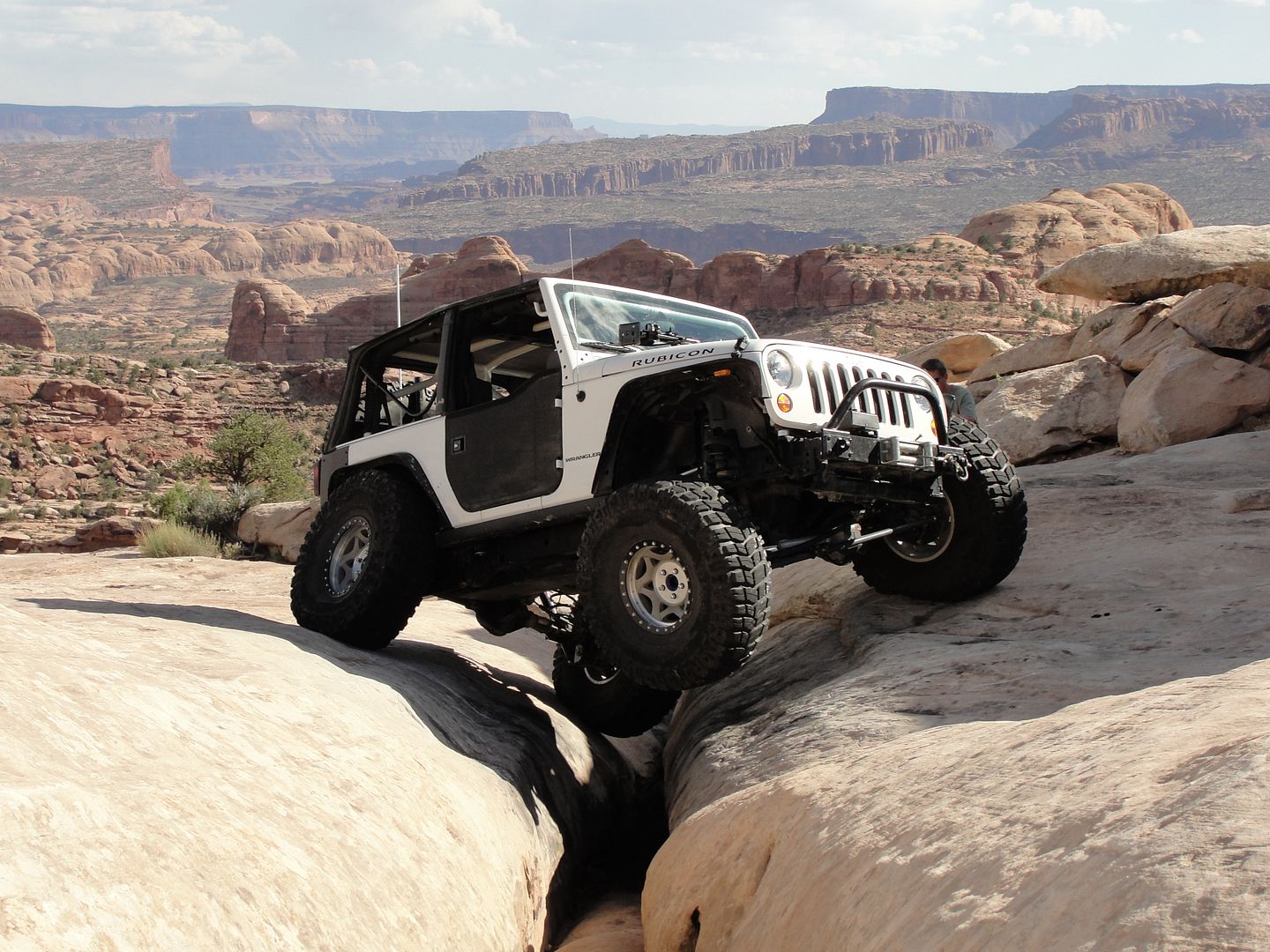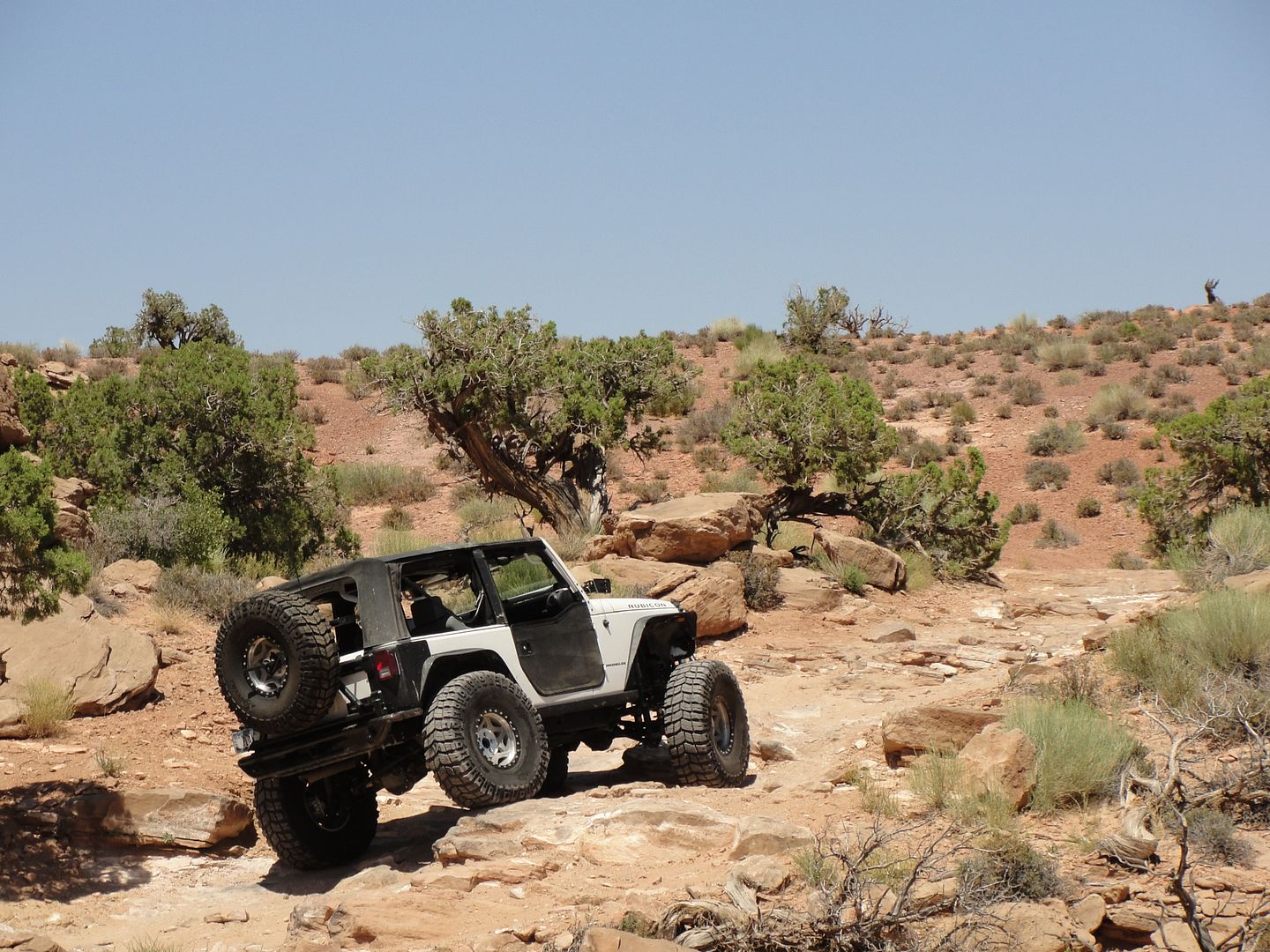 1398653
Mods: RC 3.25 lift, terafelx bumpstop extensions, 305-70-17 Goodyear MTRs with Kevlar, JKS front and rear track bar bracket braces, Poly performance front track bar frame side brace, JKS adjustable front track bar, rugged ridge mod bumper with prerunner guard, smittybuilt winch with viking 3/8 synthetic winch line, Rancho oil pan skid, Skid row lower control arms skids, skid row evap canister skid.