IT'S THAT TIME AGAIN!
FEBRUARY JK of the MONTH
STARTS NOW!
WVUJeeper
Story: While I was in College they came out with the JK Unlimited....I was hooked. After I graduated it took about 3 weeks for me to get a job, move from West Virginia to Wyoming, receive my first paycheck, then drive 8 hrs to Salt Lake City to pick up my base model Rescue Green JK Unlimited. I had hardly gotten out of the lot on the test drive when I told the Salesman that I was going to buy it. At 12,000 miles I could not stand the dinky 29" tires and crappy wheels any more, so I installed my RC Budget Boost and 35" KM2's.
That was 3 years ago. Now I live in Colorado and wheel the heck out of it whenever I get a chance.
Future plans include Poison Spyder BFH bumpers and T&T skid plates.
Mods:
---Engine/Driveline---
- Nada
---Suspension/Tires---
-RC 2.5" BB w/shock extensions
-315/75/16 BFG KM2's
-ProComp 7089 16x10
---Armor/Protection---
-Stock Skid's
---Interior/Communications---
-Mastercraft Grab Handles
-No Carpet
-Cobra Chrome CB
---Exterior---
KC Slimlights on KC windshield mounts
---Recovery Gear---
-Recovery straps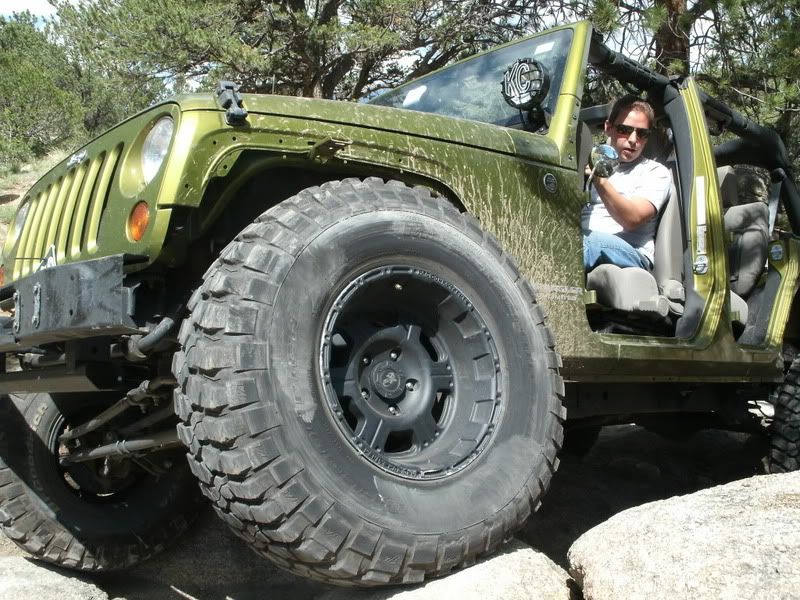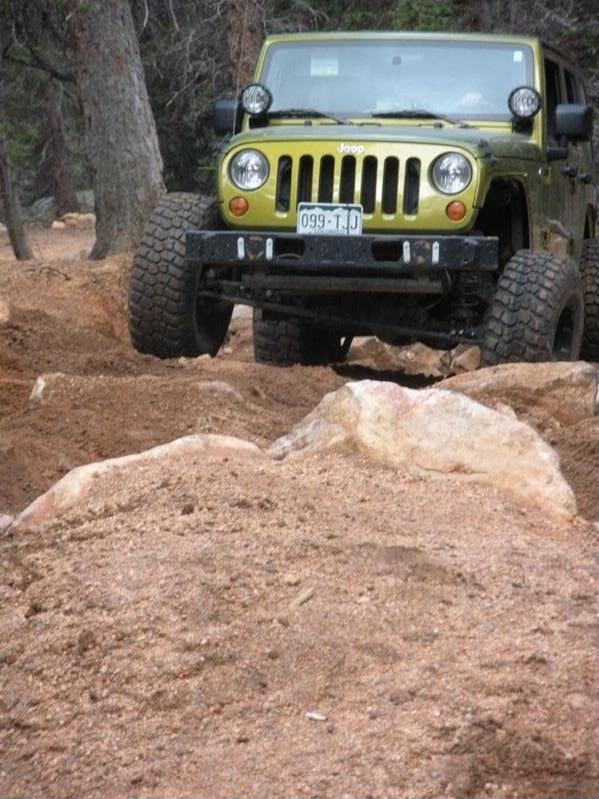 Rocky Clymer
Mods:
OME 2.5 in HD lift (neted 3.2 in)
OME Nitrocharger shocks
35 in KM2s on American Racing Mojave Teflon Black rims 17x8
Gorilla locking lug nuts (narrow and black)
Bushwhacker flat fenders f/r
ARB air lockers front and rear
NV241OR t-case
4.88 Yukon gears f/r
Power Tank OBA
JKS adj track bar front and rear
JKS spring retainers
TeraFlex rear upper CsA
Rock Krawler front upper CAs
Rugged Ridge XHD front bumper
Warn M8000 winch
Warn winch accessory pack
Olympic Rock Sliders
Body Armor rear bumper and tire carrier
Terraflex S/T front sway bar disconnect
Rugged Ridge front diff protection
AEV Nth Degree rear diff slider
AEV front axle sleeves and gussets
RCV front chrome moly axles
Misch door arm rests
Center console arm rest
Daystar dash organizer
CB Rig: Uniden and Firestick antenna
HF Rig: Kenwood TS440SAT and ALS500 amp (part-time use only)
Garmin GPS (an oldy but a goody)
One plastic Red Robin hamburger stuffed above CB for juju
Story:
I am a believer that Jeeps are built not bought - while that is an old school thought (which betrays my age)
I did buy my basic JK as a starting point. I think like Harley Davidsons, a Jeep
can then be modified to what the user wants, needs and likes best. After picking up the JK in Nov 2007
I kept the Jeep stock for the first year of wheeling to decide what I wanted and needed to run the trails I like
to be on. I am a member of the El Jebel Shrine Jeep Patrol and Red Rocks 4-Wheelers in Moab, Utah. Most of
my off-road trails are in Colorado, Utah, New Mexico or Arizona, with Moab Utah being my favorites. I volunteer
each year with the RR4W at Easter Jeep Safari and you can probably catch up with me in the registration booth
or on a trail.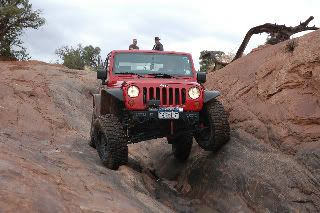 Jeepin Dad
Mods:
Engine/Driveline:
Tom Woods 1310 Rear Drive Shaft
Suspension/Tires:
2" Black Diamond BB w/Shocks
Front 4dr Rubicon Front springs
Front JKS Adjustable Trackbar
Set of factory rear swaybarlinks up front
285/75R16 Cooper Discoverer S/T
16 x 8 Procomp 8069 Extreme Alloys
Armor/Protection:
Front LoD 1st Gen Mid-Width
Teraflex Rock Sliders
Kilby EVAP Relocation Kit
Interior/Communications:
Cobra 19III CB w/3' Firestick
Radio Shack Handheld CB
Neoprene Seat covers
Recovery Gear:
Warn M8000
48" Hi-Lift
20' 30,000 lb strap
Tree Savers, Shackles, Snatch Block
Misc:
Warrior Products Safari Rack
Warrior Products Mirror Relocation Brackets
Seat Glovers Neoprene Seat Covers
Bestop Safari Top
Story:
Had an '89 YJ that I was planning on building up but then my wife and I had our 2nd child and decided the YJ was just a little to small, luckily the JKs had just come out and the 2 doors had just enough extra space to make it practicle for us. I would have liked a Rubicon but it was just out of our price range so I bought an 2 door X with the freedom top, but I did spring for the "Rubi-Lite" package: 4:10 gearing, 32 spline Rear Dana 44 w/electric locker, electic swaybar disconnect. To make the 2 door a little more family friendly my first mod was to add the safari rack, not easy to start drilling holes into a 2 week old Jeep. The last mod I did was add some front springs off a 4 door Rubicon to get my lift back, after a couple of year with the extra weight of the bumper and winch my stock springs were really sagging, I just ordered some longer travel front shocks and Riddler Diff Covers. The Jeep is my dailly driver but the boys and I regularly take it up to Rausch Creek Off-Road Park to play on the rocks.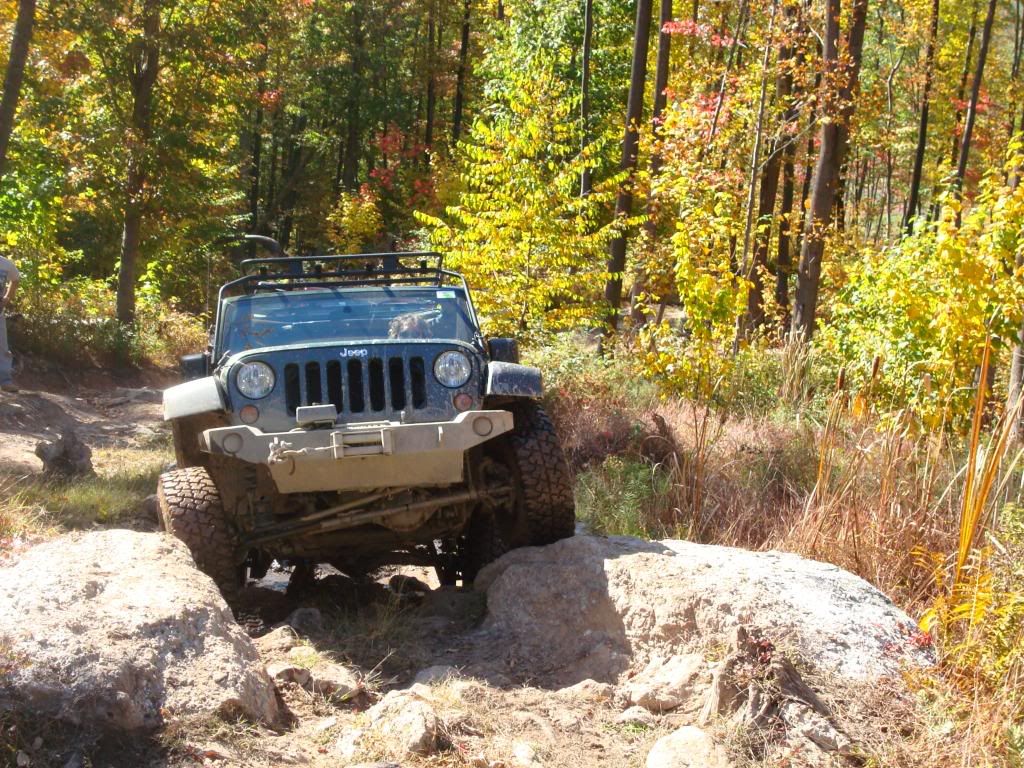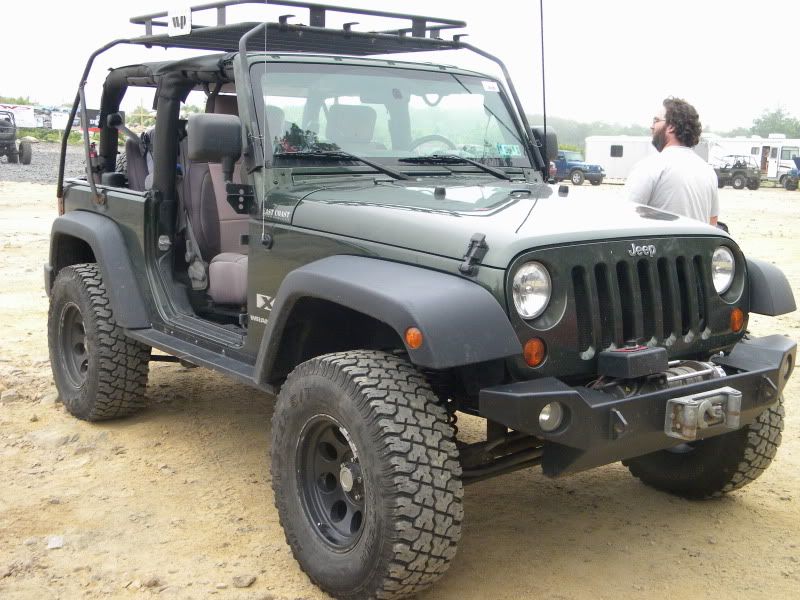 nwbronco
3.5" Rubicon Express Lift, Front andf rear JKS adjustable trac bars, Teraflex 4" rear upper bump stops, Poison Spyder evap skid, 37" Goodyear MTRs
Family wheeling, camping, and downright fun rig.
ARRazor
2011 Sport Unlimited
Custom Blended Graphite Grey Line-X Premium Protective Coating with Kevlar Miro Pulp
Smitty Bilt SRC Classic Front Bumper
Smitty Bilt XRC 10,000 Lb. Winch
(4) 6" KC "Flame Thrower" Lights
BushWacker Fender Flares
4" Pro Comp Lift
Pro Comp Tie Rod Stabilizer
(5) 17" KMC XD Hoss Rims
(5) 35x12.50 Nitto Trail Grappler M/T
I have always loved Jeeps and finally decided to pull the trigger. I am of course a little Red Neck at heart so I had to do some mods. Just picked up my baby a couple weeks ago from the shop and I am thrilled with how it came out. Started out as a stock Silver Unlimited Sport. I hope you like. Thanks for considering me.
porchdog
Smitty winch 8,000
Smittybilt SCR rock crawler bumper
Smittybilt SRC rocker guard
35" nitto grabber all terrain tires
Fuel 18" wheels
Gray Metalatic paint
Automatic
Piaa lights
GOOD LUCK TO ALL