Registered User
Join Date: Dec 2016
Posts: 8
Replace thermostat housing.
---
My housing is leaking. Looks like the gasket. Nonetheless, I'm going to replace housing, gasket and thermostat. Do I need to put some type of sealant on both sides of the gasket? Thank you.
Sent from my SGH-M919 using Tapatalk
Registered User
Join Date: Apr 2015
Location: SLC
Posts: 1,504
Is anything leaking (oil) on the housing?
No just antifreeze seeping from either the bolts or gasket. May be a cracked housing. I can't find the leak but have wet spots. When I squeeze the upper radiator hose i can hear air escaping or what I think is air escaping. Water pump is dry.

Sent from my SGH-M919 using Tapatalk
Some say to use RTV while others say not to. Maybe use a cereal box and just install dry.

Sent from my SGH-M919 using Tapatalk
Registered User
Join Date: Apr 2015
Location: SLC
Posts: 1,504
If it has an oring or gasket, i vote to put it together dry.
Thanks sounds good..

Sent from my SGH-M919 using Tapatalk
Accidental Obfuscator
Join Date: May 2011
Location: Corsicana, TX
Posts: 7,659
paper gaskets and cork imbedded gaskets should be assembled dry or tacked on one surface (the old SBC therm housing is a prime example - two spots of permatex non hardening at the bolt holes only of the housing - gasket now stays put as you assemble it, same on timing cover, fuel pump, water pump etc). Torque to spec - done. Yes. You WILL hear "I use __________ and its never failed." Even from me - I use simple gasketing rules of thumb learned in Navy Engineman School (which is pretty much what my God Father taught me 15 years before that) in 20 years of racing and I have never had an on track leak. Anywhere.
The paper/cork is intended to absorb the liquid slightly when fluid gets to it - that allows the gasket to swell and seal into the surfaces - like the cork in the winners champagne bottle - it don't leak... Over sealing a paper or cork will actually INCREASE the chance of a leak. I set valve lash every week for 6 month season on a race car with cork non grommeted gaskets. I rtv'ed the gasket to the cover only at the corners and bolts holes - hand tightened em and ran it - if I had a seep I would tighten 1/8 turn. The gaskets lasted all season. Other guys always had a greasy mess on inside of the engine compartment on the right side - oil floods that head during the left turn. Imagine the happy dance when FelPro came out with their double ridged grommeted gaskets (until I saw he price - valve cover gaskets for the same cost as complete rebuilders set of OEM)! Those you just place torque and they last TWO YEARS even pulling covers every week (or five times a night for the drag racers).
Rubber and rubberized gaskets can USUALLY be omitted in their entirety with a bead of RTV allowed to set a minimum of 30 minutes to an hour before assembly. That set up is where I have seen problems. It allows the RTV to void and squish when you don't set it up first... goop and slap on ANY gasket is a high comeback method - saving a few minutes now at risk of few "free" labor minutes later was never a good plan in my work thinking. If you do use rubber or rubberized - "prime" it with whatever its going to seal against - ie coolant for a water gasket, oil for a pan or cover gasket etc.
O rings should also be lubricated with whatever liquid will be sealed - but light mineral oil (sewing machine oil) can be used exclusively as long as its not on Oxygen or Nitrous Oxide plumbing (use Krytox for those - you COULD use it for any rubber application - until you see the price! lol).
---
J Wm Bishop EA, ASADE
The wagon should, of course, be as light as possible, but strength should not be sacrificed to lightness, for on any but the regularly traveled roads, the wagon will get many a
To view links or images in signatures your post count must be 10 or greater. You currently have 0 posts.
...
Registered User
Join Date: Feb 2007
Location: Lafayette
Posts: 8,079
Dealer just replaced my cracked housing under warranty at 36,100 miles. My water pump went out in September. I suggest looking at both.

Housing is made out of plastic on the 3.6L pentastar.
---
2014 JKU Copperhead Pearl
Too many mods to list. Too awesome to sell.
Registered User
Join Date: Jun 2013
Location: Glenpool
Posts: 212
Mine had a pin hole leak in it, just replaced the housing and it was no biggie. No gasket necessary there is an O ring designed into it. Figured it was a good time to replace the thermostat too, only I went with a 185 degree.
That was a mistake
, now getting a code from it and will have to replace with the stock one (203?)
Make sure you bleed all the air out of the system when you're done. I ordered this funnel set to do it correctly
LINK
Link to a video below.
Here's a couple of pics.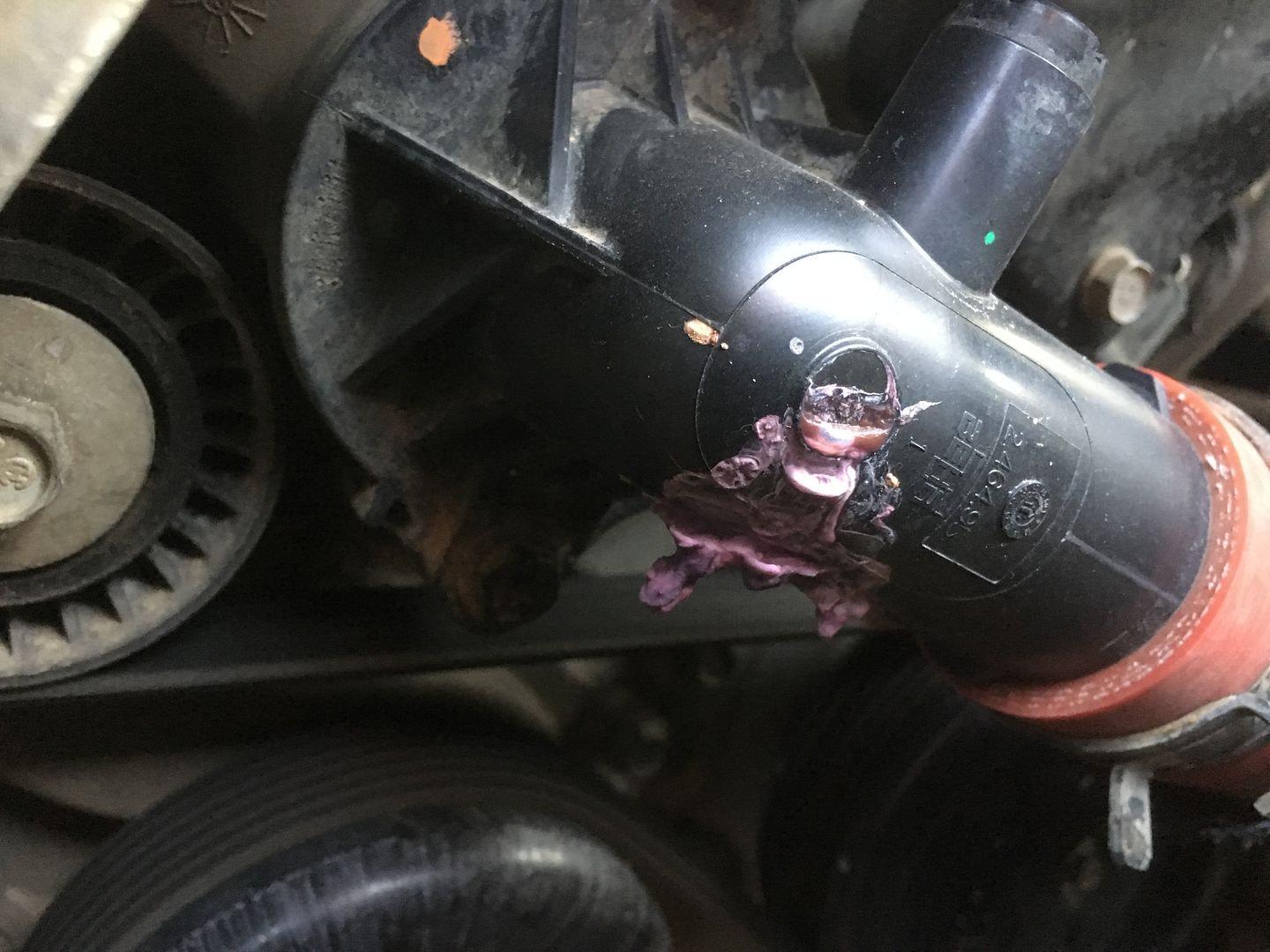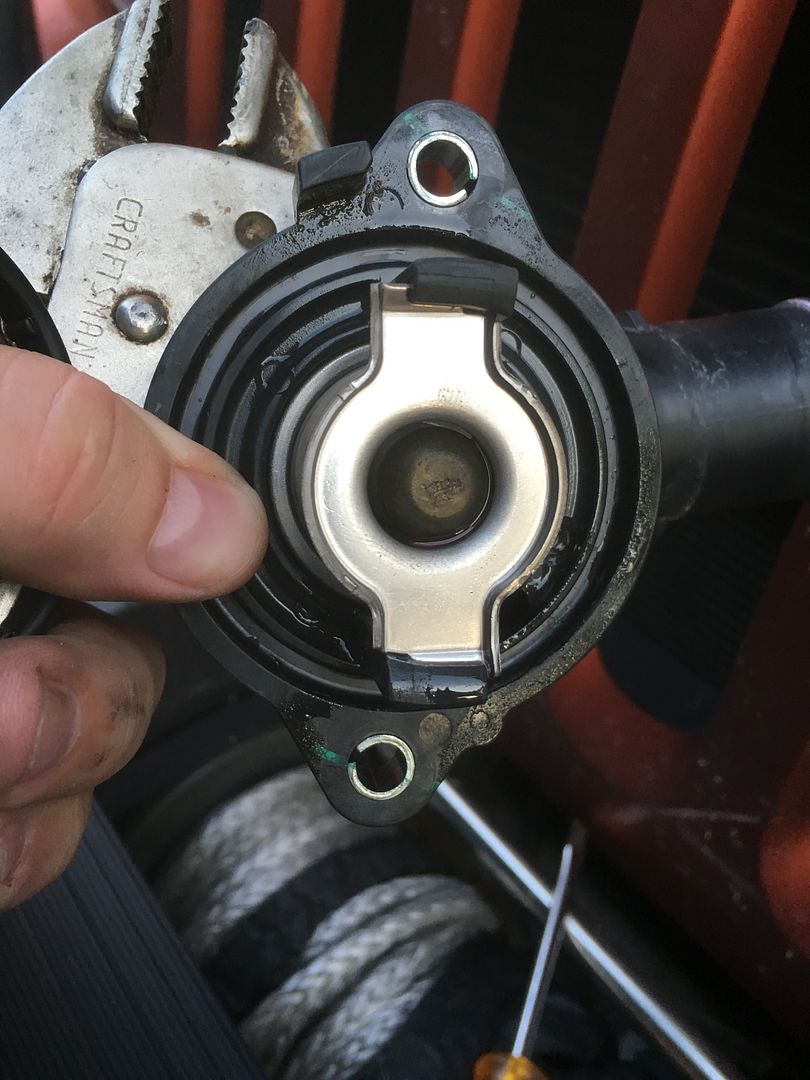 ---
'16 JKWW Firecracker Red (Hers)
'14 JKUR Copperhead Pearl (His)
'13 JKU White (Retired)
Currently Active Users Viewing This Thread: 1

(0 members and 1 guests)
Posting Rules

You may post new threads

You may post replies

You may not post attachments

You may not edit your posts

---

HTML code is Off

---