If you install the Reid Racing steering knuckles with the AEV high steer kit you're most likely to run into a problem such as I did. What happens is that when the wheels are turned towards the pass side the stock tie rod will now hit a couple of bolts of the high steer bracket before it reaches full travel.
The fix can both be very expensive and labor intense (Poly weld on high steer kit) or really simple and cheap, pick your poison.
First off I have to share my excitement of unwrapping the goodies and work my down to the fix.
The parts waiting at the back breezeway door.
The Poly Performance drag link with 1 ton ends.
Box full of knuckles.
Really packed well, kinda UPS proof.
The parts to be installed; Poly drag link, Synergy ball joints and of course Reid knuckles.
Ball joints installed.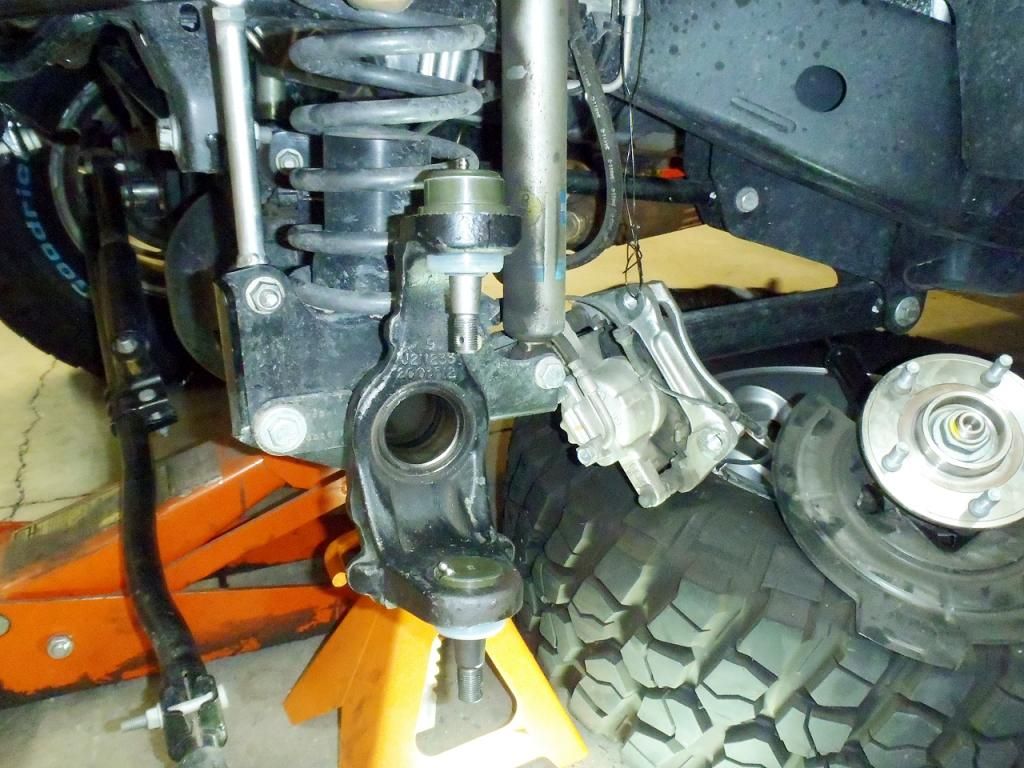 Driver side Reid Racing steering knuckle installed. Also greasing the ball joints now so I don't forget to later.
In order to keep the tie rod end from spinning as you tighten it there needs to be slight pressure applied. The use of a bottle jack and flat plat works really well. Just apply enough pressure to keep it from spinning, don't overdo it.
These are the two bolts that the tie rod will hit before the wheel reaches full travel to pass side. The reason it (tie rod) now hits is because one of the features of the RR knuckles is that it now raises the tie rod up 1 ½ inches from stock for excellent ground clearance.
What I did was to machine down the head of the larger bolt and use a SS AN washer. On the smaller bolt I countersunk the AEV bracket hole and used a SS flat head bolt. Now there is clearance for the wheel to go full travel without hitting/rubbing.