Reid Racing steering knuckles plus AEV high steer kit…
---
If you install the Reid Racing steering knuckles with the AEV high steer kit you're most likely to run into a problem such as I did. What happens is that when the wheels are turned towards the pass side the stock tie rod will now hit a couple of bolts of the high steer bracket before it reaches full travel.
The fix can both be very expensive and labor intense (Poly weld on high steer kit) or really simple and cheap, pick your poison.
First off I have to share my excitement of unwrapping the goodies and work my down to the fix.
The parts waiting at the back breezeway door.
The Poly Performance drag link with 1 ton ends.
Box full of knuckles.
Really packed well, kinda UPS proof.
The parts to be installed; Poly drag link, Synergy ball joints and of course Reid knuckles.
Ball joints installed.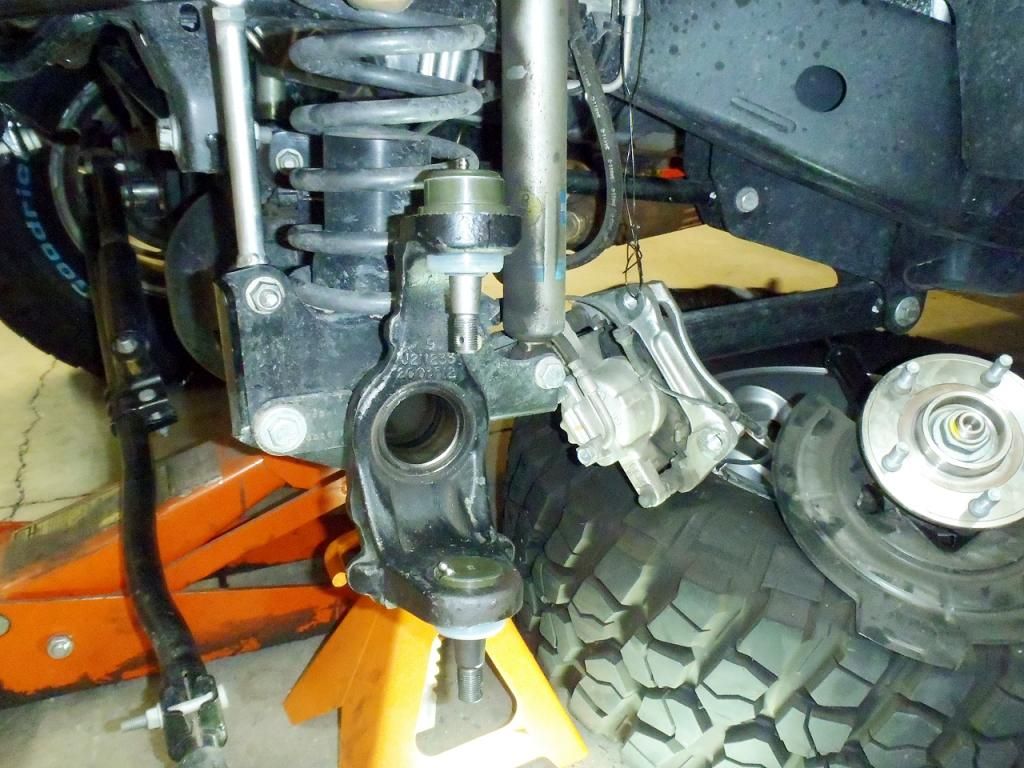 Driver side Reid Racing steering knuckle installed. Also greasing the ball joints now so I don't forget to later.
In order to keep the tie rod end from spinning as you tighten it there needs to be slight pressure applied. The use of a bottle jack and flat plat works really well. Just apply enough pressure to keep it from spinning, don't overdo it.
These are the two bolts that the tie rod will hit before the wheel reaches full travel to pass side. The reason it (tie rod) now hits is because one of the features of the RR knuckles is that it now raises the tie rod up 1 ½ inches from stock for excellent ground clearance.
What I did was to machine down the head of the larger bolt and use a SS AN washer. On the smaller bolt I countersunk the AEV bracket hole and used a SS flat head bolt. Now there is clearance for the wheel to go full travel without hitting/rubbing.
Registered User
Join Date: Jun 2011
Posts: 3,008
Nice mod!
Registered User
Join Date: May 2010
Posts: 1,949
Very clean and nicely done. I'm glad to see the ball joints installed as well. Will you be posting your remedy for the lack of a proper install cup?
RIP John
Join Date: Jul 2007
Location: Henderson
Posts: 13,238
Nothing has changed since my
"Ball joint install failure"
thread. I have yet to find the proper tool.
I have no remedy other than keep a cool head as best you can. Who knows, if I were younger and hot headed like I used to be then my Jeep probably would be in a coma from the beating I would have given it with the small sledge hammer that was laying nearby.
Registered User
Join Date: Jul 2011
Location: huntington
Posts: 547
Just another piece to add to my wish list, looks good!
---
2012 JK, 44s, rubi case, 37" PBRs, stretched 8"
Crush Orange Jeep Member #55
NYC Jeep Club
Currently Active Users Viewing This Thread: 1

(0 members and 1 guests)
Posting Rules

You may post new threads

You may post replies

You may not post attachments

You may not edit your posts

---

HTML code is Off

---