Quote:
Originally Posted by
Isaac5108
That color is just fabulous! Lol. How long have you had those Km2s? How many miles on them?
Sorry for the late response, have had no internet..
Ive had them for maybe ~800 miles? They are still new. And yes the color is beautiful indeed
Quote:
Originally Posted by
brianjw
Looking good! Sometimes I wish I would have gone with the 2.5" lift but I was considering 37s earlier.
I fell you, I love the stance and 37's are definitely do-able with trimming. Someday it will be on 37's but the 35s fit really well and driving is still a breeze.. besides running out of OD all the time haha
Did some outside work today, as in trying to find something to do when its 55 degree out and clear skies.. So I debadged the sahara emblem. Looks cleaner IMO!
And took the top off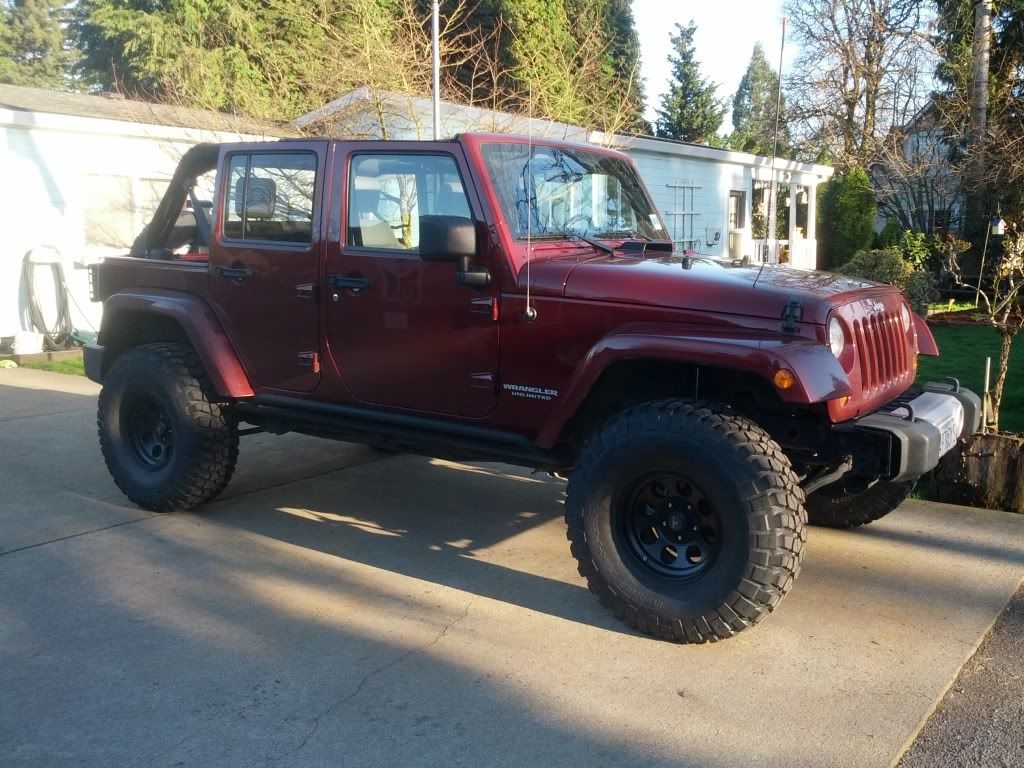 __________________
1996 ZJ - Sold
2000 WJ- Brothers
2008 JKU - 2.5" AEV Dualsport XT w/ Bilsteins | Rock Krawler Front Track Bar | 35x12.5R15 BFG KM2 | 15x8 Black Level 8 Trackers | Bushwacker Flat Fender Flares w/ Rear LED | Cobra 75 WRST w/ 4' Firestik | Spiderweb Shade | Fire Extinguisher | B&M Transmission Cooler | Mesh Grille | Solid Diff Covers | Bestop Trektop | 10A Front Bumper & Rock Sliders | Warn W350F Fog Lights | (2) Alpine 10" Type R's | Kenwood 1800w Amplifier | Yakima 42" Roof Rail Kit | 40" Yakima Wind Fairing | AEV Geometry Drop Brackets
Build thread:
http://www.jeepforum.com/forum/f22/m...hread-1469151/
Oregonian Native!