Mol is the Winner of The 2012 JK of the Year Contest!
---
The 2012
JK of the Year Contest
Starts Now!
Mol
(A.K.A. molshove)
2008 Jeep Wrangler Unlimited Rubicon
Mods:
Driveline
3.8L V6
NGC370 6-speed transmission
NV241 Rock Trac Transfer Case
5.13 Superior Gears
Front D44, with Teraflex inner axle sleeve and upper C gussets
ARB Diff Cover
RCV Axle Shafts
Rear D44, heavily welded differential after breaking stock plug welds
ARB Diff Cover
Alloy Chromoly Axles
MBRP Offroad exhaust
Suspension/Steering
Frankenlift -
4" Currie springs
BDS front lower flex arms
BDS rear lower flex arms
BDS rear upper flex arms
Reid HD High Steer Knuckles
Offroad Evolution Drag link flip kit
Moog Drag Link End
Currie HD Tie Rod
Synergy Ball Joints
Teraflex Monster Front Track Bar
BDS adjustable rear track bar
Teraflex rear trackbar relocation bracket (at axle)
Teraflex Steering Stabilizer
BDS VSS 9550 Shocks
Wheels/Tires:
Raceline Monster Beadlocks
Maxxis Trepador Competition Compound 37x12.50x17
Recovery:
Warn 9.5CTI
straps/snatch block/hi-lift etc.
Armor:
River Raider full skid system
Poison Spyder evap skid
Poison Spyder BFH rear bumper
Poison Spyder brawler lite front bumper
Offroad Evolution tube fenders
Offroad Evolution fender mounted swingaway tire carrier
Teraflex rock sliders
Accessories:
Offroad Heros dual tops (slant back and cargo top)
sPod
Tuffy flip-n-lock Mygig cover
Tuffy Security deck enclosure
Cobra 75WX CB radio w/ 3' firefly antenna
Teraflex tailgate CB antenna mount
Line-Xed tub
KC Hilites 130w long range mounted to rugged ridge windshield brackets
Warn 6" Fogs, bumper mounted
Rugged Ridge dual battery tray
Two Sears Diehard Marine batteries
Teraflex grab straps
Daystar hood wranglers
Audio:
MTX re-Q sound processor
Polk Audio components in-dash
Polk Audio speakers in roll bar
JL audio 8" shallow mount sub in factory enclosure
Polk audio 4-channel amp
Polk Audio mono channel amp
STORY
My 1990 YJ was the gateway to my addiction to everything that is Jeep, and the introduction to this wonderful forum that has afforded me the courage to learn to tool on my own vehicle, as well as the opportunity to learn, and meet some great folks in the process. I began my build at my dealership, where I was a sales manager (recently left the auto industry) and had access to our service department, and a few of the tech's tools. After building past the basic suspension/bumpers phase, I started developing my driving skills different trail rides with the guys at Trail Quest. Growing my confidence as a driver, and breaking parts one by one, I moved my build over to Trail Quest Inc, a Jeep specific shop in Central Ohio. Two of my good friends run this shop, and put up with my shenanigans - They live and breathe everything CJ, YJ, TJ, but only had limited experience with the JK before I started showing up, using their tools, and making them conform to the words of the ever-powerful internet Stefan and John have helped me to learn a great deal more as far as tooling goes, and my build continues in the way of their daily business. My wife jokes (I think) that I should pay rent out there, and visit home every now and then for fun Thanks for your participation in my build!
BlkOps2011
Year & Model: 2011 JK Wrangler Rubicon Call of Duty Edition
Engine: Stock - 3.8 Liter V6
Transmission: Stock - 6 Speed Manual
Transfer Case: Stock Rubicon - Rock-Trac Heavy Duty
Front Axle: Stock Rubicon - Dana 44 Heavy Duty
Rear Axle: Rubicon stock - Dana 44 Heavy Duty
Gear Ratio: Rubicon stock - 4:1
Mods:
Suspension Lift: Rock Krawler 2.5" max travel w/ RRD Racing Shocks Front and Rear, RC Dual Steering Stabilizer
Wheels & Tires: 35x12.50R17 Goodyear Wrangler MTR w/ Kevlar on Pro Comp Alloy Flat Blk, 17x9, 5x5 bolt, 4.75 Back Space Rims
Recovery Tools: Warn M8000 Winch w/synthetic line, Recovery bag w/ shackles, straps, snatch block, shovel, etc., Hi-Lift Jack
Armor: PSC Brawler Lite Front Bumper, Rear Brawler Bumper w/ swing mount, Body Armor, Rocker Knockers w/ sliders, Skid Plates, Aluminum flat fenders
Exhaust: RIPP LT SS headers, MBRP Off-road SS Exhaust w/ Flow Master Resonator
Accessories: PIAA Fog Lights, Wet Okole seat covers, Safari Straps full cage cargo net, RR Tube Doors, Billet Shift Knobs
Our Story:
To celebrate an empty nest and 25 years of marriage we decided to gift ourselves with a new 2011 JK. We both had jeeps before we married, had jeeps together, and then went Jeepless for a few years to raise kids. We wanted a Rubicon and loved the stealth markings of the COD. Our mods were meant to be dual purposed, making it capable off road but keeping it stable and comfortable on road. We can't claim to be the most active and productive contributors to the Jeep Forum (haven't taken the time to document mods)… but we CAN claim to passing on the love of Jeeps and Four Wheeling to the next generation; 3 of our kids now own Jeeps (1 GC, 2 Rubis)!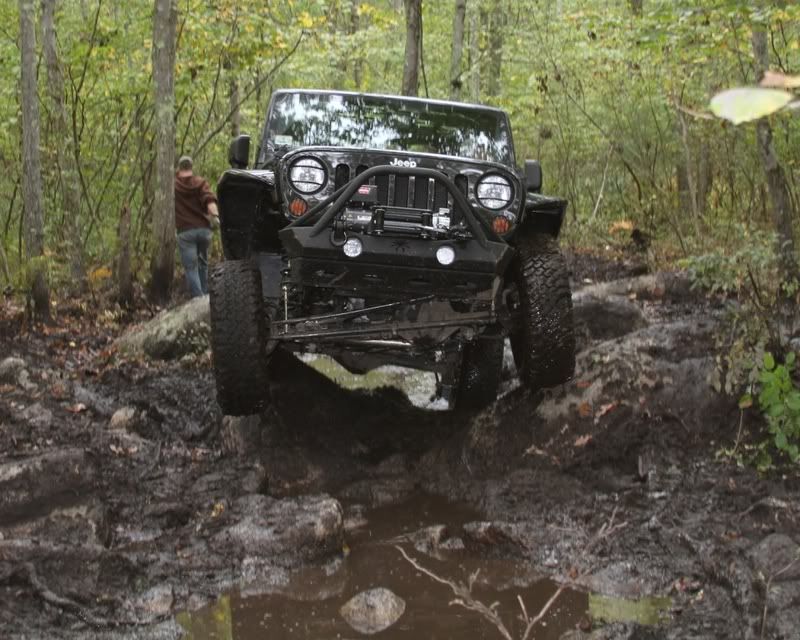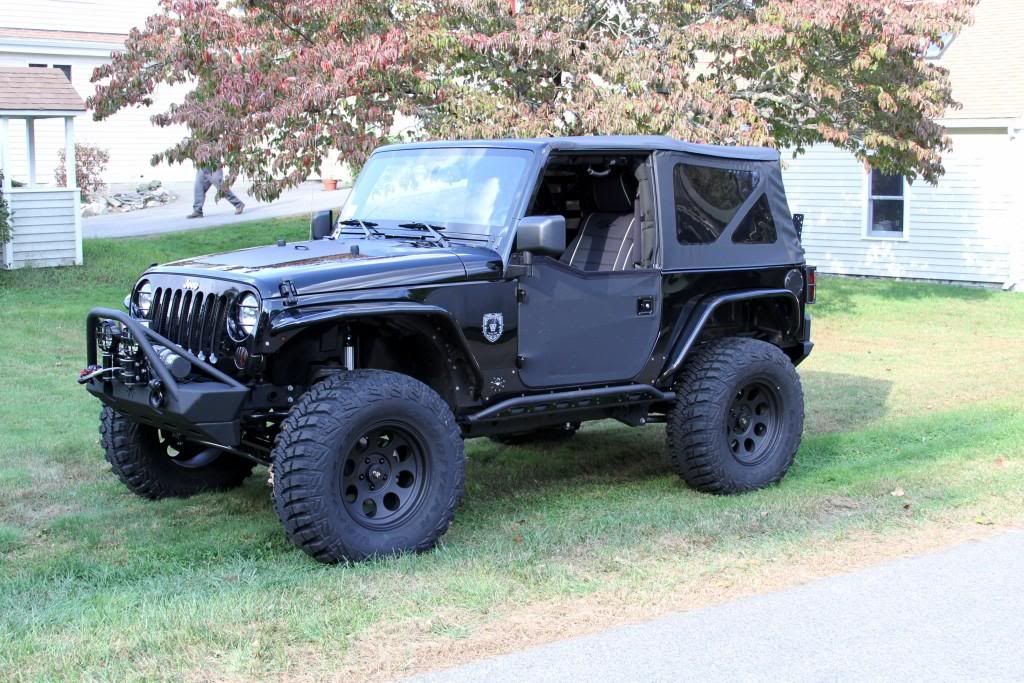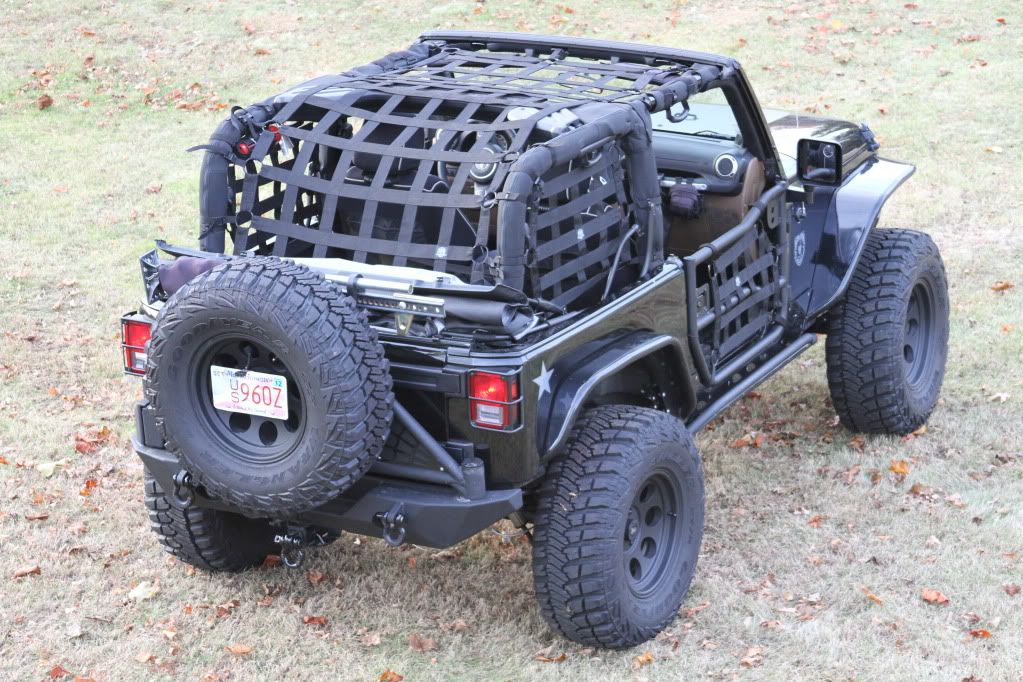 jrmars07
2010 JK Wrangler Sport
3.8 Liter V6 Automatic
Dana 30 Front Axle:
RCV Axle Shafts, Teraflex Sleeve & Gusset, ARB Air Locker, 4.88 G2 Gears, Bluetorch Diff Cover (Mango Tango), Tom Woods 1310 Driveshaft
Dana 44 Rear Axle:
US Alloy Chromoly Shafts, ARB Air Locker, 4.88 G2 Gears, Bluetorch Diff Cover (Mango Tango), Tom Woods 1310 Driveshaft
Suspension:
Pro Comp 2.5" Springs, Pro Comp Front Adj Trackbar & Brace, Pro Comp Rear Adj Trackbar Brace, JKS Quick Disconnects, Fox 2.0 3" BDS Shocks, Teraflex Steering Stabilizer, Teraflex Front Lower Control Arms, Rear Upper Control Arms
Wheels & Tires:
285/75/16 (33") BFG KM2's on Pro Comp 7069 Series 16"x8" Wheels
Recovery Tools:
Warn 9.5 TI Winch w/ 3/8" X 100' Orange Viking Winchline w/ Safety Thimble and Daystar Synthetic Rollers, Viking Tree Strap, ARB Snatch Strap, 3/4" D-Shackles
Armor and Bumpers:
Rubi Rails, Rugged Ridge RRC Rails, AEV Premium Front Bumper,
Lighting:
Rally Lights H4 Conversion, IPF 900 Driving Lights
Tops:
Stock Hard Top, Bestop Bikini, Duster, Wrap-around Windjammer
CB:
Midland 1001Z, 3' Firestik
Other Mods:
Superchips Flashpaq, Rock Hard License Relocate, Daystar Center Counsel, Mango Tango Dash Bessel, DIY Grill Mesh, Angry Eyes
I bought my first Jeep shortly after getting my first job out of college in 2010. I had always wanted a Jeep and finally had the opportunity. Within the first hour of having it I was topless and heading north for camping and had it covered in mud the next day. A couple of months later I put a lift and tires on and that was the best/worst thing I ever did. Now I can't stop upgrading it and going on any trail rides with some great people I have met along the way.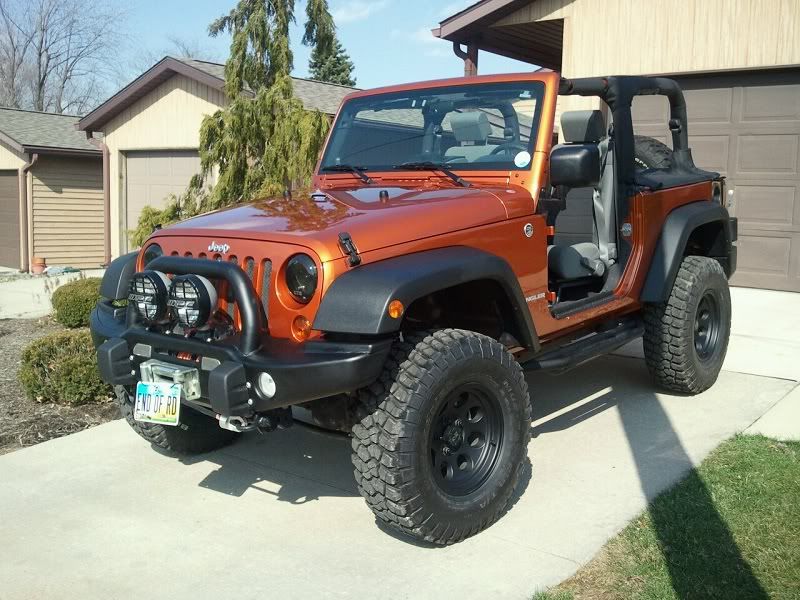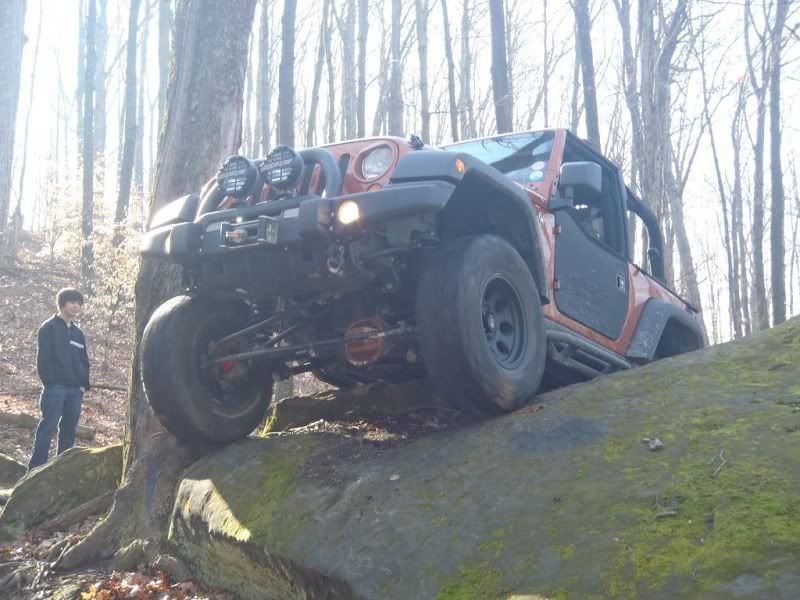 DrHolliday
Mods:
Rock Krawler 3.5" X-factor Mid arm lift
Cut stock fender flares
River Raider Off Road Skid plates
RRoR Evap skid,
Rough Country Hybrid Stubby bumper w/ fog lights
MBRP D-ring shackle mounts
Smittybilt XRC8 winch w/ under hood solenoid mount
17x8.5" Black MB72's
35x12.50R17 Cooper Discoverer STT's
Before the Wrangler I had a 2005 Jeep Liberty diesel. The trans went out and My wife and I decided to trade it in on a new wrangler. We decided on the Rubicon. It quickly went from being my wife's daily driver/ commuter to my off road rig. I took it off road completely stock and decided I was going to get a budget boost and call it good. After some research that turned into the Rock Krawler lift. Every time I take the Jeep out I figure out something else to put on it. My wife has been getting a little tired of all the money going into the Jeep so every mod I do has been researched and done to get the Job done in the best and most affordable way. I've done that by making my own CB mounts and such, cutting my stock fenders, and picking up the burnt up XRC8 and spending $50 to rewire it and get it working again. The Jeep is one of my favorite vehicles and I can't wait to see what it looks like in a year or more!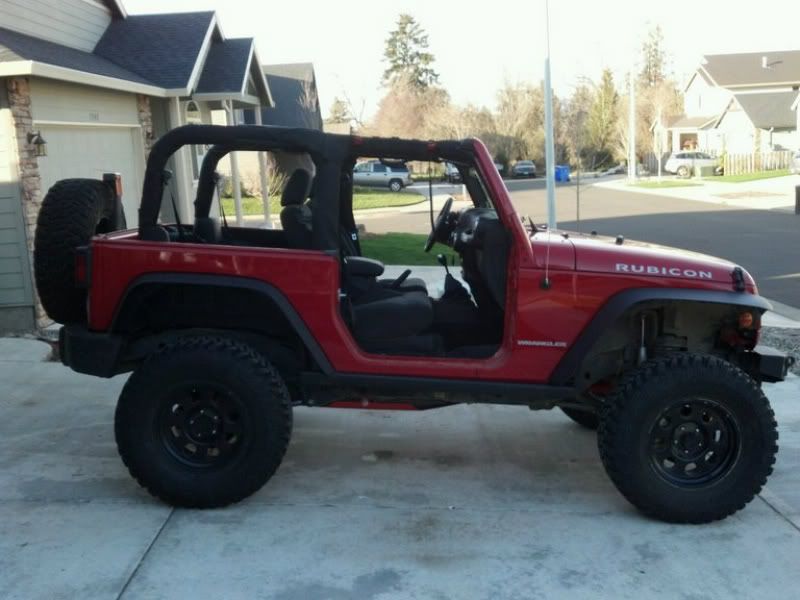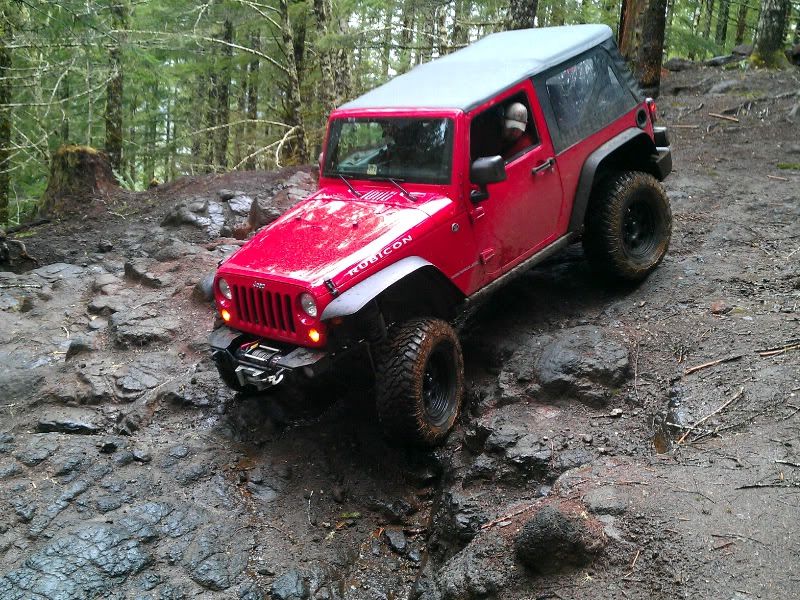 XFLSTL
Mods:Viair Super Duty On Board Air System , PSC Front Flares, PSC Rear Flares, PSC Rocker Knockers, PSC Rear Corner Crushers, RCV Front axle shaft, Axle Sleeve's and Gusset's, 17x9 Crager soft 8 Beadlock Rims, HID Headlights, JE Reel Front& Rear Drive Shaft, Skyjacker 6" coil spring's, JKS Front and rear adjustable track bars, JKS rear swaybar links, Rock Krawler Front swaybar links, Body armor front and rear bumper /w tire carrier, Cooper 37" STT tires, XRC 8 Winch..... Updates since May JK of The Month 42" MTR/K's, Spyder Lock beadlocks, Rockjock D60 rear, Offroadhero Combo top... Currently awaiting delivery on Rockjock D60 front, Front and rear double throwdown EVO coilover system, Fulltraction longarm system.
Story. I drove from Minnesota out to Idaho to buy this 2010 Rubicon New, it has been a fun and not very cheap hobby. Everytime I find something I want to do or crawl up that I cannot, I decide to make new upgrades. As most Jeeps this is a never ending storie, but one I am enjoying to the fullest. UPDATE: After my 1st trip to Moab this past June, and breaking a drive shaft and rear pinion, it was time to go bigger or go home... So Rockjock 60's front and rear are in order, Goodyear MTR/K 42's, a coilover system and alot of body trimming!!! Cannot wait to get back to Moab!!!!!!!!!
Pictures
jeeperjk
Mods: Currie D60's front & rear, ARBs, 5.38's, Atlas 4spd (2.72, 4.3, 11.7), JE Reel driveshafts, Rebel Coilover conversion (King coilovers), ViAir Dual 400c compressors, 2 gallon tank in RROR evap/air tank skid, manual switches for ARB lockers, sPod, LoD stubby with stinger front, Smittybilt XRC rear, Trail Mods flares, TeraFlex monster track bars front & rear, Rigid 10" Specter light bar, Superwinch LP10000 w/ synthetic line, Raceline Monster Black beadlocks, Pitbull Rocker 41.5x13.5-17's, AEV snorkel, PSC hydro assist, Poly Performance rear long arms, Clayton front long arms, MBRP exhaust, Currie AntiRock rear swaybar, K&N drop in, and a backup alarm...
Story: Some of you might remember me planning this build last year while I sat in Iraq. It started as a plan to put a D60 in the rear to compliment my front PR44 and run 38's for a while. I would've been just fine with that, but the fact that Goodyear decided not to produce any Kevlars in 38" and the difficulty I was having getting my hydro assist to fit my PR44 (since I wasn't there to get measurements, etc.), I decided to get D60's front and rear and just go big. The whole thing really snowballed on me. I never intended to go this big, but looking back, I'm glad I did. She's a beast, that's for sure.
I haven't gotten a good chance to really wheel this rig since the June JKoTM contest that I won. I went out in early July and busted my hydro lines. Got those fixed and hit the trails at Topless for Tatas in early August and one of the guys I was leading broke his ball joints and his wheel fell completely off. A couple hours of recovery later and my wheeling for that day was done. The, I got out again on 15 Sept and I broke my transfer case. That put an abrupt end to my 2012 wheeling season. It all worked out in the end, though. I got my Atlas 4spd now.
I'm hoping for an excellent 2013 season now and the JKoTY would put a decent end to this year.
Pictures: