Here It Is!
The August 2012
JK of the Month Contest
Starts Now!
JTPhoto
Mods: TF 2.5" lift with RK 3.5" front springs, AEV Premium front
bumper, 35x12.50x17 PitBull Rockers on BlackRock Viper wheels, LightForce
Stryker 170 lights, Hamsar HO LED spots.
Story: The new look after a traffic accident this summer...
CrawlingForward
2010 JKU Islander, stock suspension, 32" BFG Mud Terrains, Zombie Sunset Monstaliner Interior, Smittybilt SRC bumper and XRC8 winch, Wild Boar Fastback cargo rack.
Originally intended as the relief driver for my YJ, the JK has continued to impress me with it's capability and spartan nature, to the point where I felt like it would be a disservice to overbuild it to the point of a mall-crawler for the only occasional wheeling that it does. Make no mistake, this is a service vehicle for various Boy Scout camps and spends a good amount of time offroad. Between that, camping, canoeing, fishing, skiing and general wheeling, it represents the Jeep name proudly.
I thought it might be refreshing to see any entry that was an utilitarian soldier, rather than just a weekend trailer hero.
Between backpacking gear, muddy dogs, dripping kayaks, and a top that stays down in all sorts of weather conditions lining the interior was a must. And for driving hours and hours away from the city, the stock suspension with mud terrains is surprisingly capable while still making the trip to the trailhead a cinch. Add a cargo rack for hauling gear while seating 5 stinky backpackers and you've got the makings of one hell of an utilitarian vehicle.
agenbroad99
Mods: TeraFlex 3" Coil lift with Bilstein 5100s, JKS Adjustable front track bar, TereFlex quick disconnects, 315/70 16 GY MTRs on Mickey Thompson Classic II, PureJeep Rocker Guards, 4.88 G2 Gears, Rough Country Hybrid Stubby with Engo 10K winch, Banks Ram Air and Monster Exhaust, Bilstein Steering Stabilizer, Cobra CB w/firestick antenna, Rugged Ridge Evap Skid and Tow Hitch.
Story: This started as a 2008 JKU Sahara bought for the wife to be a DD. It soon turned into our project vehicle and now is the weekend vehicle set up to be more capable on the trail than the pavement.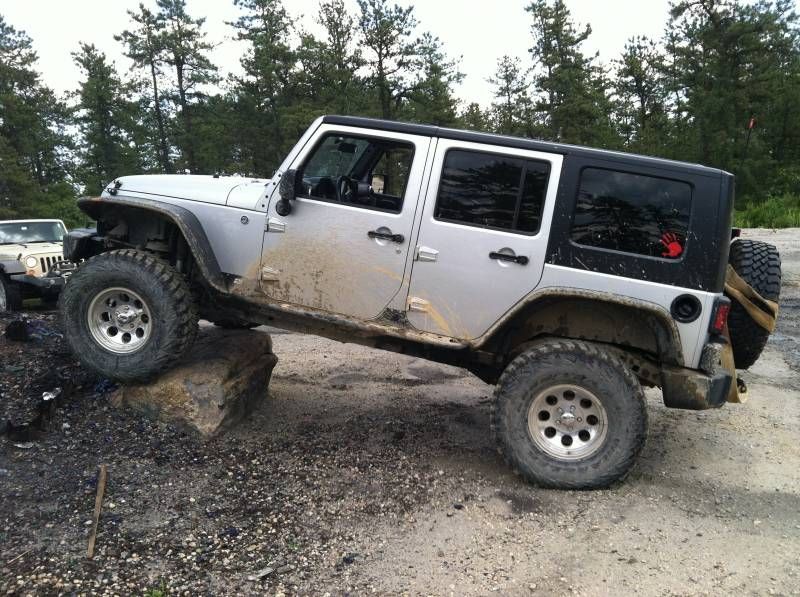 SirWinston
Story: I decided I wanted a jeep after riding shotgun in a few of my buddies rigs for a year. Then about year later my Yukon died I found this one at a local dealership. Its been an awesome learning experience ever since I got it. The more wheeling trips I take it on, the more things I want to buy for it haha. But this is my DD, so I dont plan on doing anything too serious too to it
Mods:
Teraflex 2.5" BB.Skyjacker HD SS,Synergy Suspension SS mount
35x12.50x17 Goodyear MT/R's with Kevlar, balanced w/Dyna Beads,Cragar soft 8's, 2 Windshield mounted PIAA 510's, 2 Bumper mounted PIAA 520's, DIY CB antenna mount, DIY flat fenders, DIY Evap Canister Skid, Bed lined rockers, Rubi rock sliders, Cobra 19 DX IV CB radio, 3' Firestik Antenna, PA system, DIY switch panel, Stubby bumper, Pavement Ends rear bumper, Riddler D30 Diff Cover, Riddler D44 Diff cover, IRO D30 Sleeve Kit, Sierra 5.13's, PSC Tramp Stamp, ORO Lite Plate, Flowmaster Super 44, Northern Tools rear tow hook,Mesh grill inserts, Pavement Ends Sun Cap Plus and Cargo Cover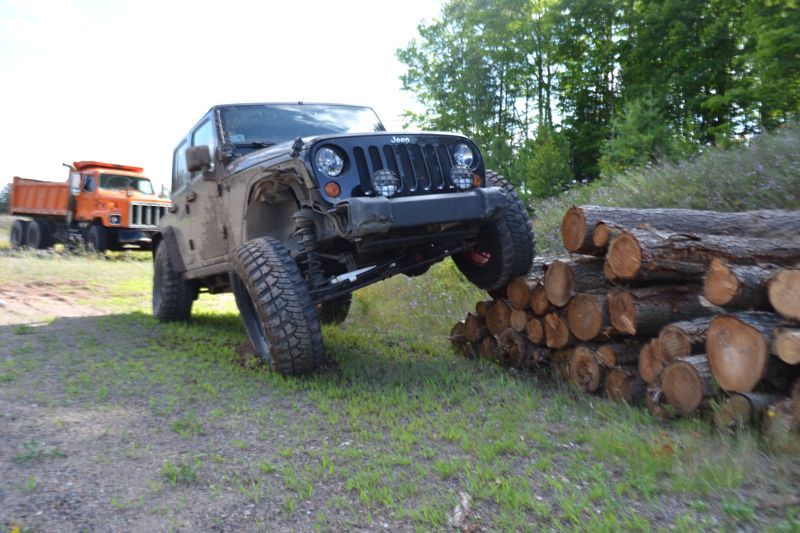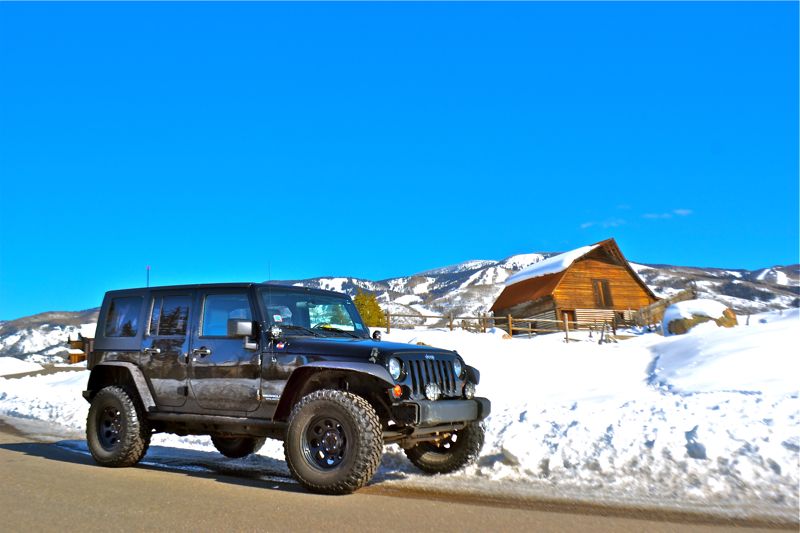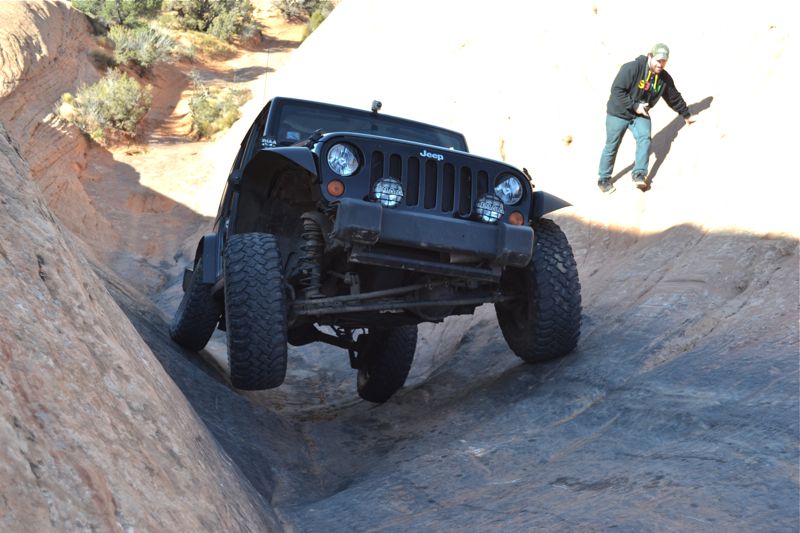 Doug4823
Mods: 2008 Sahara JKU. Avenger supercharger kit, gibson stainless steel exhaust, 3" lift, 5.13 gear ratio, 33" toyo ATs, 17" AKWs, electronic sway bar disconnect, AEV bumper with warn 9.5ti and skid plate, AEV heat reduction hood, garvin expedition rack, piaa roof/pillar/winch lights, cobra cb, tow package, leather interior, trektop nx, color matched hard top and color matched fenders and bumpers.
Story: Well… what can I say? I test drove wranglers for five years before I could afford one and now I have my dream car.
Jeepin Dad
Mods:
Engine/Driveline:
Tom Woods 1310 Rear Drive Shaft
Centerforce Dual Friction Clutch
Suspension/Tires:
2" Black Diamond BB
4dr Rubicon Front springs
Bilstien 5100 shocks
Rock Krawler HD Tie Rod
Rancho Steering Stabilizer Kit
Set of factory rear swaybarlinks up front
285/75R16 Cooper Discoverer S/T
16 x 8 Procomp 8069 Extreme Alloys
Armor/Protection:
Front LoD 1st Gen Mid-Width
Teraflex Rock Sliders
M.O.R.E. Engine/Transmission skid
Kilby EVAP Relocation Kit
Riddler Diff Covers
Interior/Communications:
Cobra 19III CB w/4" Wilson
Radio Shack Handheld CB
Seat covers
Recovery Gear:
Warn M8000
48" Hi-Lift
20' 30,000 lb strap
Tree Savers, Shackles, Snatch Block
Misc:
Warrior Products Safari Rack
Warrior Products Mirror Relocation Brackets
Bestop Safari Top
Tekonsha Prodigy P2 Brake Controller
7-pin trailer connector
Story:
It is an X with the "Rubi-Lite" package, it has the Rear HD Dana 44 with locker and the electric swaybar disconnect. It now has over 100,000 miles, is still my daily driver, weekend end toy, camper tow vehicle and I still love it.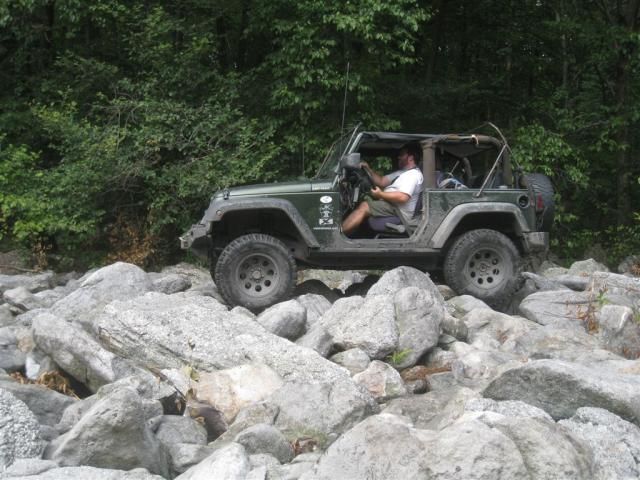 Good Luck Everyone
What a great group of Jeeps!