The March 2012
JK of the Month Contest
STARTS NOW!
SirWinston
Teraflex 2.5" BB
Skyjacker HD SS
Synergy Suspension SS mount
35x12.50 BF Goodrich Mud Terrains
Cragar soft 8's
2 Windshield mounted PIAA 510's
2 Bumper mounted PIAA 520's
DIY CB antenna mount
DIY flat fenders
DIY Evap Canister Skid
Bed lined rockers
Rubi rock sliders
Cobra 19 DX IV CB radio
3' Firestik Antenna
PA system
DIY switch panel
Stubby bumper
Pavement Ends rear bumper
Flowmaster Super 44
Northern Tools rear tow hook
This is my first Jeep, so Im still learning, but loving every minute of the Jeep life.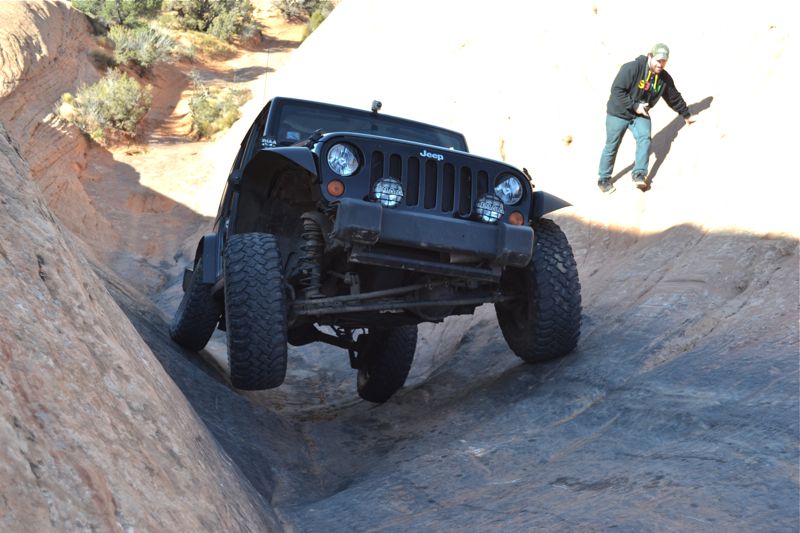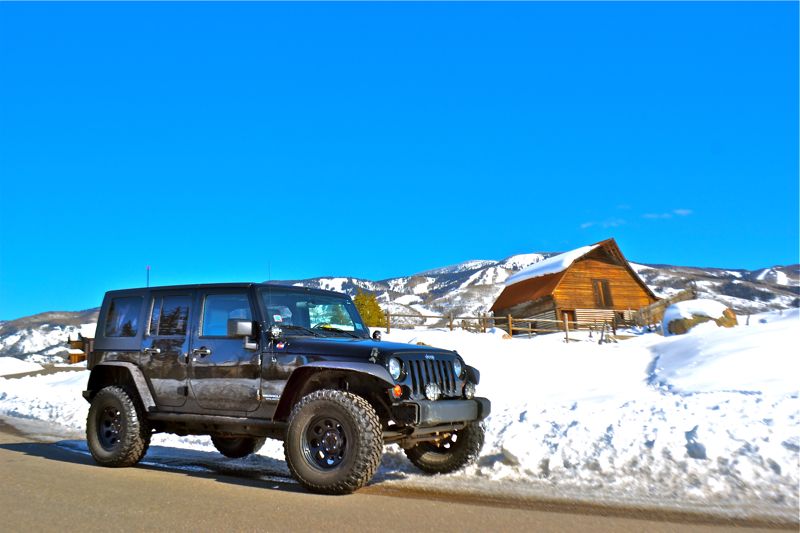 PghChamp
My name is Remo and here is my 2010 JK sport. I bought it two years ago in April and it's been a fun ride the past couple years. I've always loved Jeeps and was excited bringing mine home for the first time. It only took me about a week after I purchased it to go hit some trails and I've been hooked ever since. I haven't put much into yet, but I got it to a point now where I'm satisfied for the time being.
What I have done to it so far.
2.5" R.C. budget boost
16" Moab wheels
315/75R16 Maxxis Bighornes
OR-Fab Stinger front bumper
Olympic Boa back bumper
Bushwacker flat fender flares.
JKS quick Disconnects
jrmars07
2010 JK Wrangler Sport
3.8 Liter V6 Automatic
Dana 30 Front Axle:
RCV Axle Shafts, Teraflex Sleeve & Gusset, ARB Air Locker, 4.88 G2 Gears, Bluetorch Diff Cover (Mango Tango), Tom Woods 1310 Driveshaft
Dana 44 Rear Axle:
US Alloy Chromoly Shafts, ARB Air Locker, 4.88 G2 Gears, Bluetorch Diff Cover (Mango Tango), Tom Woods 1310 Driveshaft
Suspension:
Pro Comp 2.5" Springs, Pro Comp Front Adj Trackbar & Brace, Pro Comp Rear Adj Trackbar Brace, JKS Quick Disconnects, Fox 2.0 3" BDS Shocks, Teraflex Steering Stabilizer, Teraflex Front Lower Control Arms, Rear Upper Control Arms
Wheels & Tires:
285/75/16 (33") BFG KM2's on Pro Comp 7069 Series 16"x8" Wheels
Recovery Tools:
Warn 9.5 TI Winch w/ 3/8" X 100' Orange Viking Winchline w/ Safety Thimble and Daystar Synthetic Rollers, Viking Tree Strap, ARB Snatch Strap, 3/4" D-Shackles
Armor and Bumpers:
Rubi Rails, Rugged Ridge RRC Rails, AEV Premium Front Bumper,
Lighting:
Rally Lights H4 Conversion, IPF 900 Driving Lights
Tops:
Stock Hard Top, Bestop Bikini, Duster, Wrap-around Windjammer
CB:
Midland 1001Z, 3' Firestik
Other Mods:
Superchips Flashpaq, Rock Hard License Relocate, Daystar Center Counsel, Mango Tango Dash Bessel, DIY Grill Mesh, Angry Eyes
I bought my first Jeep shortly after getting my first job out of college in 2010. I had always wanted a Jeep and finally had the opportunity. Within the first hour of having it I was topless and heading north for camping and had it covered in mud the next day. A couple of months later I put a lift and tires on and that was the best/worst thing I ever did. Now I can't stop upgrading it and going on any trail rides with some great people I have met along the way.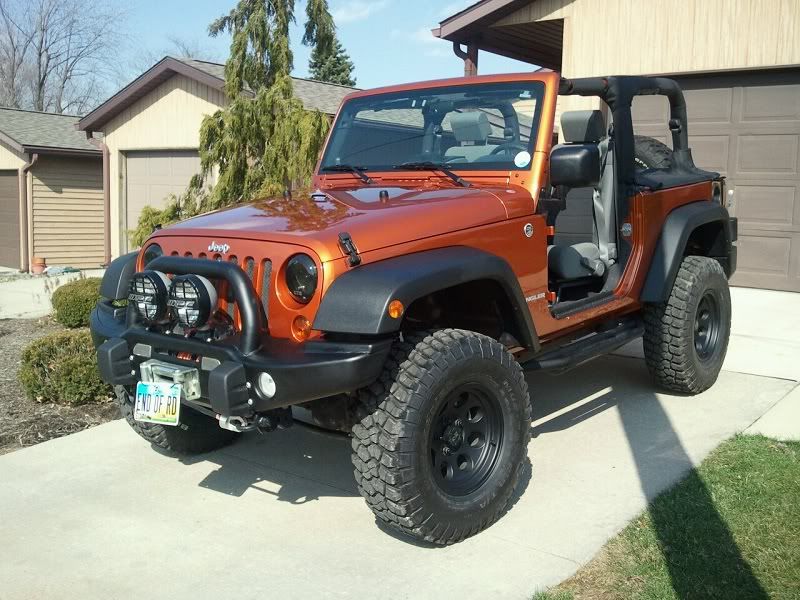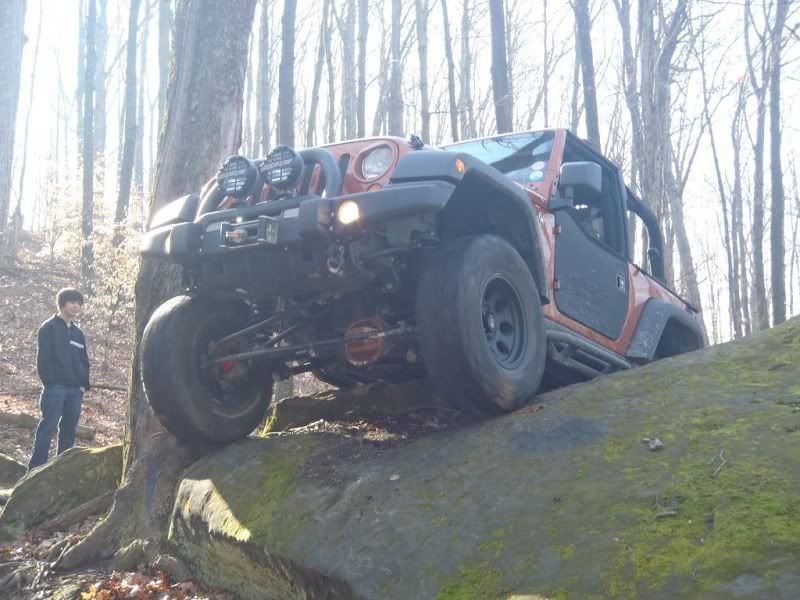 Jam86
Story: Been driving Jeeps of various kinds for over 7 years. This would be my first wrangler ( a real jeep) but third Jeep overall. I got out of the Navy on December 9th and flew to see family the next day. I started my new job on the 19th of December and I basically am living in the country. I show up to work in a 2WD Jeep Cherokee everyday and everyone else was driving pickups. I love trucks dont get me wrong but ive always wanted a wrangler. I went to the San Diego car show December 31st, did the Jeep course and immediately went to the dealer to pick up my 2012 Jeep Rubcon. Took her out wheeling two days later and broke my engine coolant overflow reservoir (came outta the slots on a jump and started hitting the fan), went to the dealer to get it fixed and they didnt have the parts for any 2012's yet. Went wheeling Day 8 of ownership, and I broke the steering stabilizer. Got stuck in a pond and it slipped off the stud and bent the tabs. My friend said that my Jeep looked pretty covered in mud from the pond, so she named her Linda which is Portuguese for pretty. Owned her for 3 months now, Ive learned a lot and look forward to upgrading her a lot more.
Mods: (Of course not including 2012 stock rubicon features)
Olympic from bumper with stinger
Ace Rocksliders
KC Hilites Slim lights (mounted to windshield frame)
KC Hilites Day lighters (mounted on stinger)
Blacked out the rims (I know not really a mod but kinda)
Decals:
NOR CAL
3 Nautical Stars
Jeep Forum (of course)
TheBoss
2011 JKU Sport : Teraflex leveling coils, Rubicon shocks, Teraflex swaybar disconnects, Teraflex steering stabilizer, Lod mid-width front bumper, Ramsey 9500 Patriot winch, Evap skid, Uniden c.b w/Teraflex and Arizona Rockyroad mounts, Hella 500 lights.
My story on how I became a Jeep freek is like many others. After my first drive with my brothers 86' CJ topless and the doors off I was hooked. The freedom of knowing your vehicle was purpose built and capable of going anywhere sold me. Our first Jeep was a 96' Cherokee and was a mistake when I let it go. Followed by a 2004 Grand Cherokee that has since been treated to a mild 2" lift since joining the Jeep Forum in 2010. After the WJ purchase I still lacked the freedom of a real Jeep and sold my Chevy pick up for a 2007 JKU Rubicon. It didn't last long before it was traded in for the current 2011 which is where I'm at today. After taking it off road and testing it's limits and mine I have to say it is impressive even in such a build stage. Thanks to all the folks on the Forum for their support and advice ,this place really can be a wealth of knowledge and humor.
Great Looking JK's
Good luck to everyone!
EDIT; Late entry added!
I missed the entry for "TheBoss" as it was in the junk mail file
If anyone that has already voted would like to change please send me a PM so it can be made!