It's Time To Vote
for the
April, JK of the Month!
fourplyn
Well this thing started its journey a little over 2 years ago. I bought it used off a dealer for $22,500. and they had just replaced the brain it under warranty. I drove it to Seattle where I had just moved. Worked there for a year. During this, I bought Husky Liners for the front and cargo area. Being from Alaska originally I new how much mud/water/dirt I would end up with in those area's. I installed a 2.5" Tera Flex BB lift on it off craigslist for $120. Got some 1.5" wheel spacers and called it good. I also installed the same lift on a friends 2 dr JK and he swapped me his Rubicon tires for my highway tires... Then I moved back to Denver and got a ton of work from my business. So I started researching and decided on the lift I have now. I scored deals left and right on the different suspension parts. Like the Elka shocks, I got for $700 for 4. Sold the rears and bought the springs for the front. I'm still working on this build. I have a lot of plans..And have been taking my time to get the needed things. I'm in no rush. I want it tough as hell before I seek out any trail's. Its been one year sense this last transformation. Hopefully in the next month I'll get the suspension done and the exterior done as well.
Stock D44 axles
5.38 gears
Front:
Trussed - Rock Krawler
C- Gusset's upper/lower (Powder Coated black)- Poly Performance
Inner sleeved - Poly Performance
Red Neck Ram Hydro Assist Steering
PSC 1600psi Pump
PSC Filtered Reservoir
Poison Spyder Evap Skid
Tie Rod Clamp 1.75" - Poly Performance
Tie Rod Pro Alum. - Rock Krawler w/ stock tie rod ends drilled w/ zirk fitting
Diff. covers - ARB (powder coated blue)
3.5" Rock Krawler Coil Over lift
Elka Racing Shocks 11" w/ Remote Reservoir's 250lb upper springs, 350lb lower springs (all powder coated blue)
Track Bars Front Adjustable, Pro Alum. - Rock Krawler
Drag Link (Steel) (Silver) Pro series - Rock Krawler
Ultimate Steering upgrade flip kit pro alum. - Rock Krawler
Extended Stainless Steel brake lines - Rock Krawler
Upper/Lower Coil-Over mounts (powder coated black)- Rock Krawler
Upper Shock Mount small brackets - Gen Right
Stock Ball Joint's drilled w/ Zirk Fittings on top, stock on bottom - Mopar
40" x 18" Pro Comp X-Terrain's
18" Spyder Locks Powder coated blue, rings modified (left bare)
RAD valves in each wheel from Rough Country Specialties
Front bumper BFH - Poison Spyder
Winch Thimble, not installed yet, powder coated blue
D-Rings (blue) - Smitty Built
Adj. Front upper/lower mid arms - Rock Krawler
Rear:
3.5" Coil's - Rock Krawler
Spring Wedges - Rock Krawler
Track Bar Rear Adjustable, Pro Alum - Rock Krawler
Extended brake lines stainless steel - Rock Krawler
Bilstein 5150 Shocks 2" longer than should be
Lower Shock mount's 2" higher than stock - Rock Krawler
Rear Bumper - Poison Spyder BFH
Rear Tramp Stamp - Poison Spyder
Rear 3 link w/ Pro. Aluminum Adj. lowers
Things to come:
Installing 3 link in rear, moving rear axle back 1"
-Modified upper spring buckets, add cylinder for spring to slide on. To get more droop on the suspension
-Extended lower spring perches w/ spring retainers.
Poison Spyder crusher flares in Aluminum (powder coated to match but with a black edge.
Rear body armor - either Nemesis Offroad or Poison Spyder w/ LED lights flush mounted & Classic Mopar Gas cap w/blue accent's.
Lexan hood being designed. 6lbs under the stock 68lbs
Superwinch Rock 95 w/ 50' of extra synthetic rope.
Drop down tailgate with hinges eliminated and flushed
All hinges powder coated black
Custom roll cage built myself
RSE powered step Rock sliders w/ inner step powder coated blue
Skid plates , haven't decided on who yet.
Custom HID headlights w/ blinkers & forward running LED's. w/ Blue matching bezel
Grille modified to look like the old CJ grille and signals removed.
Corbue Bucket seats in matching silver/blue material.
I hope this helps. I've got lots of plans for this toy of mine. When I get a new welder I'll be doing much more. like adding a hidden hitch in the rear Poison Spyder bumper.
WVUJeeper
While I was in College they came out with the JK Unlimited....I was hooked. After I graduated it took about 3 weeks for me to get a job, move from West Virginia to Wyoming, receive my first paycheck, then drive 8 hrs to Salt Lake City to pick up my base model Rescue Green JK Unlimited. I had hardly gotten out of the lot on the test drive when I told the Salesman that I was going to buy it. At 12,000 miles I could not stand the dinky 29" tires and crappy wheels any more, so I installed my RC Budget Boost and 35" KM2's.
That was 3 years ago. Now I live in Colorado and wheel the heck out of it whenever I get a chance.
Future plans include Poison Spyder BFH bumpers and T&T skid plates.
Mods (optional):
---Engine/Driveline---
- Nada
---Suspension/Tires---
-RC 2.5" BB w/shock extensions
-315/75/16 BFG KM2's
-ProComp 7089 16x10
---Armor/Protection---
-Stock Skid's
---Interior/Communications---
-Mastercraft Grab Handles
-No Carpet
-Cobra Chrome CB
---Exterior---
KC Slimlights on KC windshield mounts
---Recovery Gear---
-Recovery straps
-Tools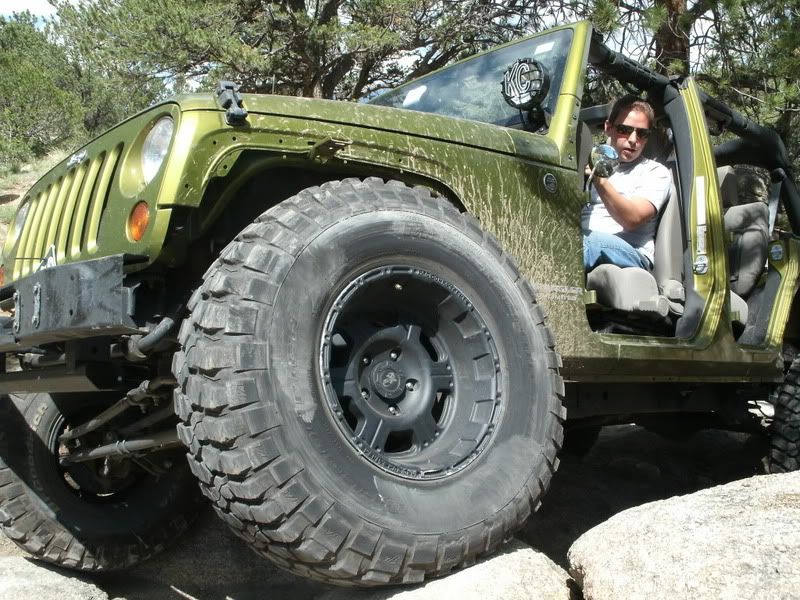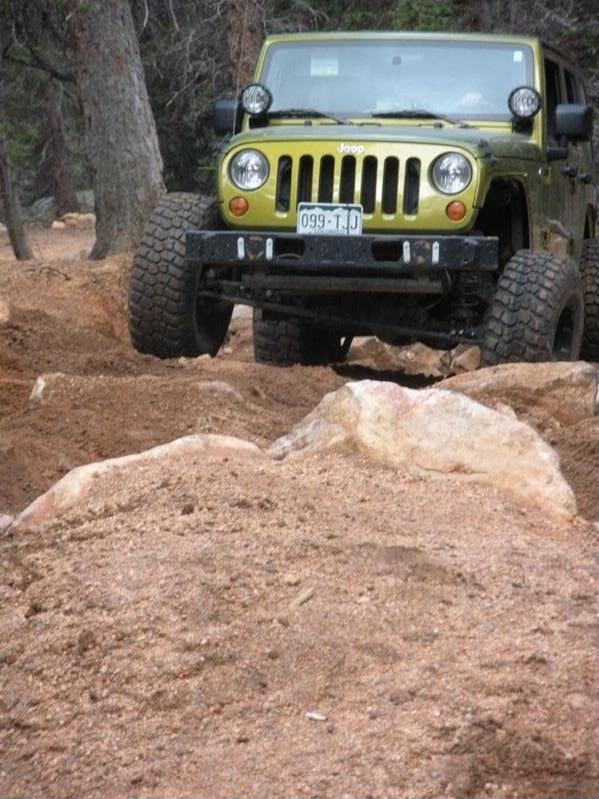 alexkemple
Mopar off-road bumper with Warm 9.5TI 125' Masterpull synth line
4" TeraFlex lift with 8 flexarm control arms, TeraFlex Monster trackbars, bilstein heavy duty steering stabilizer
35X12.50R17 Nitto Mud Grapplers
Front G2 Chrome-moly axle shafts
5.38 G2 Performance Gears (front and rear)
AEM Brute Force CAI
Magnaflow Cat-Back Exhaust
Superchips Flashpaq
75 Watt custom PA system and train horns
Cobra 29LX LE CB with 4' firestick antenna
Custom evap skid
J.E. Reel 1350 Crawler Canyon Driveshafts
Spyder Webshade top
Interior and inner grill green LED
Underbody Rock lights
1.5" wheel spacers
mirror relocation, Hella 500 windshield mounted lights, Rugged Ridge heavy duty rear bumper/tire carrier, custom army green front diff guard
Domovoi
BF Goodrich 35" Mud Terrain KM2
Metal Cloak Front and Rear Highline Fenders
RR XHD Front Bumper
Procomp (series 1069) wheels
Superchips Flashpaq
My jeep came about as a desire to finally own one. Joining the Navy provided
me with the income to get my Jeep. I immediately got the upgrade bug. Every
couple months I have bought something new for my Jeep. (I gotta compete with
the Jeeps on base!) I immediately removed the carpet when I bought it. I
suck at telling my story... I love my Jeep, I enjoy driving it every day.
That is all the justification I need to enter the contest! Hahaha! Future
mods will include Powerplant winch, OME lift, and skid plates within the
year. I gotta do a deployment first!
priell3
Some lift, better tires, steel bumper
Taken at the Jeepin' for Josie ride in the NJ Pine Barrens, April 2, 2011
SterlingArcher
Just a poor college kid. Whatever's left over after books and tuition I put into the Jeep. Being that I can't afford a second car, this is not only my daily driver but I also wheel it hard on the weekends. If you look closely you can see rock rash on all the wheels as well as some intense pin striping on the doors. It is a jeep after all. More mods to come.
jeeperjk
TeraFlex 3" lift, Raceline RT233 beadlocks, GY MT/R Kevlar 35x12.5-17's, AEV snorkel, LoD stubby w/ stinger & Superwinch LP8500, Smittybilt XRC rear bumper, Dynatrac Pro Rock Extreme 44 w/ 3"x0.5" tubes & RCV axles, 5.13 gears
Ordered my Jeep at just the right time and got it for <$25k after TT&L! Got started fairly quickly with the mods and got the first phase done after about 1850 miles. I wheeled it on stock 4.10's and 35's for about 7k miles and then ponied up the $ for the PR44 w/ RCVs and 5.13's. I have zero regrets. This thing is beefy. Next phase is gonna be Poison Spyder flares, 38's, and Redneck Ram hydro assist. That'll have to wait until I return from Iraq in August.
Good Luck To All