It's Finally Time For The
DECEMBER 2013
JK of the Month Contest
Meep97
2009 JK Wrangler
Unlimited X
Deep Water Blue
Engine/Drivetrain
Nitro Gear Chromemoly Rear Axle Shafts
EVO Manufacturing C-Gussets
SuperChips Flashpaq 3875
DynoMax Cat-Back Exhaust 39510
Suspension/Tires
Metalcloak 2.5" Coil Springs
Teraflex 9550 2.5" Shocks
Teraflex 2.5" Bumpstops
Teraflex Rear 2.5" TrackBar Bracket
Teraflex Rear Breakline Extension
Currie Anti-Rock Front Swaybar
9/16 Bolt Mod
XD Addicts 17" Wheels
Synergy 1.75" Wheel Spacers
Treadwright Guard Dogs 315/70/17
Armor
M.O.R.E Front Bumper
M.O.R.E Flat Fenders
Body Armor Rear Bumper/ Tire Carrier
Rock Slide Engineering Sliders
Kilby Evap Relocation Kit
Exterior
Hanma Dually Cree LEDs
Hanma 24" Cree LED Light Bar
Hanma 6" Single Row Cree LED Light Bar
DIY Grill Mesh
Interior
Daystar Lower Dash Switch Panel
Daystar Upper Dash Panel
Rugged Ridge Grab Handles
Rock Hard Ultimate Sports Cage
Kicker Spear Upgrade
Recovery
HI-Lift 48" Jack
20' Recovery Strap
CyberPyrot
Mods:
Rugged Ridge XMD front bumper with stinger
Rugged Ridge XMD rear bumper with tire carrier
OEM painted half doors
Poison Spider half doors
Rugged ridge side armor
Cut Fenders
Safari Straps Full cage straps
Warn Winch
33" mud grapplers
Rugged Ridge Modular Snorkel
Soft D steel rims
Bestop NX soft top
Bestop element tube doors
Lots of little stuff not worth mentioning.
Monster Liner on the Tub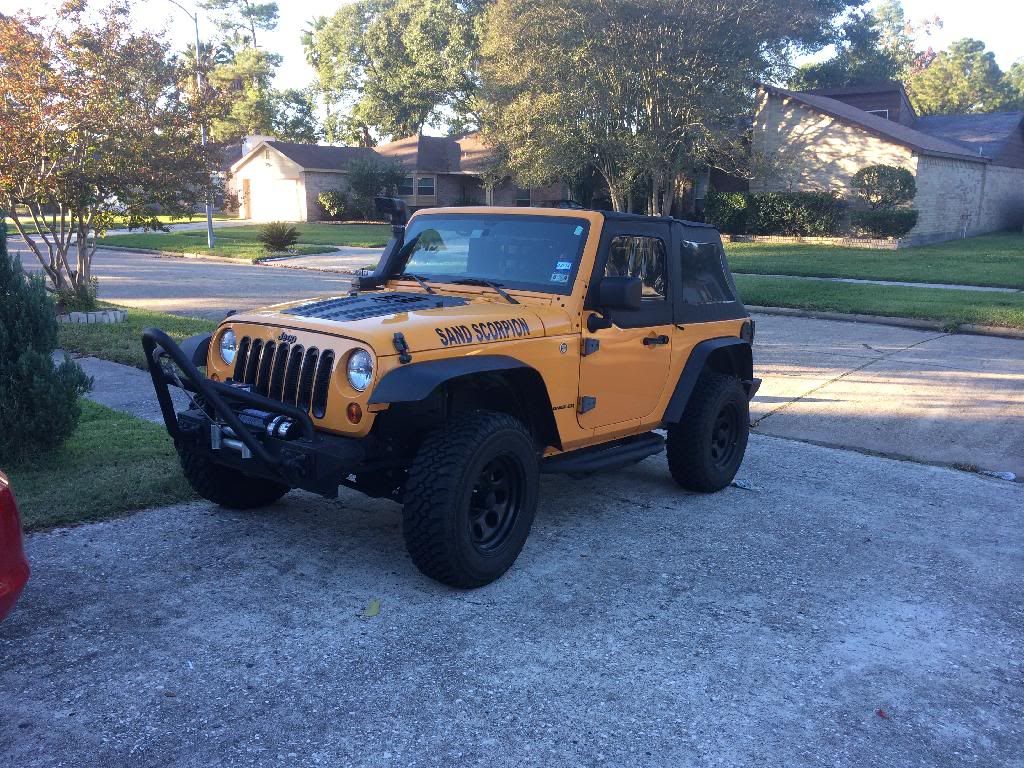 xjay1999
2007 Rubicon 2 doorHT Rescue Green,35/12.50/17 KM2's on Ultra Mavericks, Flat Bush wackers and BW rocker guards. Genright trail series front bumper, Warn 9.5CTI,125'x3/8" amsteel blue rope with excel hook, warn alum. hawse fairlead, d-rings with daystar isolators and washers. Ko rear bumper with tire swing, LED taillights, RR metal guards. RR floor liners front and rear, Pioneer6.1 touch screen, Cobra 29 Blue Tooth/Blue Firestik, Optima Blue Top, Brute Force CAI
dvdsjk
Mods:
Avenger Supercharger Tite Top
Poison Spyder BFH rear bumper
Pure Jeep front bumper
Rock Hard /Homemade roll cage
Corbeau Seats
35" DuraTracs
AEV Savagre wheels
Plus a ton of hours on making it look like a finished product!
Hokies2010
Mods:
Black 2011 JKU Rubicon, 6spd
5.5" RK X-Factor Plus Mid Arm (3.5") Springs
Rock Krawler RRD Shocks
Poly Performance Inner/Outer Sleeves, C-Gussets and HD Ball Joints
Poly Performance Front and Rear Driveshafts
Superior 5.13 Gears
ARB Diff Cover
Reid HD Racing Knuckles
Rock Krawler High Steer kit and 1 Ton TRE Upgrade
RCVs and Chromos this year for xmas :-)
37 x 12.50 Nitto Trail Grapplers on 17" MB72s
ACE Flat Fenders
JCR Dagger Front Stubby Stinger, Rear Stubby Bumper and Stage 2 Sliders
Warn 9.5 cti w/Synthetic line
OR-Fab Swing Away Tire Carrier w/Fuel Can mounts and 3rd Brake Light
Safari Straps Cage
PIAA 510s
Cobra 19 DXIV w/FireStick
Story:
My 2011 JKUR has been a work in progress for me. I only get to work on it between deployments so I get alot of time to spend here talking to other members and learning about new mods and products. I wasn't going to enter this year since I have been deployed since I won last year and my last break at home was short but I figured in the holiday spirit I would help fill the field. I haven't gotten to do everything I have wanted to it but then who ever gets to or wants to finish their favorite project? This thing makes me smile everytime I see it or drive it.
Well there you have it!
The final run down before the 2013
JK of the Year Contest
Good Luck to Everyone