Got a really good deal from northridge4x4.com. Took a little too long to ship. Almost 3 weeks. But when you get free shipping on a 100lb bumper what can you say.
http://www.northridge4x4.com/shop/en...er-66-j07-12-f
Bought it through northridge but it was drop shipped from Engousa. It looks just like the one I found on this web site that claims to be made in USA
http://www.hncusa.com/#!online-store...34&id=28472249
Was packed ok, was bubble wrapped to hell.
Anyway, this sucker is heavy. It made my front end sink about 1/2". When I ad the winch(Christmas) I may have to get some new front springs. I went with the version without the pre-runner.
It was pretty easy to install, considering I was too impatient to wait for help and I did it myself. If I would have waited on a buddy it would have been a breeze.
Seems super solid with good welds. A few scuffs that I touched up with with bedliner. Didn't come with hardware, which was just an annoying trip to the hardware store.
Paid $330 shipped.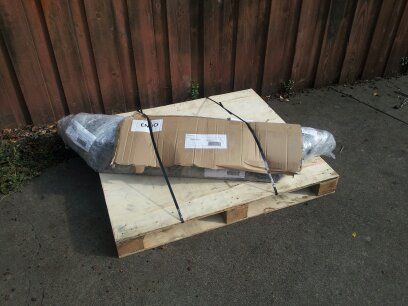 I'm missing a bolt on each side. I was short two bolts. And I tied up my fog cables after the pic.