Registered User
Join Date: Nov 2011
Location: Dixiana
Posts: 9
Emergency Brake pop
---
I'm new to the forum so let me just dive right in with a question. I bought a 2007 JK a few weeks ago and I am weeding through the problems the previous owner left me. One is the e-brake. It would not even hold when I first got the Jeep. I had to adjust it at the axle, but now when I pull up it seems to "pop" out of place half-way up then catch again. It holds but it is almost extended all the way. anyone had this issue? Thx
Registered User
Join Date: Mar 2011
Location: Howard County
Posts: 470
Welcome to the forum. This actually happens from time to time with my 2011. It won't catch or only catch half way sometimes. It's like a sweet spot thing for me. Not natural but no big problems yet. Don't know what to tell you.

Try letting it roll forward a few inches while yanking it. It might be a sweet spot thing for you too...
---
Keep Calm, Chive On
Registered User
Join Date: Jan 2009
Location: Richmond VA
Posts: 1,872
Mine has NEVER held. With the handle all the way up, I can still push it both ways.
LOTS
of JK's have this problem!
Today, I pulled the rear wheels after I got jack stands under it. Pulled the brake calipers off (2x18mm each-set them on control arms), and pulled the rotors off.
Sprayed and scrubbed the e-brake shoes and inside the rotors with brake-kleen, tightened the star wheels, put it all back together, and it was even worse than when I started!
This evening I ran into a friend who's a Porsche mechanic, and we talked about a little about it. (My JK has a Daimler trans, and I'm pretty sure other things were inspired by well-designed German autos) Turns out Porshes have a similar e-brake system...so tomorrow I get to pull it all apart again, and tighten the starwheels the OTHER direction, until the shoes are tight against the the inside rotors....then back off 4 clicks.
Sorry for the long-winded rant, but my e-brake issue are almost a SAGA. Check this forum and the other Jeep forum for JK's. There have been a few write-ups on how to adjust the e-brake. Hope this helps
And Welcome to Jeep Forum!
---
I'm just here for the gasoline. --Max



To view links or images in signatures your post count must be 10 or greater. You currently have 0 posts.

Registered User
Join Date: Sep 2006
Location: Maryland
Posts: 109
Mine does the same thing ('08 JKUR). I just ease it up a few clicks at a time and it seems to avoid the "popping out" issue. Haven't taken anything apart yet to inspect further. I tried the "self adjusting" technique but I can't say it really made any difference.
---
2008 JKUR
2005 LJ (sold)
1997 TJ (sold)
Quote:
Lifted 4-doors give me wood.
Registered User
Join Date: Nov 2011
Location: Dixiana
Posts: 9
@ pizzle - That is exactly what mine does. Sometimes if I go a bit too far it pops. I found a "parking brake control" at JeepOEMparts.com for $40. There is no picture so I don't know if its the whole assembly, but the price seems reasonable. I'll do more research. Thanks for all the input guys!
Registered User
Join Date: Nov 2010
Location: Jackson
Posts: 123
I've had the same thing happen to me I have an 08 and every time I pull it up sometimes it pops and sometimes it just does not grab at all. My solution is to leave it in first gear or reverse depending upon the incline positive or negative.

One-time my fiancÚ got in and turn the key while in gear and she drove over the curb and into a ditch. she was pissed at me but hey you got to do What you got do.
Web Wheeler
Join Date: Jan 2009
Location: Maine
Posts: 4,912
If your parking brake lever doesn't grab sometimes, or it pops, try cleaning the clutch spring with brake cleaner. Stick the tube through the brush seal in the console, and apply lots of cleaner. Let it dry. See if it improves performance.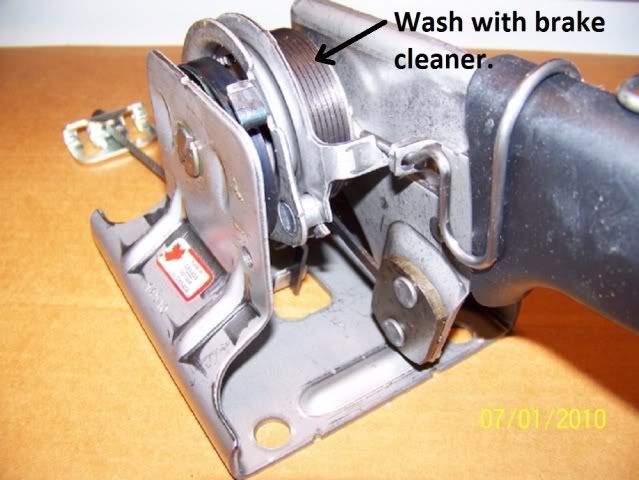 Registered User
Join Date: Nov 2011
Location: Dixiana
Posts: 9
@ ronjenx

Brake clean was just what it needed. I spray a liberal amount all inside e-brake hole. Fixed problem. THX!
---
Jeeple are the best People around.
Registered User
Join Date: May 2015
Location: New Britain
Posts: 1
I don't mean to bring up an old forum, but I didn't see many solutions to this problem. The clicking happened to me and all I had to do was use brake cleaner as mentioned above and it solved the issue!
Registered User
Join Date: Feb 2012
Location: Merrick
Posts: 1,384
My 2012 JK did this and it sort of stopped doing it all of a sudden. I didn't do a thing but trade er in to the dealer.
Registered User
Join Date: Sep 2009
Location: Penn Yan, NY
Posts: 1,211
Gotta love Jeep Forum. My 09 was properly adjusted at the rear but the handle worked intermittently. The cable drum kept rotating toward the front of the Jeep. When I pushed it back with a screwdriver it would set the brake at 4-6 clicks but the next time I pulled it change the engagement point. Reading this I realized that the clutch spring is slipping on the cable drum. Just sprayed it out with brake cleaner. Seems to be working better now. Thanks ronjenx.
Currently Active Users Viewing This Thread: 1

(0 members and 1 guests)
Similar Threads
Thread
Thread Starter
Jeep Forums
Replies
Last Post
89 Emergency Brake

seanmac777

YJ Wrangler Technical Forum

10

12-11-2010

01:37 AM

No Emergency brake!

monica02190

YJ Wrangler Technical Forum

11

03-22-2010

08:42 AM

Emergency Brake

JFrank1968

TJ Wrangler Technical Forum

10

09-16-2006

01:13 PM

emergency brake ..

mshrmhd

YJ Wrangler Technical Forum

14

01-17-2005

03:34 PM

No emergency brake!!

justajeep

YJ Wrangler Technical Forum

16

01-31-2003

05:28 AM
Posting Rules

You may post new threads

You may post replies

You may not post attachments

You may not edit your posts

---

HTML code is Off

---