Registered User
Join Date: Apr 2012
Location: Clarington county
Posts: 1,369
Looks good but I wish the seats could be folded down. One of the reasons I bought a JK is for storage
Sent from my iPhone using JeepForum
---
OF4WD member #7523. Durham 4x4 member.
Registered User
Join Date: Nov 2010
Location: Chicago
Posts: 133
this is awesome. i just bought my buddies box for 2 10s. hoping to rebuild it with fiberglass. as its just 3/4" mdf wood right now.
id like to wrap it in something, was thinking leather, but itd get ruined real quick. thinking vinyling the next one.
---
Hi there, I'm Ludski. But you can call me Ludski.
Registered User
Join Date: Mar 2013
Location: east elmhurst
Posts: 1
Put me down for a 10'' inch box please.
Registered User
Join Date: Apr 2013
Location: Clayton
Posts: 1
Quote:
The guys at the shop I work at just got done making a custom sub enclosure that fits under the seat of a 4 door JK. It will house (2) 8" or 10" down-firing subs.
A national sub box manufacturer contacted us to make the first prototype so they can start producing them. We designed and fabricated the 8" enclosure for one of our customers (see pics) and will be making the 10" box for actual production.
Where can I get this box?
Please pm me with some contact info
Registered User
Join Date: Sep 2009
Posts: 346
Any updadeon these enclosures? I'm interested in a dual 10" depending on airspace.
Registered User
Join Date: Apr 2011
Location: hollywood
Posts: 959
I can't see any of those images. Keeps saying I don't have permissions.
Registered User
Join Date: Oct 2011
Location: Katy
Posts: 477
Rather than spending the money and hassle of this type of box, Kicker makes a 8" loaded box that fits PERFECT under the back seat. I have one under mine and it does as good of a job as an 8" can in that configuration.
If I put another one under there, it would be pretty nice and the cost is pretty good.
Anyway, here is the information from where I ordered it.
http://www.sonicelectronix.com/item_...-10TCVT84.html
A shallow mount 10" may work but there isn't much air space and it would take quite an odd designeed box. I have a shallow 12" and it is hopeless.
---
'17 JKU, '97 ZJ - Built
Past: CJ-7, XJ, KJ, JKU
Registered User
Join Date: Oct 2013
Location: chicago
Posts: 2
How do I order one??
---
I have a 2014 unlimited JK. I would like the 2x 10' model unless you can't put the seats down in which case I would be completely fine with the 2x8' setup. let me know how to purchase one!!
Registered User
Join Date: May 2010
Posts: 1,949
You could try to pm the op but this thread is fairly old with a lot of other unreplied questions. Good luck .
Registered User
Join Date: Jul 2013
Location: Columbia
Posts: 6
I know its old but has anyone made this box? I cannot pm the original poster.
Registered User
Join Date: Sep 2010
Location: Santa Rosa Beach
Posts: 49
I am working on an under seat box to house 2 10 inch subs.
Got a little time to throw together the first mock up of the sub box.
Inner structure..
[IMG]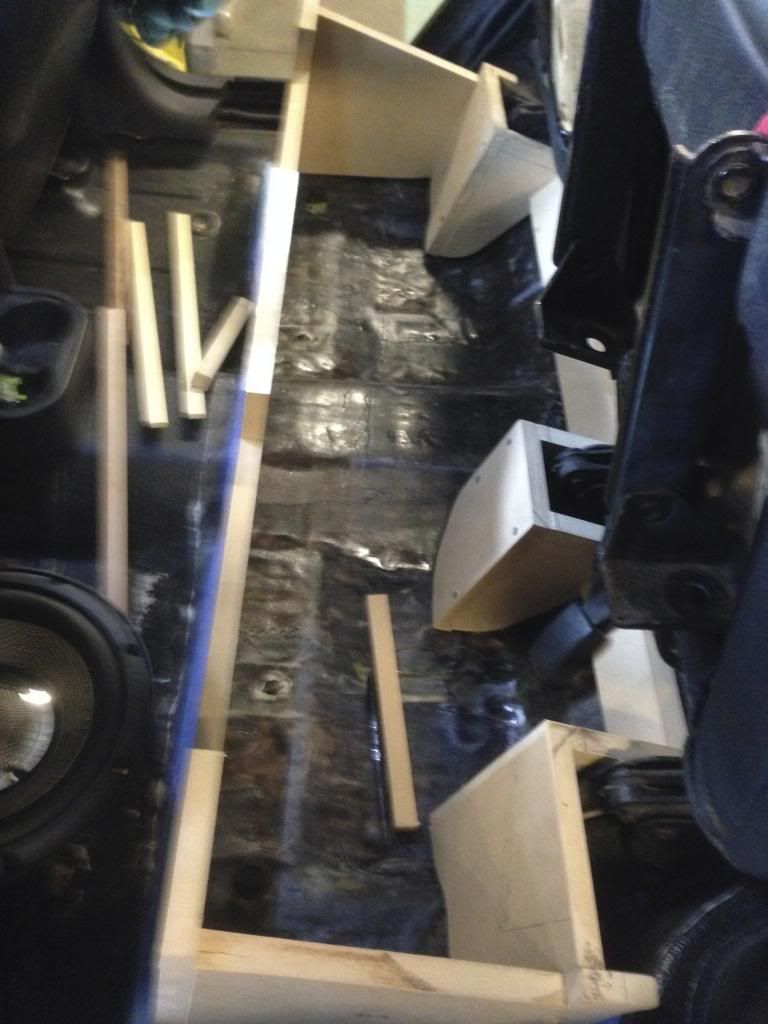 [/IMG]
The fiberglass bottom.
Front..
The rear. a few gaps to be taken care of in the final version.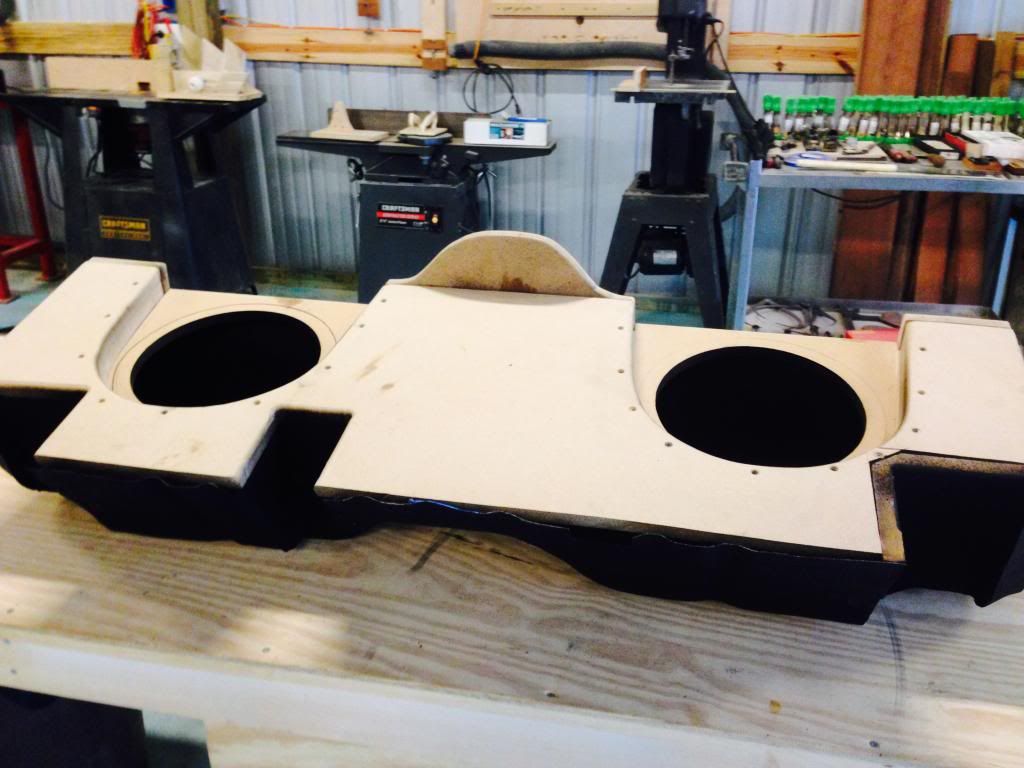 After accounting for 4 oz Coremat and a layer of epoxy/quartz to deaden any resonance from transferring to the metal, and the speakers displacement, I have .77 feet per side. With a little more angle on the front and rounding the sides out from under the seat, as well as building in tighter to the hinges I could squeeze out 1 foot of airspace.
Registered User
Join Date: Jan 2017
Location: Discovery Bay
Posts: 1
Was there ever any update on WHER these might be avl to purchase? I tried to PM but I see you don't take messages. Looking for one for my build. Thank you.
Currently Active Users Viewing This Thread: 1

(0 members and 1 guests)
Posting Rules

You may post new threads

You may post replies

You may not post attachments

You may not edit your posts

---

HTML code is Off

---