IT'S TIME FOR THE THIRD ROUND
OF 2011
The March
JK of the Month
is
HERE
alexkemple
Mopar off-road bumper with Warm 9.5TI 125' Masterpull synth line
4" TeraFlex lift with 4 flexarms
35X12.50R17 Nitto Mud Grapplers
Front G2 Chrome-moly axle shafts
5.38 G2 Performance Gears
AEM Brute Force CAI
Magnaflow Cat-Back Exhaust
Superchips Flashpaq
75 Watt PA system
Cobra 29LX LE CB with 4' firestick antenna
Custom evap skid
J.E. Reel 1350 Crawler Canyon Driveshafts
Spyder Webshade top
Interior and inner grill green LED
Underbody Rock lights
1.5" wheel spacers
mirror relocation
molshove
Vehicle:
2008 Unlimited Rubicon - 6 speed transmission, 4.10 gears
Suspension:
Teraflex 3" coil springs
Teraflex bump stop extensions
Teraflex 9550 shocks and steering stabilizer
BDS adjustable front lower control arms
BDS adjustable track bars, front and rear
Wheels/Tires:
Rugged Ridge 1.5" wheel spacers
Line-X rear wheel wells
Cooper Discoverer STT Tek3s, 35x12.50x17
Stock 17" Moabs
Recovery:
Rugged Ridge recovery strap, 30'x2"
Armor:
Poison Spyder Brawler Lite front bumper
Smittybilt XRC fender flares
Accessories:
Uniden pro CB
Teraflex CB antenna mount
3' Firestick antenna
Polk Audio DXI6500 components
Polk Audio db651s speakers
JL Audio 8" sub
Jensen Power 5500 amp
MTX re-Q sound processor
Story:
I bought my first Jeep a little over 2 years ago, a 1990 YJ with the carbureted 258 4.2L I6. It kept me busy for a year, and helped me learn many of the ins and outs of suspension work, and helped me learn that I should never again lay my hands on any kind of welder (you should have seen my custom fabbed rear bumper, horrible!) I bought it for $500, sold it 12 months later for about $3,500, and netted a $1,000 profit. I put this money towards the down payment on our first home (wifey promised we would get another Jeep when the time was right). My dad's lease came due on his '08 late november/early december of '10, and I made certain that Staci understood that the time was right...so we bought it out! Thanks to the YJ (and the help of JF and the knowledge of all of the members), it was pretty easy getting my hands dirty. Every bit of work was done by yours truly, with the occasional helping hand of a mechanic I have made good friends with in my service department (I'm a Buick GMC dealer). If it weren't for his tools and the use of a rack at work, I'd only be 1/4 of the way into my build as compared to where I am now.
I am looking to join a group that goes for monthly outings (probably Ohio 4x4) so I can learn more about wheeling technique, and decide where I want my build to go from here - the trick is finding the free time to make it out regularly!
Thanks to all of you that have provided insight, suggestions, and your knowledge on a subject that 2.5 years ago, I knew nothing about.
Mike
rdujeep
Tires
285/75R16 Goodyear Wranglers
Wheels
16x8 Pro Comp Wheels 52-6873F
Accessories
Bestop® Trektop™ in Black for the summer months,
KC 130Watt Lights Mounted using Windshield
mounts
I've been wanting a Wrangler for years, and this year finally got one. I bought this one on Feb 5th, and immediately added the wheels, tires and lights; which totally changed the look of the Jeep. I've had many people tell me in person how awesome of a Jeep it is, and that it looks badass. Tons of compliments. I'm really loving my JK!!
WVUJeeper
While I was in College they came out with the JK Unlimited....I was hooked. After I graduated it took about 3 weeks for me to get a job, move from West Virginia to Wyoming, receive my first paycheck, then drive 8 hrs to Salt Lake City to pick up my base model Rescue Green JK Unlimited. I had hardly gotten out of the lot on the test drive when I told the Salesman that I was going to buy it. At 12,000 miles I could not stand the dinky 29" tires and crappy wheels any more, so I installed my RC Budget Boost and 35" KM2's.
That was 3 years ago. Now I live in Colorado and wheel the heck out of it whenever I get a chance.
Future plans include Poison Spyder BFH bumpers and T&T skid plates.
---Engine/Driveline---
- Nada
---Suspension/Tires---
-RC 2.5" BB w/shock extensions
-315/75/16 BFG KM2's
-ProComp 7089 16x10
---Armor/Protection---
-Stock Skid's
---Interior/Communications---
-Mastercraft Grab Handles
-No Carpet
-Cobra Chrome CB
---Exterior---
KC Slimlights on KC windshield mounts
---Recovery Gear---
-Recovery straps
-Tools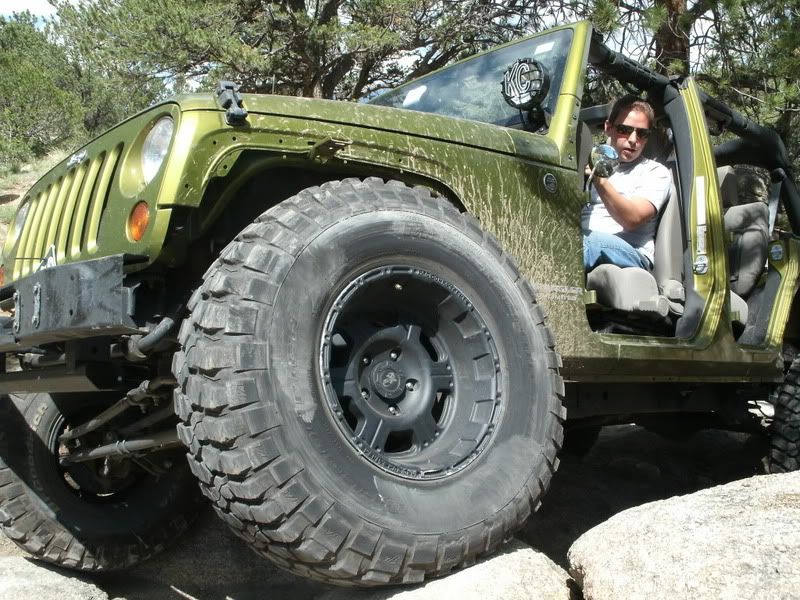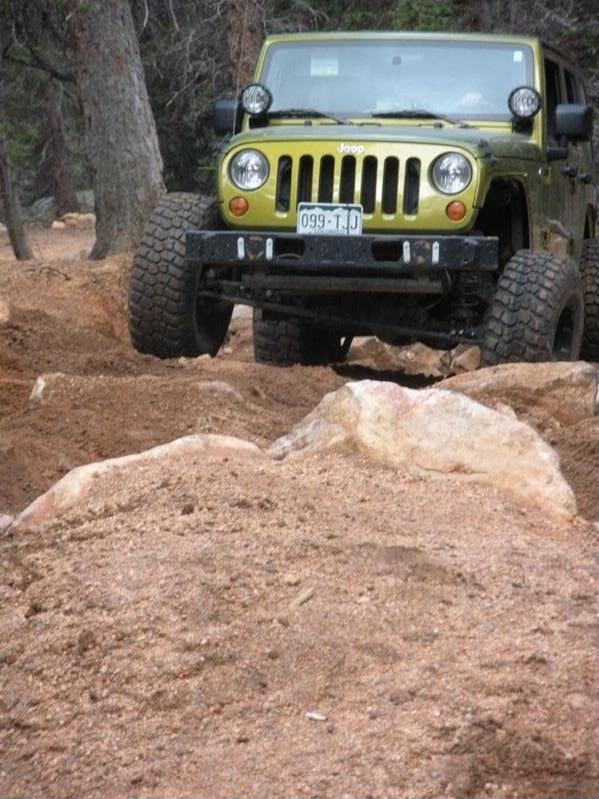 Good Luck To All