It's time to get the wheels rollin'
for the
JANUARY JK of the MONTH
GOOD LUCK TO ALL
WVUJeeper
Story: While I was in College they came out with the JK Unlimited....I was hooked. After I graduated it took about 3 weeks for me to get a job, move from West Virginia to Wyoming, receive my first paycheck, then drive 8 hrs to Salt Lake City to pick up my base model Rescue Green JK Unlimited. I had hardly gotten out of the lot on the test drive when I told the Salesman that I was going to buy it.
That was 3 years ago. Now I live in Colorado and wheel the heck out of it whenever I get a chance.
Mods (optional):
---Engine/Driveline---
- Nada
---Suspension/Tires---
-RC 2.5" BB w/shock extensions
-315/75/16 BFG KM2's
-ProComp 7089 16x10
---Armor/Protection---
-Stock Skid's
---Interior/Communications---
-Mastercraft Grab Handles
-No Carpet
-Cobra Chrome CB
---Exterior---
KC Slimlights on KC windshield mounts
---Recovery Gear---
-Recovery straps
-Tools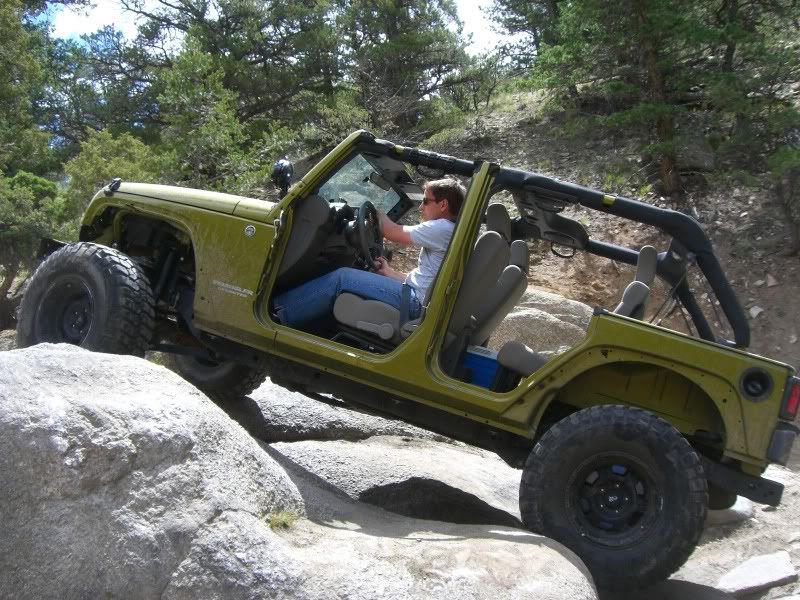 Vince1
Mods: Mopar lift and bumpers
Procomp wheels, GY Duratrac tires
Gobi rack, VisionX LED rack lights, Spod switches
11RUBICON
2011 UNLIMITED RUBICON
4" TERAFLEX LCG
TERAFLEX SPEED BUMPS
TERAFLEX FRONT AND REAR DRIVLINES
37" GOODYEAR MT/R KEVLAR
17" KMC XD ADDICTS
5.38 SUPERIOR GEARS
ARB DIFF COVERS FRONT AND REAR
OFFROAD EVO D44 AXLE SLEEVES AND GUSSETS
OFFROAD EVO ROCKSTAR REAR SKIDS
OFFROAD EVO FRONT LCA SKIDS
RUGGID RIDGE XHD FRONT BUMPER AND HOOP
T-MAX 10K INTERGRATED WINCH
OPTIMA BLUE TOP DEEP CYCLE STARTING BATTERY
AIRAID INTAKE
MBRP OFFROAD EXAUST
POISON SPYDER EVAP SKID
ARB CKMA12 COMPRESSOR W/ AIR UP KIT
RUGGID RIDGE WINDSHEILD LIGHT MOUNTS
WARN SDB-160 HIGH LOW BEAM LIGHTS
HID HEADLIGHT CONVERSION
HID FOGLIGHT CONVERSION
WEATHERTECH FLOOR MATS
COBRA CB WITH TERAFLEX CB MOUNT
FREEDOM TOP, SOFTTOP, SAFARI W/ DUSTER
FACTORY RUBICON SPARE TIRE COVER
FACTORY RHD STEERING CONVERSION (CUSTOM FLIP KIT)
20% WINDOW TINT
FACTORY FUEL DOOR COVER
THE STORY:
I HAD A TOYOTA BASED BUGGIE FOR THE LAST 7 YEARS, IT WAS TIME FOR A NEW CHAPTER IN LIFE.
MY WIFE AND I TRADED IN THE TOW RIG (05 SUPERDUTY 6.0), SOLD THE TRAILER AND BOUGHT THIS
LOADED RUBICON UNLIMITED.
I PARTED OUT THE TOYOTA SOLD WHAT I COULD AND GAVE THE REST AWAY TO MAKE ROOM IN THE GARAGE.
WE USED THE MONEY THAT I MADE ON THE TOYOTA TO FUND THIS BUILD. IT HAS BEEN REALLY FUN AND STRESSFULL
BUT AS YOU CAN SEE I THINK IT TURNED OUT OK FOR WHAT I HAD TO WORK WITH.
EVERYTHING YOU SEE HERE I DID MY SELF IN MY 2 CAR GARAGE OVER A 4 DAY PERIOD.
SINCE I HAVE FINISHED THIS STAGE OF THE BUILD I HAVE NOTICED A FEW FLAWS IN THE BUILD, I FIRST STARTED
WITH 4.88 GEARS.... BAD IDEA! MPG WENT SOUTH REALLY BAD AND DRIVABILITY WAS HORRIBLE. I SINCE REGEARED
IT AGIAN WITH 5.38'S AND WE ARE MUCH HAPPIER WITH THE DRIVABILITY AND MPG.
I AM STILL FINE TUNING EVERYTHING TO MAKE IT WORK THE WAY I WANT IT TO.
THERE IS MORE TO COME BUT WILL HAVE TO WAIT FOR NOW......