It's Time For The November 2013
JK of the Month Contest
BlackOpsRubi
Jeep: Year & Model: 2011 JK Wrangler Rubicon, Transmission: Stock - 6 Speed Manual
Modifications:
Engine / Performance: RIPP GEN II Supercharger (Tactical Package), DiabloSport Tuner, RIPP LT SS headers, MBRP Off-road SS Exhaust, Flow Master Resonator
Suspension / Steering: Rock Krawler 2.5" max travel, Rock Krawler Remote Reservoir RRD Racing Shock Front and Rear, RC Dual Steering Stabilizer
Wheels & Tires: 35" Goodyear Wrangler MTR w/ Kevlar, Pro Comp Alloy Flat Blk, 17x9 Rims
Armor: AEV Heat Reduction Hood, Poison SpyderTrail Cage, Poison Spyder Crusher Corners, Poison Spyder Brawler Lite Front Bumper, Poison Spyder Rear Brawler Bumper w/ swing mount tire carrier, Poison Spyder Body Armor, Rocker Knockers w/ sliders, Poison Spyder Aluminum flat fenders, Solid Axle Diff Covers
Recovery Tools: Warn M8000 Winch w/synthetic line, Bubba Rope, 48" Hi-Lift Jack
Misc.: sPOD modified with DIY backlit air pressure gauge and map lights, PIAA Fog Lights, Viair 400C Onboard Air System w/ 2 gallon tank, CJ Mirror custom conversion.
The Story
We both were four wheelers and had jeeps before we met and married, had jeeps together, and then went Jeepless for a few years to raise kids. To celebrate 25 years of marriage and an empty nest we decided to gift ourselves with a new 2011 JK. We don't want anything that looks "monster truck-ish" or "hummer-esque" and knowing that we never want a trailer queen or dedicated trail rig, we are intentionally keeping the modifications and upgrades on the conservative side. Our mods were meant to be dual purposed, making it capable off road but keeping it stable and comfortable on road.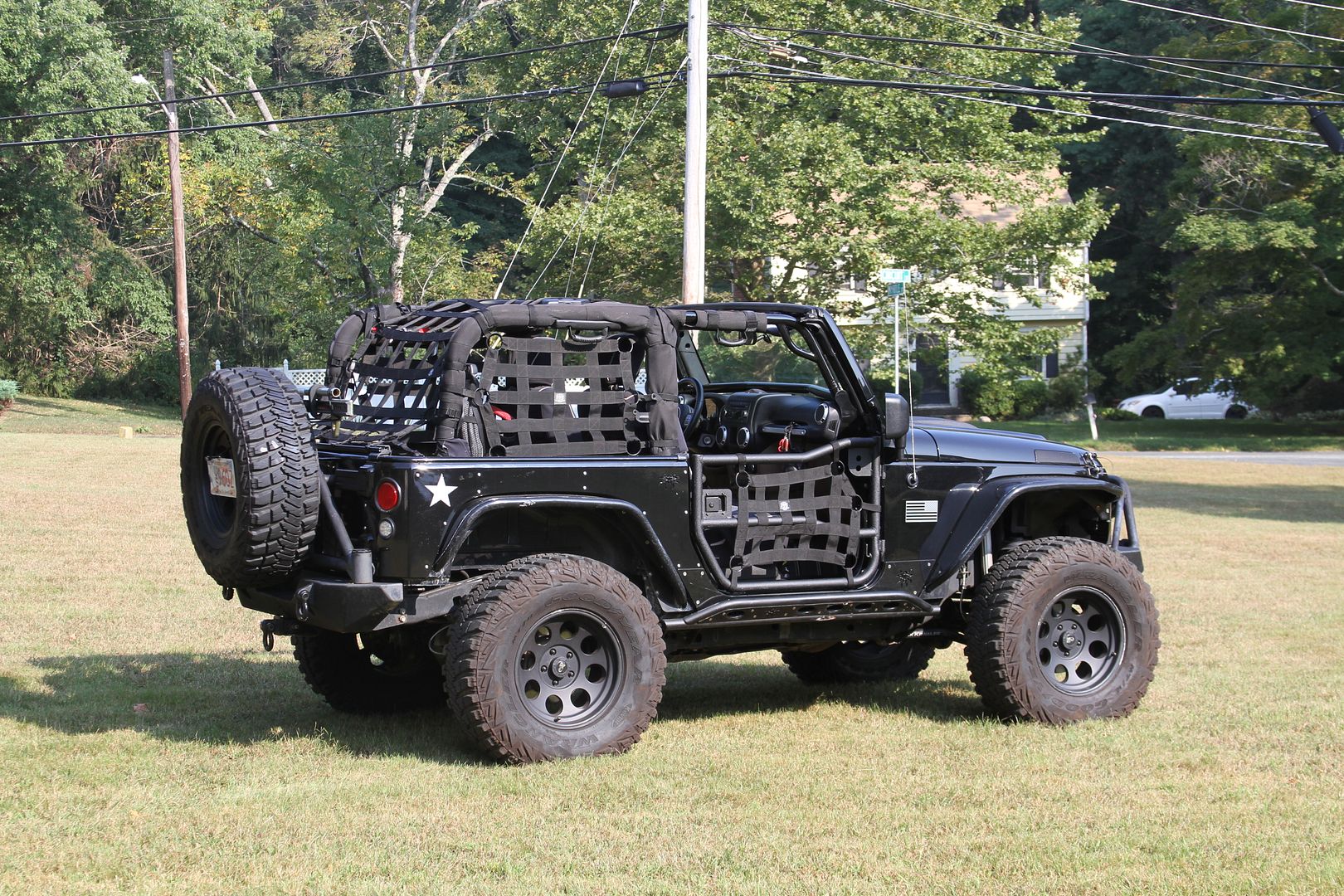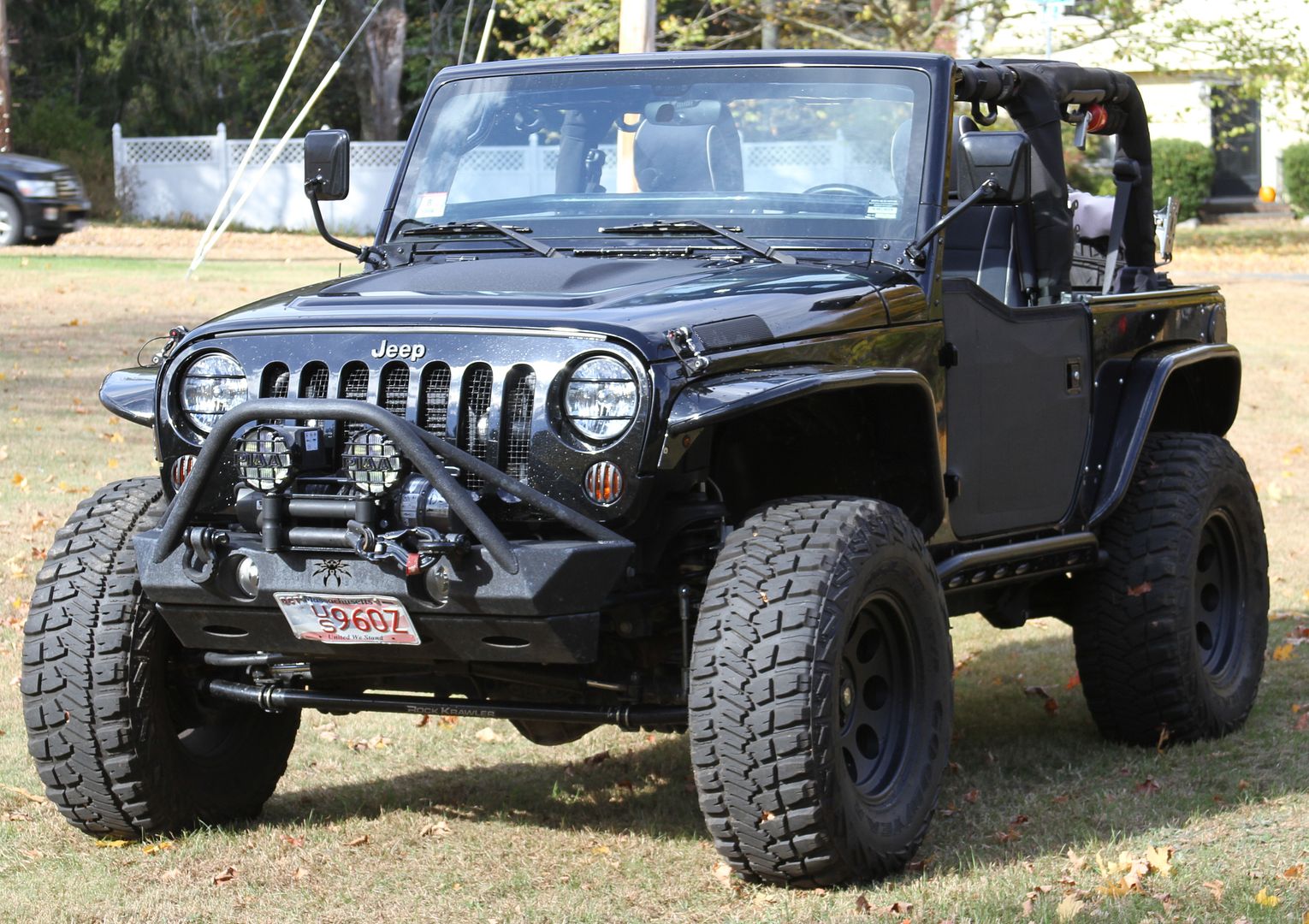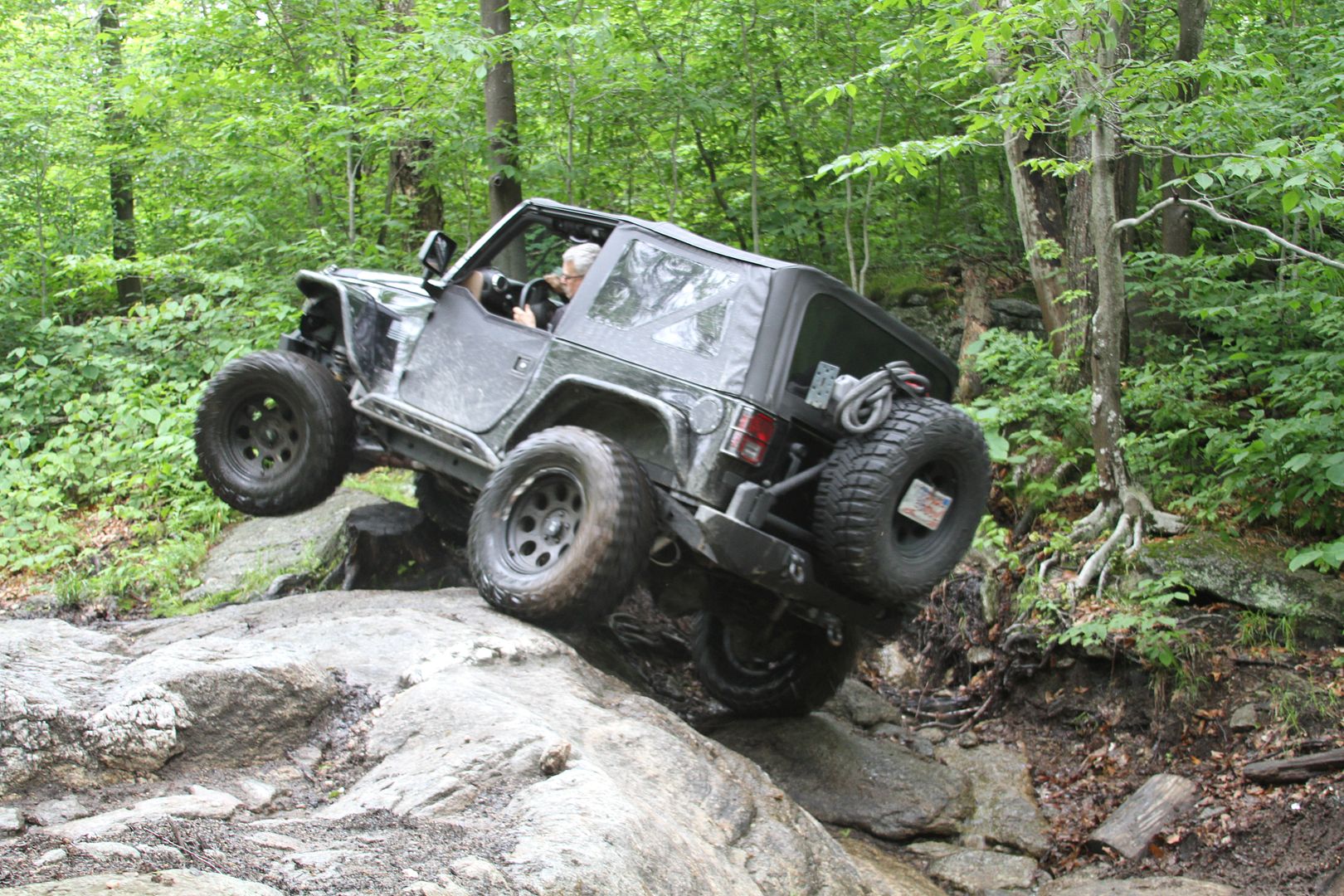 ROCKR8R
2008 JK X, ~3.5" Teraflex/Synergy Suspension franken lift, 5.13's, Aussie front lock, Teraflex diff armor, Poly Performance Inner C-Gussets, Kelly Safari TSR 35's, Rugged Ridge XHD front bumper, Recon winch, OR Fab tire carrier, Rigid Industries Dually A-Pillar and rear facing lighting, cut OEM fender flares
colegrove03
MODS:
(Drivetrain)
ProComp 6in long arm kit but has been highly modified so I don't even know if I can call it that anymore!
KING 2.5 IBP coilovers 14in rear/front shocks are fox remote reservoir but I have 12in king coilover for front once we get time to fab up mounts.
Custom built front and rear driveshafts
Dynatrac ProRock unlimited 44front housing
35 spline RCV axles
ARB locker
Dynatrac Prosteer ball joints
5.38 gears
Dynatrac ProRock 60 rear axle ARB/5.38
Reid knuckles
Teraflex big break kit and master cylinder
PSC Extreme duty hydraulic assist steering and custom mounts and cooler
Advanced Adaptors heavy duty transfer case cable assembly
Spyderlock beadlocks 17x9.5 offset 3.5
Maxxis competition Trepador 37/12.50/17
JKS front and rear track bars
Front Antirock sway bar (I have rear but not installed yet)
Ballistic fab steering kit
(Armor)
Poison Spyder BFH front bumper with trail stinger
Poison Spyder BFH rear bumper
Poison Spyder Rocker Knocker rocker guards
Poison Spyder Crusher corner guards and LED lights
Poison Spyder Crusher front and rear tube fenders
Skid Row engine skid
Rugged Ridge evap skid
Stock gas tank skid! Haha
Warn 9.5 CTI winch with Amsteel synthetic rope
Poison Spyder aluminum Hawse fairlead
Rigid 10" light bar E series
Rigid rock lights
(INTERIOR)
Fully custom 10 point cage (TIG welding only on this jeep)
Corbeau Baja XRS heated bucket seat front and rear
Mastercraft 5 point harnesses front and rear
Al's spray on liner
(ENGINE)
Sprintex supercharger
Hypertech programmer
AFE exhaust
Airaid cold air intake
Yellow top Optima battery relocated in rear of jeep
Distribution block in batter tray
ARB compressor in battery tray
(STORY)
I bought my 2008 Jeep JKRU 3 years ago used with only 16,000 miles on her and bone stock with the intentions to do only a mild build.. I'm sure some of you are laughing by now! I guess where my build went out of control is when my buddy who use to race desert trucks started to help me in my build process. Seemed like every time we got together the plans grew and became more complicated. One thing led to another and before I knew it we had pulled the axles, cut a 4 foot hole in the back of the tube for the coilovers to travel though and started building a cage! My entire build took place in my buddies garage for over a year! Many many hours/beer and lots of screaming went into this jeep! So many conversation ended with "well..nows the time to upgrade while it's apart if I'm gonna" and I did! I couldn't have done this build without my good friend Matt. He has taught me so much and I thank him for it!
We wheel every chance we get and have tackled most the parks here in Tennessee. Jeep performs flawlessly on the trails and can hang with the big boys. As all jeeps they are never finished you know there is still lots to do. Time is always against us. Come January we plan to install the King coilovers on the front/engine cage, rear antirock, make removable B pillars and custom aluminum dash for all my Autometer gauges.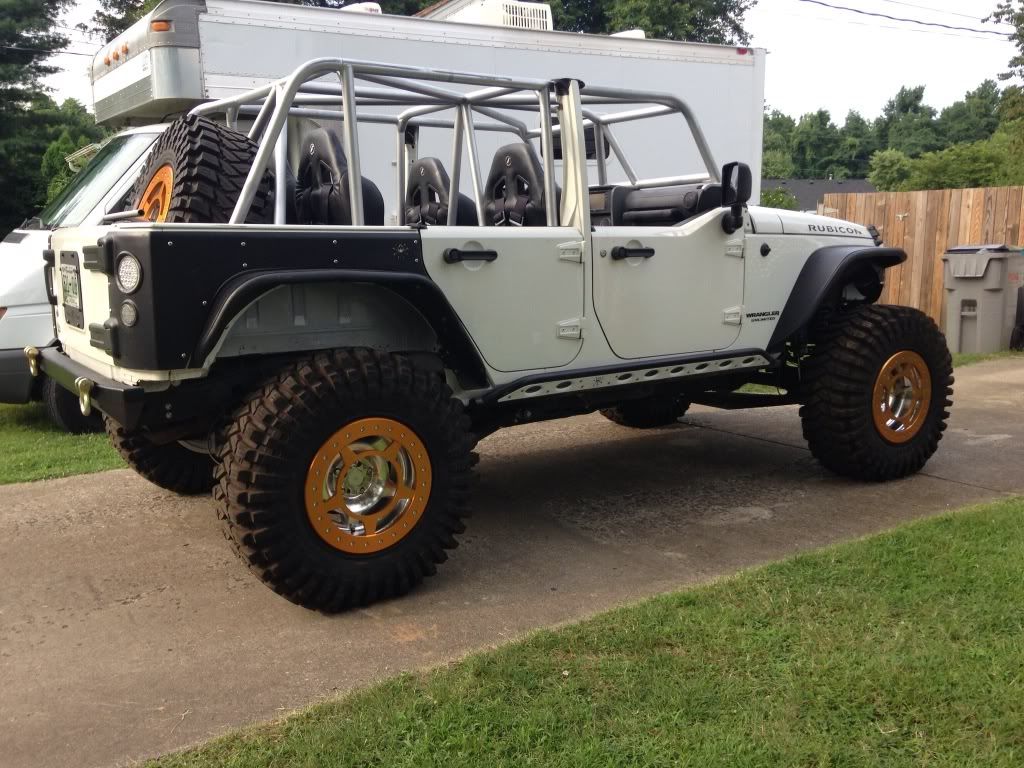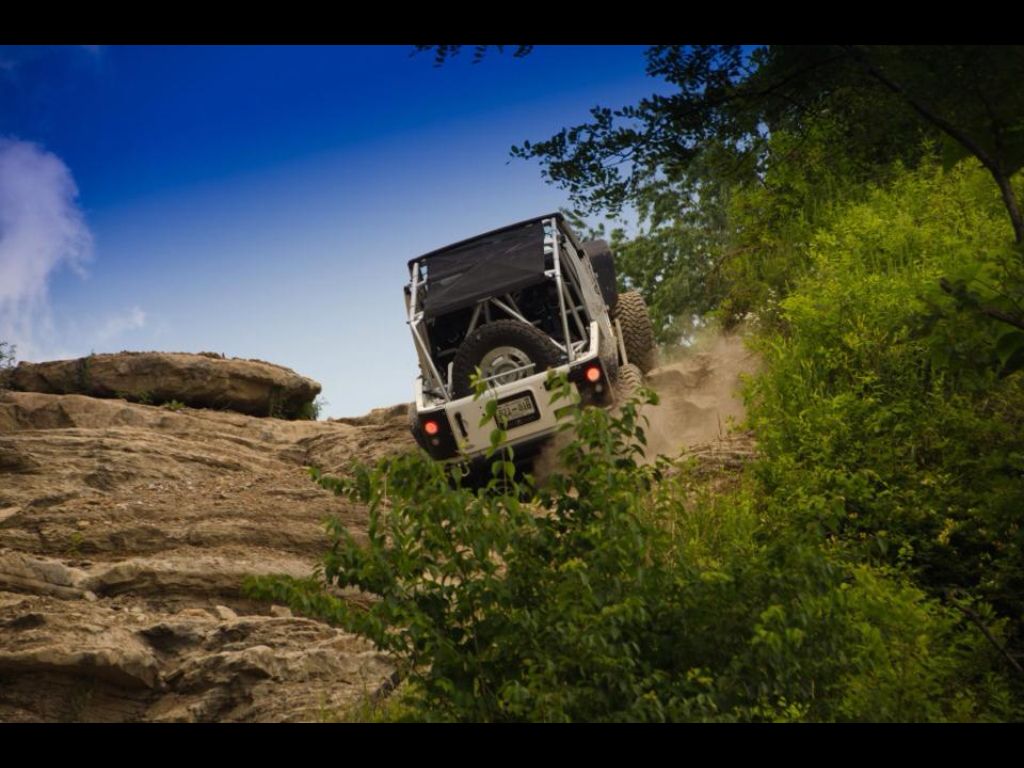 COLOUXJ
Mods:
2010 JKU Unlimited Rubicon and all the goodies that come with it
4.88's in front and rear Dana 44's
OME HD coils (3" of lift)
Bilstein 5100's
JKS trackbars
OME steering stabalizer relocation and SS
Synergy trackbar
Rugged Ridge 17x9 wheels
315/70/17 Goodyear Duratracs
ADP stubby endcaps
Cobra CB
Story:
Bought the Jeep after graduation from University of Colorado at Boulder and have just began to modify it. Most aesthetic parts are yet to be purchased as I wanted to get it trail ready before I made it look really good.
CyberPyrot
Mods:
Rugged Ridge XMD front bumper with stinger
Rugged Ridge XMD rear bumper with tire carrier
OEM painted half doors
Poison Spider half doors
Rugged ridge side armor
Cut Fenders
Safari Straps Full cage straps
Warn Winch
33" mud grapplers
Rugged Ridge Modular Snorkle (going on this weekend)
Soft D steel rims
Bestop NX soft top
Bestop element tube doors
Lots of little stuff not worth mentioning.
Story: Well I have been holding off doing the major mods that would void the warranty. Wanting to fully break in the engine with some of the issues the early Panstars where having I didn't want to give the dealership any reason to deny a claim. Now the time has come the Odometer has hit the 11K mark I think if there were any issues I would have seen them by now. That being said the next major mod will be a lift kit.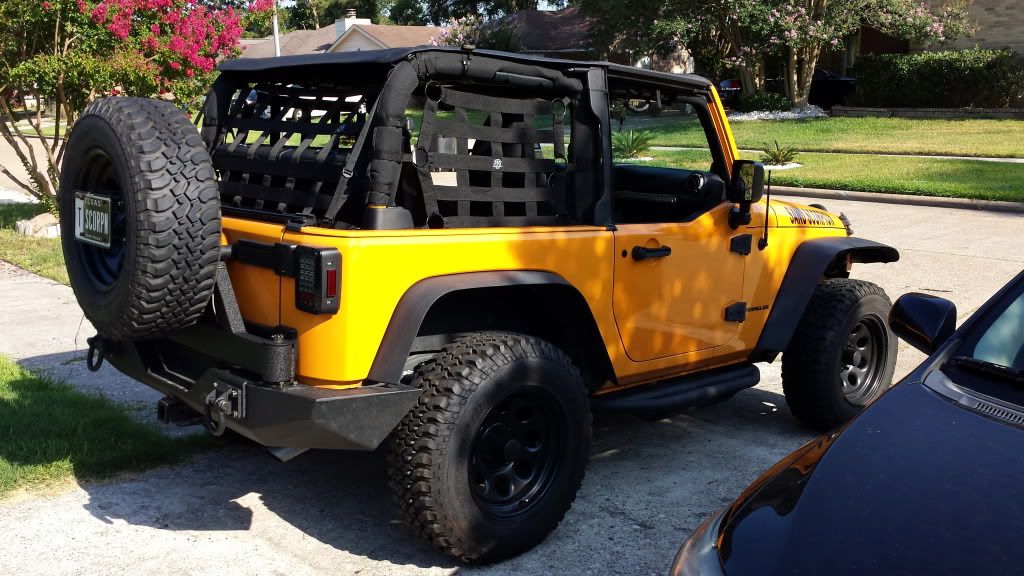 There You Have It
Good Luck To All And Have A Happy Thanksgiving!