It's That Time Again!
Vote Now For The May 2011
JK of the Month Contest!
WVUJeeper
Story: While I was in College they came out with the JK Unlimited....I was hooked. After I graduated it took about 3 weeks for me to get a job, move from West Virginia to Wyoming, receive my first paycheck, then drive 8 hrs to Salt Lake City to pick up my base model Rescue Green JK Unlimited. I had hardly gotten out of the lot on the test drive when I told the Salesman that I was going to buy it. At 12,000 miles I could not stand the dinky 29" tires and crappy wheels any more, so I installed my RC Budget Boost and 35" KM2's.
That was 3 years ago. Now I live in Colorado and wheel the heck out of it whenever I get a chance.
Future plans include Poison Spyder BFH bumpers and T&T skid plates.
Mods:
---Engine/Driveline---
- Nada
---Suspension/Tires---
-RC 2.5" BB w/shock extensions
-315/75/16 BFG KM2's
-ProComp 7089 16x10
---Armor/Protection---
-Stock Skid's
---Interior/Communications---
-Mastercraft Grab Handles
-No Carpet
-Cobra Chrome CB
---Exterior---
KC Slimlights on KC windshield mounts
---Recovery Gear---
-Recovery straps
-Tools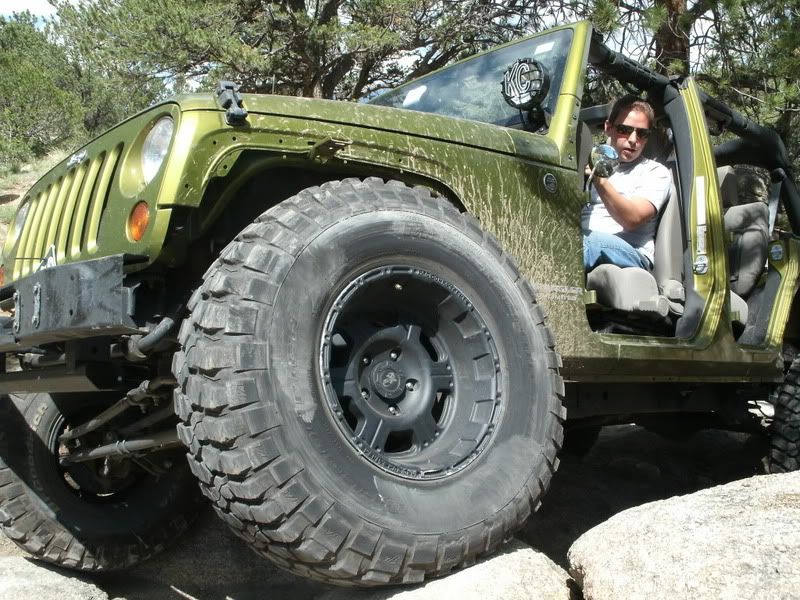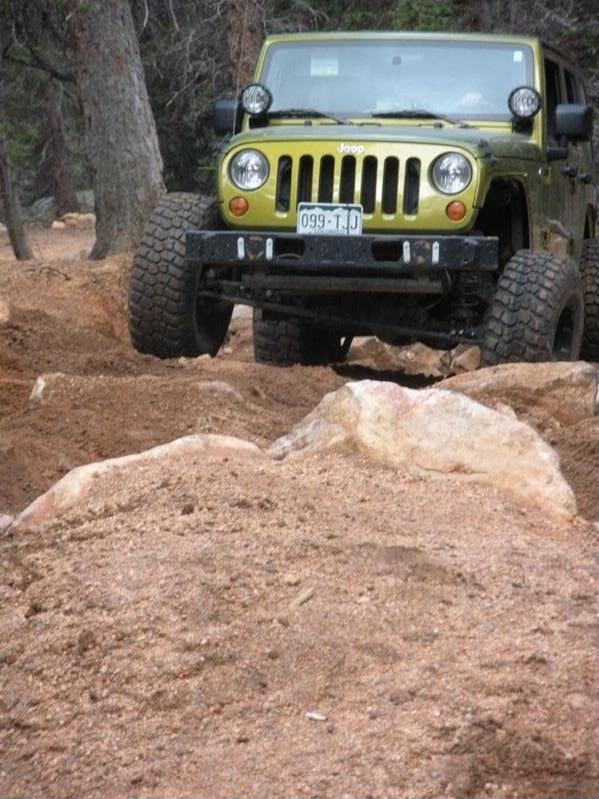 skivviss
A Jeep victim I've become. I had no real clue just what I was getting into when I picked up the jeep in March 2010. A few evenings on youtube and forum build threads after I test drove a few Wranglers. The damage was done, I was hooked after seeing all the fun folks were having.
Headed off to Sedona, AZ the first weekend after I got the jeep and got my first taste of wheeling and rock crawling. I started stalking the main meetup spots for local Tucson, AZ trails and meeting the local wheeling clubs. Tagging along and breaking stuff ( 2 stock steering stabilizers, massive dent in oil pan, bent stock tie rod, seized rubicon e-swaybar, and probably more I'm conveniently forgetting) while learning what I was doing.
After several months of research and wheeling stock, I had put together a basic plan for my lift and build direction. Kicked off the build in July 2010, but it's a never-ending process. From here next up is Currie Anti-rocks, dual-batteries and lighting.
Base 2010 2dr Rubicon
Suspension and Steering
3.5" Clayton Offroad lift (8 adjustable control arms, 2
adjustable track bars, high-steer flip, coils, bumpstops)
Bilstein 5100 shocks
Currie Currectlink steering (tie-rod and draglink)
Teraflex Steering Stabilizer
JKS Quicker Disconnects
Driveline
Tom Woods 1310 front and rear driveshafts
5.13 gears
Wheels and Tires
17x9 Mickey Thompson Signature Series
35x12.5R17 BFG KM2s
Extended Stainless brakelines
Armor and Protection
Front and Rear Smittybilt XRC bumpers
Riverraider Full skids
Riverraider Evap cannister skid
AEV Hood
AEV Snorkel w/ Air Ram
Riverraider Breather hose extensions (to airbox)
Extra Stuff
Warn M8000 winch
Viking Offroad Synthetic Winchline
Hi-Lift
2x Fire extinguishers
Cobra 75 CB w/ 3ft Firestik
Straps, Shackles, Treesaver, Snatchblocks
Trail Tools, Tire Repair kit
Air compressor
1398653
Mods:
RC 2.5 Springs plus 1.75 inch coil spacer in front and 1 inch coil spacer in rear with Synergy coil correction wedges. Total lift 4 inch's up front and 3 in rear approx. Teraflex bump stop extensions up front and home made bump stop extensions in rear. Front JKS adj Trackbar. Synergy front Frame side trackbar brace, JKS axle side weld on brace, woods stabilizer relocation bracket, teraflex steering stabilizer. JKS rear trackbar axle brace. JKS rear upper adj control arms. Toms Woods Rear 1310 driveshaft. ARB Differential covers front and Rear on Dana 30/44 combo. Rear ARB locker with mini-ARB compressor. 4.88 gears with 6 speed transmission. Dana 30 Off Road Evolution Sleeves and C-Gussets. Rancho oil pan skid. Skid Row front lower control arm skids. Skid Row Evap Canister skid plate. Mopar enhanced rock rails. Spare off back and secured in tub for better departure angle. Front Rugged ridge modular bumper with pre-runner guard and smittybuilt XRC 8 winch with viking 3/8 sythetic winch line. 305-70-17s (34s) MTRs with Kevlar and Black Rock 17x8 steel rims. carpetless in summer. High lift jack mounted to tailgate. Seat covers. I think that is it.
Jeepin Dad
Mods:
Engine/Driveline:
Tom Woods 1310 Rear Drive Shaft
Suspension/Tires:
2" Black Diamond BB w/Shocks
Front 4dr Rubicon Front springs
Front JKS Adjustable Trackbar
Rancho Steering Stabilizer Kit
Set of factory rear swaybarlinks up front
285/75R16 Cooper Discoverer S/T
16 x 8 Procomp 8069 Extreme Alloys
Armor/Protection:
Front LoD 1st Gen Mid-Width
Teraflex Rock Sliders
Kilby EVAP Relocation Kit
Riddler Diff Covers
Interior/Communications:
Cobra 19III CB w/4" Wilson
Radio Shack Handheld CB
Neoprene Seat covers
Recovery Gear:
Warn M8000
48" Hi-Lift
20' 30,000 lb strap
Tree Savers, Shackles, Snatch Block
Misc:
Warrior Products Safari Rack
Warrior Products Mirror Relocation Brackets
Seat Glovers Neoprene Seat Covers
Bestop Safari Top
Story:
After almost 4 years it is still the "little Jeep that could". It is still only has a Budget Boost and after 57k miles on it's 33's they are more like 31's, the oil pan is dented, the skids, cross-member and any thing else that hangs low are dented and twisted and have taken numerous hits from the rocks it likes to play on, but it still heads to the off-road park fairly often and regulary wheels with rigs that have more lift and larger tires. Then it returns home and performs it duty as a daily drive without much complaint. It will get a new set of 33's sometime this summer and by the time they wear out hopefully I will be able to retire it from daily driver status and give it a makeover to more of a dedicated trail rig.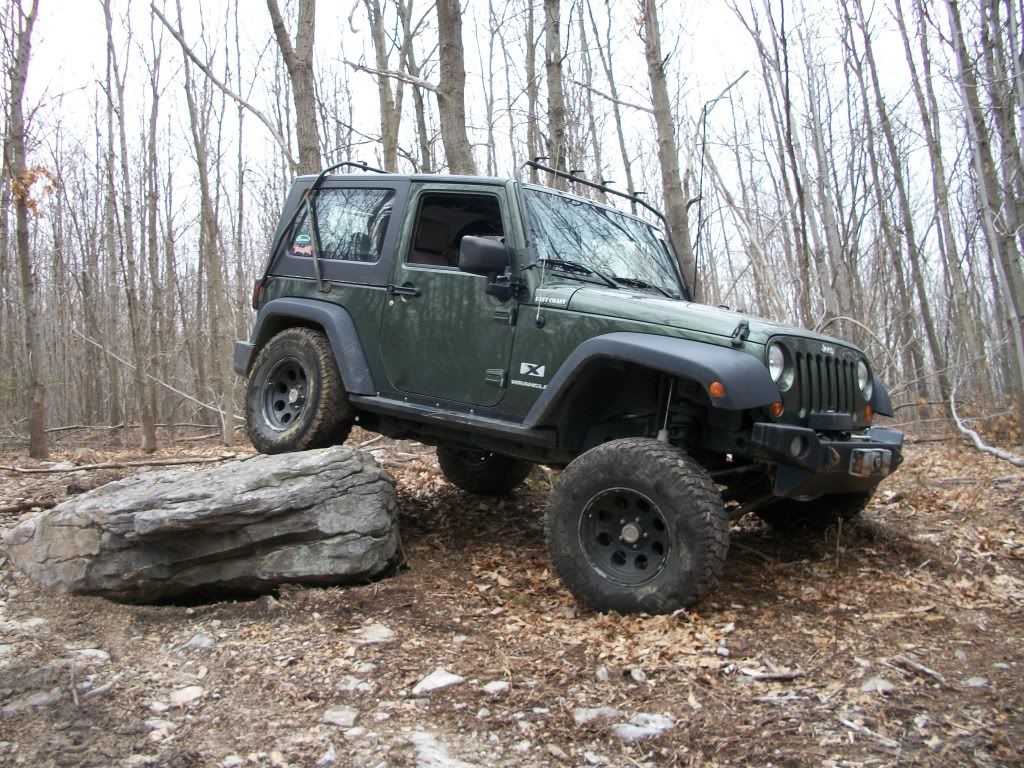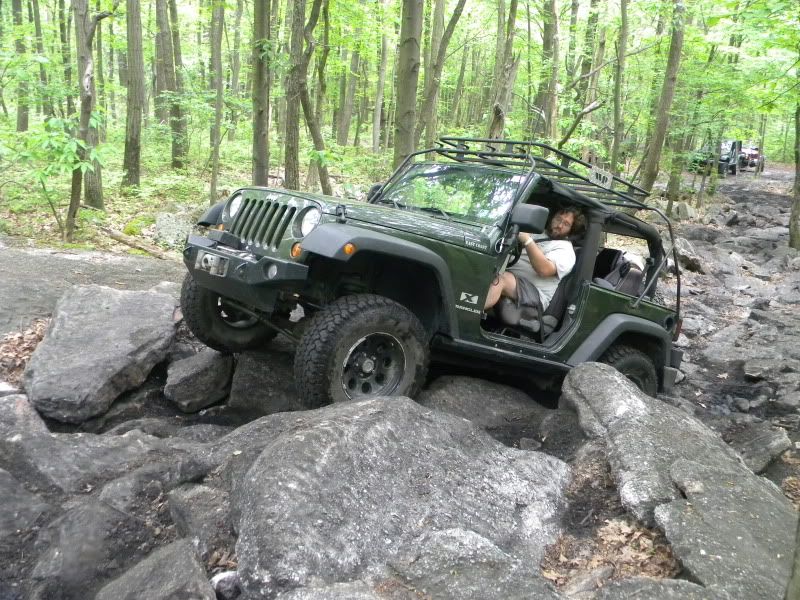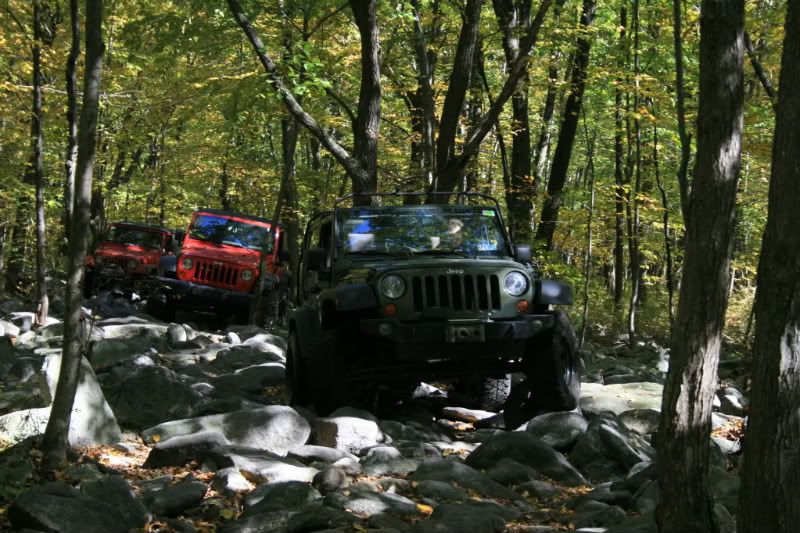 Bubblegoose1
Mods:
Suspension:
6 1/2" TeraFlex Lift (4" springs and 2 ½" BB spacers)
Currie Weld-on Front Track Bar Bracket
TeraFlex H.D. Adjustable Front Track Bar
Poly Performance Rear Track Bar Frame Brace
TeraFlex Adjustable Rear Track Bar Bracket
TeraFlex H.D. Forged Rear Track Bar
TeraFlex Steering Brace and Flip Kit Upgrade
Rock Krawler H.D. Tie Rod with Moog Tie Rod Ends
Skyjacker Drop Pitman Arm
Redneck Ram Hydro Assist
PSC Steering 12" Heat Sink Cooler
Currie Front Antirock Swaybar
JKS Front Adjustable Bump Stops
Rock Krawler Rear Coil Spring Wedges
TeraFlex Spring Retainers
Off Road Evolution HD Swaybar EndLinks on rear
Off Road Evolution Front Control Arm Skids
Off Road Evolution Rock Star Rear Control Arm Skids and Shock Relocators
Drive-train:
JE Reel 1310 C.V. HD Front and Rear Driveshafts
Yukon 5.13 Ring and Pinion
RCV Performance CV Front Axle Shafts
Spyderlock Beadlocks 17"x9"
40"x13.5"x17" Goodyear MTRs
6" Crown Stainless Steel-Braided Brake Lines
Hawk Front Performance Brake Pads
Riddler Differential Covers
Off-Road Evolution Front Axle "C" Gussets
Off Road Evolution Magnum 44 Front Axle Sleeves
Rock Krawler Front Axle Truss
Engine/Performance:
AirRaid Cold Air Intake
AirRaid Synthamax Filter
AirRaid Pre-filter
Dodge Viper Throttle Body
Diablosport Trinity Tuner
B&M Transmission Cooler
Granatelli Motorsports MPG/Plus Performance Spark Plug Wires
Gibson Stainless Cat-back Exhaust System
Benchmark Designs Dual Battery Tray
Benchmark Designs Smart Battery Isolator
Benchmark Designs Dead Short 500A Winch Fuse
Dual DieHard Platinum Marine Batteries
Benchmark Designs Rockcrawler Oil Pan
Exterior:
Off Road Heros Fastback Soft Top
SpiderWeb Shade Top
Offroad Evolution ¼ Pounder Front Winch Bumper
Smittybilt XRC 10 Comp Series Winch w/ Synthetic Line
Viking Safety Thimble
Kilby Hawse Fairlead License Plate Holder
Daystar D-Ring Isolators
Finishlinewest Stonehenge Series Rear Carrier/Bumper
Offroad Unlimited Axe and Shovel Mount
Bushwacker Flat Fender Flares
Overkill Engineering Rear Corner Armor
SchrockWorks Rock Rails
Rock Hard Transfer Case Skid Plate
Skid Row EVAC Canister Skid Plate
AEV Nth Degree Rear Diff Skid
Sylvania SilverStar Halogen Headlights
LED 3rd Brake Light
KC Windshield-mount Light Brackets
2 KC Slimlite Off-road Lights
2 KC Daylighters
KC Acrylic Covers
Rigid Industries Dually 2x2 LED Fog/Flood lights
Tantrum Vision LED Undercarriage Rock Lighting
Rugged Ridge Euro Headlight/Turn Signal Guards
Mopar Black Aluminum Gas Inlet Cover
License Plate Relocated, Stock Placement Plugged
Tuffy Door Hinge Locks
Bestop Tailgate Rack
Poly Performance Baja Rack
Two 4 Gallon Rotopax Fuel Packs
Two 2 Gallon Rotopax Water Packs
Warrior Products HiLift Hood Mount
Relocated Dual Windshield Washers
Mopar Hood Lock
Vector Hood "UFOs", bumper replacement
PixelDecals Custom Decals – Hood and Front Fenders
Ridecraft Doorless Trail Mirrors
Interior:
Safari Straps 2" Warrior Rear Window Netting
R.J.S. Racing Equipment Rear Passenger Window Safety Netting
6 Interior Grab Handles
Tuffy Overhead Console w/ CB installed
Cobra 29 CB w/NOAA and Bluetooth
Garmin 7200 GPS
Master Lock Wireless Hitch Backup Camera System
Kenwood DDX 6019 CD/DVD Head Unit
Custom 500w RockFord Fosgate/Infinity/10" JL Sub – Digital 1 Mil Farad Capacitor
Tuffy Conceal Carry Security Drawer
CoverKing Black Neoprene Seat Covers
20% Tinted Windows
Mopar Stainless Steel Entry Guards
2 Safari Straps Fire Extinguisher Holders
2 H3R MaxOut MX250R Dry Chemical Fire Extinguishers
Safari Straps Pet Divider
Quadratec Neoprene Center Console Pad
Billet Aluminum Shifter
Off Road Evolution Transfer Case Shift Knob/Axle Tube Plug
Bestop Flex-a-trunk
Rock-Slide Engineering Tailgate Table
Rugged Ridge All Terrain Front Floor Liners
Mopar Rear Slush Floor Liner
Husky Rear Cargo Liner
RAM Industries MP3 Windshield Mount
RAM Industries Video Camera Windshield Mount
Rugged Ridge Tailgate Holder
Tools/Recovery/Safety/Other:
PowerTank PT20 CO2 Tank
60" HiLift Xtreme
HiLift Jack AEV Base
ARB Tire Puncture Repair Kit
ARB Tree Saver
ARB Snatchblock
Trasharoo Spare Tire Trash Bag
Spare J.E. Reel front drive shaft
Spare stock rear axle shafts
Spare unit bearing set
20' Trucker Chain
Axe, Hatchet, Shovel
Med Kit
Military Spec Waterproof Nightvision Case for tools
Air and Hand Tools
The Wish List:
Rebel Offroad Brake Upgrade
Rock Hard Gas Tank Skid Plate
Portable or Onboard Welder
Story:
Purchased Rubicon-stock in Dec 2006, right off the showroom floor. I was 10 min earlier arrival than a guy who waited at a side table to buy the same JK. I took it.
It's been 5+ years of building to create the ideal DD, trail running, rock crawling, camping JK; and it does it all very well. Thanks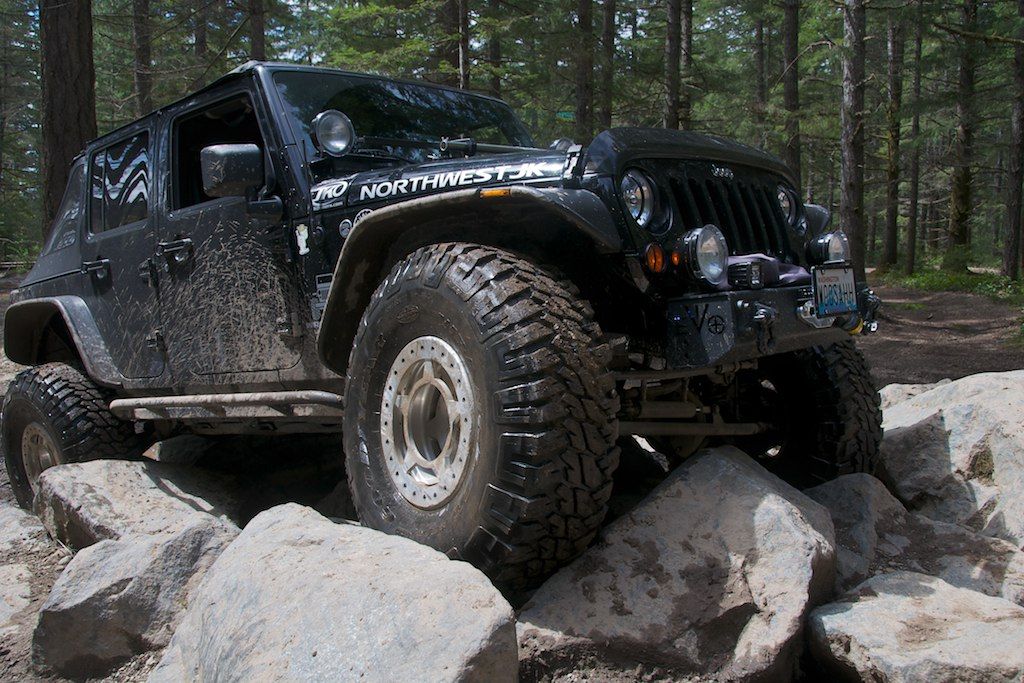 This is a great looking bunch
Good luck to all