skivviss
Mods:
Base: 2dr 2010 JK Rubicon
---Engine/Driveline---
- 3.8L stock
- Transmission: Stock Auto Rubicon
- Tom Woods 1350 Front and Rear Driveshafts
- 5.13 gearing
---Suspension/Tires---
- Clayton 3.5 (8 adjustable control arms, front/rear adjustable track bars, hi-steer kit, coils)
- JKS Quicker Disconnects
- Bilstein 5100 shocks
- 17x9 Mickey Thompson Signature Series wheels
- 35x12.5 BFG KM2s
--Steering
- Currie HD tie rod
- Teraflex steering stabilizer
---Armor/Protection---
- Smittybilt XRC front bumper
- Smittybilt XRC rear bumper with spare tire carrier
- River Raider 3 piece skids (oil pan, transmission, transfer case, fuel tank)
- River Raider Evap skid
- ARB front/rear diff covers
---Interior/Communications---
- CB
- handheld CB for those soft spoken spotters/stackers (err, i mean passengers)
---Recovery Gear---
- Warn Winch with misc accessories
- Snatch strap / Tow strap
- Hi-Lift 48" jack
- lots of D-shackles
---Misc Gear---
- portable air compressor
- 2x Procomp 7" aux lights
- 2x Halguard fire extinguishers
- Flashlight/FirstAid
Story:
Back in March I had no idea what I was getting into. Got the JK, convinced myself to get the Rubicon (thankfully), and immediately proceeded to Sedona AZ to wheel for the first time. I was hooked, countless time spent reseaching, sometimes twice a week trips out into the desert meeting random folks at the local staging area. Lots of fun was had, and then the mods started. Several months later, still wheeling and still pining away for more mods...
JoneszJK
This is the most recent pic I have
Older pic at Rausch Creek
Silver Lake Sand Dunes in Michigan
Mods:
4" Superlift
Teraflex full set of adjustable control arms
Teraflex steering stabilizer
Teraflex extended bumpstops
JKS quick disconnects
16" Pro Comp 8069s
315/75R16 BFG KM2s
Or Fab front stubby bumper
Down N Dirty Fab Winch mount
PureJeep rocker guards
Smittybilt XRC rear bumper with tire carrier
Superwinch EPI9.0s
Rugged Ridge fuel door
EVO LCA skids
EVO gussets
Poison Spyder Evap Skid
Skid Row Offroad Transmission Skid
Cooltech Gatemount
Cooltech Versamount
4' Firestik
IPF (Northriidge 4x4) headlights
Silverstar fogs
Gutter guard Grill mod
Bestop TrekTop
Bestop Duster Cover
48" Hi Lift
Down N Dirty Fab Hi Lift Hood Mount
Cobra 75
Husky floor liners
Coverking embroidered Jeep logo seat covers
Rough Country grab handles
5.13 Yukon gears
Aussie locker up front
Trac-Lok limited slip rear
AEM brute force
Flowmaster 40 muffler
AEX Procal
Tom Woods 1310 Rear Driveshaft
Story:
I bought my Jeep brand new after graduating college. I decided to go with a new Jeep JK X rather than buying a used TJ Rubicon. I had test driven many used TJ Rubicons and had been looking for a while when my local Jeep dealership got this Graystone 2 door Wrangler X in with the options I was looking for. At the time I picked up my Jeep I had already gotten the itch to modify based on many off-roading trips I had taken in the past with my friend's older brother in his YJ.
I picked up my Jeep and the first thing I did before even taking it off the lot was to remove the soft top. I drove my Jeep stock for about a year until I had saved enough money to start with my vision of what I wanted my Jeep to be. My Jeep has been to many offroad areas in Michigan, Pennsylvania, Ohio, Indiana, and New Jersey, and I have driven to and from each place without any need for trailering. It has performed great in all terrains, from sand dunes to deep mud and rocks. I prefer to spend time on the rocks and have plans to one day make this a dedicated trail rig. I hope others enjoy my Jeep as much as I do and that maybe someone out there will see mine and be inspired.
Brent_f70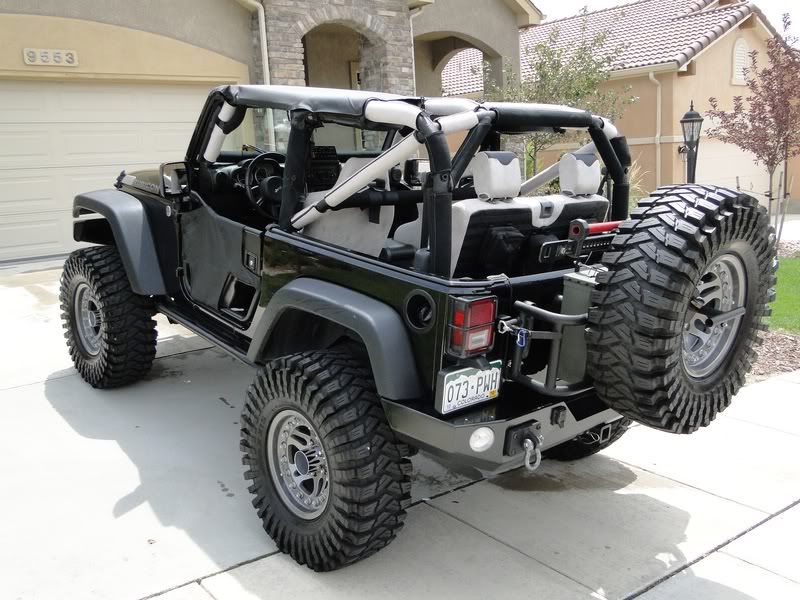 Mods: AEV hood, front bumper and procal,
Pure Jeep PJ rear bumper with custom rear lights
OR-Fab tire carrier and front half of cage with floor tie-ins
Poly Performance rear half of cage, center link, drag link, rear spring perches, rear shock mounts, steering stabilizer mounts
Shrockwork sliders
Teraflex 4 inch lift
ACOS on all 4 springs – Jeep set at about 7 inches of lift
Tom Woods front and rear custom drive shafts
Warn 9.5Ti winch
Hutchinson Rock Monster Bead-locks with run-flats
Maxxis Trepador 37 inch "competition compound" tires
Corbeau LG-1 front seats
Custom designed rear seat and roll cage cover MOLLE sewn into seat design
Custom 5 point harness bar
G-Force 5 point harnesses
Rhino lined interior
Tantrum rock lights
12 volt guy center dash topper
HID Headlights
Hella Black Magic off road lights
Yukon Gear 5:13 gears
Riddler diff covers
Matching Adventure Trailers Chaser trailer.
Story: My 08 Rubicon was bought new in 07, This JEEP (Just Empty Every Pocket) damn near broke me so now I am in Afghanistan working to save up for next mods – 6.1 Hemi, Atomic Axels, PJ Sliders, Atlas 4 speed, Custom Off road Evolution suspension, Getrag 238 6 speed, on-board air.
Good Luck To All
These Are All Great Looking Jeep's