The February 2012
JK of the Month Contest
Starts Now!
SirWinston
Mods:
Teraflex 2.5" BB
35x12.50 BF Goodrich Mud Terrains
2 Windshield mounted PIAA's
2 Bumper mounted PIAA's
DIY CB antenna mount
DIY flat fenders
DIY Evap Canister Skid
Bed lined rockers
Rubi rock sliders
Cobra 19 DX IV CB radio
DIY switch panel
Stubby bumper
Pavement Ends rear bumper
Story: This is my first Jeep, so Im still learning, but loving every minute of the Jeep life.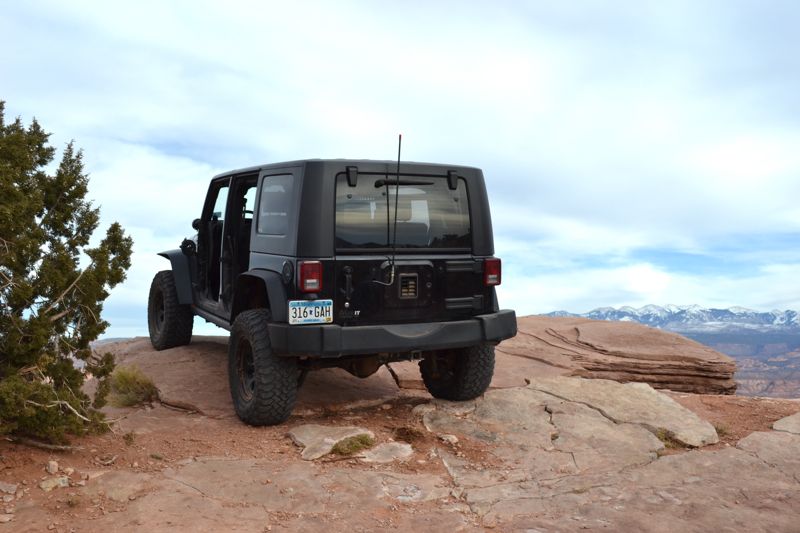 BlkOps2011
Jeep:
Year & Model: 2011 JK Wrangler Rubicon Call of Duty Edition
Engine: Stock - 3.8 Liter V6
Transmission: Stock - 6 Speed Manual
Transfer Case: Stock Rubicon - Rock-Trac Heavy Duty
Front Axle: Stock Rubicon - Dana 44 Heavy Duty
Rear Axle: Rubicon stock - Dana 44 Heavy Duty
Gear Ratio: Rubicon stock - 4:1
Mods:
Suspension Lift: Rock Krawler 2.5" max travel w/ RRD Racing Shocks Front and Rear, RC Dual Steering Stabilizer
Wheels & Tires: 35x12.50R17 Goodyear Wrangler MTR w/ Kevlar on Pro Comp Alloy Flat Blk, 17x9, 5x5 bolt, 4.75 Back Space Rims
Recovery Tools: Warn M8000 Winch w/synthetic line, Recovery bag w/ shackles, straps, snatch block, shovel, etc., Hi-Lift Jack
Armor: PSC Brawler Lite Front Bumper, Rear Brawler Bumper w/ swing mount, Body Armor, Rocker Knockers w/ sliders, Skid Plates, Aluminum flat fenders
Exhaust: RIPP LT SS headers, MBRP Off-road SS Exhaust w/ Flow Master Resonator
Accessories: PIAA Fog Lights, Wet Okole seat covers, Safari Straps full cage cargo net, RR Tube Doors, Billet Shift Knobs
Our Story:
To celebrate an empty nest and 25 years of marriage we decided to gift ourselves with a new 2011 JK. We both had jeeps before we married, had jeeps together, and then went Jeepless for a few years to raise kids. We wanted a Rubicon and loved the stealth markings of the COD. Our mods were meant to be dual purposed, making it capable off road but keeping it stable and comfortable on road. We canít claim to be the most active and productive contributors to the Jeep Forum (havenít taken the time to document mods)Ö but we CAN claim to passing on the love of Jeeps and Four Wheeling to the next generation; 3 of our kids now own Jeeps (1 GC, 2 Rubis)!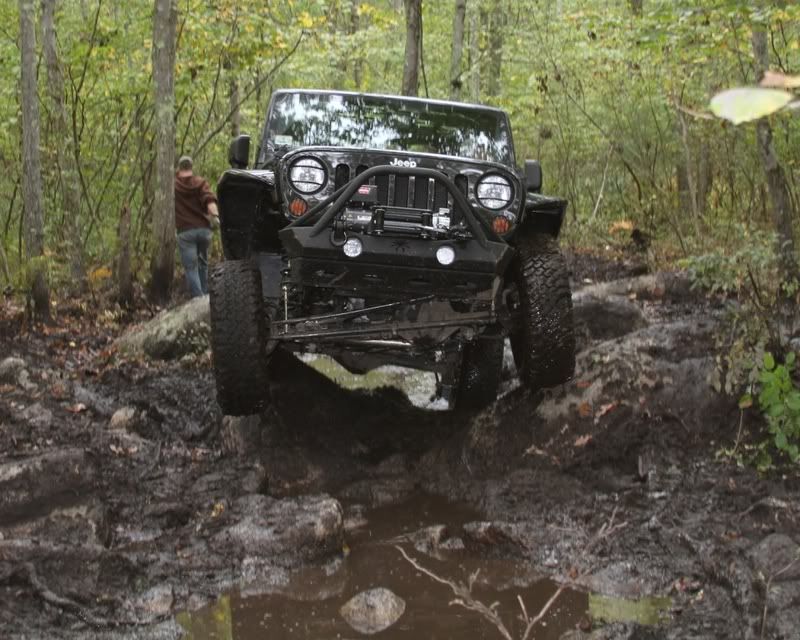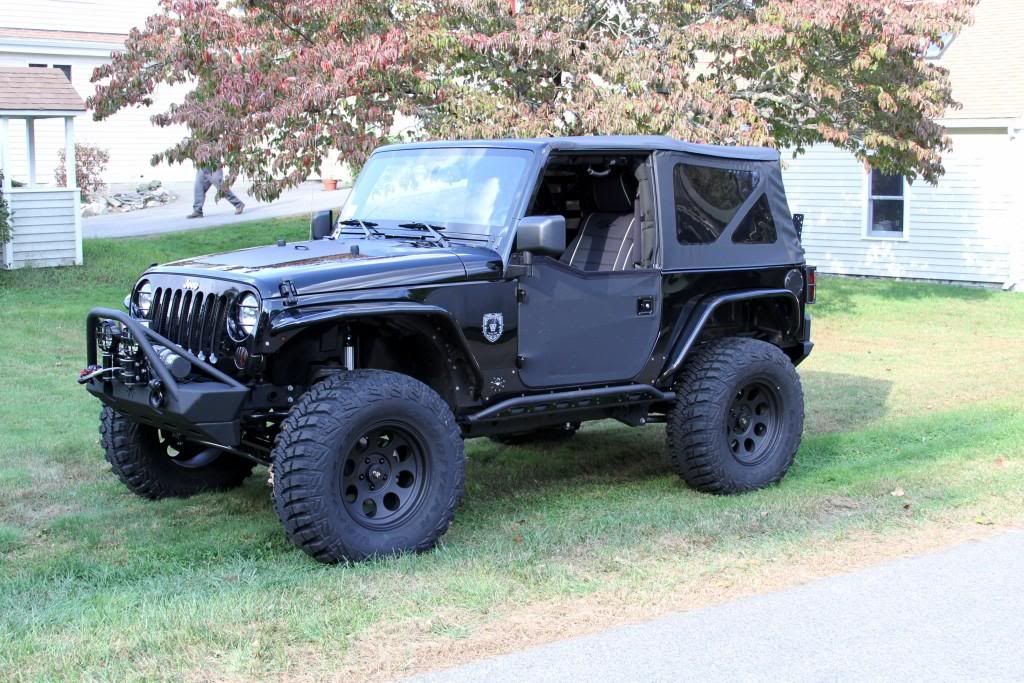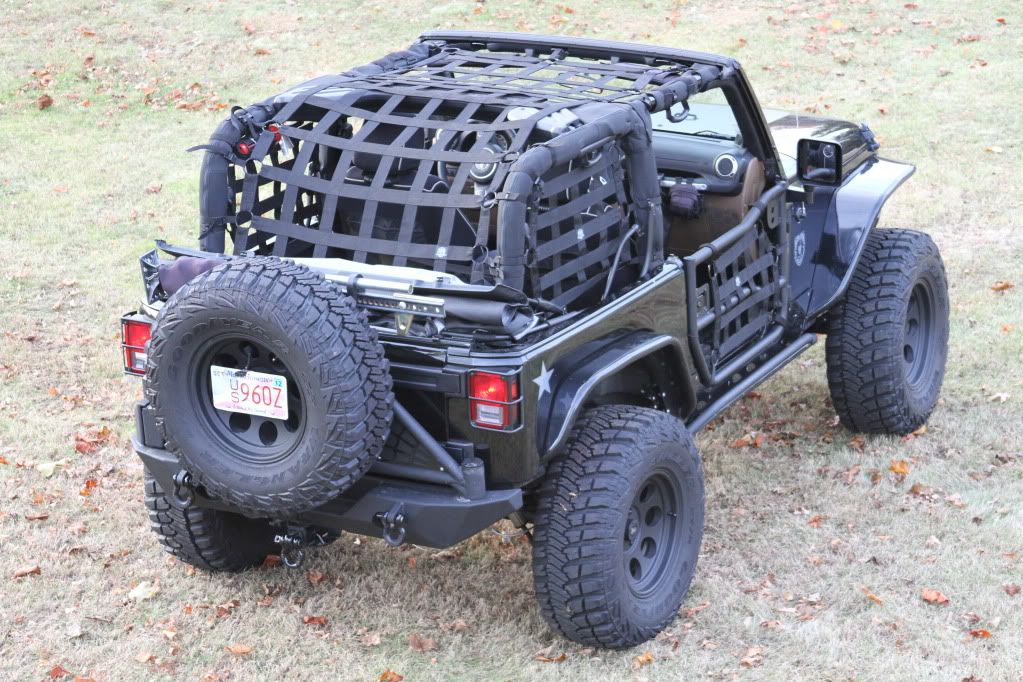 imowgrass4you
Mods: 2.5" Teraflex lift, spidertrax wheel spacers, front axle sleeve/gusset, 5.13 gears, JcrOffroad engine evap skid and tranny skid, JcrOffroad front bumper rock sliders, Superwinch lp8500 winch, S-Pod, Duratrac 315/70/17 tires
The last picture is before sliders but I feel it's the best picture of my jeep as a whole!
Thanks!
WVUJeeper
Story: I bought my JK after my first 'real' pay check at my first 'real' job... drove 500 miles to pick up the only Rescue Green X that I could find. At 12,000 miles I could not stand the dinky 29" tires and crappy wheels any more, so I installed my RC Budget Boost and 35" KM2's.
That was 3 years ago. Now I live in Colorado and wheel the heck out of it whenever I get a chance.
Future plans include axle upgades, new suspension, 40's and plenty of armor...
Mods (optional):
---Engine/Driveline---
- Nada
---Suspension/Tires---
-RC 2.5" BB w/shock extensions
-315/75/16 BFG KM2's
-ProComp 7089 16x10
---Armor/Protection---
-Stock Skid's
---Interior/Communications---
-Mastercraft Grab Handles
-No Carpet
-Cobra Chrome CB
---Exterior---
KC Slimlights on KC windshield mounts
---Recovery Gear---
-Recovery straps
-Tools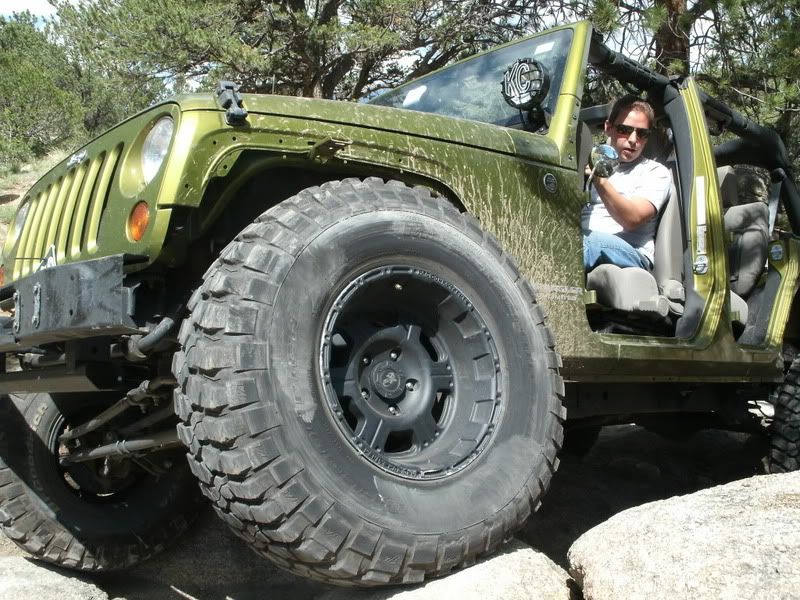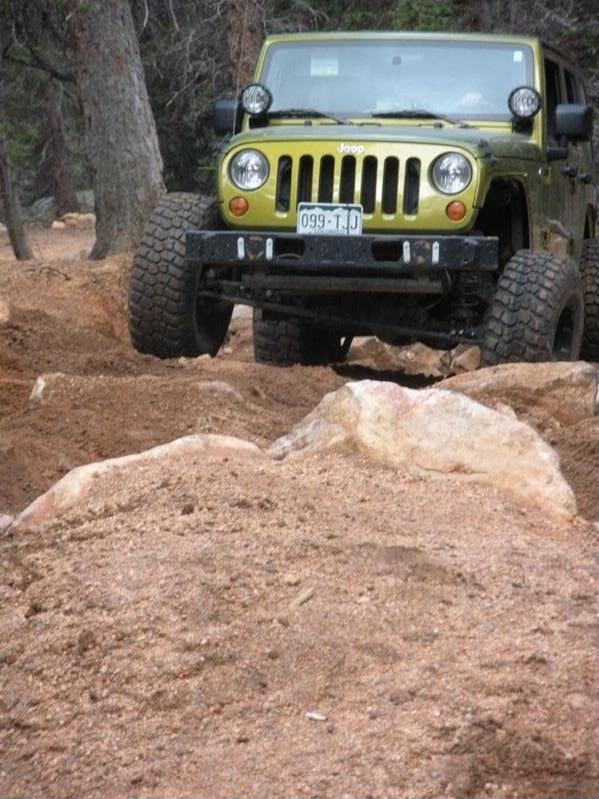 Another great show!
Good luck to everyone