Thanks for the info! Here's what I ended up with, and why.
The rack Oconee suggested is out for to reasons: first, my frames are carbon fiber, and any sort of "clamping" rack is a big no no; second, on the mountain bike, there isn't a straight piece of frame on the top tube long enough for that clamp anyway.
That took the choices to three: An Allen rack, which looked flimsy and had stated multiple times "not for off road use" (disqualified at the starting gate); the Yakima Spare Time; and the Thule Spare Me. I was able to find both the Yakima and Thule. The Yakima support tubes were a larger rectangular tube, and would not fit in the bike frame correctly. Also, reviews I read of it, and one I saw on another Jeep, said that it rattled around a little bit as if all the joints weren't tight. The Thule was the one I ended up with, as the arms fit my frame, and it's really a solid rack. Years ago (15?) I had an earlier iteration of this rack that worked quite well. They haven't changed the design much, as it seems to be a functional success.
Pics: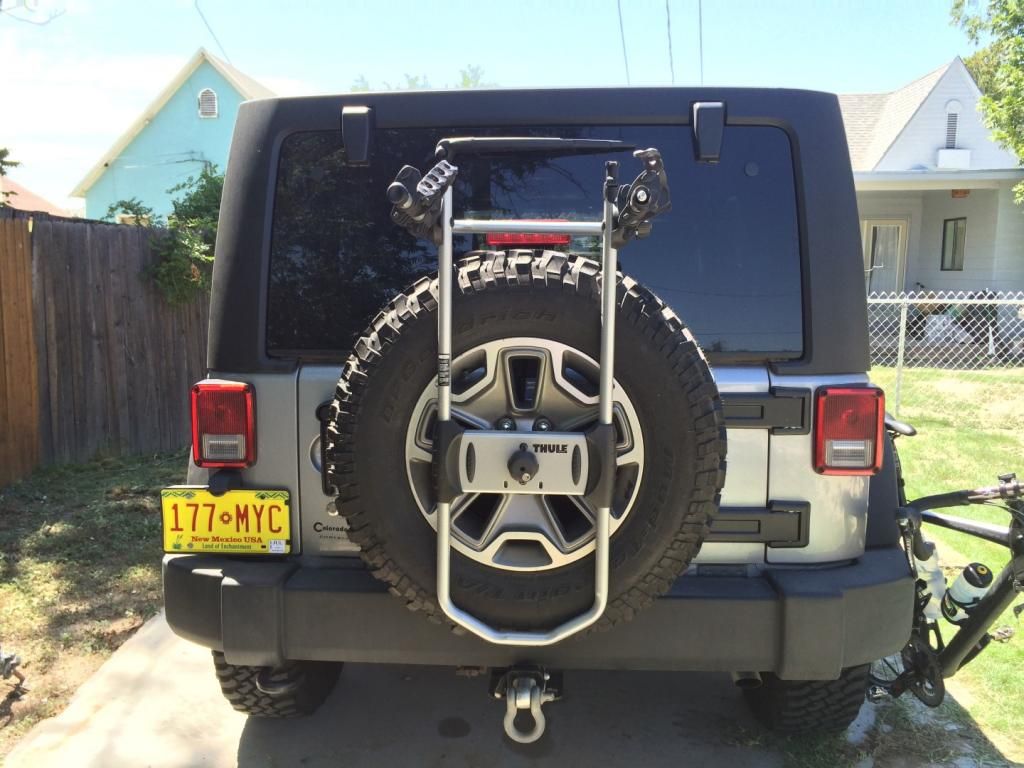 Rack on the tire. I really like how high the arms of this rack sit. It's the highest of the three racks mentioned. This will help me to maintain my angle of departure while off-roading.
Rack with the mountain bike. Note position of support arms (circled). It's on the outermost of the two positions. I don't think I could get it to fit on the inner position, but I haven't really tried. Also, note that the left arm captures the down tube, not the top tube. This keeps the bike sitting higher up still, and safer while off-roading.
Rack with road bike. Again, note arm positions. The arms on this rack are on the wide side, at about 16" IIRC. So it's a tight fir on my road bike, which has a 51cm frame I think. (I have a short inseam.) This configuration has the bike sitting the lowest, with the most potential for catching it on something while off-roading. However, I could remove the front tire, as it's the lowest-hanging piece.
One final observation - I tried these out and purchased them at a bike shop in El Paso - Crazy Cat Cyclery. They were very helpful and knowledgeable, and actually installed it for me on the spot for nothing extra. So kudos to them. I would have preferred REI, as I get the rebate and they have their satisfaction guarantee at all locations, but I was in El Paso, and wanted to give them the business as they were very helpful.
So, I hope this helps others in their decision process. Most likely, you'll need to try your bike on the rack if it's non-standard (like my mountain bike).