So I thought I would create a build thread for my slow build of my 2013 Black JKUR and share some ideas on the components I plan to install.
So far I dont have the Jeep but its supposed to arrive on Jan 2nd says my dealer.
At this point I did add a MOPAR rear bumper to the order without the tire carrier as I am not sure what I want to do long term and I am fairly in love with the new Tereflex spare carrier that just came out.
Heres a few shots of the way I ordered my JKUR. This Jeep is identical and was sold before I could snag it. Didnt want to get into a bidding war.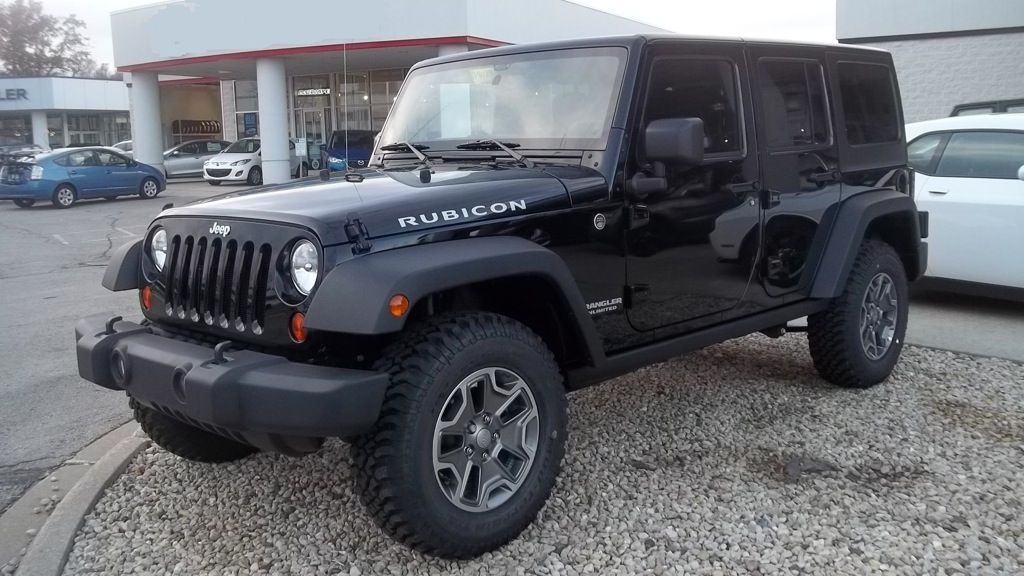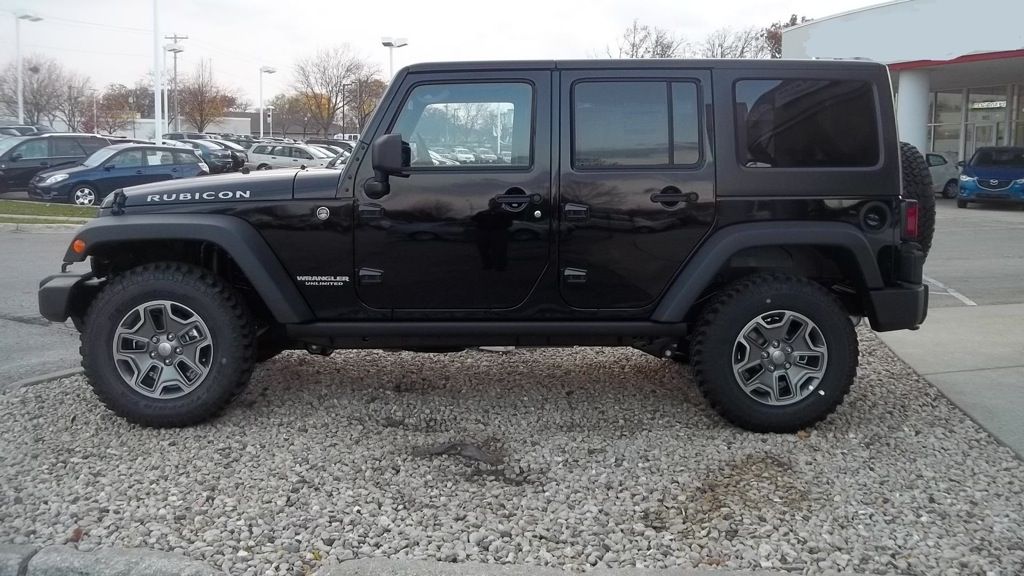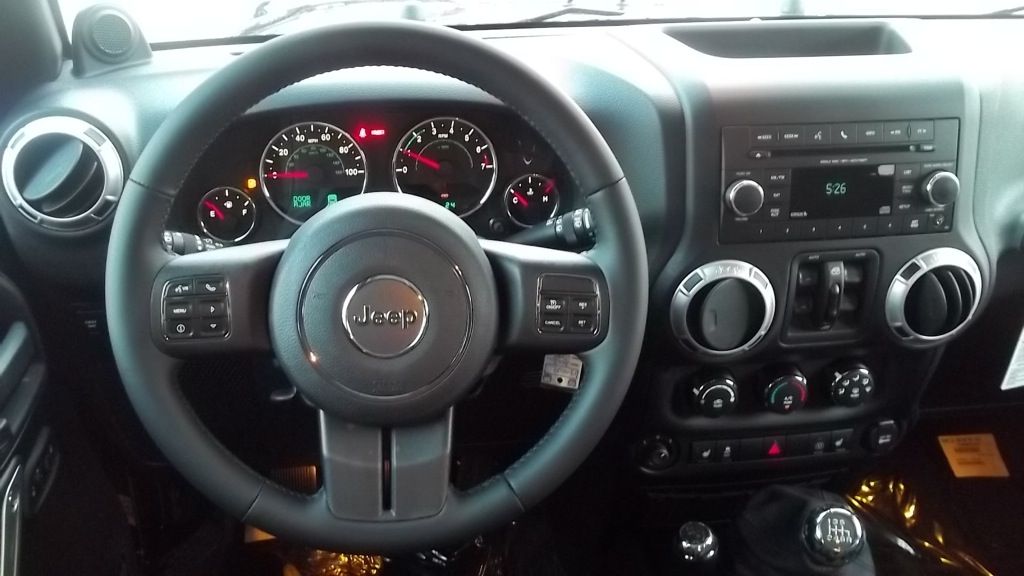 Here are some details on the order:
Rubicon package
130N Head unit
Non climate controlled system
Heated front seats
Additional airbags (everyone in my state cant drive for squat)
NSG 370 trans
Black 3 piece hard top only ( I have a rag top 79 CJ for sunny days)
Connectivity package
Max Tow Package
So my mods for this build will be little by little and so far I have a few things to be installed as soon as she shows up:
Mopar rear bumper
Husky Liners
Mopar Door sill guards
Warrior rear tail light guards
Mirror water drain hole mod
HVAC air filter install (
Once I have those done its on to the front bumper. I had a 2010 JKU Sahara Automatic and I only kept it a year. The bumpers as we all know completely suck and dont have the right to be called bumpers as I know it.
I ditched our sahara shortly as I wasn't thrilled with the power and thought I could live with it but after a year I was so pissed I bailed on it.
For the front bumper I am planning on running the JCR Dagger mid width with the winch guard leaning forward.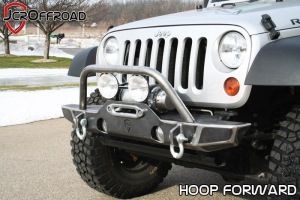 I like the smaller bumper look from my ties to the CJ's and I dont have plans for a winch anytime soon so I dont want a big hole collecting snow in the winter like some of the other bumpers I have seen. I also want to be able to use my factory fog lights. I want to stick with a murdered out look on my JKU so I am going to run a one 10 inch LED light under the winch guard if it would fit or run a set of Hella Black Magics.
The next plan will be Ace sliders being installed with the factory Rubi Rails for a little more protection and something to step on washing it. I am a nut about clean vehicles. While I like to get them dirty I get nuts cleaning them afterwards.
Once I have some armor on her I am still debating the following:
2.5" Tereflex spring lift
Factory Rubi wheels wrapped in 315's or 35's with spidertrack spacers.
35's will allow me to walk anywhere I want on my private acreage thats is all old sand pits, river beaches, and abandoned quarry.
I snagged a couple of pics of some rides I really liked over christmas in Kansas City over christmas visiting relatives: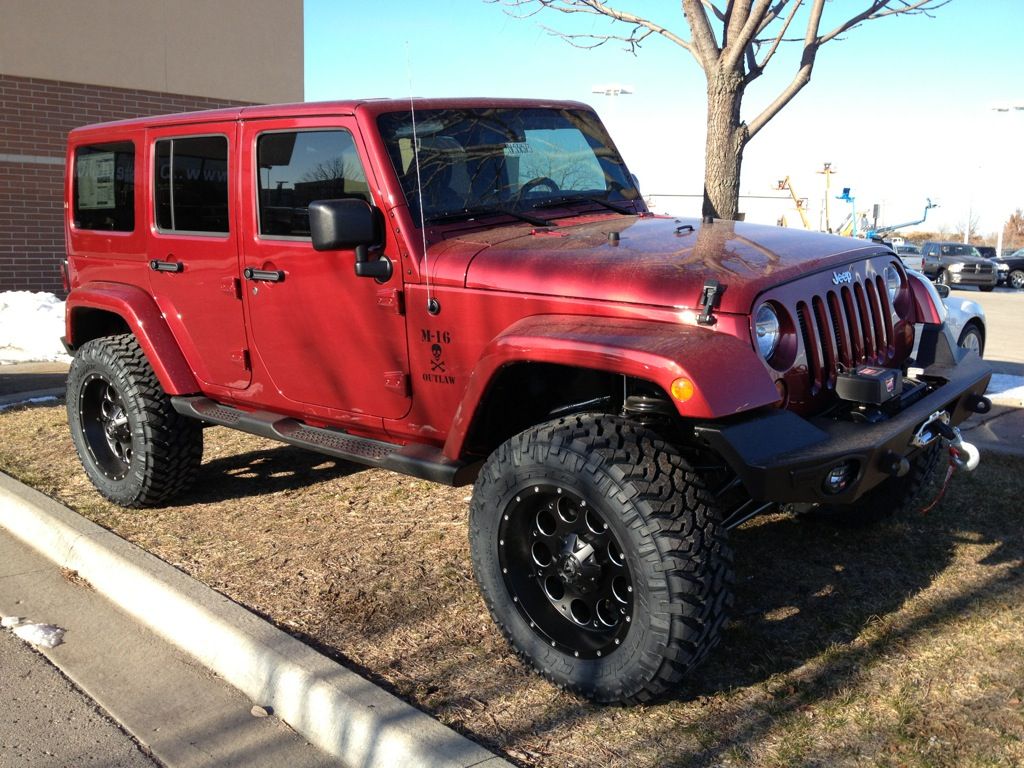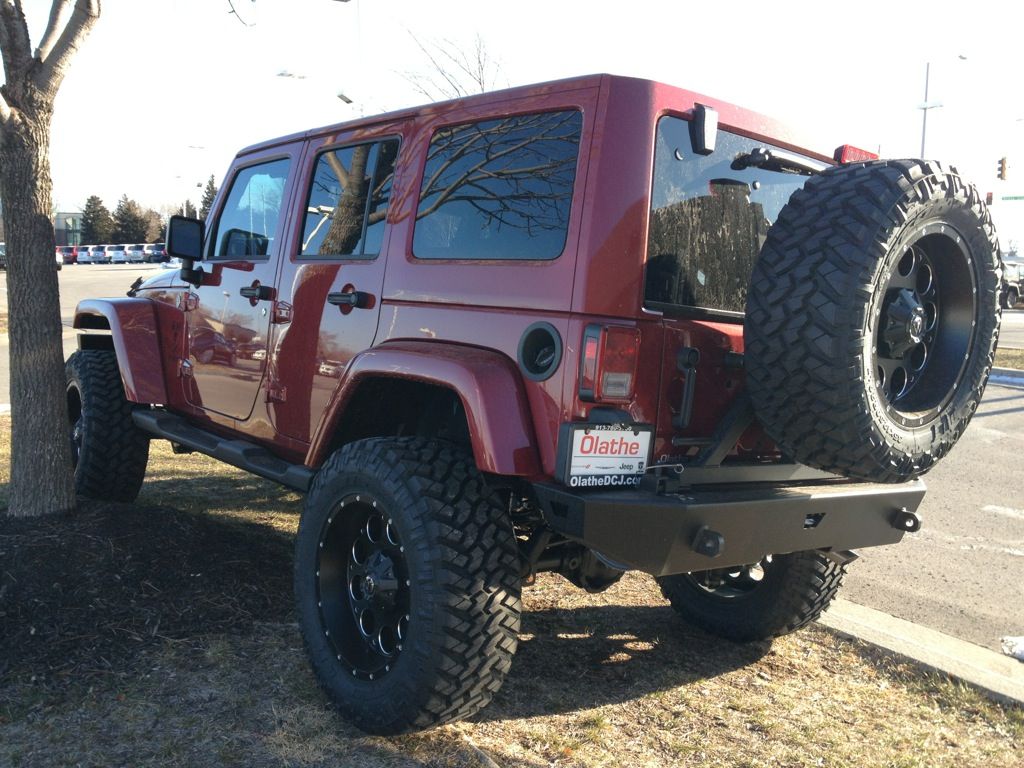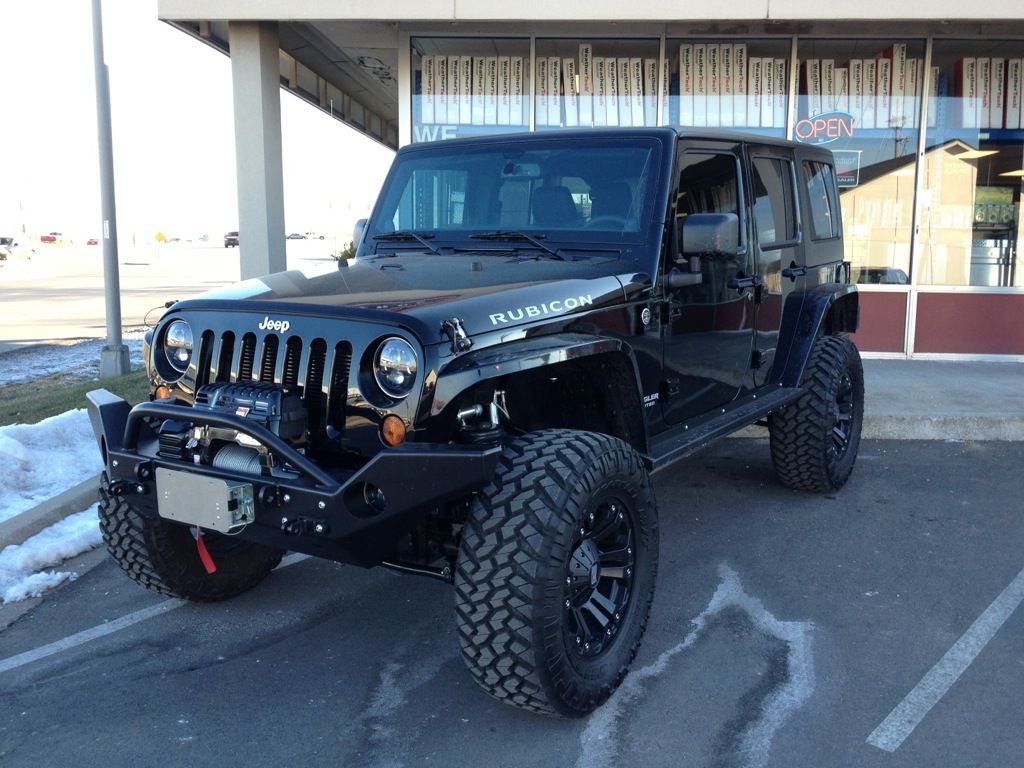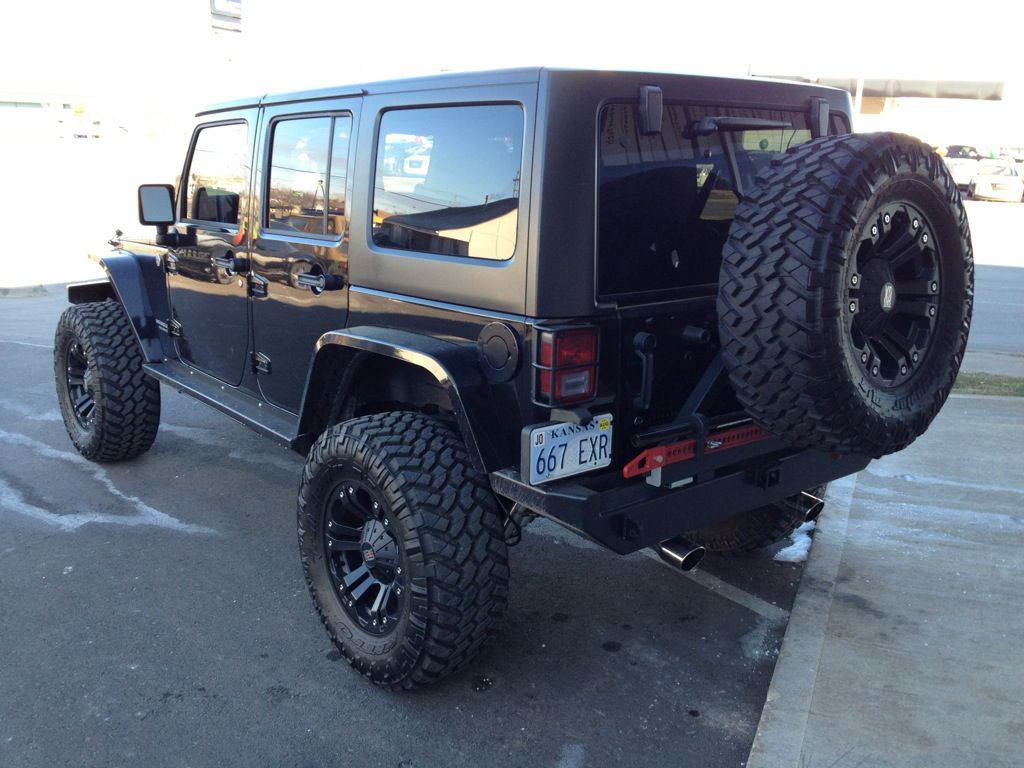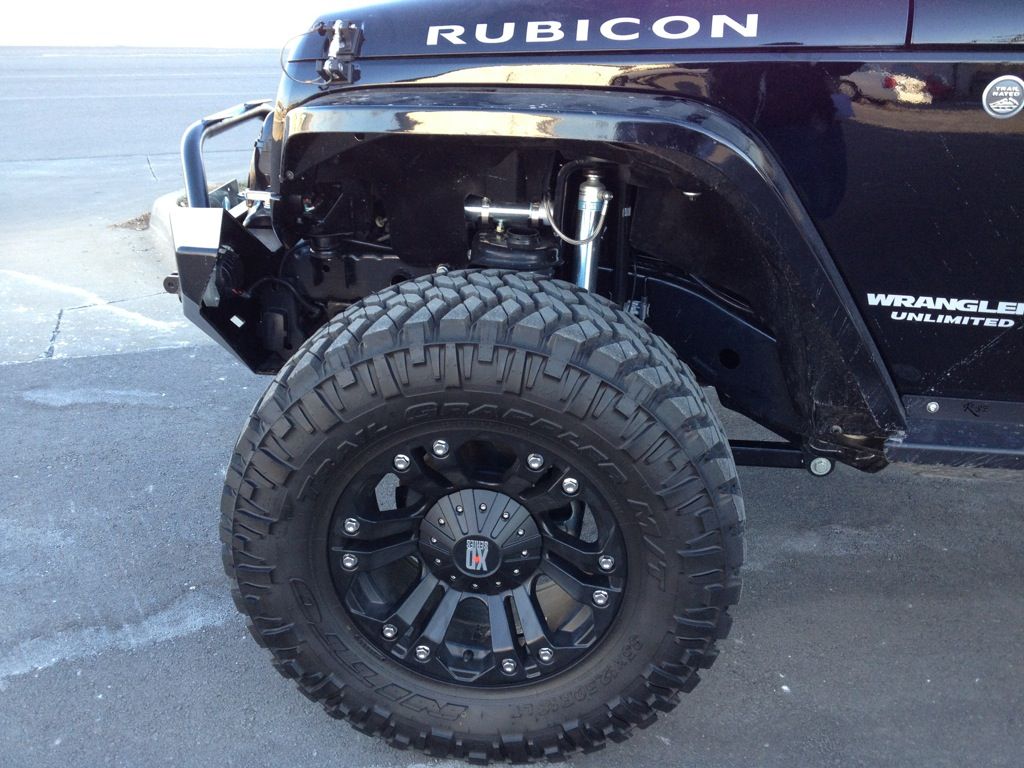 As for tires I have 2 thoughts at this point.
Thinking of either Nitto's or MTR K's. I love the BFG look but hate how those cheap bastards dont build a tire to the advertised height.
Both the Nitto's and the MTR L's seem to be fairly close to advertised and I like them on my CJ.
Thoughts???
Eventually I would really like to find a set of used boggers and mount them on steelies to use only for wheeling but that is just a dream.
A couple of my CJ:
I am not a body man so you will notice the paint does not match yet but most of the other stuff is getting close to done: