It's That Time Again!
The March 2013
JK of the Month Contest
Starts Now!
Slawkin93
Mods:
Tires: 35" BFGoodrich KM2
Wheels: RBP 93 18" w/custom painted inserts
Suspension: 4in Skyjacker Lift w/hydro shocks and coil springs, JKS Front and Rear Adjustable Track Bars, JKS Sway Bar Disconnects & End Links, Skyjacker Steering Stabalizer, ARB Differential Covers
Body Armor: Smittybilt XRC Stinger, Smittybilt Rock Rails, Rock Hard 4x4 rear bumper/tire carier w/dual gerry can mount and hi-lift jack mount, Bushwacker flat style flares, Mopar gas door, DIY red grille inserts
Recovery: Superwinch LP10000, Hi-Lift Jack, 4 D-Shackles painted red
Under the Hood: Dual Blue top Optimas, Mean Green High Output Alternator, Airraid intake, Hornblasters train horn, Jet Performance stage 2 chips, Gibson Dual Exhaust and Headers
Interior: Aeroforce Interceptor Gauges with custom fiberglassed Gauge Pod A-pillar mount, Smittybilt red and black seat covers, 2 Gallon onboard air system
Sound System: 4 - 12" Sony Xplod Subwoofers w/custom built enclosure, Monster Capacitor, 2 1200W Hifonics Amplifiers, 4 6.5" Kickers, 2 1.5" Kicker Dash tweeters, 7.5" LCD Pioneer headunit
Lighting: 50in Rigid Industries LED bar with Poison Spyder Mount, 20in Rigid Bar w/custom hood mount, 2 Rigid Duallys, Oracle Red Demon Eyes, Halogen Headlamps, Red neon underglow
Future Mods: AEV Heat Reduction hood in garage waiting for paint, Next on this list is a front axle swap, regear to 4.88 and add lockers, teraflex long arm kit, and Tom Woods front & rear driveshafts.
My Story: I am a 19 year old student at DePaul University double majoring in management and finance. My father bought me this jeep for my 16th birthday completely stock. It is a 2008 Sahara Unlimited. I did all modifications myself. I am still learning but am DIY spirited. I am most proud of the custom gauge pod that I fiberglassed from scratch. I pay for all of my mods myself by working 2 jobs in the summer and 1 during the school year. I am by no means a spoiled rich kid although it may appear that way. I work for my Jeep and I enjoy it as much as a teenager can living in the city of Chicago!
08Helotes
Mods: Rough Country 2.5" lift, 285/70/17 BF Goodrich KM2's, Rugged Ridge Grab Handles, Rugged Ridge Side Steps, Upgraded to a Hard Top, and a Whole lot of plasti-dip!
Story: My parents purchased this Jeep for me after driving a 1983 Ford Bronco for the first year of having my license. It was a gift for my 17th birthday; it already had 2 owners, and only had 39k on the odo. All stock 2008 "Wrangler X" model, with AC/Heat, and 3.73 gearing. Had donuts on it when we went to see it, but the dealership swapped in new tires off a different jeep on the lot when I bought it. Since then I have spent every paycheck on buying stuff for my Jeep! Upgraded the lift and tires with the summer paychecks, and now I'm working in all of my spare time during high school working when I can to earn some money to spend on the Jeep! Also recently got a steal on a hardtop, and slowly just playin with it, loving to get it dirty! To bad I don't ever remember to take pictures until after its to late! Hopefully somebody in my new club will get some, Jeep Nation represent!
cyberpyrot
Mods (optional): poison spider hood louvre. Rugged ridge xrc front and rear bumper. Vr8000 warn wench. Best top nx soft top. Tuffy center console lock box. 33 mud terrain tires. Hinge armor.Rugged ridge side armor. Front grill inserts. Sand scorpion decal. Scorpn license plate.
Story (optional): this is my fist jeep. I have always wanted a jeep but could never afford one. I received some money when my dad passed and figured he would have wanted me to get one. So I Bought my first jeep.
BigBlue7
Base and Factory Options:
2010 Jeep Wrangler Unlimited Sahara
3.8 Liter, V6
Automatic, and yes... 4WD
Power Convenience Group
Premium Appearance Group
Trailer Tow Package
Mopar Freedom Top
Remote Start
Mods:
Suspension and Steering:
Rock Krawler 3.5 X-Factor System (all UCA's and LCA's)
Fox Racing Shox
Synergy Suspension Front Steering Correction Kit "Drag Link Flip Kit"
JKS Quicker Sway Bar Disconnects
TeraFlex and RK Spring Retainers
RK 3" Bumpstops
RK Coil Correction Wedges
Exterior
35x12.50R15C2 – Goodyear Wrangler MTRK's
15x8 5-127 – MB 72's w/ Gorilla Locking Lug Nuts
GenRight JK Rear Tire Carrier, Aluminum
License Plate Delete
License Plate Frame "BIG BLUE"
PSC Rocker Knockers
PSC Brawler Lite w/ Plate gussets, D-link points
PSC Evap Skid
PSC Tramp Stamp
Drake's Steel Billet Hood Latches
Daystar D-link Isolators
Rugged Ridge Locking Gas Hatch Cover
Attitude Gear US Flag
Vector Off Road UFO's Tailgate Electrical Delete
Vector Off Road UFO's Tailgate Bumpstop Delete
PixelDecals.com Fender Decal
Interior
Cobra 75 WXST CB Radio w/ Cool Tech GateMount and VersaMount
3' Black Firestick Antenna
Rugged Ridge Floor and Cargo Mats
Mopar (4) Grab Handles
Mopar (4) Door Sill Guards
Mopar (4) Kicker Audio Speaker Upgrade
Custom Tail Gate Table
First Aid Kit
Under the Hood/Electronics/Lights
Tom Woods Front Driveshaft 1310
Superchip's Flashpaq Programmer
K&N Performance Intake Kit
sPOD w/ Air Gauge
Truck-Lite Headlights Phase 7's
14" CREE LED Combo, w/ custom mount
8" CREE LED Flood, w/ custom mount
K/C Highlight Slim Lights
K/C Windshield Mounts
LED Dome Lights for CAN Bus
ORO/LP6 3rd Brake Light
Tops
Mopar Freedom Top
Bestop Supertop NX w/ tinted windows
Bestop All Weather Trail Cover
Smittybilt Cargo Restraint System
Smittybilt Water Resistant Cab Cover
JF "Cheap Mods"
Flipped Rear View Mirror Mod
Convex Mirrors on A/C Vents
Grill Wire Mesh Mod
Trimmed Pinch Seam
Polyfill'd Speakers and Sub
Tailgate Exit Mod
Cargo Tie Down Mod
French Fry Catcher Mod
Car Seat Cover
Flat Black Muffler
Extended Breather Hoses
Locking Ammo Can mounted to the tub
All-in-One Jack mounted to the tub
"University of Kentucky" windshield decal – don't hate!
My "First Jeep Love Story"
At the time that I bought it, I have to admit, I had no idea what I was getting myself into. Yeah yeah, we all have heard the J.E.E.P. saying; however, I am proud to say, I have found another hobby. I always wanted a Wrangler, and was intrigued by the 4 door. Being a recent graduate of the University of Kentucky, I fell in love with the color of the Deep Pearl Blue, "Kentucky Blue," JKU! At first sight I knew it was my soul-mate. Let's just say, quickly I learned beauty is much more than skin deep. Thanks to JF, I have quickly become an addict. My wife and I plan to keep Big Blue forever. Just remember to wave!
Jeepin Dad
Mods:
Engine/Driveline:
Tom Woods 1310 Rear Drive Shaft
Centerforce Dual Friction Clutch
Suspension/Tires:
2" Black Diamond BB
17/58 JKU springs
Bilstien 5100 Shocks
Rock Krawler HD Tie Rod
Rancho Steering Stabilizer Relocation Kit
Set of factory rear swaybar links up front
285/75R16 Cooper Discoverer S/T
16 x 8 Procomp 8069 Extreme Alloys
Armor/Protection:
Front LoD 1st Gen Mid-Width
Teraflex Rock Sliders
Kilby EVAP Relocation Kit
Riddler Diff Covers
M.O.R.E. Oil Pan/Transmission Skid Plate
Interior/Communications:
Cobra 19III CB w/4' Wilson
Radio Shack Handheld CB
Seat covers
Recovery Gear:
Warn M8000
48" Hi-Lift
20' 30,000 lb strap
Tree Savers, Shackles, Snatch Block
Misc:
Warrior Products Safari Rack
Warrior Products Mirror Relocation Brackets
Bestop Safari Top
Story:
Bought it new in July of '07 with the "Rubi-Lite Package", X with the Rubicon locking rear Dana 44 and electric swaybar disconnect. It only has a Budget Boost and after 114+k miles on it the oil pan is dented, the skids, cross-member and any thing else that hangs low are dented and twisted and have taken numerous hits from the rocks it likes to play on, but it still heads to the off-road park fairly often and regularly wheels with rigs that have more lift and larger tires. Then it returns home and performs it duty as a daily driver without much complaint, it has also been doing tow vehicle duty hauling our popup camper across PA on numerous trips. If I ever get my Cherokee running hopefully I will be able to retire the JK from daily driver status and give it a makeover to more of a dedicated trail rig.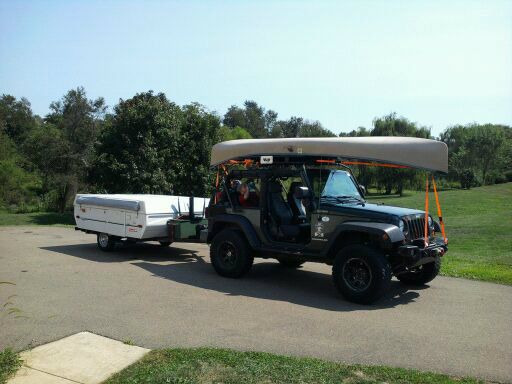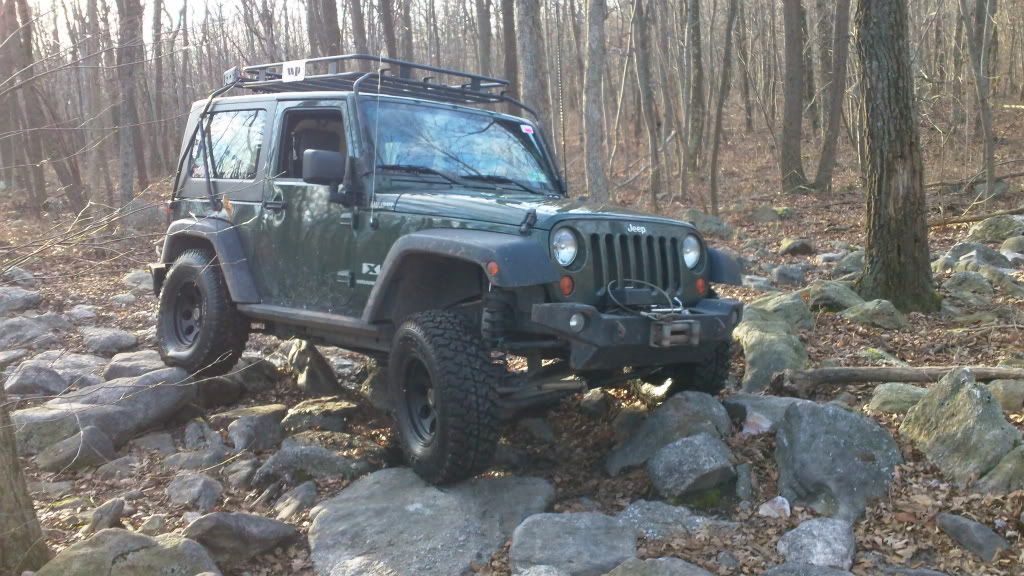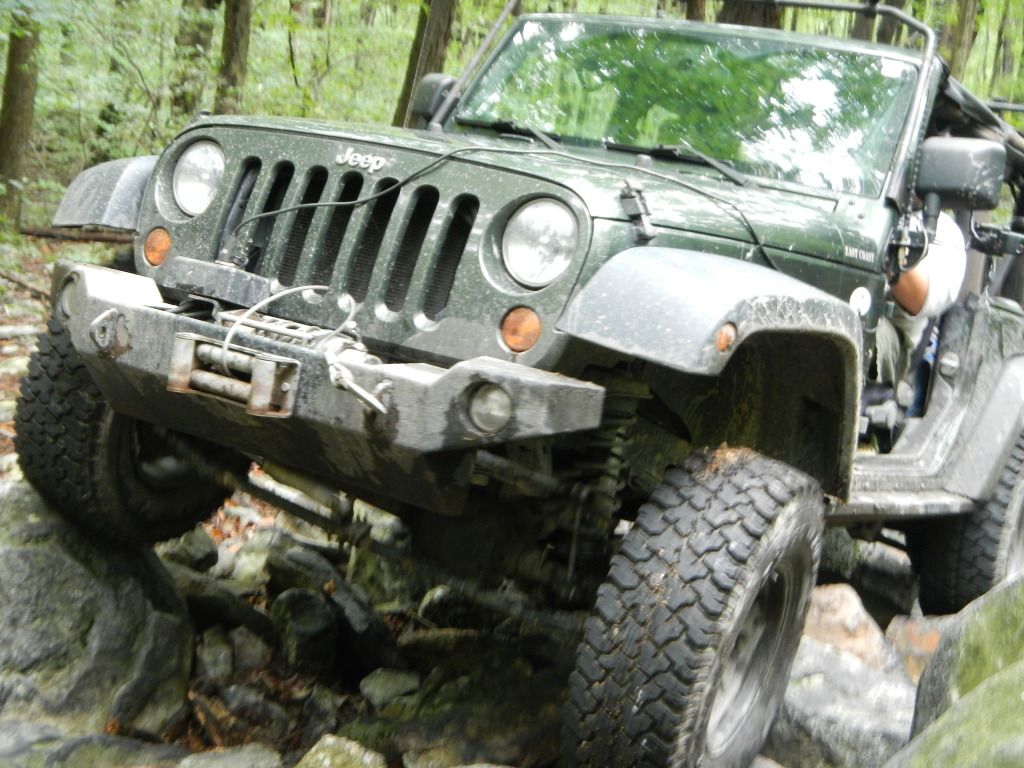 Chaseroesner
Mods: 4in Rough Country Suspension lift, 3/4 in front coil spring spacers, Bestop Trektop Nx, 37x13.5x17 Toyo M/T, bushwhacker flat fender flares, Smittybilt XRC rock guards, 2 8in KICKER CVRs with a custom box located in the cargo area, Fuel Offroad Maverick Wheels
Story: I am 16 years old and a Junior in High School and was given this 2007 Jeep Wrangler Unlimited X COMPLETELY STOCK as a birthday gift from my parents 4 months ago (as in sitting on 265's with stock wheels, and a torn, non tinted soft top). As they wanted me to keep the "family car" stock, I had bigger plans. I have been working for my dad and saving my money ever since I was 10 years old and he never let me touch a dime of it. He always told me to save until I had something really worth spending it on. Well, to him, this was worth spending it on. It started out with the lift kit and tires, then eventually the wheels. With my dad being a mechanic I only had to spend my money on the parts and then we would spend quality time working on the weekends installing everything together. I've learned SO much from building this beast with my dad and I absolutely LOVE IT as my daily driver.
Good Luck Everyone
And Welcome to the Newcomers