Registered User
Join Date: Jan 2013
Location: Gl
Posts: 71
Cool story bro
---
So I'm browsing one of the major part suppliers for a cap & rotor kit when I notice the shipping cost is almost $10 on a $25 part,crazy right..
At this point I'm only $15 away from free shipping,so it only makes logical sense to pick up something else and not waste 10 bucks.
Naturally I add a $70 Warrior 4" LED Taillight Kit to my cart
and call it a day.
Anyone running these?
Registered User
Join Date: Jun 2013
Location: New West
Posts: 4,170
The ones that most JK's run?

you gotta pic? I googled but all i found was blasphemous JK's in my results.
---
Stop whining about the 'ride' - If your YJ ain't wrangling your soul free, then might I suggest you buy a stationwagon... at least you can fit all your bull**** in the back.
~YJOTM MAY '16~
http://www.warriorproducts.com/catal...l-tail-lights/
I got these for $60 which is double the price of the walmart taillights.
Made in the USA and I like how it doesn't show the individual led's,looks more old school that way.
ps. I went with the basic lights P/N 2915
Registered User
Join Date: Dec 2012
Location: Danvers
Posts: 724
That happens to me a lot
---
If it ain't broke, fix it till it is
My taillights came in today,stoked to put them in soon.

They are actually Truck-lite lenses,I thought these were made by Warrior...oh well

I'll throw up some pics of the install later.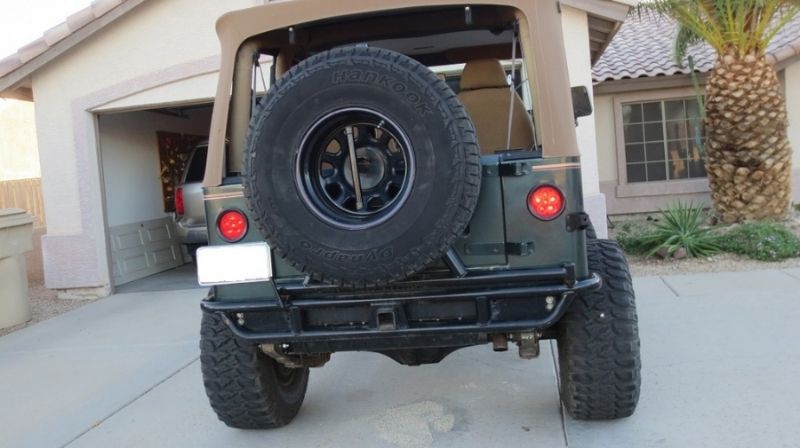 Got them done today,I like.
There is a problem of course.
I'm getting 12.2Volts at every measurable point on the brake power and running light wires,but the driver side does not light up brighter when I hit the brake pedal...
running lights only.
Currently Active Users Viewing This Thread: 1

(0 members and 1 guests)
Posting Rules

You may post new threads

You may post replies

You may not post attachments

You may not edit your posts

---

HTML code is Off

---