Spent today doing some wiring.
first off made re-installed my radio with a hold down so it wouldnt keep sliding out when I went wheeling.
after that I made a trip to autozone for some wiring supplies , switches and some lights. Originally was going to mount the lights to the tire carrier but really didnt want to drill into my bumper and try and find long enough bolts. A quick look underneath and I utilized the outer gas tank skid plate bolts, a perfect fit and location! this made it a no drill install too!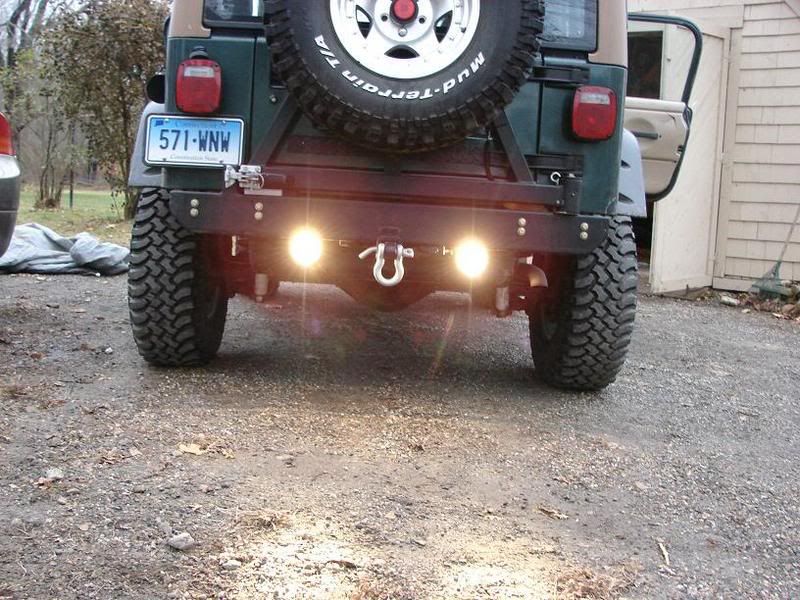 These are originally driving lights , but there bright and look good. The kit came with one of them cheap rocker switches with a face plate. I tossed that out and picked up some nicer , bigger lighted switches at autozone. I ended up wiring to the kick panel below the steering wheel as the panel is easy to access, easy to hit the switch on and my center console area already had 3 other switches in it. Here's a pic of the switch for reverse lights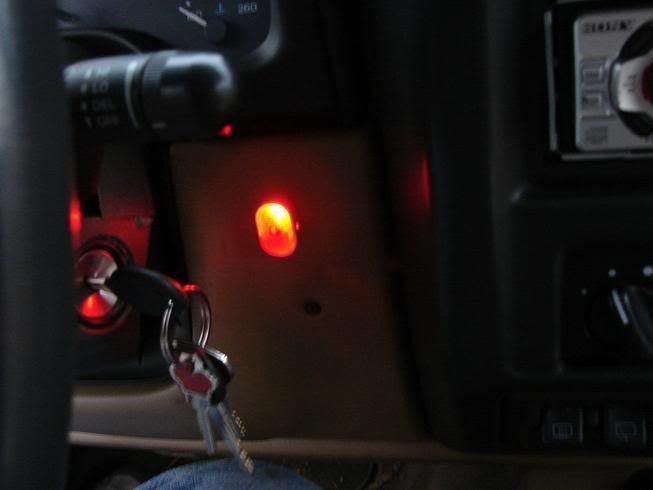 with the reverse lights done I moved on to installing an XM radio reciever. This was time consuming trying to run and hide all the wires and finding a good way to mount it. After trying various locations, top of dash, vent etc. I found that the ash try fully opened past the retaining clip made a very nice fit. To hold it in when wheeling I picked up a roll of hook/loop velco and put some top and bottom of the XM and top and bottom of the ashtray locking it all in place! The antenna and power cord were squeezed thru the little hole in the ashtray and hidden into the dash.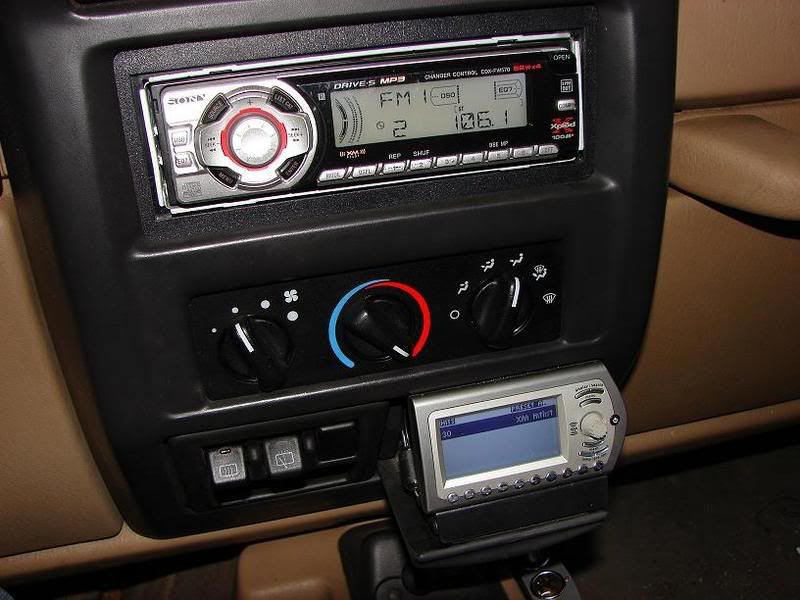 now seeing the xm would take up my only 12Volt power source I picked up a 3 socket adapter. I plugged it in to test it out and it would not power up anything! After a litte head scratching I figured it out. To help protect the adapter from an overload the manufacturer split the voltage and didnt allow any of the plugs to recieve full 12volts! I popped out the 3 screws and opened it up, sure enough a circuit board with a bunch of resisters and other stuff. A few minutes of cutting and rewiring and I was good to go. I dont plan to use to many things at once, but even if I do I put a fuse inline + the factory fuse.
I originally just plugged it in to the factory one but than i had cords running down and looking like **** (Im anal about sloppy install!). I checked out the factory socket and ended up taking it out of its mounting hole and hiding it behind the dash. The 3 socket adapter was hooked up to it and ran from behind the dash to behind the center console and to the side of the center console. I held the box in with velcro again (this stuff rocks). I love velcro because you clean the surfaces, stick it and can take it off with a little effort months later. I hate drilling or making holes in factory plastic incase I ever move it around or sell it.
Was getting poor connection's with the switch that came with my hella lights so i ended up replacing that one too (silver switch in center console. The other two switches are windshield mounted lights and dome light/door chime override switch.
switched out bulbs for some led's
UPS stopped by today and dropped off my project for tomorrow if I can my metal hole saws , 62 LED 4" flush mount led tail/stop lights
and Exhaust is supposed to be here the 26th