Quote:
Originally Posted by
NotURMailman
I just went home at luch and loaded my RockHard cage into my pickup. My fiance is on her way to the power coater to drop it off right now.
I finished painting and installing mine about 2-months ago. I decided to modify mine to incorporate controls for my winch, locker and lights between the upper T-bars.
I used about 10 cans of Krylon including primer to finish mine. I don't think I could afford to have mine powder coated. Although I was careful installing it myself I managed to scratch my stock cage in a number of places and chipped off some paint on the Rock Hard side too. There are a few pointers I can give you if you're interested.
Ultimately my installation required the use of my ratchet straps to pull in the stock cage bars in the rear and my pickup truck and the ratchet strap to pull the front RH bar out slightly.
I ended up unavoidably scratching the stock bars over my doors. I found the best solution for that was to wrap it with red electrical tape. It looks great and can be replaced easily if needed.
Here are a few photos of my control panel.
[IMG]
[/IMG]
Forward of the panel is my Serius receiver, next is my VHF radio, under the radio are my voltage readouts for my dual Optima batteries, I installed two LED light panels for better interior lighting. Back from them is my 12-Volt Guy winch control, on either side of that are my rocker switches that control rock lights and other accessories, behind them are three large rocker switches for my ARB lockers, behind them are three more rocker switches that control things like my 55 watt backup lights and my electric fan (future mod).
[IMG]
[/IMG]
Behind these rocker switches are panel fuses that protect each of these circuits. The hole setup is sealed from the elements and accessable from either the top or bottom.
[IMG]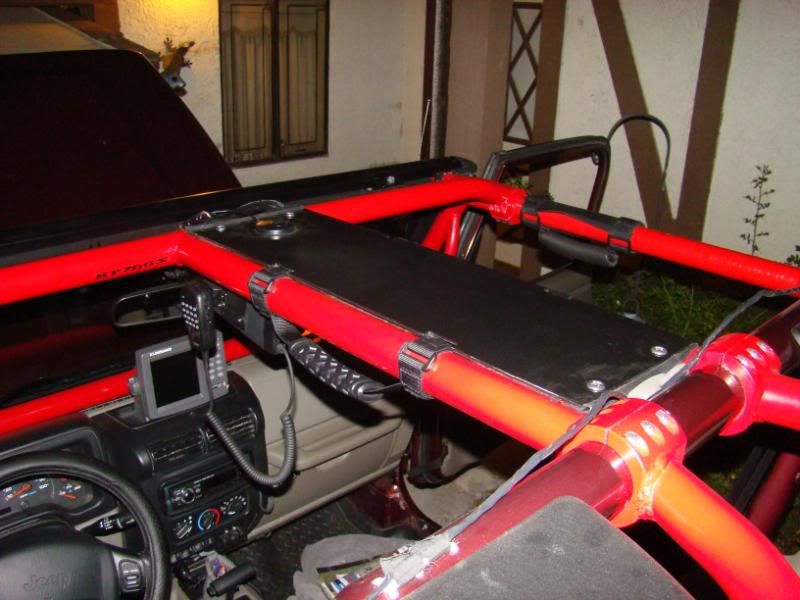 [/IMG]
[IMG]
[/IMG]
I posted a writeup on this a few months ago. If you want more detail you should be able to search it up.