Registered User
Join Date: Aug 2011
Location: raleigh
Posts: 10
Vacuum Leak Issue- open port.... HELP!!!
---
I have a 2000 Wrangler Sport 4.0L. It's been running rough with an o2 sensor error code for about 6 months. Recently, it started running rougher and I had a loud sucking noise during acceleration. I found that the center vacuum fitting on the intake manifold had popped loose (blue in the picture). I reattached it and that problem cleared up.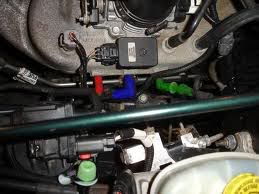 Another pic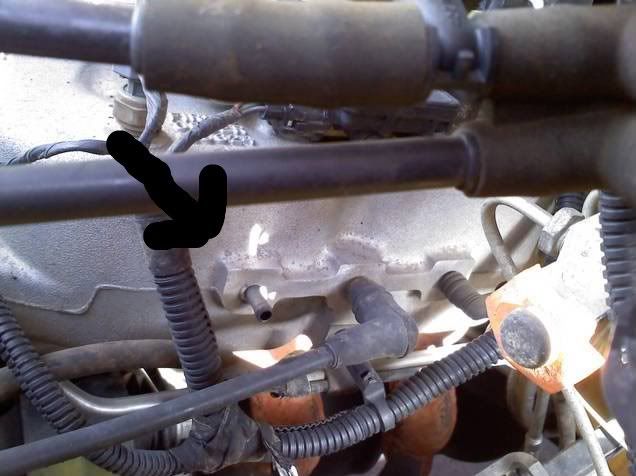 Now, it's starting to run rougher again: high idle rpms (around 2500-3000),rough acceleration, and stalled out on me the other day. I looked and found the front vacuum fitting had no hose attached (the red one). I have searched but can't find any loose hoses. The routing diagram on the hood states this is an unused port so I capped it with a rubber tip but I still have the same issue.
Doing some research on the web I've found this topic a couple of times but all of the threads end without a conclusion. Also, an online "jeep specialist" posted a routing diagram showing that port attached to a leak detection pump. Some posters suggest Jeep used the same template for the manifold in '00 as they did in '99 but did away with the LDP.
This image is not the one on my hood but what the mechanic posted.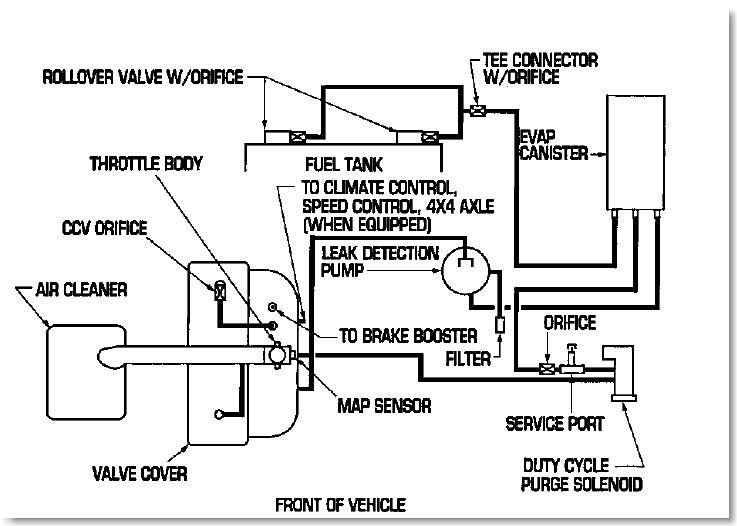 This is really frustrating as my jeep has a slew of issues right now and I need to identify and resolve this problem before I can move on.
If anyone has an unmodified 2000 4.0 sport model, could you please check your manifold and see where (if anywhere) this port attaches? A picture would be awesome.
Thanks,
Bob
PS, these pictures are not of my jeep but some I found online in other posts
AFSOC Retired
Join Date: Aug 2005
Location: Colorado
Posts: 21,576
Quote:
If anyone has an unmodified 2000 4.0 sport model, could you please check your manifold and see where (if anywhere) this port attaches? A picture would be awesome.
On my 2000 Sport, that port is capped...
Web Wheeler
Join Date: Oct 2004
Location: Bemidji
Posts: 5,227
A high idle is often times associated with a significant vacuum leak. Give it another good visual to see if you see anything else disconnected, a broken fitting or cracked hose, etc.

The settings in your engine computer have been adapting to the poor condition your engine has been operating under. You might want to try disconnecting the battery for about 10 minutes. This will reset the computer back to factory settings. It might allow you to get it running long enough to determine if there is another leak.

Is your O2 sensor the first sensor or the one after the cat? The former will play hell with your fuel-air mixture and won't help matters for your engine running well. Hopefully you didn't bugger something up letting it so so long without addressing the problem .
---
Stu Olson
ARB Locked & Loaded

To view links or images in signatures your post count must be 10 or greater. You currently have 0 posts.

Rockin jeep
Join Date: Jan 2007
Location: Texas
Posts: 8,165
Wushaw, Thanks for the pic!

Stu,
I replaced the front O2 sensor when the code first popped up and the rough idle first occurred. This was after a jumpstart. Replacing the sensor cleared the code for about a day I think then it popped back up. The rough idle has been an intermittent issue since.
Ok so I capped the port like in Wushaw's pic. I also changed the sparkplugs and left the battery disconnected for about 2 hours in the process. No improvement. The Engine trouble light popped back on within a few miles and this morning on the way to work, it started flashing. I checked the owner's manual which said this indcates severe cadylitic converter damage and power loss is iminent.
Is it possible I've fried my computer? I ask becuse this entire issue stemmed from a jumpstart. I had left my lights on at work one night and had to jump it in the rain. This link is to the original post
http://www.jeepforum.com/forum/f9/en...-help-1254150/
. Prior to jumping the Jeep ran fine.
Can a jumpstart cause a computer glitch resulting in all of these issues? A shot in the dark I'm sure but I'm really missing the days of carborated engines right about now!
Web Wheeler
Join Date: Mar 2011
Location: Trails of
Posts: 3,685
After a vac leak like you had with the cap missing it takes the PCM a while to relearn things like idle speed & fuel trim. The light came on after it went into closed loop. With the vac leak the PCM adds fuel to compensate for the extra air. Now it starts off too rich & throws the code. Try driving is for a little while & see if it improves. Clear the code by disconnecting the battery a minute or two. (not 2 hrs.)

I don't think the actual jumping caused this, it sounds like the vac leak happened at that time. In the other post you were getting codes identifying a lean condition, right?
Lean and possible misfire were 2 of the codes... along with the o2 sensor issue
Currently Active Users Viewing This Thread: 1

(0 members and 1 guests)
Posting Rules

You may post new threads

You may post replies

You may not post attachments

You may not edit your posts

---

HTML code is Off

---