Upgraded to AEV springs....AWESOME!!
---
Long post, sorry. Let me start out by saying that I am a firm believer in "you get what you pay for". That's especially true when it comes to specialized equipment like expeditionary gear such as trailers and vehicle upgrades. With that being said…..
I started out building my 06 LJ Rubicon for rock crawling. Over the last 3 years, since picking it up from the dealership, I have been modifying it to meet my every need. It all started out with the majority of the work being done right off (less than 300 miles on it and only a couple of weeks old) the bat. I have started moving more toward the expeditionary type of wheeling to include the family and often over a week or more of traveling. I much prefer to travel off-road and to be as self sufficient as I can. I state in my signature that I built my rig to that it wouldn't be the limiting factor in wherever I wanted to go. This whole concept includes the ability of taking my Chaser anytime and anywhere.
My last trek was over 10 days into the backcountry of Utah (pics and such
HERE
). With the rig fully loaded and the Chaser in tow, I became more and more unhappy with the springs that were installed that came with my Rubicon Express
5.5" Extreme Duty
long arm kit. They worked well for normal driving and under any road/trail condition but not in a heavy loaded configuration. On the trail the rear bottomed out way more than I liked and it sagged a bit more than I liked when fully loaded. If it was just sag then I probably wouldn't have cared but combined with bottoming out too much meant a change of some sort.
I briefly considered additional airbag support like the
AIRLIFT
system but wasn't convinced they would last over time off-road and if they would hinder and other performances of the suspension. I wanted to stay with my current ride height as it just works so well with the LJ and 35's. I didn't want to compromise on the ride quality and performance to get some help.
I thought about just replacing the springs. They are three years old. Maybe they are just tired. They've been used well (not to be confused with abused). RE springs are linear so you get the same rate from start to full compression. All lifted TJ's get that famous banana shape in the rear springs when the Jeep gets lifted due to the rotation of the axle. I concluded that there is a portion of the spring usefulness that is used up immediately because it sits in a bent configuration. I don't know if this is true but it makes sense to me.
That thought process brought me to the idea of doing a spring relocator in the rear to get the spring straight as it should be. That brought me to the
AEV
site and here is upgrade begins.
I have always been impressed with AEV and all they do. Like Adventure Trailers, these guys don't do anything half assed. Purpose built components with top notch quality. They have a kit that straightens the rear spring. Easy to install and no welding or cutting. Cool! It's called a
TJ Rear Spring Relocator
. This kit will provide an additional 1 5/8" of lift with no change in springs. All this just by making that banana shape straight? Ok then.
Since I didn't want to get another 1.5"+ height, that meant I needed to change springs too. Bummer
. If I went to a Rubicon Express 4.5" spring instead of my 5.5", then I am staying just about the same height. Do I want to stay with the same bottoming out though? No. That meant a stiffer spring, or at least a progressive rate spring. A stiffer would just make it ride harder I think so a progressive rate is in order. Lo-and-behold, AEV has those too (this is looking good). Frequency-Tuned,
progressive rate springs
. They even sell one specifically for the heavier/longer unlimited TJ, commonly referred to as "B rated".
So here's what I came up with. Make it so that the entire spring cycle operates as the spring is designed – Spring relocator. Progressive rate spring to assist in the bottoming out (more umph as the spring compresses). Between the two, stay the same height, if possible.
The 4.5" spring PLUS the relocator would give me about what I had before in the rear - a tad more actually. I thought this was ok as some weight would get it down. Since it's not recommended to mix spring types, I needed to do something for the front. The max spring AEV makes for the front is a 4.5". I needed more so I decided to go the
spacer
route. Keeping the same height all the way around meant no bump stop or shock changes. This was a plus as I got shocks and their mounts installed specific to my rig and its compression cycle.
Stuff purchased from Dave at
Northridge 4X4
. Same cost as AEV but FREE SHIPING - $88 bucks saved. Saweet! Side note: The setup purchased is exactly what AEV installs on their 6" lift kit. Spacers and all.
After everything was installed, I gained a little over ľ" in the rear and nuts on in the front. Now for the long story, short:
I had no idea a stiffer/progressive rate spring would improve the ride so much. I mean totally different. Every aspect of the ride has been greatly improved. I went and did some trails yesterday and I just smiled like something was really wrong with me as I bounced along the trails. Sucking up every rock with easy. There was ZERO loss in any form with these springs and EVERYTHING to gain. I tried to specifically bottom it out via some speed and woop-d-doo's but nothing. I could feel the spring compress but as it compressed is got firmer, as a progressive rate spring should. The rebound was just as impressive as everything settled down quickly and smoothly. FYI-I have Rubicon Express Mono-tube shocks all the way around, and have since day one.
I didn't pull the trailer for this trial but I did load the Jeep up with about 500 lbs of gear and tools. It sat nice and level with no heavy butt feeling.
I have ZERO regret for the upgrades. $580 for all and it would have been worth it twice as much. That's how much these AEV springs changed the performance over the RE springs. One thing I will never know is did the relocator add performance or just allow the spring to functions as designed. I guess that would be one in the same. I guess I should say that I don't know if just going the AEV springs alone without the relocator would give the same results.
I have a 4 day outing planned next week with the family and Chaser. I am totally confident all will perform as demonstrated and expected when fully loaded. I will comment to that after we get back.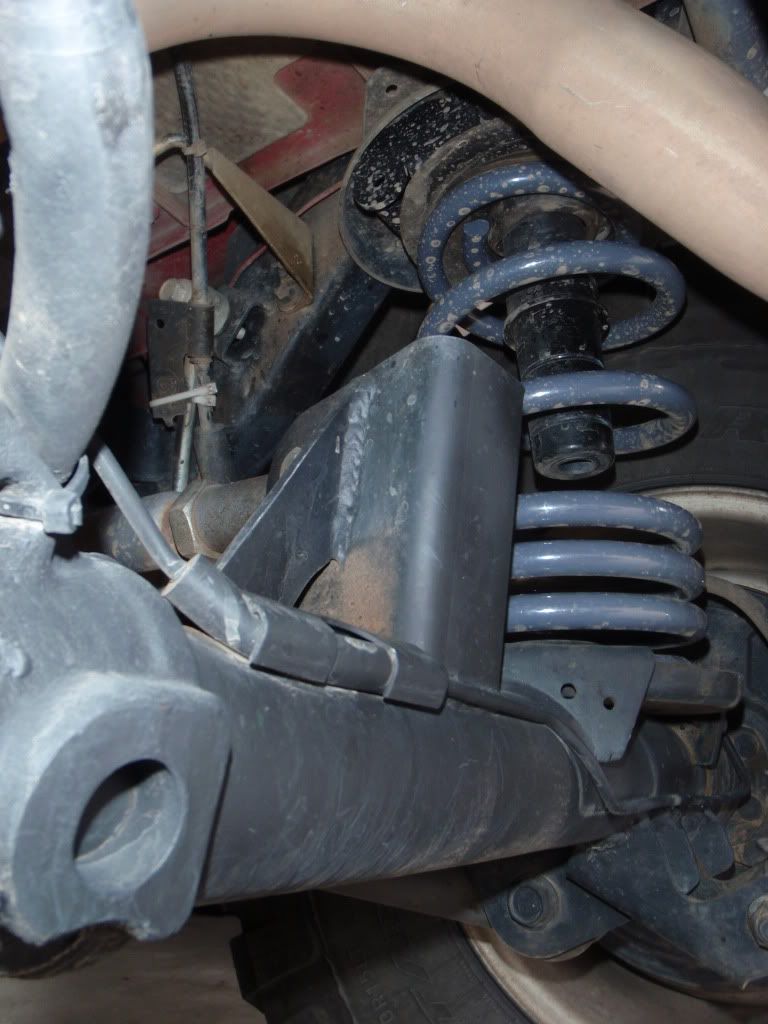 ---
2007 JK Rubicon Unlimited 6.1 Hemi, Front AEV bumper (waiting for the rear), AEV Pinters, AEV 4.5" lift, 5:13's, 37's, Chromo Shafts, Front CV Shafts etc etc etc
2007 Adventure Trailer
,
Chaser
#71, which now needs painting to match the Black JK
---
Last edited by TheMike; 06-12-2009 at

07:08 PM

.