Quote:
Originally Posted by
jbg1980
Unlimited04 how do you like your Duratracs? If you were to purchase new tires would you stay with them?
I like the Duratrac's, I'd buy them again. My only complaint is they don't come in
33x10.50R15
or
35x12.50R15
. I wouldn't call them "very quiet", but they are definitely quiet compared to other hybrid AT/MT options. They work well for the DD/weekend warrior who sees a wide variety of seasons & terrain, like myself. No issues with sidewalls or keeping balance over time, unlike the previous BFG's. As to their rock-worthiness, I've rubbed off much of the markings on the side, if that tells you anything. For instance, you can barely read 33x12.50R15 on some of them.
Did you get a new wheeler yet? I've been very busy with work...so the trailer is not getting much attention. Things will slow down in a few weeks, and I hope to get it finished for wheeling season.
Luckily a few weekends ago I got the end caps on the frame rails welded on and the base of the tub frame started. No pictures...doesn't look much different than before. I'll get more pics next time.
I also got another interesting project in the works....a used AutoMotion Performance supercharger kit...they were based in Denver area back in 2005-ish, but have since went out of the business. They claimed 265 hp/330 lb-ft w/o IC, and 315hp/390 ft-lbs "Stage 2". It's a Procharger C2 head unit model, which is still in production and used on Nissan 350Z's. Guy I bought it from had it bolted to 4.0/42RLE/4.88s/35s and could light up both tires from a stop...I couldn't even do that on 31s. Bracket puts the blower over the alternator. Tuning will be handled via Unichip (already installed) and possibly 28 lb Ford injectors. May try w/ stock injectors and see what A/F looks like on the dyno. Pulley locations aren't disrupted, and you can remove the longer belt, reinstall stock belt, bypass blower and just suck air through the centri if need be. As you know Sean, I'm not looking to squeeze every drop of performance out of this, I just want to be able to hold 65mph going up I-70...with my trailer
The AutoMotion kit got some bad reviews based on what I read online, and I see why. Mounting bracket & pulley spacers were problematic...giving bad pulley/belt alignment. I bought some stuff from McMaster and had to visit the junkyard to get pulley spacers off ZJ/XJs to make it all work.
However, my favorite problem was this: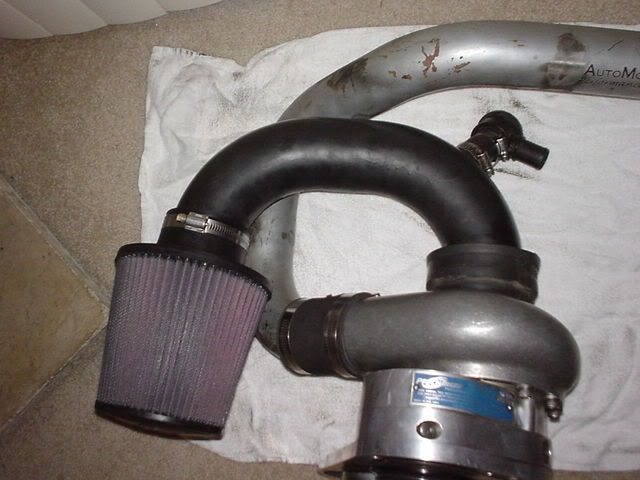 I wanted to see how many people would catch the problem.
Notice the standard Bosch diverter valve has no vacuum reference connection, and is mounted to the intake side of the supercharger.