Let me start out by saying that I use my jeep more like a truck. I got in the habit of this from owning many early Broncos. They are about the same dimensions as the Unlimiteds. Two of them were half tops, and I really like the functional aspect of them. I learned from having them that it is nice to have a bulkhead between the cab and box year round as it keeps sand, straw, and misc. debris from blowing up front when the top was off.
Alright, now I'm gonna take my best stab at a technical write-up as I have had many questions about my soft half top on my 04 Unlimited since nobody manufactures one specifically for it. [*EDit* Mopar does make a half top for Unlimiteds, but I did not choose it because of its length, lack of sunrider feature, and spoiler effect on top. *Edit*] Excuse me for some of the blurry pics. I don't know what is up with my camera lately. I'd guess it is operator error.
Half tops are only manufactured for up to '03 Wranglers. Best top and Smitty are the only manufacturers I am aware of. I had heard, and can now verify, the reason they won't fit '04 and up is because the padding is thicker on the sport bars. Additionally, the deck cover would be 15" short for Unlimiteds. The following is how I dealt with the above, and how I modified other things to my needs:
I could not justify buying a $500.00 top not knowing whether or not it would work so I bought a used Bestop half top for $175 (including shipping), with some rash, from another forum member. Thanks Erik.
First I flipped the speaker pods forward because I wanted to keep them. They sound much better overhead, and the lighting is better also. This was easy. Swap them left and right, flip forward, drill holes for the pegs, tap holes for the bolts, and reconnect. Then I tried to fit the top. Sure enough it wouldn't fit with padding on the sport bar no matter how hard I tried to stretch it. I only had to remove the padding from the vertical bar parallel to the front seats to make it work.
Next I had to trim the windshield interior plastic trim to allow room for the windshield header that comes with the half top. It is kinda a butch job, but it works.
Header bar held up slightly:
Header bar closed:
I put in a bulkhead from
www.gr8tops.com
. It fit nice and snug with no problems. You can put the thing in with weather-stripping, caulk, or nothing if you like. I used caulk since I wanted something waterproof, and I leave it in year round. I also lined the tub front and back after installing.
I then trimmed the carpet to fit up to the bulkhead. I do not use the carpet in the rear at all, but I did trim it to fit just in case I want to put it in sometime.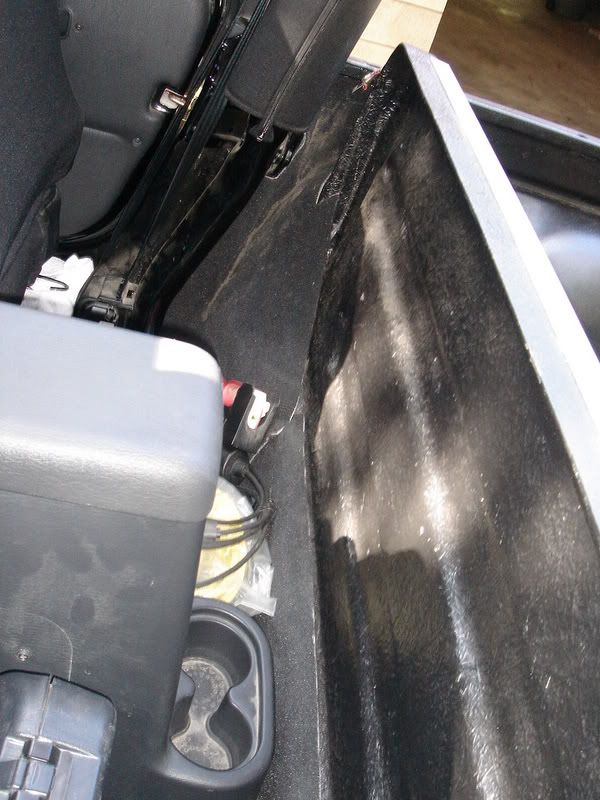 Next I had to make a belt rail on top of the bulkhead so I could have a way to make the half top air tight for the front two seats. I used a piece of 1"x 1" x 1/8" thick aluminum angle for this, and attached it with stainless nuts and bolts. I drilled the aluminum so the heads of the bolts would be countersunk since I didn't want them to possibly snag the top.
I had to have an upholsterer sew a hard plastic strip to the top so it would slide into the belt rail I made. I also had the upholsterer sew on a deck cover made for Unlimiteds since the one that came with the top was 15" short because it is made for short wranglers.
I rarely have rare passengers, but on occasion I do. I wanted the seat to be accommodating so I moved the rear seat brackets back one hole to create more leg room since the bulkhead I put in ate into the original leg room. That pretty much takes care of what I had to do to make the thing work for me the way I wanted it to.