Registered User
Join Date: Apr 2013
Location: SW
Posts: 403
track bar fix
---
I know tons of people have death wobble associated with track bars and the axle side mount being wallowed out for various reasons(whether re-drilled to compensate lift or just negating to properly tighten once a lift has been installed). I just found I had this problem myself and fixed it this past week so I thought I would share for others reference with my method of madness...
In tracking down my death wobble cause, I found this. Even when there was no movement with multiple drive steering test!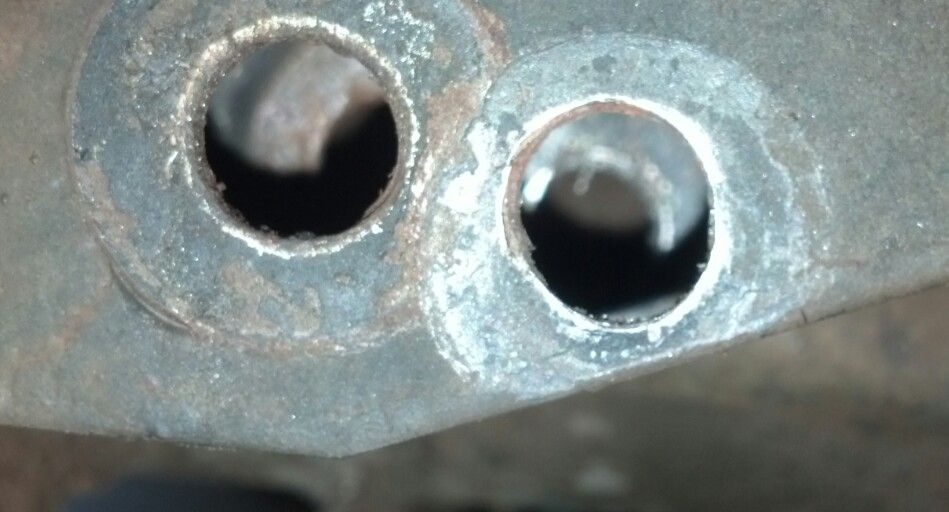 So I had found the problem...on to the solution
First I made a template out of cardboard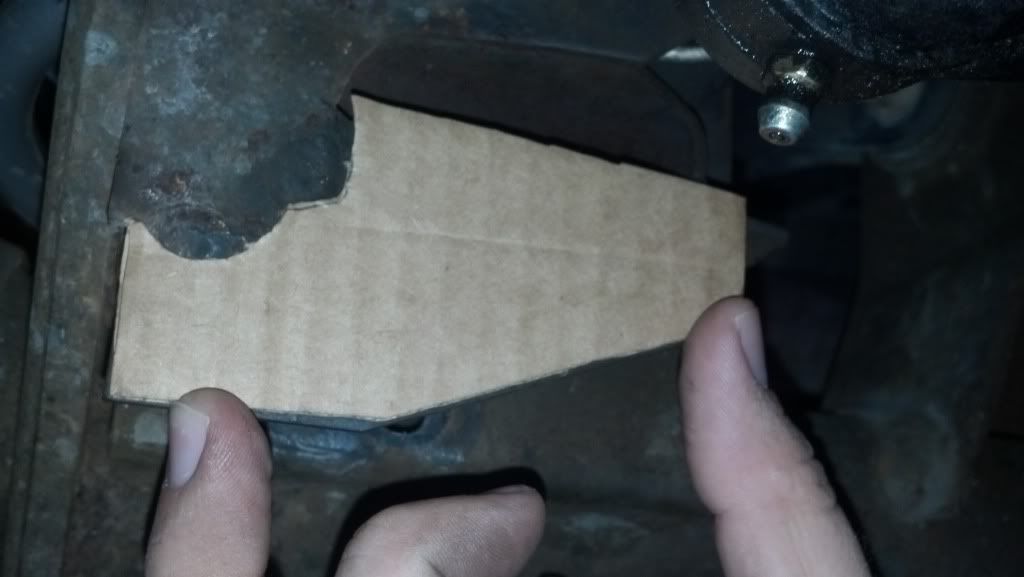 Then machined a 3/16" plate from a 1/4" piece of scrap. I went with the Metalcloak adjustable front trackbar so my axle side needed to be drilled to 1/2" and the frame mount to 5/8".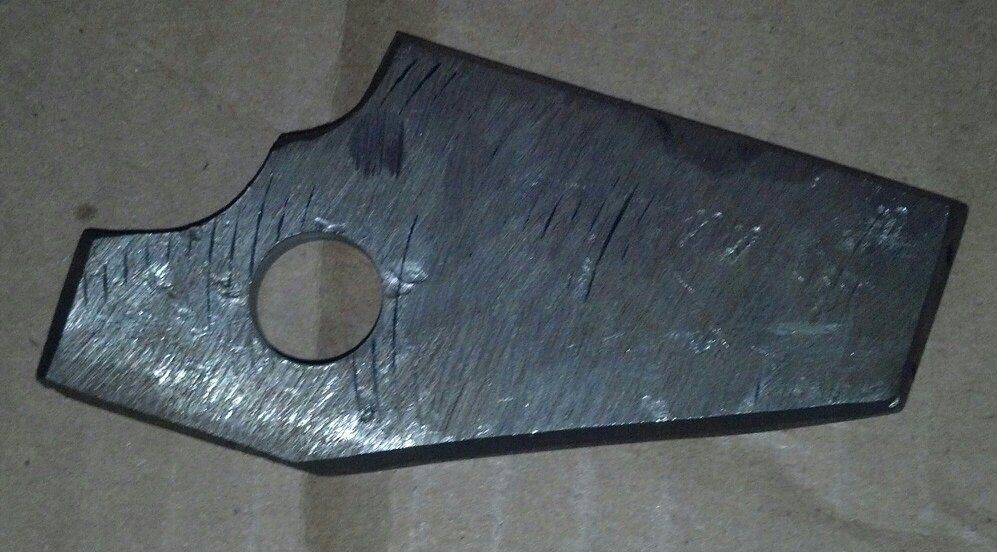 The Metacloak trackbar arrived in less than 2 weeks of ordering for $159 with free shipping. WAY beefier and maybe even overkill but I say if you're going to do it, do it right...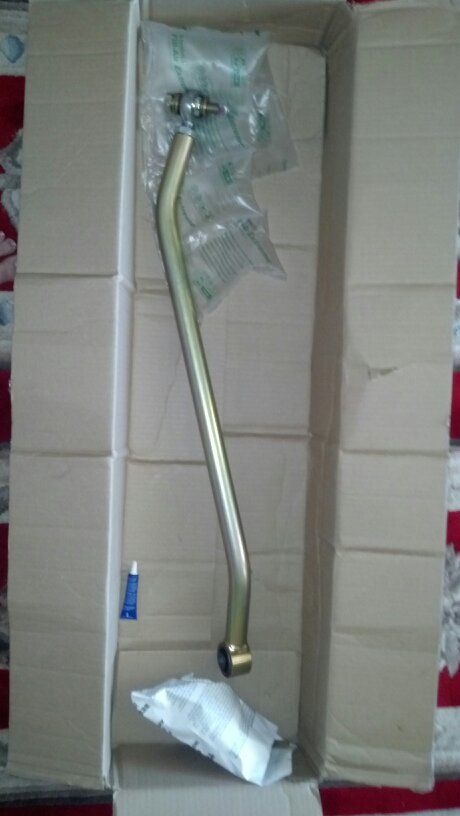 So I went to my buds shop(he has the welder and skill)...removed the old trackbar, dropped the drag link and drilled out the axle side to 1/2" then mocked up the fabbed plate by tightening the new grade 8 bolt(1/4" longer than supplied to compensate the 3/16" plate) and burning the plate in.
[URL=http://s269.photobucket.com/user/garonteed08/media/ResizedImage_1382238359093_zps3255559c.jpg.html]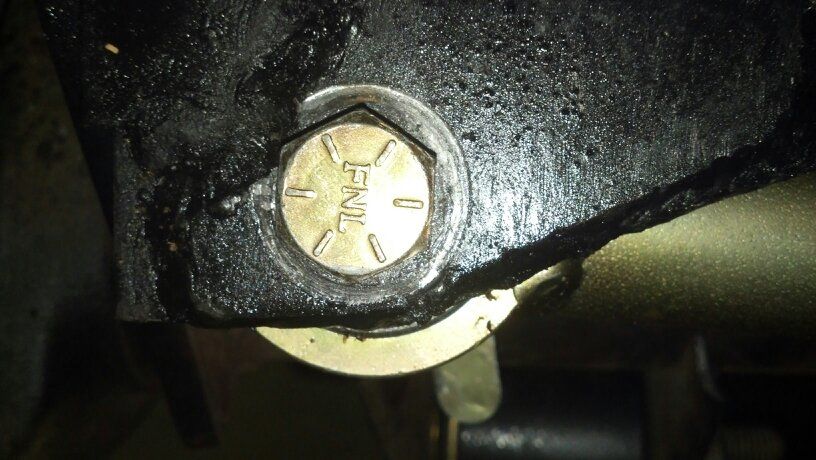 We had enough room to drill the frame side with only removing the passenger side drag link (some may have to remove drivers TRE as well). Got the frame side drilled to 5/8", reconnected the drag link, remounted the front passenger tire, dropped the axle off the jack stand and then mounted the new MC trackbar up. (we measured the stock TB and luckily adjusted the new one perfectly, centering the axle the first time).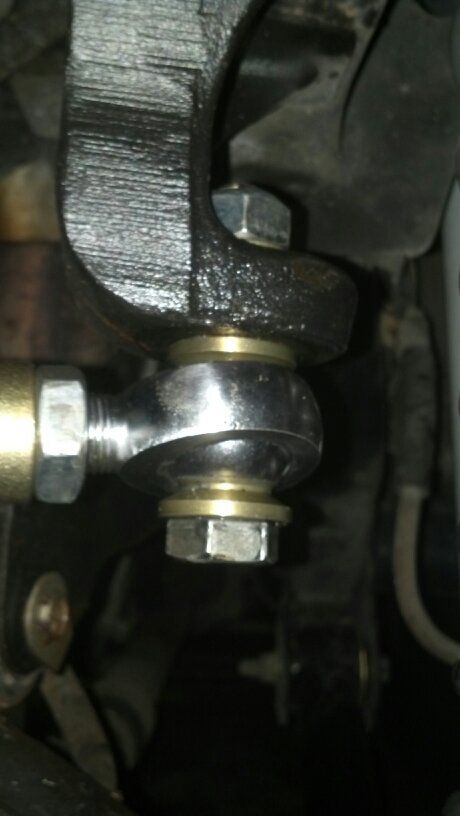 Everything was torqued down and greased where needed.
This was an easy fix to a very common problem and hope this helps others
---
Last edited by SOWEGA TJ; 12-12-2013 at

12:15 AM

. Reason: updating photos
Registered User
Join Date: Apr 2009
Location: Hebron, KY (Born & raised in Cincinnati, OH)
Posts: 245
I would pay you to fix mine. I give up.

I am ready to drive it off a cliff.
---
'03 Rubicon. Inca Gold. Auto, Full Doors / OEM Hard & Soft Tops, All stock..... Hot Wife Mod
Registered User
Join Date: Sep 2012
Location: Boone
Posts: 9,872
Nice write-up.
---
I don't even own a jeep anymore
Quote:
I would pay you to fix mine. I give up.

I am ready to drive it off a cliff.
I was too man. I now have a little bump steer but no death wobble
thanks! I thought it might be helpful to others with the same problem...
Registered User
Join Date: Aug 2012
Location: Decatur
Posts: 7
Gsellars how much lift are you running. When I contacted MetalCloak they didn't think the trackbar would fit my lift. Nice work by the way. Do you and your buddy need a side job. Got DW I cannot fix.
---
Last edited by mike51robo; 10-29-2013 at

10:28 AM

.
Im currently running 4" SL. I struggled to fix mine...I didnt have any play in the trackbar with the dry steer tests and just decided to unbolt and lay eyes on it and the above is what I found. DW is hard to fix...I hate to say it but it process of elimination until you get it right. Im in the process of redoing my d30 as we speak. New axle ujoints, new unit bearings, and turning the rotors. I will have new MC control arms all the way around within the next month(just need to find time to change them) and I will be upgrading my steering system after that. That will elimate anything that can cause death wobble....and yes I know Im replacing things that dont need it but Id rather be safe than sorry and ill have trail spares. Why not have a basically new front end if you can?
Currently Active Users Viewing This Thread: 1

(0 members and 1 guests)
Posting Rules

You may post new threads

You may post replies

You may not post attachments

You may not edit your posts

---

HTML code is Off

---