May: Holaday
Name: Lee
Username: Holaday
Jeep:
2004 TJ Sport
4.0
32RH 3 speed Auto
Dana 44 and HP Dana 30 w/4.56 gears
Story:
Bought the Jeep as a great start to a capable wheeling rig after quickly reaching beyond the capabilities of my Commander. In the 2 years I have torn everything off and rebuilt it to be a weekend rock crawler, but still fun to take my family around in on the weekend/drive to work in nice weather. It has been an awesome experience so far, and a great way to spend time with my son and wife.
Build-
http://www.jeepforum.com/forum/f22/noob-build-1395973/
Mods:
CAI
Throttle Body Spacer
Savvy Control Arms
Savvy GTS
Savvy Front Bumper with hoop
Savvy Tailgate Skin and lower valance
Savvy Corners and SS rub rail
Skid Row Steering Box Skid
Skid Row Engine Skid
Custom OTK Rock Krawler Steering using a Teraflex knuckle
PSC extreme duty hydro assist
M.O.R.E. steering box brace
Rokmen Belly Up
Spiderweb Shade Trail top
Rampage soft top
1 inch BL
4 inch SL
AA SYE
Bilstsein 5100s
Brown Dog MML
Solid Diff Covers (F&R)
ARB rear locker and large pump
Detroit front locker
Custom full cage
35 13.5 15 BFG Krawlers
Genright Aluminum "zero Flare" front fenders
Genright aluminum rear stinger with bumper plate and frame tie ins
Genright Rocker Guards
Currie Antirock front and rear
Currie JJ front Housing kit
Currie Control arm Skids
Bedlined Tub
CJ style turn signals
Alloy USA rear axle shafts
Ten Factory Front shafts
Tom Woods Drive Shafts (F&R)
Spyderlock Beadlocks
Warn M8000 Winch W/Viking Synthetic line
PSC Hood Louver
Genright LED tails
Car Seat for my 4 year old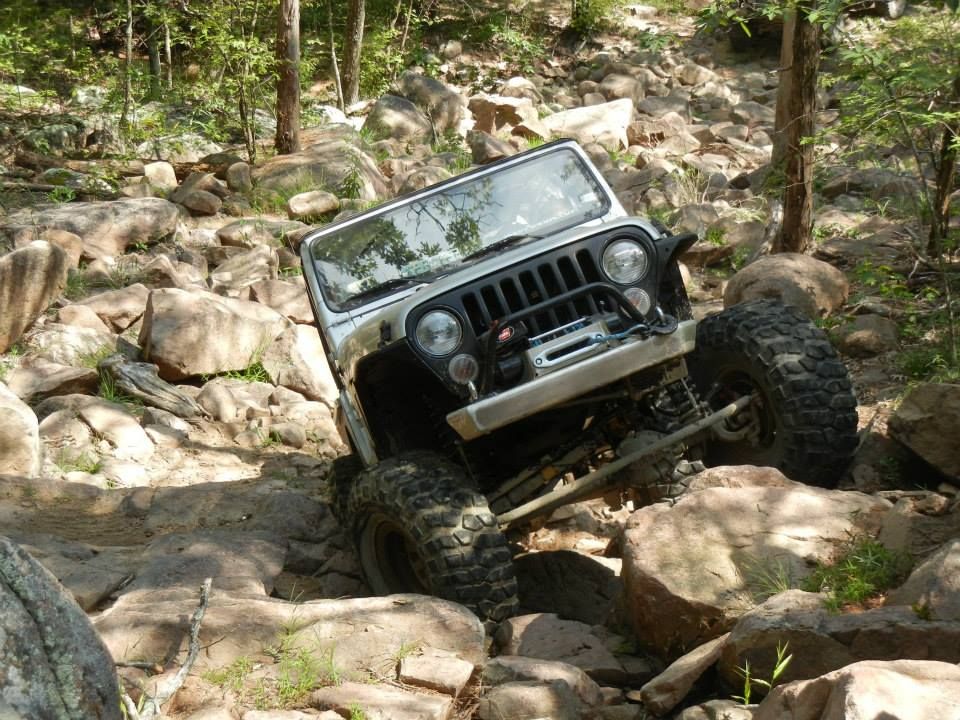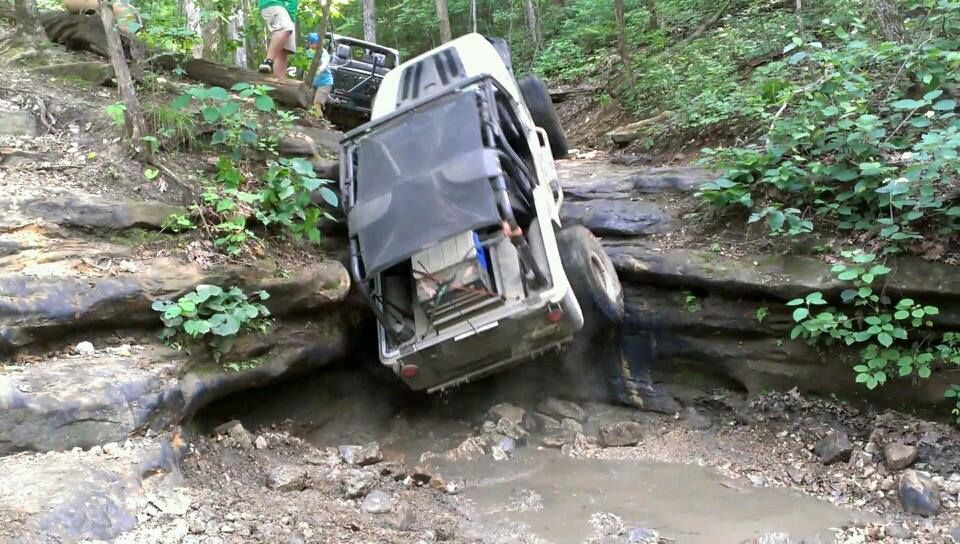 June: AngryTJ
Name: Luciano Verdura
Username: AngryTJ
Mods:
Engine:
· 4.0 I-6 w/ Brown Dog 1" MML & custom Hendrix hiline hood covering it up!
Transmission:
· 6 speed w/ Lopro mount
Transfer Case:
· NV241 w/ Novak shifter
Front axle:
· Dana 44 locked w/ Riddler cover, Superior Shafts, Synergy Ball joints, Alloy axle seals & lower CA skids
Rear axle:
· Dana 44 locked w/ Riddler cover, TnT Truss & Superior Shafts
Gear Ratio:
· 4:11
Suspension:
· Custom stretched rear 4-link 98" WB
· 1" Daystar BL
· OME 930/949 coils
· Front and Rear Antirock Swaybars
· Savvy Alum front upper and lower alum control arms
· 12" outboarded rear Bilsteins
Tires:
· 35x12.5r15 Goodyear MTR/Kevlars
Wheels:
· 15x8 Alum Raceline Monster Beadlocks
Recovery:
· Warn 9.5ti w/ Viking synthetic line. Poly Front half Rollcage w/ custom rear additions
Armor:
· UCF ultra high clearance tcase skid & engine skid, UCF Windshield armor
· Savvy Alum front bumper
· Warn Rear bumper w/ tire carrier
· Rokmen Sliders & Steering skid
· PSC 3" flare Defender Hilines w/ matching rear flares
· Genright Stretched corners & EXT tank
Accessories:
· JKS adj front track bar
· Tom Woods Driveshaft
· Currie Steering w/ Savvy tie rod
· 4pt harness'
· Balistic Fab Battery tie-down box
Awaiting install:
· Evo Front axle sleeve's
· Vanco Big Brake kit
· Front tie rod flip w/ raised sway bar brackets
· Gusset front axle C's
Final Mods list:
488 gears
Hydro assist
3 link front suspension
Yukon Zip or ARB lockers
Story:
I purchased this Jeep back in 2011 with the intent of a mild build and enjoying some offroading on the East Coast. Through Jeepforum I met a small group of guys that invited me to go wheelin for my first time at Rausch Creek, PA. Little did I know how I would get so hooked!
As the obsession grew my game plan was always to have a weekend warrior that would be able to drive to the trails, take a beating, and drive home. With that in mind I started to dig into many projects I would have never imagined trying on my own. I also received help from some great guys out there to get the rig where is it today. Like all of you my jeep has become part of my life.
Back in June I had the opportunity to take a cross-country trip to Colorado and Moab. What made the trip so unique was being able to drive my jeep from CT over 2,200 miles out there and wheel with a bunch of other forum members for 7 straight days! It was one of the greatest experiences a jeeper could have and I'm extremely happy with how the jeep performed. I hope to make it an annual trip to wheel with so many of the great guys on this forum and explore different parts of the US and the wheelin terrain it offers.
I still have a few things to do to the rig but I'm almost at the point where I can just wheel, repair and repeat. If you have any questions about my rig feel free to ask. Thanks for looking!
July: yellow_snocone
Name: Kyle
Username: Yellow_snocone
Mods:
3.25" RC lift
35x12.5x15 MTR's with kevlar
15x8 Mickey Thomson Sidebiters
MetalCloak overline fenders
SRC front bumper modified
XRC 800lb winch
quick disconnects
Banks cold air intake
Yellow top optima
1" MML Browndog
1" BL daystar
UCF ultra high skid
HP Dana 30 with aussie lunch box locker 4.88
8.8 with Artec truss, lock rite locker 4.88
Safari straps
hella lights
JB conversation SYE
BigDaddy Tie rod
Tom woods drive shaft
JKS Front track bar
Rear RC xflex control arms (temporary)
15 gallon genright stretch tank
Future plans- 4 link rear, outbound rear shocks, rear genright stretch armor and all
Build thread-
http://www.jeepforum.com/forum/f22/c...build-1420405/
Story: I purchased my jeep from a seller at Holloman AFB back in 2009 after my BMW had a gasket leak in the cylinder heads. I always wanted a jeep and got a great deal on this one. I started with a mild lift (2") and some 31's and did some wheeling and learned how to drive stock. After lots of learning I started upgrading pieces of my jeep with lockers and a few other mods. I took a dive when I had to upgrade my dana 35 rear and got a junk yard 8.8 and cleaned it up and welded on an artec truss. I'm doing lots of research on a 4 link for my rear with a stretch, here's hoping I do it right
.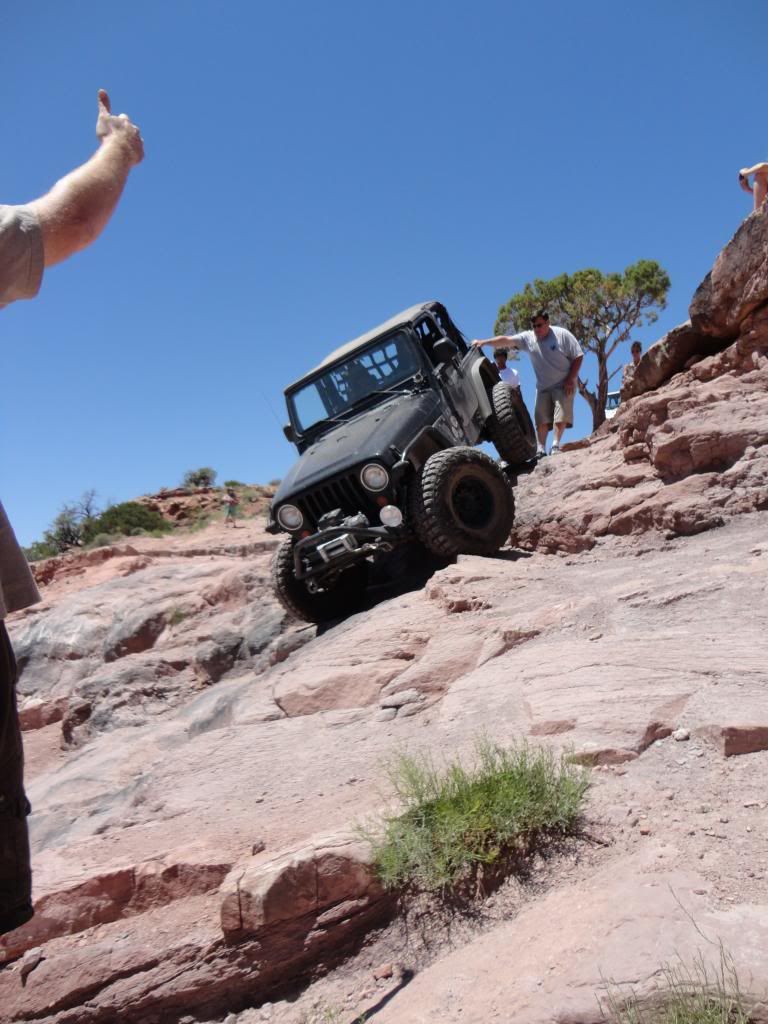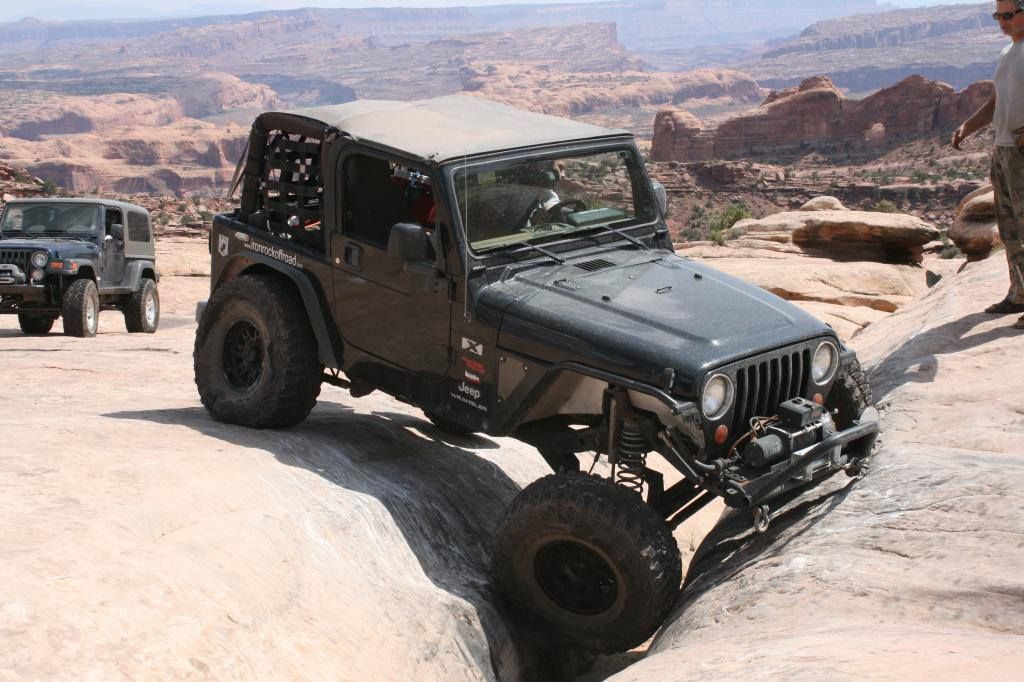 August: krughzn
krughzn
Name: Mike Krugh
Username: Krughzn
Mods:
2005 Jeep Wrangler Unlimited Auto
• Savvy Aluminum Gas Tank Skid
• Savvy Aluminum Full Corners
• Savvy Stainless Steel Wrecking Ball Tub Rails
• Savvy Aluminum Rockers with Chromoly Sliders
• Savvy Aluminum Front and Rear Bumpers
• Savvy LED Tail Lights Billet Housing
• Savvy Aluminum/Steel Under Armor –
• Savvy Aluminum 1" Motor Mount Lift – Integrated into Under Armor
• Savvy Aluminum 1.25" Body lift – CNC Milled
• Savvy Steering Box Aluminum skid
• Savvy Aluminum Bumper Guards
• Custom Hi-Steer by Blaine with hydro assist
• Custom mid arm 3 link front and 4 link rear
• Currie 4" HD Coil Springs
• Currie Rear Universal Antirock - CE-9902-18
• Currie Front Rock Jock III, Detroit, 5.38s
• Currie Rear Rock Jock III ARB 5.38s
• Vanco 17" Big Brake Kit with Master Cylinder
• Metalcloak Aluminum Oveline Fenders and Flares
• Currie 35 spline axle shafts
• Fox reservoir Shocks custom tuned by Wayne from Alltech
• Novak Transfer Case Cable Shifter
• Poly Performance Front/Rear Shock relocators
• Poly Performance LJ Roll Cage
• Alcoa Aluminum rims with OMF Rings
• Wrangler MTR/k 37" x 12.50" x 17" Tires
• Tom Woods Drive Shafts
• Derale Transmission Cooler with temperature gauge
• Warn M9000 with relocated solenoid pack
• 241 transfer case
• Viking Off Road Synthetic Winch line and Safety Thimble
• Rampage Soft Top
• I still have to install a 14" LED light bar in the front and two LED reverse lights.
Story:
I bought my first Jeep back in February of 2011. I found Jeep Forum shortly thereafter. The first person I met on the forum was a YJ fella named Joe Dillard. I had posted a question about a car hauler and he immediately PM'd me up and told me everything I needed to know about trailers.From there, Joe introduced me to Blaine and I had him build my Jeep. After building it up to where I figured I was just about done with the big stuff, I was told I should talk to Gerald about selling the Test Mule. Short story long, I bought it.
The Mule was set up almost perfectly. There were just a few things I wanted to change. I had Blaine swap in a 241 transfer case, replaced the Rancho shocks with Fox reservoirs and had them custom tuned by Wayne at Alltech.I had been talking to Blaine about his mid arm lift for quite a while and he knew it was on my list of upgrades I wanted done. Shortly after, I found a buyer for my Currie Hi9, ordered the Currie Rock Jock front and waited for Blaine to have the time, and Currie to finish building the axle.
I was lucky enough to not only have Blaine build my Jeep, but to have Joe Dillard help him. I couldn't think of two other people I'd trust more than them. I went up there every weekend and whenever else I could. It really is amazing to watch Blaine work and see how his mind works. When they finished, I couldn't be happier with everything they did. Blaine has taught me a lot in the two years I've known him and am really honored that he built my Jeep. I've only been able to wheel it once since I got it back, but there will be years of enjoyment to come from it.
See you on the trails.
Pictures: