JULY: Allgood_73
Allgood_73
Mods:
03' F350 SuperDuty Axles - Front HP Dana 60 with 5.38 gears, ARB, SOLID diff cover, 35 spline Nitro chromoly shafts, 35 spline RPM flanges, disc brakes. Rear Sterling 10.5 with 5.38 gears, ARB, and SOLID diff cover.
PSC Full Hydraulic Double Ended Steering
RCI Fuel Cell
14" King 2.5" IBP Coilovers
Modified Clayton 4 Link Long Arm Kit (True 4 Link Front & Rear)
Under Cover Fabworks Ultra High Clearance 1/4" Engine & Transmission Skid Plates
MetalCloak OverlineTube Fender
MetalCloak Extended Stretch Corner Guards
MetalCloak Rocker Rail
MetalCloak 6" Flares
MetalCloak Frame-Built Front Bumper
Goodyear 40" MTR with Kevlar Tires
TrailReady HD 17" Beadlocks
Cobra CB Radio
12VoltGuy Custom Switch Panels
PIAA Fog and Driving Lights
GenRight Flush Mount LED Brake Lights
GenRight Hood Louvers
Air Zenith On Board Air System
Alpine & JL Audio Sound System
Rusty's Offroad Radiator Skid Plate
Front Anti-Rock Sway Bars
Custom Exhaust
Tom Woods Driveshafts
Line-X Premium
Custom Roll Cage
Custom Rear Bumper
Stretched Front & Rear to a 102" Wheelbase
Corbeau Seats w/ Crow 5 pt Harnesses
Warn XD9000i Winch
Drake Fire Extinguisher
Hi-Lift
1" Daystar Body Lift
1" Brown Dog Motor Mount Lift
Lot more smaller items...
Story:
Less than two years ago I purchased an '04 TJ Rubicon in bone stock condition and drove it down to Nashville, TN from Peoria, IL. Like many others Jeep owners, the purpose behind it was to have a daily driver that could conquer most moderate difficulty trails on the weekend. But it only took a matter of months for the jeep addiction to kick in and the modifications to begin. Within the first 6 months, she grew to 35" tires, 4" Clayton long arm lift, 15" TrailReady converted beadlocks, MetalCloak front & GenRight rear bumper, Warn XD9000i winch, UnderCoverFab skids, and MetalCloak armor all around. Though the jeep was still street legal, it became a trailer queen in order to gain some extra confidence needed to handle all the local moderate trails and hit several difficult trails. Simply put, the Jeep was awesome... however, I still had a desire to hit the real bad boy trails.
After breaking a rear shaft and locker on the stock Rubicon 44, I decided it was time to start Project No Compromises. I came up with the name to remind me to never stop improving the build... no matter the time, cost, and effort. The first step of Project No Compromises was a set of '03 F350 SuperDuty axles. Things quickly piled on from there and I knew I was starting to get into some unfamiliar territory and needed to involve a shop that really knew what they were doing and I could fully trust. After working back and forth with Jimmy @ Essentially Ofrroad (EOR), we got some plans finalized and the work began. Over a four month span, they backhalfed the jeep, installed King 2.5 IBP coilovers, designed a badass roll cage, put ARBs in the axles, integrated Corbeau seats with Crow 5 pt harnesses, hooked up a custom switch panel, mounted a fuel cell and on board air system, fabricated a hi clearance rear bumper, and threw on some new 40" MTRs with 17" TrailReady HD beadlocks.
The end result: a beast of a machine that can hang with buggies on some of the toughest trails around here.
Pictures:
AUGUST: MO2500
Name: Mike
Username: MO2500
Mods:
Custom Mid-arm 4 link rear suspension
5" rear stretch to 98.5" wheelbase
Fully Tubed Back-half Frame with custom coilover hoops
12" Fox Coilovers setup with 6" up/down travel with ~2" of lift over stock
Profender Air-Bumps
Currie Anti-rocks Front and Rear
XJ Dana 44 Rear w/Custom 4-link Truss, and Disc Brake Conversion
Locked Front and Rear
4340 Chromo Axle Shafts
4.88 Gears
35" Maxxis Creepy Crawlers
Raceline 15" Monster Beadlocks w/ Aluminum Rings
Currie Front Track Bar and Bump Stops
Rokmen Rocker Guards for an LJ Unlimited
Savvy Corner Blanks with a custom hi-line cut
Custom 1" Raised Body Mounts
1" Brown Dog Motor Mount Lift
Custom Front Hi-Line fenders
Custom Front Winch Bumper w/Grill Hoop
Custom Steering Box Skid
Custom Rear Crossmember Bumper
Custom Full DOM Roll Cage
Custom Flat Belly Skid plate sheeted with UHMW plastic and separate transmission crossmember
Custom Exhaust to twist around the 4 link
GenRight Hood Louvers
LED Flush Mount Brake and Marker Lights
RCI 15 Gallon Fuel Cell
Tom Woods Driveshafts
Cage Mounted Suspension Seats w/5-pt Harnesses
Warn M8000 Winch w/AmSteel Blue Synthetic and Viking Safety Thimble
U-Pol Raptor Lined Interior
Quick Release Fire Extinguishers
AGM Battery
Uniden CB Radio
Sony Marine Sound System
Many other small items I'm forgetting to list....
Story:
About 4 years ago I purchased this Jeep off Ebay as my first vehicle. I was 18 at the time and had no idea what I was getting myself into. Although it was high-mileage 4 cyl it was completely stock, rust free and an excellent platform to start with and learn on. I found myself getting addicted to wrenching and modifying little things at first but that started progressing quickly. After a year I purchased my first MIG welder and that's when the real potential for a great trail rig was realized.
By this time I had a goal. My goal was (and still is) to build the most bad*** Jeep on 35s that can follow most rigs running 40s. I decided to skip the bolt on mods and start building everything I could, never compromising on any project and always working to improve the offroad performance. I designed and built a full roll cage that is tied into the frame in 6 places to improve safety. I've now set out on the task to improve the performance of the suspension. I built a rear mid-arm 4-link with 12" Fox COs and Currie Anti-rock that performs absolutely flawlessly. The Jeep will handle just about anything I put in front of it. I'm collecting parts now to build a mid-arm 3-link up front that I'm hoping will work just as well as the rear.
Overall this Jeep has been an awesome learning experience for me. If you had asked me 4 years ago if I'd be cutting the frame in half and designing and fabricating my own suspensions from scratch I would have told you that you were crazy. Yet, hear I am, having a blast modifying and wheeling my Jeep all over the country. Only a Jeep can give you that experience!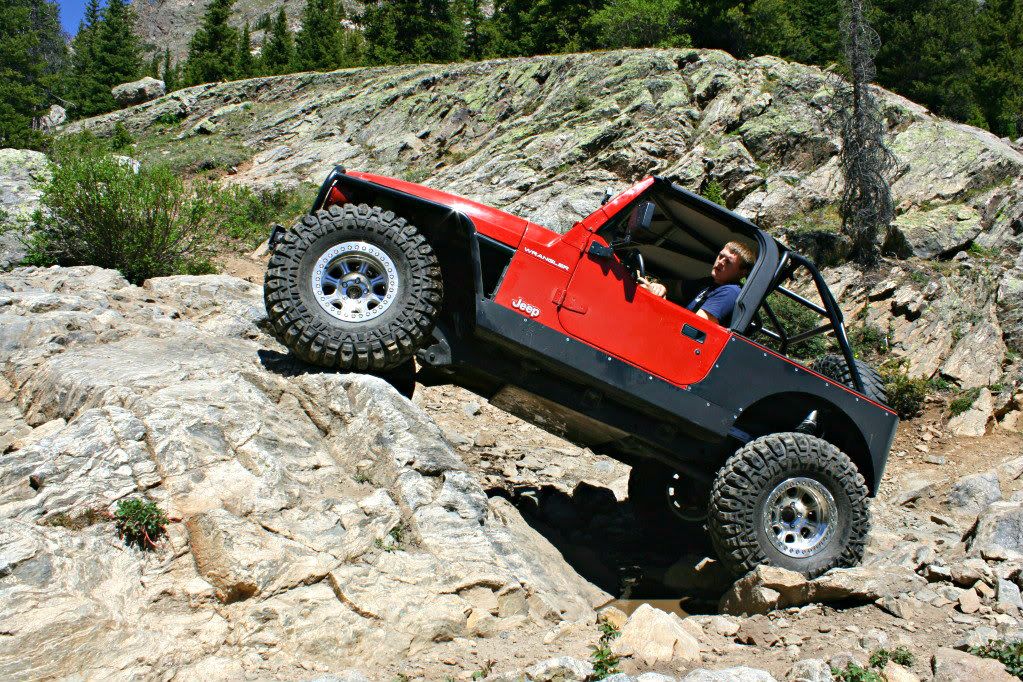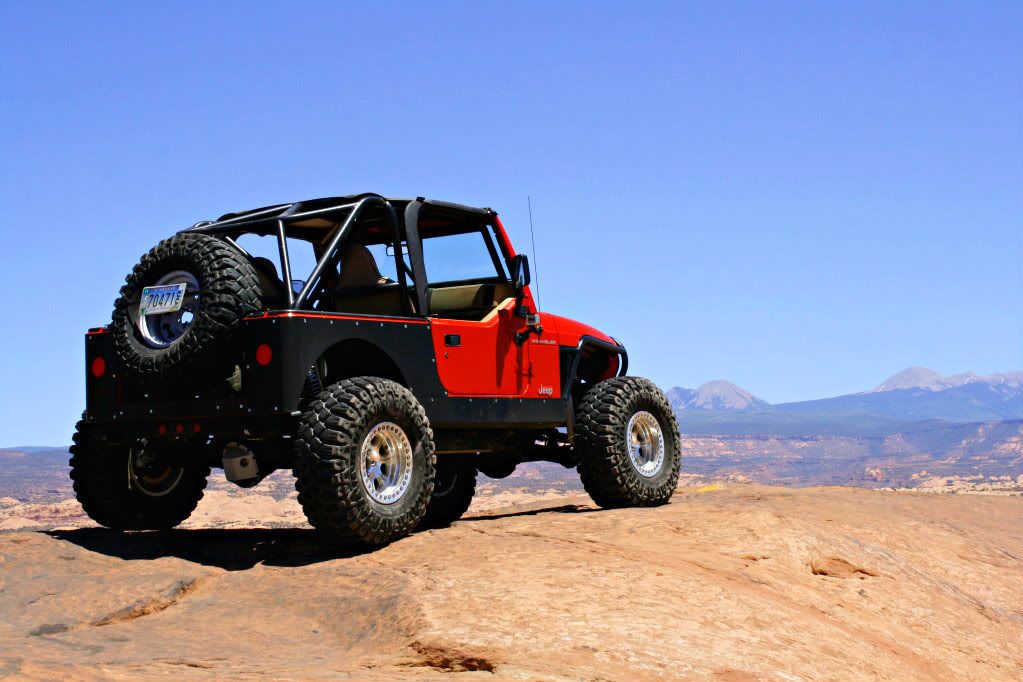 SEPTEMBER: bradentaala
Name: Braden Ta'ala
Username: bradentaala
Jeep Name: TAALA 2
Modifications:
Atlas 4 speed (11.7:1)
stretched to 104" WB (6" front stretch with keeping stock steering box location)
14" Fox Coilovers
Teraflex 3" speedbumps
Modified GenRight double triangulated 4 link
GenRight front 3 link
GenRight rear sway bar
HP KP 60 front (5.13's)
shaved 14 bolt (5.13's)
custom drive shafts (1350's)
ballistic fab rear truss system with shave kit
Detroit's front and rear
GenRight Comp Gas Tank
39.5's iRoks (for now)
walker evans beadlocks
TNT Customs High Line fenders (front and rear)
PSC hydro assist steering
1" lifted GenRight heavy duty body mounts
behind the axle tierod
Vanco hydro boost brakes
1" M.O.R.E MML
belly up skid
PSC rocker guards
custom front bumper
9.5ti winch
corbeau heated CR1 seats w/ 5pt harness
Kenwood eXcelon KDC-X996 deck
Custom ported subwoofer box
Diamond D612 subwoofer
Kenwood XR-1S Amp
Kenwood X450-4 Amp
Kenwood KFC-X463C 4x6 in the dash
RockfordFosgate T152's in the sound bar
Yellow top Optima
Cobra 29 LX CB Radio
FireStik Antenna and Coax
15lb CO2 tank onboard
Story: I purchased this jeep about 2.5 years ago... and NEVER thought the acronym "JEEP" would result to: Joyfully Eating Every Paycheck. After blowing up a D35 on 35" tires, it was time to re-build. At the time I thought 35's would suffice, so i did a super 44 (35 spline shafts) and a super 30 (30 spline shafts) with ARBs. A few months later i picked up a set of 37's and knew it would only be a matter of time before my axles would fail me. I spent about 6 months buying parts to get the build to where i wanted it, after months of head scratching and patients (to get everything to fit) i finally ended up with what i wanted (for now). The two biggest challenges were getting the atlas 4 speed to fit with my new crossmember going in for the rear control arms, and stretching the front 6" without moving the steering box from the stock location. My next big mods are 42's, new corners, and a custom cage.
Pictures:
OCTOBER: jeffro06
Name: Jeff Leininger
Username: jeffro06
Mods (optional):
265/75R16 Goodyear MTR/K's
OME 2" HD lift with OME shocks and steering stabilizer
Rokmen Mercenary Front Bumper
LoD Rear Bumper
Rokmen Sliders
Rokmen Corner Armor
Skidrow Engine Skid
Skidrow Radiator Skid
Skidrow Steering Box Skid
Metal Cloak Over Line Fenders w/4" flare
Xenon rear 4" flat flares
Superwinch EPi 9.0 winch, with synthetic line
Currie Antirock Swaybar
Rokmen Adjustable Control Arms (full set)
Rokmen 1" Billet Spacers up front
Cobra 75 WX ST 40 Channel CB
Currie Johnny Joint Front Adjustable Track Bar
Currie Currectlyn Tie Rod and Drag Link
Rampage Bowless Soft Top
Custom rear Storage Box with fire Extinguisher and Hi-Lift
Blue Monkey Speedo Healer
Viair 450P air compressor
Rubicon Locker Mod (Lockers work in 4HI)
Story (optional):
I previously owned a 95 YJ, which needed a rear axle swap, and front gear change, but when I came across this Rubicon I decided it was time for a change. I took the money I made from the YJ and put it to use by modding my Rubicon. I wrote out a build plan and I have been sticking pretty close to it. I've done stage 1 and stage 2, now I'm waiting for stage 3, which would be bigger tires, new wheels, gears and a tummy tuck. I'm pretty happy with the Rubi as it is right now, so stage 3 is a few years away. I've drove the Rubi to Moab and back in 2011 and plan to do so again in 2013. I wheel the jeep as often as I can, but not as much as I'd like.
Pictures:
NOVEMBER: marcus01tj
Name: Marcus Manley
Username: marcus01tj
Mods:
2.5 four banger. 5 speed with a Tera low 231
Waggy 44 front axle/ Ford 8.8 Rear. 4.88s both locked. with RCV axle shafts. PSC Hydro Assist.
3 link front, Triangulated 4 link rear with aluminum links. 7 inch rear stretch. 100 wheelbase.
37 BFG Red Label Krawlers on 17" Allied Rock-A-Thon Beadlocks.
Trail Cage. Corbeau Baja SS seats with 5 point harnesses.
Poison Spyder Flat Fenders and Crusher Corners. Chopped up Warn Bumpers. Warn Sliders. Warn M8000 winch.
DECEMBER: 97TJGUZZY
Name: Brooks Bickley
Username: 97TJGUZZY
Mods:
35x12.5x15 BFG KM2
15x8 Champion Beadlocks
Ford 8.8 with 4.88 gears and ARB
Grand Wagoneer D44 with 4.88 gears and Lockright
BBFab Longarms with Genright brackets
Warn Winch Plate with 8274 and Viking Synthetic Winch Line
Fox 14"x2.0 Coilovers in Front
Rancho 2.5" lift coils in rear with Old Man Emu Shocks
1" body Lift and 1" JKS Motor Mount Lift
Carolina Driveline Rear Driveshaft with Advance Adapters SYE
BBFab Rear Tire Bumper and Tire Carrier
AtoZ Rock Sliders
Poison Spyder Rear Corner Guards
BBFab Belly Up Crossmember and Skid
PSC Hydro Assist Kit
Warn Steering Box Skid
HD Steering with Chevy one ton Drag Link ends and 1.5"x.25" DOM Tubing
HD Trackbar with Ruffstuff Hiems and 1.5"x.25" DOM Tubing
S&W Racecars Front Sport Cage Kit
SOLID Mfg Diff Covers on 8.8 and D44
Yukon Chromo Shafts in D44 with Spicer 760 Ujoints
Harsh Terrain Behind the axle Steering Arms
Warn Hub Fuses in D44 Hubs
96" Wheelbase front slight front and rear Stretch
Cobra CB
High Lift
PRP Daily Driver Seats
M416 Camp Trailer with RTT
Story:
I bought this jeep in 2002 when I was a Junior in High School. I paid it off my Sophomore year of College, so the early mods were slow. The jeep has been constantly getting better as money allows. Sometime soon a new 4.0 possibly stroker will be finding its way into the engine bay. Looking forward to many more years of trail riding out of old Guzzy.
Pictures: