TJ Hummer Intake Write-up (Buick Airbox)
---
Hey guys,
After doing tons of research and junkyard scavaging, I finally got around to cuttin some holes in my Jeep
. The majority of my info I got from here:
http://www.jeepforum.com/forum/f27/write-up-hummer-cold-air-intake-326040/
I did do some things different though. So I'm making my own write-up
...
First off, I'll do some final pics: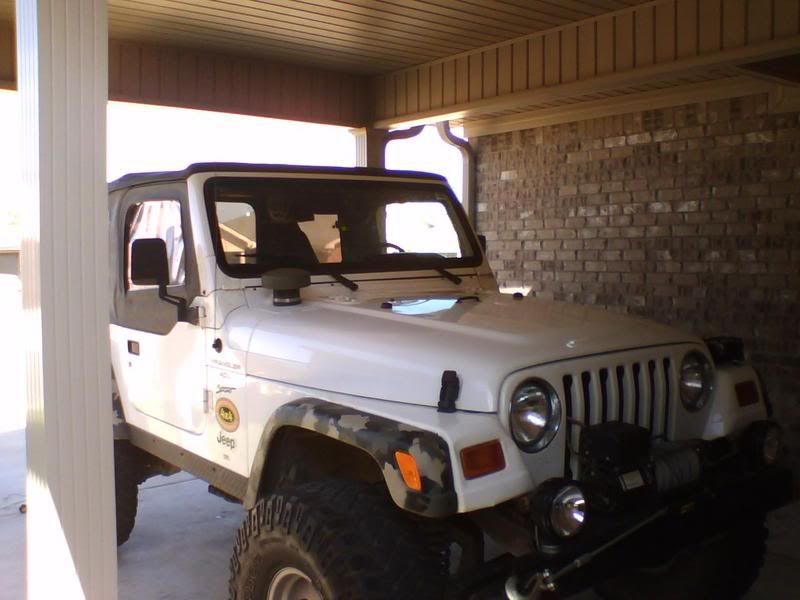 Here is a price breakdown and parts list:
3" Flex Hose(Autozone) - $20
Airbox from a 1992 Buick Century w/ 3.3L V6 - $25(I know I was overcharged)
New Air filter - $7
Items from Lowe's:
3" to 2" Rubber Reducer Coupling- $6
3" to 3" Rubber Coupling - $6
3" PVC plumbing flange - $4
3 5/8" Hole Saw - $20
1" Maskin Tape - $1
4 Small Bolts/Lock Washers/Nuts - $2
1 1/2" corner braces - $2
6" PVC end cap - $12
Grand total of $105...I well overpaid for the airbox but it was the only one I could find. I've seen guys get them for $10...and if you have the hole saw, that's an extra $20 you can take off...
Before you begin, you are going to want to take off the cowl. I was lucky as the ac/heater air intake was not fully boxed in on mine. It was not boxed in until 2000 model jeeps...(look at the writup mentioned above to see what you will have to do if yours is boxed up)
So, to begin...I started by preparing the airbox for the intake pipe. I cut off the plastic bracket on it: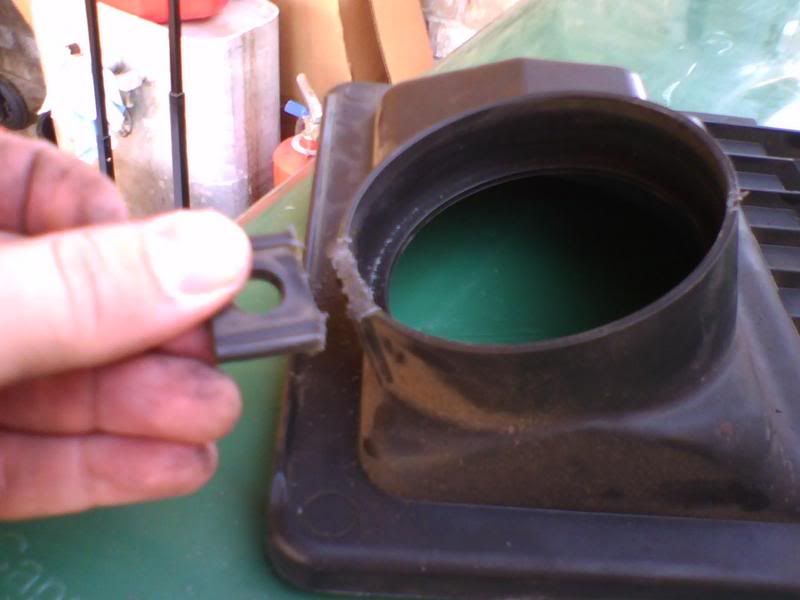 Then I found where I wanted my airbox lid to be at under the hood and marked the intake tube on the jeep. Then I cut the jeep intake tube. You will have to "widdle" down the 2" side on the 3" to 2" coupler as the jeep tube is actually 2 5/8"(no problems there). Now you can put the coupler on the buick air intake lid and attach it to the jeep tube.
Say your prayers and pull out the hole saw and drill
...You are about to cut the firewall to go into the cowl(You should already have the cowl off). Some others went to the left of the ground. I chose to go to the right...Either way will work, but going to the left will give you a little more room on the flextube. As others have said, measure twice, cut once!!!
Now you have the first hole. Go ahead and mount your airbox/flextube(you can look on the other thread for airbox mounting options. Somehow I cut mine perfectly to where it rests on the sparkplug wire holders and doesn't need bracing
...
---
CURRENT: 2001 WJ V8 LIMITED - Quadratrac, 60th anniversary, Fat Bob's 2.5/2 lift, HID's, roof rack, 31" Rugged Terrains, 5k lb Curt Hitch

SOLD: 2000 WJ 2WD CONVERTED TO 4X4, 97 TJ ON 35'S, 95 XJ ON 33'S