TJ Front Bilstein 5150 orientation?
---
So I ordered a set of Bilstein 5150s for the front of my TJ. And now that I have them in-hand, I'm wondering which orientation to mount them in? My plan is to use my old Currie Shock shifters as my upper mount. It looks like I could just drill an off-set hole in the 'bottom' face and bolt 'em on. Depending on where I put the hole, I could orient the bracket further in or out. Is there something detrimental about mounting the reservoir inward (toward the frame) with the 'body' out-board? If a tire is going to rub, I'd rather it rub the shock body instead of the reservoir.
The other option is to modify the whole 'bucket', by cutting the rearward bracket edge and somehow building it back with more clearance. I don't really want to do that right now because this front-end project has taken long enough already.
Everything is still apart with my front end, so i can't just bolt 'em up and check for clearance at the moment. I'm just trying to get a heads-up on how others mount them.
btw: If you have pix, please post 'em!
---
2001 TJ; 1999 XJ; 1993 ZJ
Registered User
these are the brackets I'll be using for the upper fronts, if I can make them work: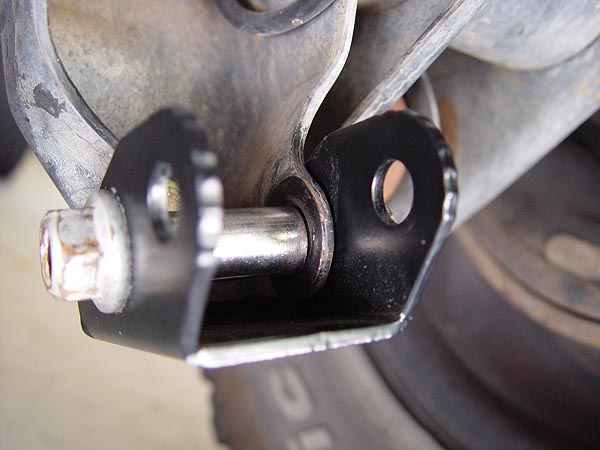 (this is not my pic... it belongs to 4x4xplor.com)
---
2001 TJ; 1999 XJ; 1993 ZJ
Registered User
Anyone running these up front??? I can't be the only one...
---
2001 TJ; 1999 XJ; 1993 ZJ
Registered User
Join Date: Mar 2006
Location: Severn, MD
Posts: 91
What shock mounts do you have on the shocks? Stem up top like the stock? An eye mount? I wouldn't use the Currie rear lower shock mount in the front. I would use the JKS shock conversion, if you have an eye mount up top. I have a new one if you want it, or I'll list it in the classifieds.
Registered User
The front upper mount is a regular eye style. I've got a left-over set of the currie brackets (like the pic)... turn 'em upside down, drill a large hole in the bottom, and bolt them up. But what I was wondering is: What orientation should I mount them in? I think I may be able to make the reservior fit inboard. But I was wondering about the clearance.
---
2001 TJ; 1999 XJ; 1993 ZJ
Registered User
Update:
This is the way I mounted them: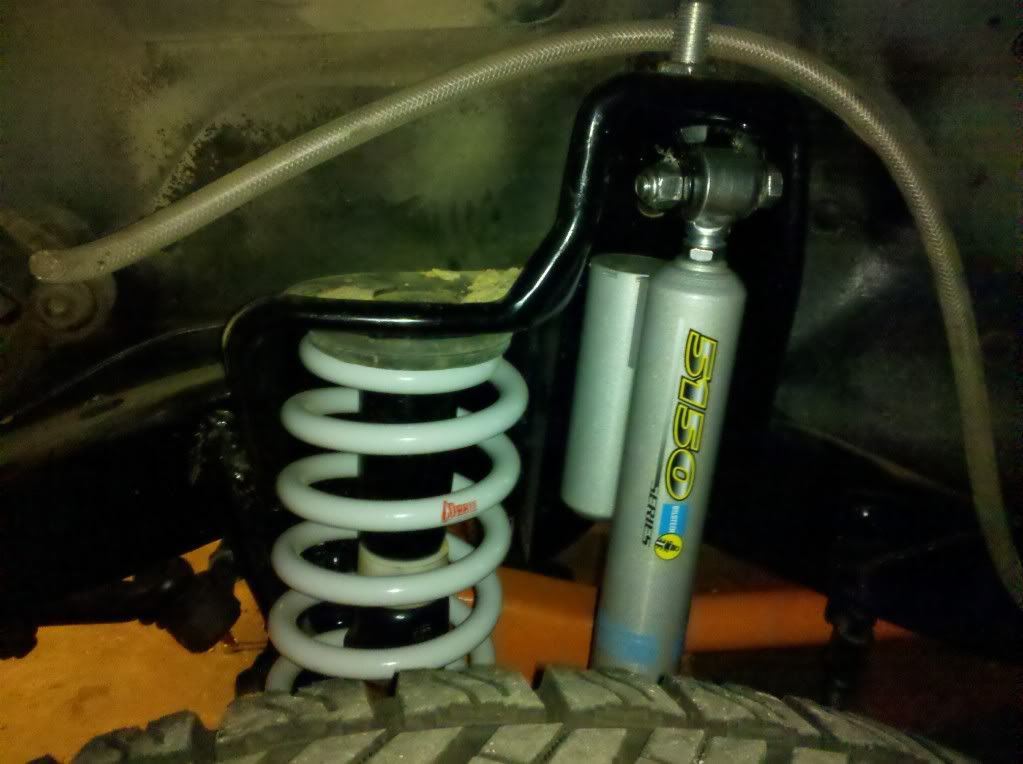 So far, so good. But I don't have long enough brake lines yet to fully flex it out with the swampers mounted (instead of the street tires). It looks like it MAY rub the tire on the shock body if I'm turning hard. But I won't know for sure until the project gets completed. Hoping Santa brings me some brake lines for Christmas!
btw: don't mind the air hose tucked behind the bracket... it's part of my OBA, which is now hooked back up properly.
---
2001 TJ; 1999 XJ; 1993 ZJ
Registered User
Join Date: Aug 2001
Location: Dubai, United Arab Emirates
Posts: 5,161
Never had a problem with them up front - but if you decide to put a set of these on the back too, be VERY careful about the passenger side rear. The reservoir needs to be facing the back of the car, and make sure the lock-nut for the top mount is set FIRM.
If it rotates around, then on compression the shock will swing forwards and hit the trackbar mount, ripping the reservoir off the shock and making it useless.
Some things you learn the hard way. Love the shocks though.
---
To view links or images in signatures your post count must be 10 or greater. You currently have 0 posts.
Currently Active Users Viewing This Thread: 1

(0 members and 1 guests)
Posting Rules

You may post new threads

You may post replies

You may not post attachments

You may not edit your posts

---

HTML code is Off

---