Registered User
Join Date: Aug 2008
Location: Windham, ME
Posts: 1,106
Swaybar QD questions
---
I was out doing some wheelin' with a friend this past weekend, and when he pulled his GC up onto a rock to check his suspension travel I decided I'd have to do it afterward. Well, I don't have as much as he does. In fact, it doesn't seem like there's very much travel at all.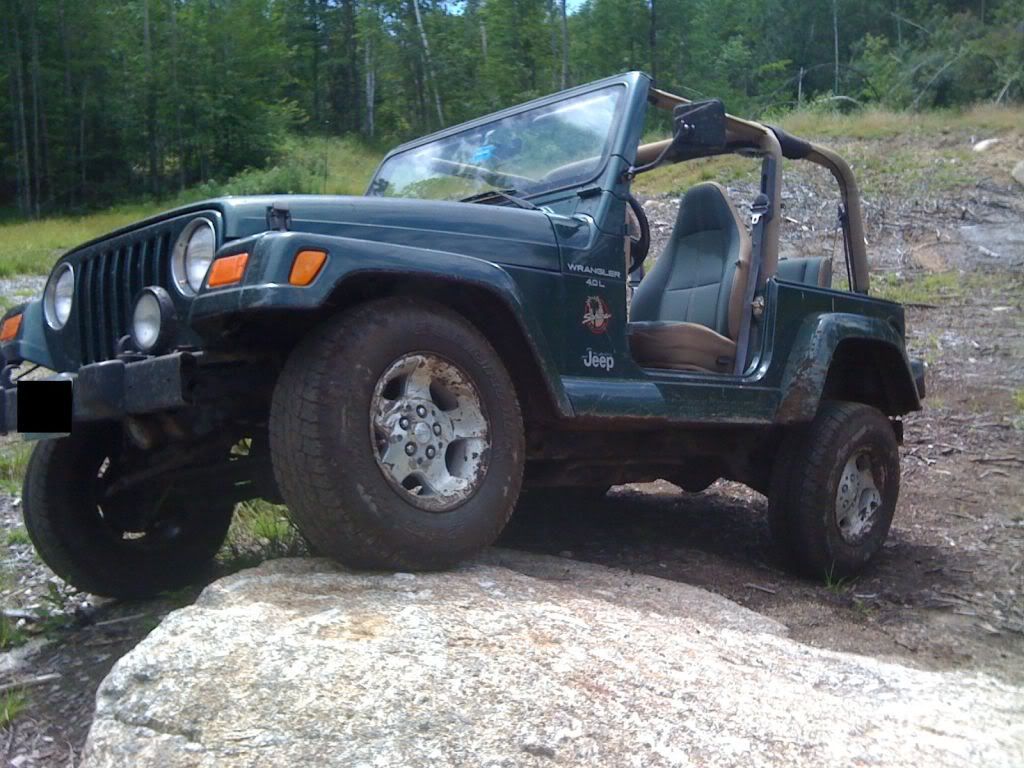 I've been planning on getting swaybar QDs for a while but "haven't really seen a need" so far - now I do, though. Here's where it gets confusing. I've seen kits from JKS (the original IIRC), Skyjacker (but don't recall if they had them for stock heights), and Warrior Products (least expensive.) Are there any reasons to go with one over the other, besides price? And when I get that front end all dangly, what about my poor rear axle which, I'm guessing, will still be limited in droop?
---
Phil

'90 YJ w/4.2l & 4.0l head, Weber carb, 5-speed, 4" RC lift, 33x10.5x15 BFG MT KM2s.
Registered User
Join Date: Jun 2008
Location: Clearfield PA
Posts: 250
for the most part, they all serve the same purpose up front. i know some are easier to disconnect over other types. i dont have any experience with any ones other than my cheap rustys offroad disconnects. as far as the rear goes, leave it alone. i think i have heard on here that it is not a good thing to disconnect the rear for safety reasons. maybe someone with more knowledge will chime in.
---
2011 JKUR 6 speed.
The Weekend Warrior
Registered User
Join Date: Jan 2009
Location: Flint, MI
Posts: 335
A set of swaybar discos will help you flex quite a bit more than that. IMO, the JKS are the best and easiest to deal with but you pay a premium for them. Any other brand will get the same thing done, but other brands are known to rattle when driving on the street. There are also a few write ups on using Clevis pins from a local hardware to make your own version on the cheap. Personally I just carry a wrench and remove the bolt between the sway bar link and the axle bracket. It only takes a minute or two and it was free.
---
Black Jeep Society Member
Registered User
Join Date: Jun 2009
Location: Rockwall
Posts: 1,074
I used the bolt removal method for over a year, works great and is free. When you disconnect the swaybar and rotate it up out of the way there is a small support on the front bottom of the spring perch that leaves a hole behind it. This is a great, convenient place to zip tie the sway bar links and hold them up out of the way of the tire.
Jeep Homemade Swaybar Disconnects
I then ran with the home made discos above for 2.5 more years before the lift. All they do is eliminate the bolt and make the job tool free. Buy extra partss to keep spares in the Jeep and use extra washers to keep everything nice and tight.
When you get around to lifting the Jeep you'll need new sway bar links and upgrading to commercial links can be done then.
---
-Darkstar, judy-judy. I'm going in for guns.
--
-Stick, splash one!
Currently Active Users Viewing This Thread: 1

(0 members and 1 guests)
Posting Rules

You may post new threads

You may post replies

You may not post attachments

You may not edit your posts

---

HTML code is Off

---