Registered User
Join Date: Aug 2010
Posts: 16
Suspension Question!! How to install coil spacers
---
I bought some of the poly spacers to lift my jeep up 2" just so i have a little more tire clearence for the 31" tires. My question is, do i have to drop the front end and dissconnect the spring arms, track bar, and all that other stuff to get the coil springs out just to put the spacers in?? Or can i just use a coil spring compressor to compress the spring small enough to slide the spacer in up top? Any info id appreciate...
Registered User
Join Date: Jul 2010
Location: N.IL
Posts: 133
IMO it is safest to just disconnect the shocks, sway bar, and maybe the track bar. Then just jack up the frame until there is enough room to install the spacers. The link arms should not need to be removed.
I really do not like to use coil spring compressors if at all possible.
Registered User
Join Date: Aug 2010
Posts: 16
IMO?? sorry i dunno what that is lol...Whats bad about the spring compressor?? im just curious. Just possibly damaging the spring? Or does it take away some of the spring stiffness?? Im new to all this suspension stuff so sorry if my questions seem kinda like car knowledge 101 lol. I looked at my shocks and i dunno if its just me but they dont look like shocks lol well maybe half of a shock?? The pic is of the front and the back is the same but bigger coil springs. Based on the pic is there anything you can tell me?? Would i just slide the spacer over that and then the spring sits right on the spacer? Also where would be the best place to jack up the frame?? could i do it from the front axle or the frame along the side right under the doors? Again i apologize if im asking dumb questions. Im trying to become more versed in suspensions lol I appreciate the response. Anything else you can tell me would help a lot. Im spraying the underbody with the linex that they spray truck beds with so id like to get the spacers in the same day. Thanks.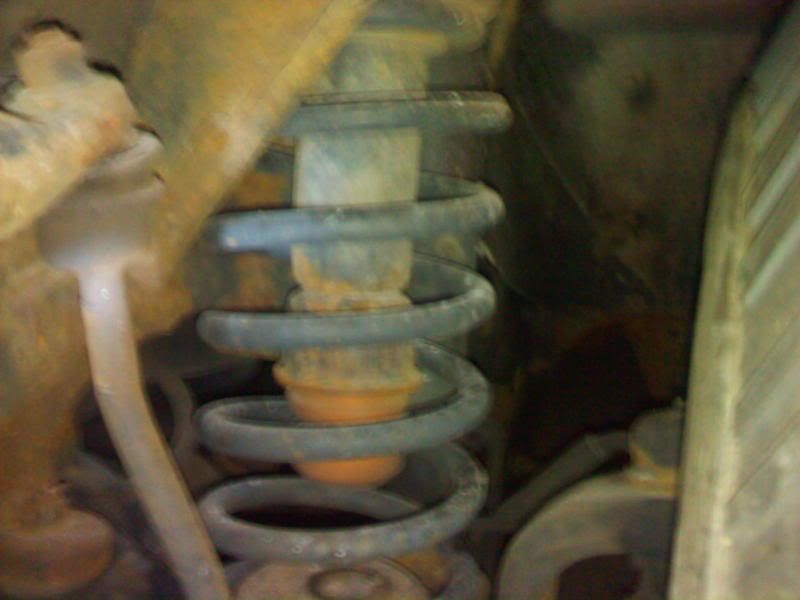 JEEP FREAK
Join Date: Apr 2004
Posts: 26,288
Registered User
Join Date: Mar 2010
Location: Mount Holly
Posts: 116
Thats not your shock, thats what prevents you from bottoming out, its a bumper/stop. Your shock is actually the black tube behind it in that photo.
---
2003 Yellow TJ
Currently Active Users Viewing This Thread: 1

(0 members and 1 guests)
Posting Rules

You may post new threads

You may post replies

You may not post attachments

You may not edit your posts

---

HTML code is Off

---