Now it was time for the good stuff. Installing the new components.
The new seal and bearing housing is a two peice unit, that has a d44 axle bearing race pressed ione, and another that is designed to bolt on over the d44 race.
It is very important to get the torque sequences right to ensure good sealing, so we again, followed the supplied directions perfectly.
Using the large nuts that were supplied as spacers, we torqued the first plate to spec against the original housing flange.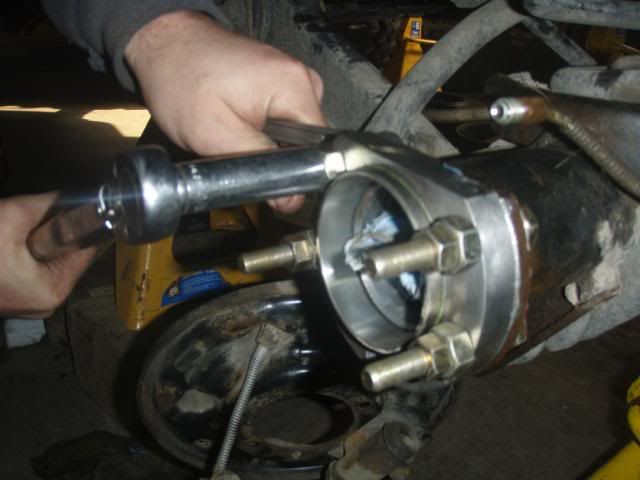 Next, with a supplied drillbit, we drilled a 5th hole though the housing, using the new retainer plate as a guide.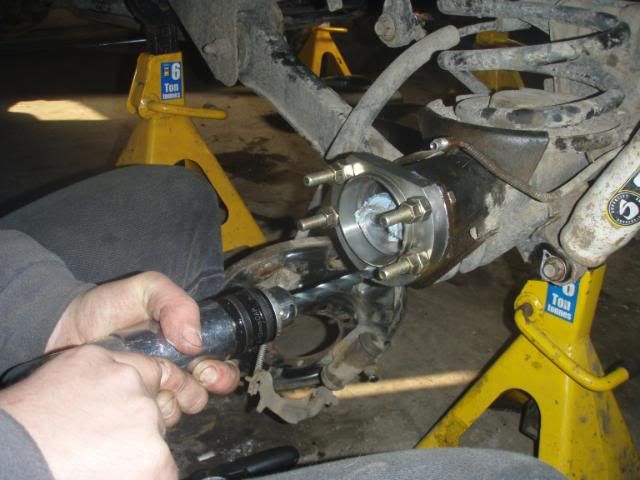 Next came the stock drum brake backing plate. For people who can follow directions from the beginning, your shoes will still on the plate at this time. :thup2: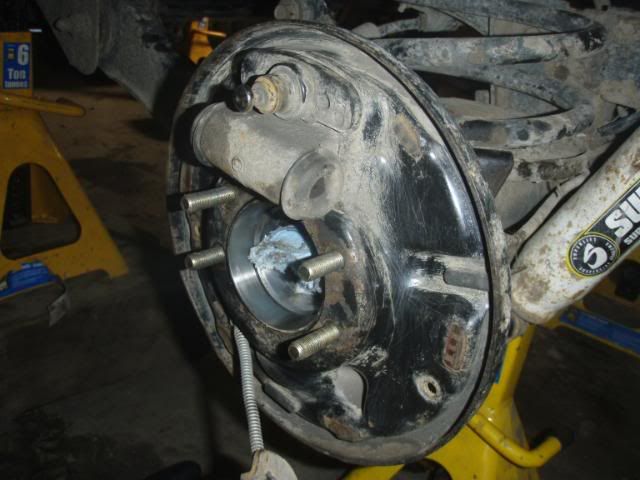 Next came the second half of the seal housing. Again, we used the 5th hole in the housing as a guide (after torqueing to spec), and drilled through the stock backing plate.
You can see in the picture that the 5th bolt installs from the opposite direction as the other 4. This bolt goes in before the axle shaft.
Unfortunately our camera sense faded towards the end as it was getting late. The remainder of the job was pretty much the reverse of the start, except this time we didnt need to address c-clips :thup2: :thup2:
Slid the shafts in, slip the retainer plates over the 4 protuding studs, and torq them to spec.
Here is a shot of one of the axles supplied with the kit.
I can honestly say this was one of the best thought out and well manufactured after market products I've installed to date. No additional grinding, fitting, modifying, or anything of that type was required. It just went exactly how the directtions said it was supposed to.
The kit has been in for just about a week, and about 600k now. No signs of leaks what so ever.
It goes out on its first trail test this weekend.
Just as a disclaimer, this is by no means meant to be detailed install intructions for anyone getting the kit. Superior supplies a 6 page set of instrucitons with some of the best pictures and details I've ever seen for an after market product.
This is just a writeup and review from some guys testing the kit. Hopefully providing some feedback for anyone interested in this type of upgrade.