Long story, but I would appreciate some advice.
Jeep: 2006 LJ, ~55k miles
For a couple days I have heard a high pitch squealing noise that lasted ~30 seconds after I start my Jeep. It doesn't happen every time, but it is the worst in the morning, after the jeep has sat overnight in cold upstate NY. I assumed the squealing was the serpentine belt and the cold temperatures were making it worse, especially first thing in the morning.
I inspected the belt, which appeared to be in great shape, but replaced it anyway, Belt from NAPA ->
NBH 25060882
. I also noticed some wear on the idler pulley and tensioner pulley so I replaced them too, just to be thorough.
I started the car (which was squealing pretty good right before the replacements) and the noise was reduced to a whisper (this was around 4pm, ~65F outside).
Since there was still a little squeal, I double checked everything and even though there is an auto tensioner, the belt felt really loose... I could deflect it 3/4"-1" by pushing on it. I quadruple checked the belt to make sure it was the right one (which it was) and measured the length myself.
Next, I looked at the tensioner assembly... and even though I just put on a new belt, the assembly was near the end of its available travel. To take an image from getahelmet.com's write up, the yellow indicator was ~1/2 way to the red indicator, as seen below.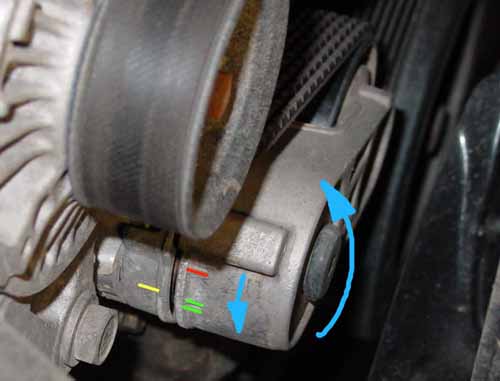 Figuring the tensioner could be worn out, I replaced that too, but the belt ended up being only slightly tighter than it was before, if at all. I then called it a day and left the car overnight.
I go to start it this morning (~40F) and the squealing is back in full force. Naturally, I was pissed so I went back to the store and bought a slightly smaller belt
Dayco 5060880
(88.0" long vs. 88.25" long).
The shorter belt bet is tighter than the OEM replacement one and the tensioner arm has more available travel. The Jeep has stopped squealing for today, but I'll wait till tomorrow morning to see if it really stopped.
If you have hung in this long, here are my questions:
Does anyone know what could cause the belt to become so loose, even after I replaced all the worn pulleys?
Will there be any problems if I keep running with the slightly shorter belt? (it is the same width and # of ribs, just slightly shorter... I can also throw the OEM replacement one back on for the summer when it seems to be a non-issue).
Any other thoughts/ideas?
Thanks
-Terry