GUNKEL
Thanks for the opportunity and the chance to enter!
Name: Greg Gunkel
Username: Gunkel
Specs & Mods:
2006 Jeep Wranger Unlimited (LJ) *06' LJ build...Fireproof*
Rubicon express 5.5 springs, long arms, belly pan, quick disconnects
Rubicon express mono tubes and steering stabilizer.
Poison Spyder HD Steering and steering gear skid plate
4.0 auto
D44/30 combo with Ridler covers
NP231 with advance adapter SYE kit
Tom Woods rear drive shaft
37" Goodyear MTR's on Spyderlock beadlock wheels
Homemade front bumper/stinger/winch mount
Homemade rear bumper/tire carrier
KC windshiled light mounts and a set of daylighters with custom grilles
Ramsey winch with synthetic rope and HD hook
Poison spyder rear crusher corners with LED tail lights and custom LED marker lights
SRC front tube fenders with custom tube flares, LED turn signals, and LED marker lights
Poison Spyder Helldaro rocker guards
Poison Spyder full cage kit with spyder gussets and spyder web gussets
Beard seats/Simpson harnesses
Custom LED ambient lighting
Texas Ranger CB, firestick antenna
Gentex rear view mirror with homelink, temp, and compass
Optima blue top battery
PPG base coat/clear coat paint system
Upol Raptor tinted*liner
Current projects:
D44 front axle: Reid racing knuckles, stage 8 spindle nuts, e-locker or ARB, 5:38's, warn hubs, trussed, etc.
D44 rear axle: Detroit, 5:38's, trussed etc.
Story:
I purchased this vehicle back in February 2008 from a friend of mine that owns a local junk yard, the vehicle was a "burn unit" that had obviously been totaled by the junk yard. Over the last year and a half I have removed/rebuilt almost every nut and bolt on the jeep with my own two hands. The only thing that I did not do myself was bend the front "hoop" for the front bumper (lack of tubing bender), paint work, welding, fabbing, etc. was all done by me. I actually built this on a budget as well, many of the parts were either craigslist finds (seats, winch, front axle), closeouts that were discounted (PSC corners, steering), jeep forum vender discounts (lift, shocks, SYE, knuckle's) or ebay finds (CB, mirror, harness's). Many thanks to all of the jeepforum members who provided inspiration throughout this build, along with motivation when my wife/kids were wondering if I was having an affair! (honestly, I swear I am down at the shop working on the jeep).
Pics: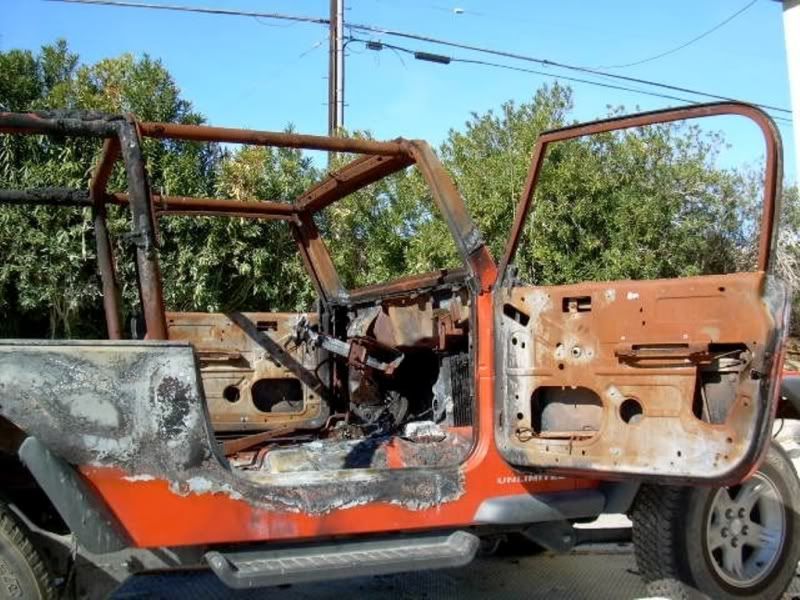 REDLYNER
Name: Jay Callaway
Username: REDLYNER
Mods (optional):
*
Alloy Rubi 44's
ARB Lockers*Front & Rear
4.88's
35" Trepadors
RE 3.5" Lift
TNT Front Tube Fenders
XRC Rear Tube Fenders
Poison Spyder Stinger
Poison Spyder Roll Cage
Warn M8000 Winch
On Board Air
Story (optional):
*
Rock crawling waxer. I usually hit 25+ trail runs a year and spend as much time cleaning it as I do wheeling it. This TJ has been rock crawling all over Moab, Colorado, North Carolina, and soon Tennessee and Kentucky.
*
Slowly built. Stage by stage and the 37"s arrive next week! Low center of gravity crawling.
Pictures:
AW12345
Art Wagner
*
aw12345
*
2006 wrangler SE
2.4l 4 banger that can hang with the big boys
Here is what has been added and modified in it's current state
All the work and mods have been done by me, including regearing, all welding, tube bending and wrenching
Dana 44 rear axle with discbrakes out of a LJ and Superior chromoly axle shafts
Dana 30 Highpinion with TNT truss, currie 2" Johnny joints on top and Superior chromoly shafts
4.88 gears ARB lockers front and rear
RE 3.5" springs, Currie control arms, Fulltraction tri link in rear
Modified control arm mounts that are ramped in the rear to help slide over rocks
terraflex belly up, J Woods rear drive shaft and sye,
Genright fullo aluminum rear corners.
Home made rear diffslider,
Home made tube fenders and inner fenders out of aluminum
Home made rear tire carrier
Home made engine and trans skid, steel frame with ¼ thick 616o aluminum slid plate
Home made front hoop and mini stinger
Modified currie front trackbar, and mount
Currie steering with flip kit
Modified terra low belly up
terralow 4:1.
35" baja mtz's on 15x10 mickey thompson classic rims
poison spider rocker knockers
viaair onboard air with a 2.5 gallon air tank. Mounted on top of the bellyup
This runs the ARB lockers as well as the onboard air
In cab winch controller
Currie antirock in front
S and W front cage
Poison spider rocker knockers
I bought this Jeep brand new in September of 2006 and it stayed stock for 4 months
After that it has pretty much been wheeled every weekend and I still drive it every day to work. Done a lot of different trails with it, the trails in
Moab are about the most fun I have had with it. Ran Dusy Ershim with it last week man what beautiful scenery.
I have ran darn near every available trail in So Cali and beyond with it. This fall it's going to visit some of the hammers
I love wheeling and wrenching on my little yeller Jeep, so far she has never let me down.