Registered User
Join Date: Sep 2011
Location: Decatur
Posts: 18
Oil Pressure Sending Unit
---
Good Morning,
I need some technical advice on how to identify and reach the Oil Pressure Sending Unit. I have searched and read many threads and I beleive I have all the information I needed, but when I went out to complete the project, I could not reach the area. I tried from under the vehicle and from the top. I am frustrated because every thread I read, simply says unplug the cap and unscrew it. It should be simple.
I know many of you will laugh at this question but I am a noob. I got my jeep 3 months ago and have been reading this site ever since. I know you read this everyday, but it is amazing how much info is on this site. I got suckered into Premium Membership with the Big Giveaway and Membership Drive so I plan on posting a lot more. Please have patience.
Thanks for all the help.
---
War Damn Eagle
Registered User
Join Date: Feb 2011
Location: Rutherford
Posts: 44
On my 97 it's located just above the oil filter. Unplug pigtail then unscrew sending unit.
Registered User
Join Date: May 2011
Location: Port St. Lucie
Posts: 152
Yeah its real easy, it's just on top of the oil filter. I did from the top but u might be able to get it from bottom if u remove the oil filter.
---
2000 Tj with 4" lift and and 33"s, she's a work in progress got some other perfomance mods as well.
F350 King Ranch Turbo Diesel on 35's
Web Wheeler
Join Date: Feb 2007
Location: Manchester
Posts: 5,814
This pic is a YJ Wrangler but the location's the same.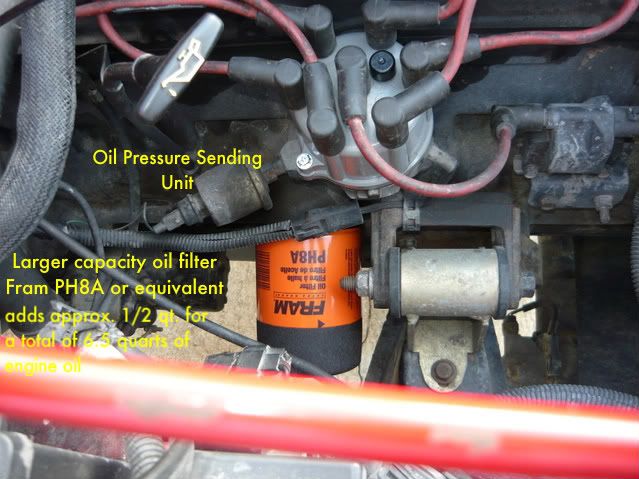 Registered User
Join Date: Mar 2007
Posts: 236
When you go to install the new one, don't put any thread tape on it.
---
1997 Jeep Cherokee Country 4.0 4X4 8.25 rear
2006 Jeep TJ Sport Auto White Jeep Club #90
Quote:
I'll do you one better. Friday afternoon.

Though to be fair I have washed my balls off in the sink once or twice.
Registered User
Join Date: May 2010
Location: Tamarac
Posts: 243
I own a 2002 4.0 ...with DIS...the OPS is threaded into the block on the right hand side just below the coil rail connection can't miss it
Currently Active Users Viewing This Thread: 1

(0 members and 1 guests)
Posting Rules

You may post new threads

You may post replies

You may not post attachments

You may not edit your posts

---

HTML code is Off

---