Apex
Name: Brian
Username: Apex
Mods: Rubicon Express 3.5" Longarm, 35x12.50 Goodyear old style MT/Rs wrapped around 15x8 Cragar Soft 8s, Superior Super35 kit, rear ARB, HP30, front lockright, 4.10 gears, Advanced Adapters SYE, Tom Wood front & rear driveshafts, Currie AntiRock, Metalcloak Arched tube fenders, Rokmen steering skid, Savvy front bumper, Savvy corner armor, Warn M10000, Raingler nets, RockHard bolt-in cage, Riddler diff cover, ZJ tie-rod, Herculiner, Uniden Pro538W CB, full and half doors, some frame mounted sliders and a single surviving KC daylighter.
Future/in progress mods include: 35 spline detroit locked 9" rear, triangulated rear 4-link, outboarded shocks, 98-99" WB and maybe some 37"s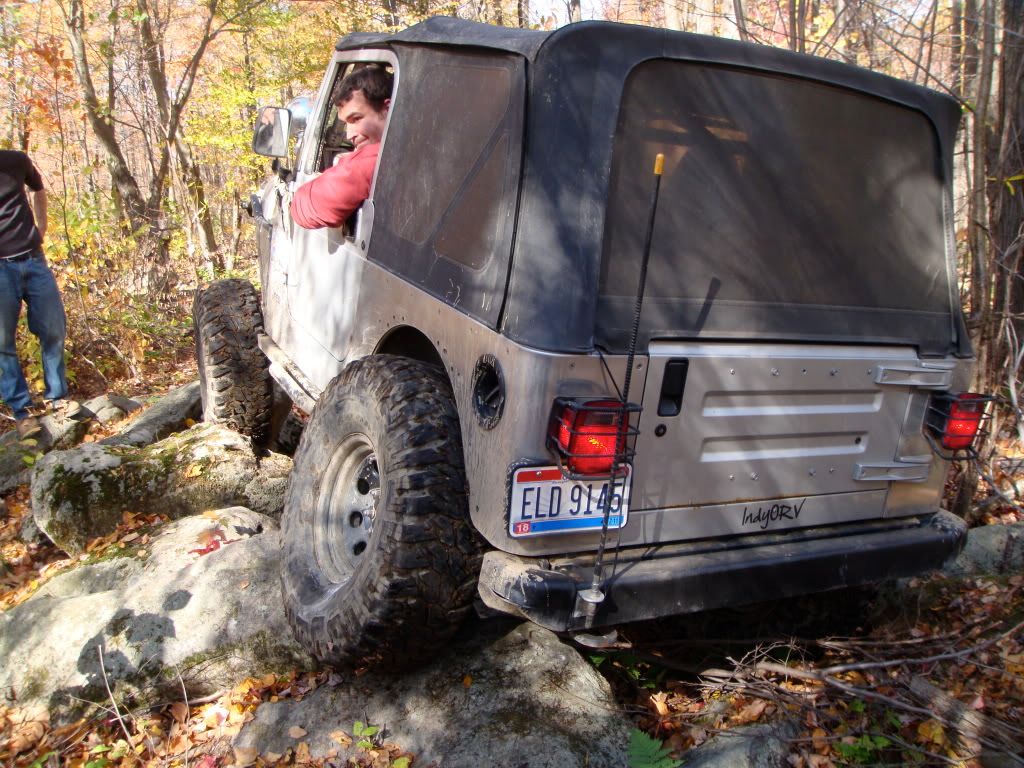 frAnkin_ruBi
Name: Jonathan Rahmani
Username: frAnkin_ruBi
Mods:
Currently a 2005 Jeep Wrangler Rubicon with;
4.0 inline 6
NSG370
NP241
5.5" Clayton long arm lift w/4-link rear suspension
Bilstein 5100 Shocks
JKS 1" MML
Daystar 1" Poly body lift
JKS quick disconnects
38x15.5x15 Super Swamper TSL radials
5.13 Yukon gears
Front Yukon Dana 44 chrome moly axle shafts with locker - 30 spline
Rear Superior Dana 44 chrome moly axle shafts with locker - 30 spline
Tom woods CV drive shaft
AEM intake w/ Airraid TBS
Catback straight pipe design
Heavy duty twin compressor OBA w/ 2.5 gallon tank
Rugged ridge rear bumper w/tire rack and fab'd hi lift brackets
Future mods and current projects:
Finish custom designed hood scoop with ram air and cowl induction
Homemade front tube fenders
Gen right rear corner guards w/ homemade tube fenders
LOD competition stinger front bumper
Warn 9500ti
Rock-jock Dana 60 front and rear axles w/ ARB locker and 5.13 yukon gears
RIPP supercharger
Story:
I first bought this jeep back in 2008, a couple of months after I had totaled my previous TJ. I was able to salvage everything from the wreck except for the lift which bummed me out, because I had been so used to going offroad with more ground clearance. As the months went by I slowly started to become envious of modded jeeps that I passed by, and eventually convinced myself that I need to build a bigger and badder jeep than before. After countless hours of research, I finally started to order all the suspension and axle parts to make it drivable as soon as possible. At this point the welding skills needed to install my long arms were too great for me, so off to the shop it went. After I got her back I finished her up and took her out and so far she has handled like a dream.
Many more thing are still on the agenda to get done, and I hope to have the fenders and hood finished by spring. Thanks for looking
Pictures:
MO2500
Name: Mike O'Donnell
Username: MO2500
Modifications:
1997 Jeep Wrangler w/ 2.5L and Ax-5 manual transmission
- Dana 30 w/ Aussie locker, Solid front diff cover, and 4.88 gears
- Dana 35 w/ 4.88 gearing
- Currie Anti-rock Sway Bar
- Fabtech short arm LCA's (Johnny Joints on both ends)
- 4" spings
- RC X-Flex UCA's
- ZJ (V8) Tie Rod
- Pro Comp 33x12.50 M/T's
- Pro Comp 51 series black "D" style wheels
- Homebuilt front bumper with integrated winch mount and D-rings
- Homebuilt rear frame crossmember with LED marker lights and D-rings
- Homebuilt steering box skid plate
- DND Rocker guards
- RE Hand Throttle
- Advanced Adapters SYE
- Tom Wood CV Driveshaft
- JKS angled CV track bar bracket
- WARN M8000 Recovery Winch
- Tow Straps and D-rings
- Crown kevlar SS brake lines
- Sony Marine Radio and aftermarket speaker bar w/ map lights
- Moab rock shifter knob
- Black Neoprene Seat Covers
Plans for the future: Roll cage, seats, fuel cell, and an axle upgrade with custom DIY stretch and 3/4 links front and rear respectively.
Story:
I'm a 20 year-old college student and this is my first jeep and actually my first vehicle that's under my name. I purchased it back in the fall of 2008 and have been slowly building it ever since. I bust my tail running my own landscaping business so that I can afford my Jeep addiction. Mom and dad do not pay for anything and I don't expect them to. I am quickly learning a lot about my jeep and since buying a welder have been getting into fabrication and custom building bumpers and things, so I like to think it's progressing pretty quickly. Since this jeep is not my daily driver I have plans for it to be a dedicated trail rig with everything on it custom built or modified by myself. I've always been into wrenching so this jeep is perfect for me to learn and expand my skills. After I finish school I hope to one day open up my own automotive shop and hopefully be fabricating and working on Jeeps for a long time to come. Maybe doing work for a few of you guys someday.
Pictures:
Recoil
Name: Jerry
Username: Recoil
Story:
I bought my first Jeep in 2004. It was a 98 TJ with a 4 banger and 200000 miles. I was immediately hooked and about two years ago I ran across the penguin.
A 2005 Rubicon Unlimited Silver with a 6 speed transmission and all kinds of potential
Mods:
TNT Long arm suspension with high clearance belly pan and dual triangulated rear 4-link with rear axle truss.
AEV Nth degree 3" springs
Doesch-tec shocks
Rubicon Express Extreme Duty Track Bar
Cragar 365's 15X8 in black
35/12.5/R15 BFG MudTerrains
Currie Antirock Front Sway Bar
Currie currectlink steering
Currie bumpstops
Front 45" Currie V Bumper
Rear LoD Expedition series tire carrier bumper
Centric Rotors all the way around
EBC Yellow stuff pads up front Green stuff in the rear
Custom exhaust with Hushpower HP2 muffler and spuntec cat
Armor:
TNT tube fenders with 3.5" flare
TNT rockers with step
TNT full quarters with 3.5" flare
Mods waiting to go on
TNT rear outboard shock kit
The Shots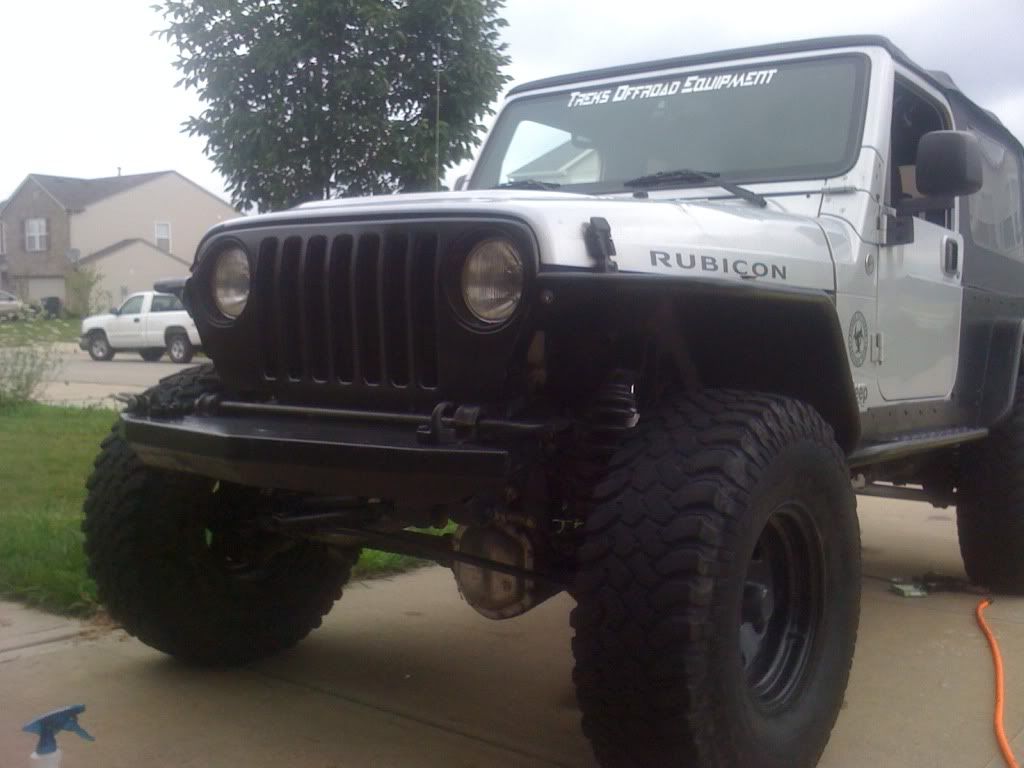 Ever seen a happier jeep!
BlackwidowTJ
Name: Steve Hogan
Username: Blackwidow TJ
Mods:
2004 Rubicon
5.13 gears
Chromoly USA alloys front shafts
Superior chromoly rears
RE long arms
Homebrew highline with Poison Spyder tube fenders
Homemade rock sliders
Home made snorkle
Home made radiator skid
Over the knuckle 1.5x .250 wall dom steering W/ Chevy Rod Ends
Fishmouth Fabworks Grille Hoop
Ruff stuff diff covers
36x12.5x15 TSL XS's
CJ7 Front Signals and Tailgate
Full Poison Spyder Cage
Bilstein Shocks
"H8 YOTAS" License Plates
Story:
Bought it brand new in 2004, rolled it before the first payment, haven't looked back since, It's a daily driver built for wheeling.....the best has yet to come.
Build thread can be seen here
http://www.jeepforum.com/forum/f9/my...ining-1055667/
One tons and LJ links getting ready to go in!
Pics