All right suckas! I got this damn thing running finally. So here is the deal.
I tried everything i could try short of moving the sensor and nothing worked. So today was nominated... move the darn sensor day.
Got up this morning and scoped out the situation. I really didnt want to drop the transmission again. So i took some measurements and formed a plan.
The space where the sensor needs to go it about 1 1/2" above the transmssion bolt on the passenger side. Since both tranmissions bolt to the motor that was my starting point.
That pretty much falls right above the support ridge in the center of this photo. So i measured out what it would take to put a 3/4" in sensor in this spot.
As expected, the fun part was getting a drill bit into this space and having it be as square as possible so you end up with a circle instead of an oval. In the end i went with an angle drill with a hole saw on it so i could get a decent pilot hole started as square as possible and its a lot easier to see your hose is semi-straight with a hole saw than a standard bit. There was also a bolt required so i had to get another hole lined up and tap it out for a 1/4-20 bolt. This is where it ended up. You can see the teeth on the flywheel are pretty centered on the hole. So far so good.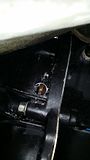 Had to start trying to get the spacing right at this point. The sensor has to be close enough to see the teeth on the flywheel but far enough not to get caught and ripped off by it. So i start trying to space it out a bit at a time with washers to get an idea how much spacing i need. The sensor ends up about 1/16" from the flywheel as you can kind of see in this picture (taken through the starter hole).
So this is what it looks like after it's mounted up. Dont mind that electrical tape, the locking tab broke off the connector when pulling the original motor and transmission.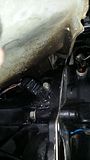 Got the starter put back in, got the battery put in. Re-soldered the connector onto this sensor because i have the NV3550 sensor wired up from previous tests.
Jump into the drivers seat. Press the clutch, take a deep breath. The damn jeep fires right up on the first try.
Absolutly, 100% the sensor needs to be in the correct location for a 2005 Jeep.
So, in summary. There are 3 options for someone looking to put an NV3550 into a 05-06 Wrangler.
1. Advanced Adapters Bellhousing that will bolt up to the NV3550 and the 4.0 but has a place to put the 05 crank sensor (Thanks to Travis for finding this that it seems i overlooked in all my searching leading up to this project)
http://www.advanceadapters.com/produ...llhousing-kit/
2. Crank sensor relocation kit from Hesco. This just mocks the flywheel groove setup by milling it into the harmonic balancer and sticks the sensor right next to it by bolting it to the corner of the oil pan. This solution require you to extend the connector wiring to the front of the motor to be able to plug it in.
http://www.hesco.us/products/7902/40...t#.VcQ7d_lVhBe
3. Drill the holes and mount that thing up yourself. The sensor itself needs a 3/4" hole and the bolt that mounts to it is probably 10mm but a 1/4-20 bolt works fabulously as well.
Once this is all together and the motor is running, not you will likely have a P0016 code. Dont worry, this is normal (especially if you drilled the hole yourself). Along with the "P0016: Crank-Cam position correlation" your jeep will also not be able to exceed 3200 RPM. You need to get in touch with someone or with a dealer who has a code reader capable of plugging into your OBD2 port and sending a "Cam/Crank Relearn". This command is intended to allow the jeep to compensate for a few degrees of off-time cause by years of running and component differential wear.
Just for reference, you connect the scanner with the motor off, then reset it. You must then tuurn off the key for a few second then back on and crank the jeep. It will need to idle for about 4 minute you it can learn the new sensor location. After that is done you should be good to go.
Hope this helps someone one of these days. There was lot of info out there but it was all a pain to find. Maybe i used enough keyword in here that google can pull this thread up and someone some time in the future.