Unlimited04
Name: Mike
Username: Unlimited04
2004 Jeep Wrangler Unlimited with:
31" BFG ATs, 3.73s, 4.0L/42RLE/NV231J
63mm Ebay throttle body and Wix paper filter in stock box
JeepMedic engine skid & tummy tuck
Riddler diff covers front and rear
Kilby Steering box skid, Gas tank skid & Body Clamz
Skid Row radiator skid
JKS 1.25" BL, Currie 1" MML
EBC pads & Centric Premium rotors
Springs: OME 2.5" - 933 front, 949 rear
Daystar 0.75" spacers in front
Shocks: OME N66 & N67
JKS adjustable front and rear track bars
JKS front sway bar disconnects
Skyjacker steering stabilizer
Bumpstops: Homemade 23mm front and 20mm OME rear
Homemade 6061-T611 aluminum t-case drop
Poison Spyder Customs Trail Cage with custom additions
'knoblockbumpers' front and rear bumpers w/ homemade tire carrier
Homemade GPS mount, CB mount, antenna mount & third brake light
Rokmen sliders with internal reinforcements
Zone Off-Road front cam bolts
ZJ V8*tie rod
Homemade JKS disco*storage cams
In progress: homemade 42RLE trans temp setup
Next Mods: NV241J, Rokmen control arms, lockers, HP D30, 4.88s & 33s, off-road trailer.
Picture 1:

Picture 2:
Picture 3:
Jim Shanks
Name: Jim Shanks
Username: Jim Shanks
1998 Jeep TJ Sport, 4.0L, 5-sp
Dana 44 rear/Dana 30 front
4.56 Dana gears w/ ARB front and Detroit Soft Locker rear
33" BFG KMs on 15x8" Cragar soft 8's with weld on beadlocks
Those Guys Rod and Customs front tube fenders
Poison Spyder Customs rear crusher corners
Poison Spyder Customs rocker knocker guards
TeraFlex steering skid
TeraFlex adjustable front and rear trackbars
Pure Jeep gas tank skid
3.5" Rubicon Express superflex 3.5" short arm kit
Daystar 1" Body lift
Currie Anti-Rock off road swaybar
Big Daddy Offroad front heavy duty tie-rod
Dan Anderson Mfg. front and rear heavy duty bumpers with tire carrier
Rokmen winch plate
Superwinch EPi9.0 winch, 125' steel cable
Edge Auto seat covers front and rear
Bestop replace-a-top sailcloth with tint
Rubicon Express hand throttle
Story:
Originally bought the Jeep in 2000 from a dealer on trade. Drove it for a year or so before finding our local offroad club. *Most of the rig has been purchased second hand from others in the club and I feel that it has turned out pretty well. *I am now president of the club that got me hooked on the hobby. *The Jeep totally impresses me with how it performs out on the trails, I have beat it within an inch of it's life sometimes and it continues to amaze me just how strong these vehicles are. *It has been through Pritchett Canyon at Moab, Evans Creek trails in Washington, as well as some of the trails at Naches, Washington just this past September. *Prior to that I have wheeled it at Southern Missouri Offroad Ranch, Make It Or Break It near Knoxville, Iowa, and our own stomping grounds near Oskaloosa, Iowa. *It is a very addictive hobby and I have enjoyed each and every minute of it.
Pictures:
JeepDoo
Jeepdoo
2002 Tj Apex Edition**4.0L
I*got home from high school one day in the spring of 2006. My dad greeted me at the door with a big smile on his face, he told me to go into the garage. I opened the door and my Grandpa's silver Jeep was sitting there. I was like "Is Grandpa here?" and my dad said, nope, that's not his Jeep anymore. I was in shock for a couple of weeks, I kinda figured my dad would buy me my first car like his dad did for him. But I didn't know it would be as nice as a Wrangler. And since it came from the family it was even more special to me right from the beginning. My grandpa left**a little magazine in the center console for me, it was a*4 Wheel Drive Hardware catalog. I spent the next few months looking through it until I had nearly every part memorized. At that point I didn't even have my license yet, so I just drove it around practicing shifting with my dad in there with me. But the week I got my license I drove it up to our cabin by myself for the very first time. The minute I pulled out of the driveway my favoriteNeil Young*song came on the radio. I had never heard that song, and haven't on the radio since. It's like it was meant to be, and a moment I will remember for the rest of my life. That day I realized that it was more than just a vehicle, it's a lifestyle.
That was part one of my Jeeping life, It lasted about a month into my senior year. Part two started the very first time I took it offroading. My buddy from school, Jeepzap on JF, went with me down to*Hollister OHV park. We drove along the trails for awhile to this quarry in the back of the park. There was this ominous looking hill that went straight up with boulders and some off camber spots. I figured what the heck, I'll give it a try. I put it into 4 low, and crawled my way to the top like it was nothing. That was the beginning of my love for offroading, and respect for Jeep vehicles and their capabilities. It also started my second stage of upgrades. The only thing my Grandpa had done to the Jeep was put 2.5" OME springs, and SJ hydro shocks. Before that offroad trip I was concerned with visual stuff: light guards, front bumper, stickers, the usual immature high school kid mods. But after that hill I bought some 33" Bfg mts,*pro comp wheels, a winch, and a rear tire carrier bumper.**Those tires and winch gave me a little more courage and I started experimenting with more difficult trails and improving my driving techniques. Had that stuff for about a year until college started in the Fall of 08. I got a really long Christmas break and I worked the whole time. That along with summer work money and a ton of graduation money from parents and family was enough to start my third stage of upgrades. This consisted of 35" KM2s, a used rear dana 44, SYE/CV, 4.56 gears, and a JF classifieds RE 4.5" lift with assorted used*control arms.
The Jeep has stayed like that for about a year now, performance wise. But this summer I discovered a whole new part of the Jeep to work on. This is upgrade stage 3.5. Started out with an Alpine iPod deck, then went onto new speakers, and then onto subwoofers. I actually have a passion for audio upgrades now, music is a huge part of my life and I love having a bad*** stereo in the Jeep to listen to it with. I have hit a point now where i really have everything i need. Im just concentrating on using the stuff i have, and getting good at it.
That's the story of my Jeep. Obviously there's a lot missing but you got the important parts.*
If anybody was wondering, Jeepdoo started when my dad and I were pulling our SeaDoos behind the Jeep a couple years ago. I was like, "hey it's a JeepDoo!" and the name stuck.
Here's the list of stuff currently on the Jeep. All installed by me, with the exception of the re-gear.
**
35x12.50x15 BFG KM2
15x8 Pro Comp 8179
4.5" RE coils
Leveling spacers on front coils
Doetsch Tech DT3000 shocks
JKS 1.25" body lift
JKS 1" motor mount lift
Skyjacker lower control arms
RC upper adjustable control arms
RC front adjustable track bar
Rugged Ridge Heavy Duty Crossover Steering
Detroit Truetrac*in front Dana 30
Detroit Locker in rear Dana44
4.56 Gears
SYE and RE 15.5" CV shaft
K&N intake (grandpa did this, haven't gotten rid of it yet, unfortunately)
Flowmaster Exhaust (grandpa too)
Rampage Front and Rear tire carrier Bumpers
Rampage*fog lights*in*front bumper
****tybilt XRC8 winch
AtoZ Fab winch plate
Big Daddy Offroad aluminum rocker guards
****tybilt 6" pocket style*fender flares
Rugged Ridge taillight guards
IPF H4 headlight housings
Luminitrix Halogen H4 bulbs (don't by these, they are crap)
Chrome tailpipe (gave me 10 hp, no joke)
A bunch of cans of McGuire's Wax
H2 Recovery Vehicle stickers
Custom NOR CAL OFFROAD decal on windshield
*
AUDIO STUFF
Alpine IDA-X303*iPod*deck
Alpine 6.5" S-Type speakers in roll bar
Alpine 5.25" S-Type speakers in dash
Ebay*5.25" dash speaker brackets
Orion Cobalt CO6004, 4 channel 600W amplifier running the speakers
2 MB Quart DWI 252 10" subwoofers
Custom angled sub-box mounted to tailgate behind rear seat (yes it swings open, BAD***)
Hitron HA-600.2, 2 channel 600W amplifier running the subs in a combined parallel/series configuration
The first pic was taken after the first Deer Valley run in June of 09. The second and third pics are from my second*Deer Valley*run on Monday, Nov 9th.
notURmailman
Name: Les Delancy
*
Username: NotURMailman
*
Mods:
** modified Rough Country 6" X-Flex short arm lift
** custom fabbed front adjustable track bar
** custom fabbed front dropped track bar bracket
** custom fabbed axle end rear track bar bracket
** Ballistic Fabrication 3/4" rod ends on frame ends of track bars
** modified Currie HD steering linkage
** knuckle tapers filpped to run LHD steering links on top of knuckles
** VanCo 15" brake kit with large bore calipers and EBC yellow pads
** SYE and Tom Wood's CV rear drive shaft w/39 tooth Mopar speedo gear
** custom fabbed front sway bar disos
** Skid Row rocker guards
** Skid Row gas tank skid
** Skid Row engine/transmission skid
** modified Skid Row radiator skid
** modified Skid Row steering box skid
** Skid Row front LCA skids
** XRC 8 winch
** KC Hi-Lites
** QA2 OBA system w/2.5 gallon tank and QD fitting in both bumpers
** ARB Safari snorkel
** Cobra handheld CB w/3ft Firestix antenna
** 35x12.50x15 ProComp MTs
** 15x10 ProComp "fake lock" wheels
** Staun beadlocks
** 4.88:1 front(D30) and rear(D44) ring and pinion gears
** Ected lockers front and rear
** D30 axle tube seals
** vent tubes (diffs, trans,*& t-case) routed into air filter box
** auxilary fuse panel for electrical accessories (ignition switched)
** flasher modified for LED operation
**** In-Progress mods:
****** Savvy full aluminum corners
****** Savvy LED tail lights
****** Rock Hard sport cage (has been powder coated gloss black)
****** five point safety harnesses (front seats)
****** Raptor line tub interior
*
Story:
*** I have been a Jeep guy for years, but had been Jeepless for far too long. In October of 2008 I decided it was time to get another. Before I could make a purchase my job*sent me TDY to Okinawa for three months in November. While there I found several right hand drive Jeeps for sale and thought how sweet it would be to buy one and*send it back to the US. After finding out the cost to send one home, I decided*it wouldn't be nearly that sweet and forgot about the whole thing.
***After returning home in February I got back on the search. I spent an entire day driving from town to town searching for a Jeep, traveling to two different states. Nothing really jumped out at me. On the way home I spotted a black TJ at a lot in my home town (about 5 miles from my house as it would happen) and pulled in.*Right away I noticed it was RHD. Then I checked underneath and found a D44 read and under the hood to find a 4.0. I looked closely to make sure it was a factory RHD and not a conversion. The salesman came out and told me he had taken it on consignment from the owner (a local*rural mail courier) and hadn't been able to sell it. The sticker said 12,990 but he said*she was dropping it to 10,990. After working very hard to act dissinterested I told him I would pay 10,000 out the door. He said he would check with her and let me know, So I gave him one of my cards and left. He*called me the next day and told me it was a deal, so I went down*and gave him 5,000 that afternoon and left with a Jeep and a payment. I had planned to buy what I could get for 5,000 cash, but I couldn't pass this up!*
** I drove it and took it wheeling in stock form. After my wheeling trip the mod bug got me again (I knew that would happen). So,*I sold my little Honda drag car and dug in. It has been a long road, and it isn't over yet. I just finally got her back to where I can drive her, and I still have a pile of parts left to install (the "in-progress" mods listed above). I knew modding a RHD Jeep would pose unique complications, but I didn't quite plan for the full gambit of issues I would have to deal with. Every mod seemed to lead to a new one, or the re-configuring of a previous one. Ofcourse what fun would it be if you could just throw parts on and go?
** So, it has been a complicated and often agravating process. I can't think of one part that has simply gone on the way it was designed. Some issue being from the RHD and some being from combning parts, even down to having to modify the fuel tank skid and hitch to fit together. But, the harder the job, the more rewarding. And I can honestly and proudly say that not a single person other than me has touched a wrench to her since I bought her, although I have gotten an invaluable amount of advise and information from people that I have met through the forum (most noteably Blaine).*She was bone stock and barely used before she came to live with me.
** It is obviously still in the "work in progress" category, with some parts having already been bought and still waiting to go on and other parts still undecided (spare tire mount, bumpers, etc..). I was told there was no rule against work in progree entry in the TJoM contest, so I figured I'd give it one shot! As for the photos; please allow me to appologize for the obvious poser shots, I still haven't had a chance to hit the trails with her yet!
*
Pictures:
**
**
**
newracer
Name: Michael Castell
Username: newracer
*
99 TJ Sport
*
36" x 13.5" IROKs on 15 x 8 Champion beadlocks
Front Axle- *High Pinion Dana 44,*ARB*Locker,*4:56 gears, Chrome Moly*shafts,**Yukon Super U-joints. 3/4 ton Warn locking hubs, custom heavy duty drag links, tie-rods. Crane diff cover, and custom truss.
Rear Axle-*Super 44 (33 spline Chrome Moly shafts),*ARB Air Locker,*4:56 gears. Blue Torch Fab diff cover
Rear axle is pushed back 5"
4.5" Teraflex LCG with a custom built four link system in the rear.
1" body lift and MORE heavy duty motor mounts with 1" lift
TeraLow 4 to 1.
TerraLow SYE
Terraflex Belly Up skid plate
Warn 9000 winch, Roadless Gear In-cab control and wireless control
Poison Spider Customs*front Stinger, Tube fenders, Rocker Guards and Crush Corners
Nth degree oil pan skid
Wilderness rear bumper, tire rack, CO2 mount, Fuel can mount,*and cargo basket.
SWAG Offroad drop down tailgate conversion
The stock gas tank was replaced with a RCI*fuel cell and a custom 3/8" steel skid plate built around it.
Raingler netting
Tuffy center console and rear seat under drawer
OR Fab sport cage.
*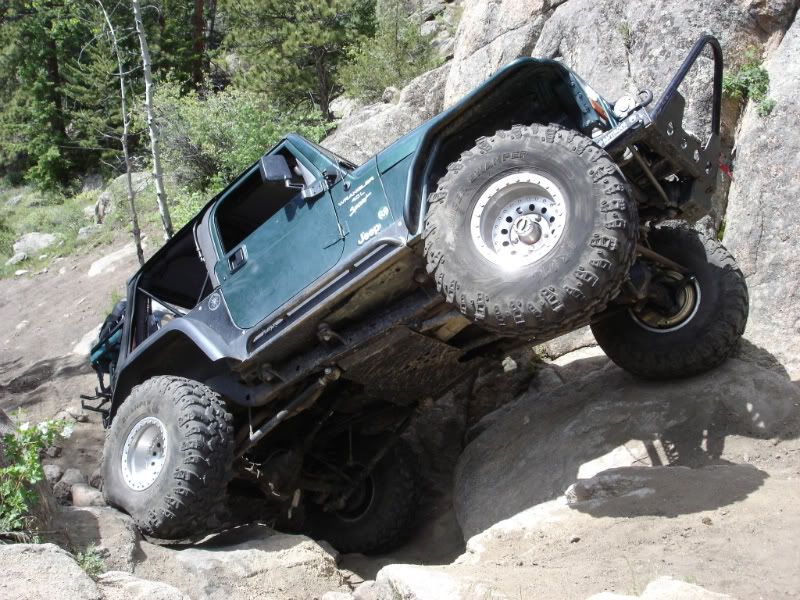 *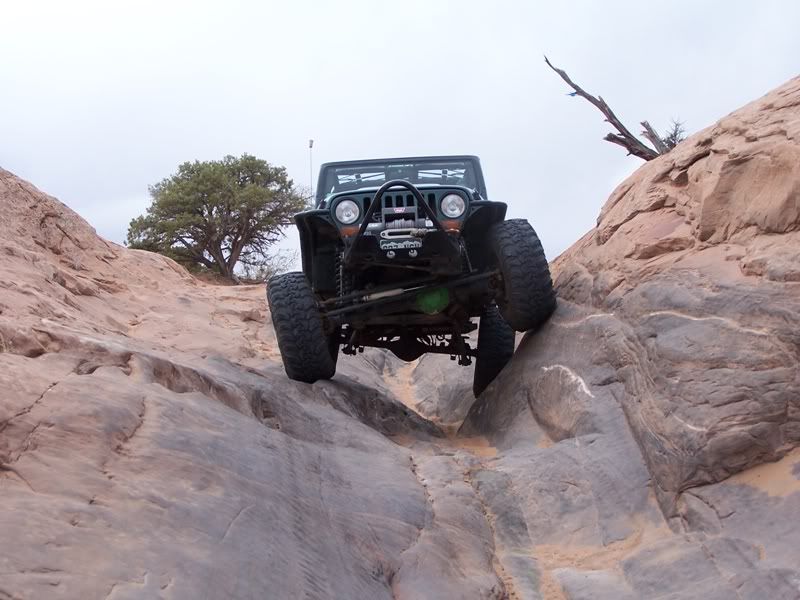 *
*